Wander any neighbourhood in Rome and you're likely to be hit by a pretty jaw-dropping view. This city is just so aesthetically pleasing, it makes this particular task a piece of cake. We've explored many a dwelling in Rome to put together this list - 13 homes owned and designed by locals that have passed the prestigious Plum Guide test. Especially when it comes to the views. See for yourself:
Base yourself in Colonna Heights if you're looking for those epic 360-degree views of Rome. Trust us, they're not easy to find. The rooftop terrace of this well-located apartment doesn't just offer sights. It comes kitted out with a dining table, comfy sofas, and a barbecue. Dine al fresco without leaving your building.
From £201 per person per night, sleeps 8
Take in two of the city's most iconic sights without stepping foot out the door. Vista Antica offers a clear view of both the Colosseum and the Roman Forums. Inside, you'll find plenty more to gape at, from the stunning vaulted ceiling to the precious antiques and ornaments.
From £40 per person per night, sleeps 8
This palatial Rome home offers just the right mix of contemporary design with original Italian details. The outdoor area is a cosy courtyard that looks up at the famous Spanish Steps. It's not the most private area, but the exceptional location more than makes up for it. Prepare yourself for a curious tourist or two looking in.
From £90 per person per night, sleeps 6
If you're searching for a home that offers that quintessential Rome postcard view, stop here. Neptune's Eye is laid out with two enormous terraces and two balconies. That's four outdoor spaces and four different views to choose from. Find your favourite spot to perch for those morning espressos and evening aperitivos.
From £36 per person per night, sleeps 15
In search of a central Rome home with plenty of outdoor space? This is it. You could easily spend a fair bit of time wandering up and down Hen of the Wood's huge terrace. Look out over the Chiesa del Gesù and surrounding terracotta rooftops. Inside, the interior is surprisingly modern and simple. Quite the contrast from the views you're taking in.
From £65 per person per night, sleeps 6
Get a glimpse of the famous Vittoriano monument from the roof terrace of Terraza Dorata, along with lots of other significant sights. You're in the heart of Rome's historic centre, just a short stroll from the ancient Forums. The contemporary interior design of the apartment makes for an interesting contrast.
From £146 per person per night, sleeps 5
There's a lot to admire inside Trajan's Chambers, but the view pretty much takes over the minute you catch sight of it. You have direct views of the Imperial Forums and the Vittoriano. And when we say direct, we mean direct. Scroll through the pictures to get a glimpse.
Jaw-dropping. That's the word you're looking for.
From £120 per person per night, sleeps 5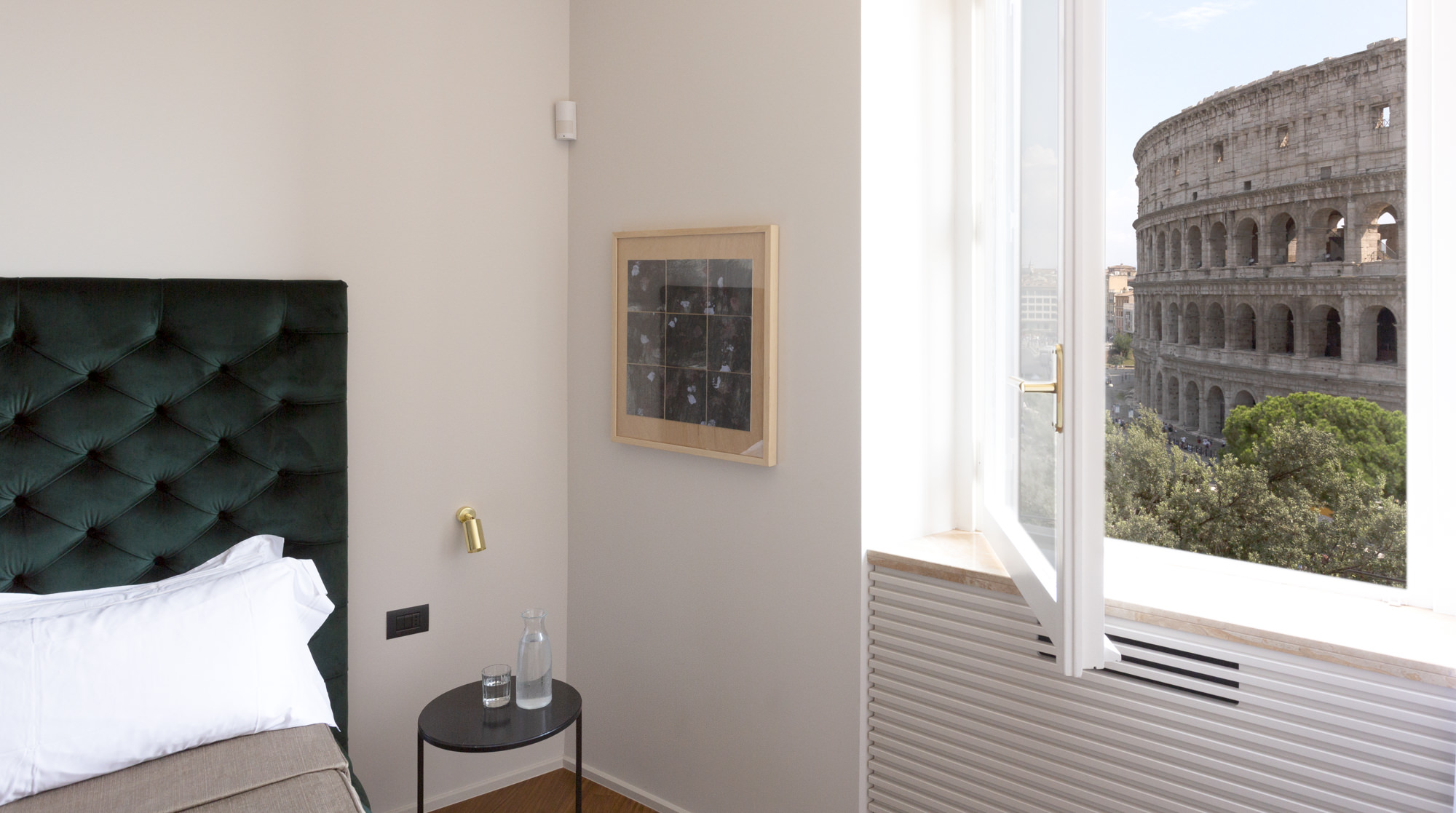 Could you get any closer to the Colosseum without swerving through tourist hordes? We're not sure. This modern apartment offers direct views from every window. The design is on the simpler side.
From £54 per person per night, sleeps 4
Look out directly into the quintessential bustling Italian square - the Piazza di Sant'Apollonia. The inside of Clockwork isn't anything to rave about, but does that even matter when you're in the heart of Trastevere? Enjoy aperitivo in the spacious back terrace before stepping out to wander the lively streets.
From £43 per person per night, sleeps 8
You couldn't dream up a better Rome location for your next trip. As the name gives away, you'll look out directly at the Pantheon. There's no outdoor space, but the windows are sufficient to enjoy this close up view. As for the inside, it's simple and elegant enough.
From £152 per person per night, sleeps 2
With a name like that, how could this home be anything but serene? Tucked away in Trastevere, The Author's Escape has a roomy outdoor terrace. But it offers peaceful courtyard views, not skyline vistas. If you're looking for views of famous monuments or ancient sights, this one isn't for you. But if you're after a little 'hidden' oasis in Rome, take a look.
From £152 per person per night, sleeps 2
Yes, The Duchess is homely and pleasant on the inside. But let's face it, it's the views that make it. Take in a side angle of the Vittoriano and picturesque Roman rooftops from the sizeable terrace.
From £130 per person per night, sleeps 4
The picture does most of the talking here. Enjoy this breathtaking view of the Colosseum from Flavian Sky's shared rooftop terrace. Inside, this one-bed apartment is compact but calming, without many (or any) personal touches. Back to the view.
From £33 per person per night, sleeps 4