Travelling with tots in tow can be challenging, especially in a big, busy city, but London is becoming more and more child friendly with many attractions and open spaces designed specifically with young families in mind. But what's the best area to stay in London with family?
Well, there's a lot to be enjoyed in London by both kith and kin, but as with any city, certain neighbourhoods lend themselves better to families. You'll want to be near to all the big sites, museums and beautiful public parks, but you'll also want to be based someplace easy to maneuver with a stroller and little feet that won't be rushed. Somewhere safe and somewhere fun for grown ups too!
We understand that being away from familiarity and routine can be unsettling for children, so we ensure that anywhere you book on Plum will have everything for you and your family to feel at home. Infants and toddlers have different needs and interests to school age children… and teenagers, well, they're impossible to please, but if you can't morally (or legally) leave them behind, we will try our best to get a smile out of them too!
The Royal Borough of Kensington and Chelsea is the perfect place to stay with no compromises for any member of your family. You'll be nestled amongst all the greatest museums, parks, shops and dining in London - a dream location for any family!
Great for under 5s
Aww they're so cute at that age, so cute you want to take them everywhere and yet it seems impossible to leave the house for more than an hour at a time. For parents and little ones to enjoy London with the flexibility of being able to pop home for when tiredness, tantrums and potty training disasters take over, Kensington and Chelsea are perfect.
Within a two mile radius you have the magical Diana Memorial Playground in Kensington Gardens, whales and dinosaurs at the Natural History Museum, bubble shows and rocket launchers at the Science Museum, the V&A's craft workshops and soothing afternoon storytelling sessions - all on daily and completely free! If you need some fresh air and a run around, stroll into Hyde Park for a teatime snack and feed the ducks on the Serpentine. And if you're real animal lovers, a trip to London Zoo is worth a visit, but younger children are better suited to the smaller, less crowded, interactive experience of Battersea Park Zoo.
School Age Kids
Once children are truly mobile on their own two feet, Kensington offers a lot for them to be inspired. They can explore London wildlife at the Holland Park Ecology Centre (there's much more than you imagine) or have a one-of-kind sleep over with the dinosaurs at the Natural History Museum's Dino Snores. Think outside the box with the children's activities at the Design Museum or get creative at the Pottery Café in Fulham, where you can paint a teapot as a special souvenir for any doting grandparent back home. If you're feeling peckish you can have a real tea party and decorate your own cakes at Origamitea at the Saatchi Gallery - then burn off the sugar-high with a run around Duke of York Square and watch the sun set as you walk home.
London is a visual delight for the whole family. To get a glimpse of the city through the eyes of a timeless story take the Paddington Bear Tour. Pack some marmalade sandwiches and see how everyone's favourite friendly bear from deepest, darkest Peru came to call London home.
Teenagers
Teenagers will have a blast burning through your cash at the cool shops of the King's Road, High Street Kensington and Notting Hill. They can sulk and people-watch in the cafés, learn about fashion at the V&A, see the latest in innovation at the Design Museum, wander through Portobello Market or simply do nothing in Hyde Park. They can, and probably will, go to pubs if left unattended: note that the legal drinking age in the UK is 18. Some things never change, and the cool kids hang out the Rough Trade record shop and the Meanwhile Gardens skate-park. If anyone needs to brush up their skills, BaySixty6 will teach you all you need to know.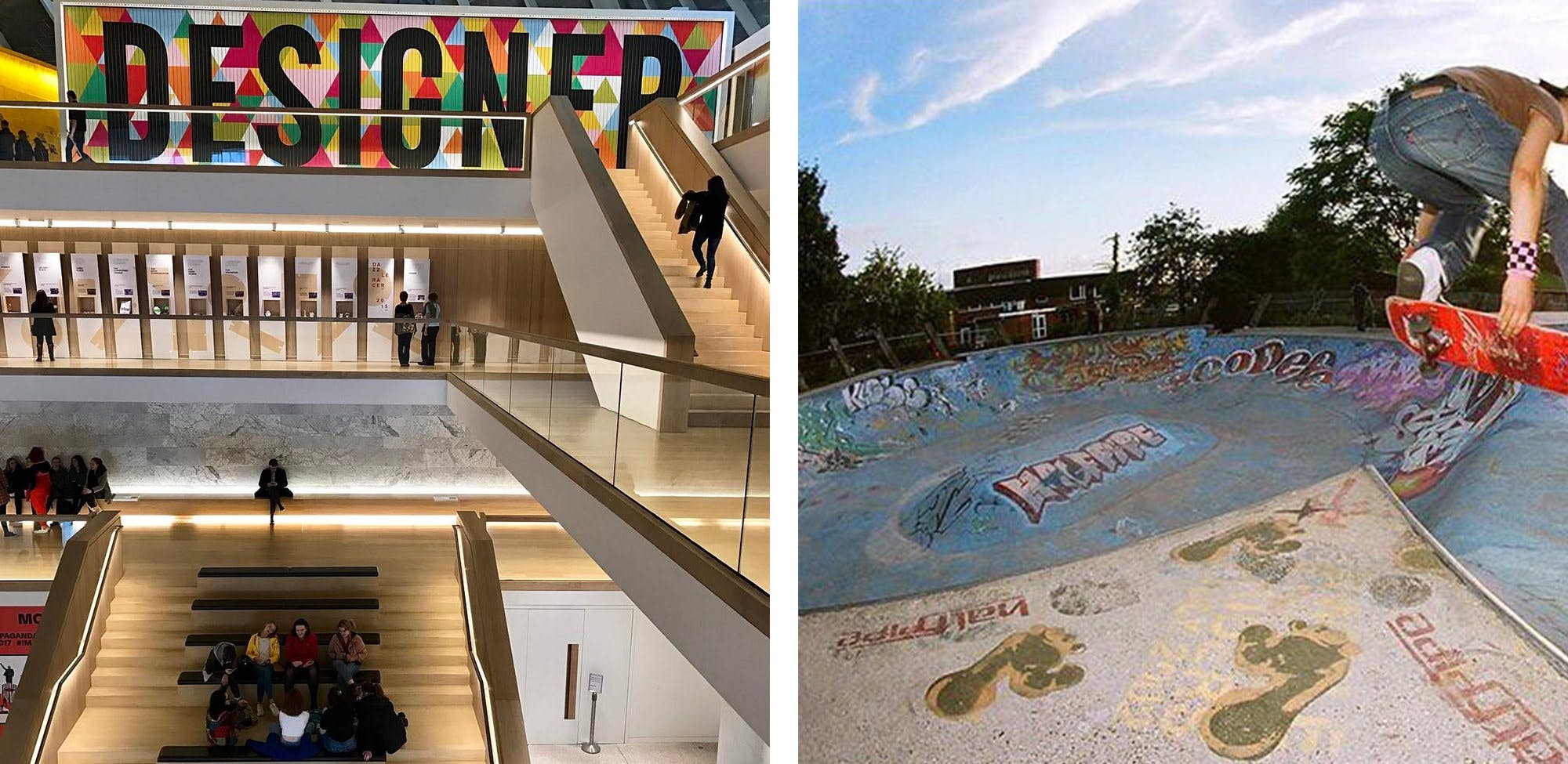 Suggestion 2: Bloomsbury
It's hard to find a more peaceful neighbourhood in the heart of London than Bloomsbury. Just a stone's throw away from the chaos of Oxford Street, the offices of Fitzrovia and the traffic of King's Cross, Bloomsbury is a tranquil oasis of calm in London's storm. A charming and historic place to stay especially for families with children ages 6 and over.
Avoid the morning rush of town with brunch around the pedestrianised Granary Square where lots of stylish, family friendly shops and restaurants like Granger & Co, German Gymnasium and The Greek Larder will happily accommodate big and small appetites. In general, highchairs are spread rather thinly across London. Most eateries will have them, but if you can't do without one it's best to call ahead and reserve one with your table. While you're in King's Cross you might as well bite the bullet and go take those photos at Platform 9 ¾.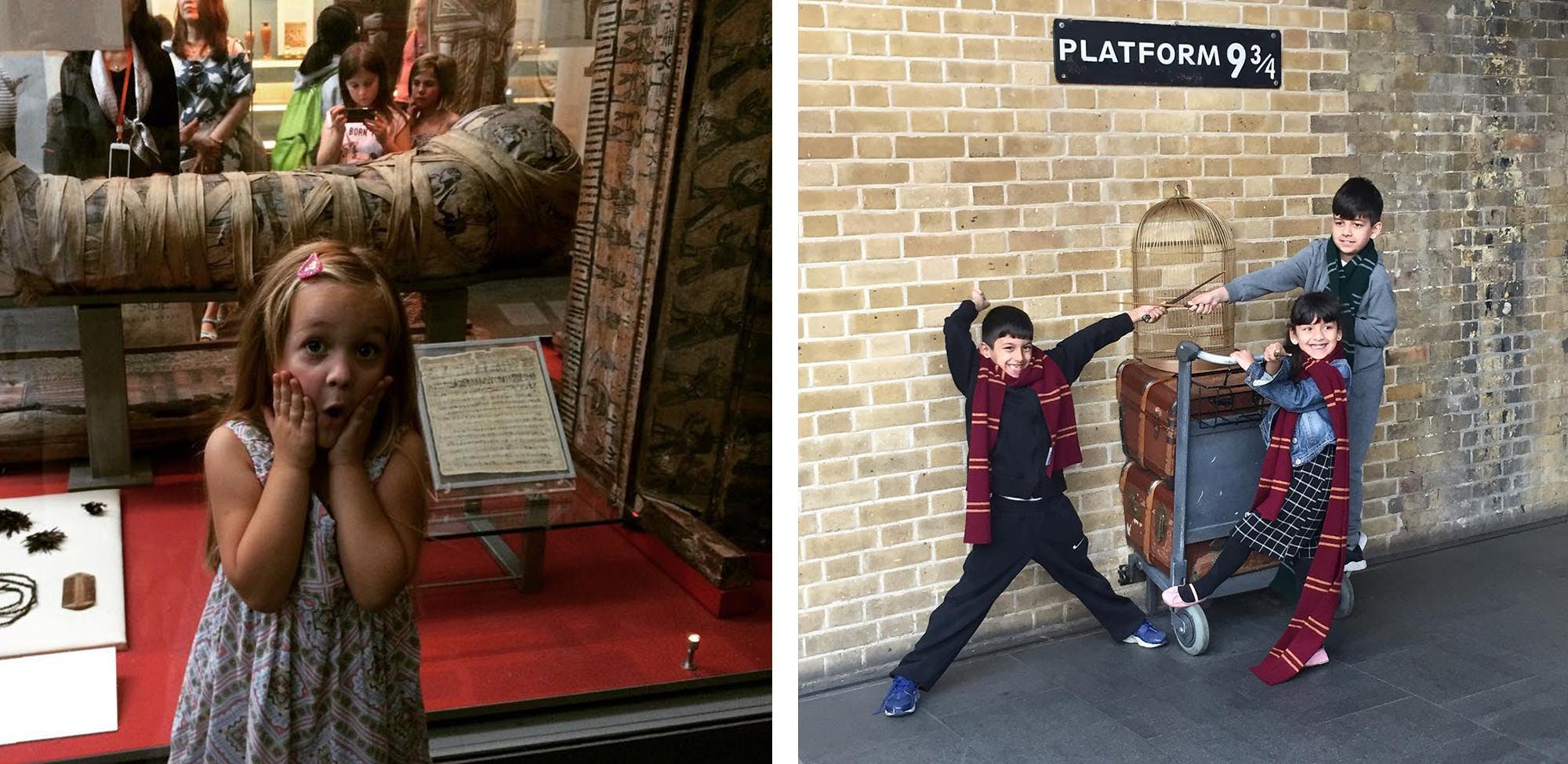 The imposing British Museum will be your neighbour and you should definitely pay the mummies and the marbles a visit. The British Museum has some of the best museum activity trails, learning packs and interactive sessions in the world. They cater to all ages, all day, every day.
Budding young scientists and medical minds should drop into the Wellcome Collection for a unique insight into the human body and see how far the advancement of medicine has come. Not one for the squeamish!
You are right in the centre of London and Bloomsbury to Covent Garden is only a 15 minute walk. Once you're there it'll be hard to choose what to do first. The National Gallery run crafty workshops for kids of all ages, the shops and boutiques beckon for your attention, the street performers dazzle the piazza with magic tricks and acrobatics and we have yet to meet a child that doesn't love to dress up and drive the London icons: the big red bus, the black cab and the tube train at the London Transport Museum.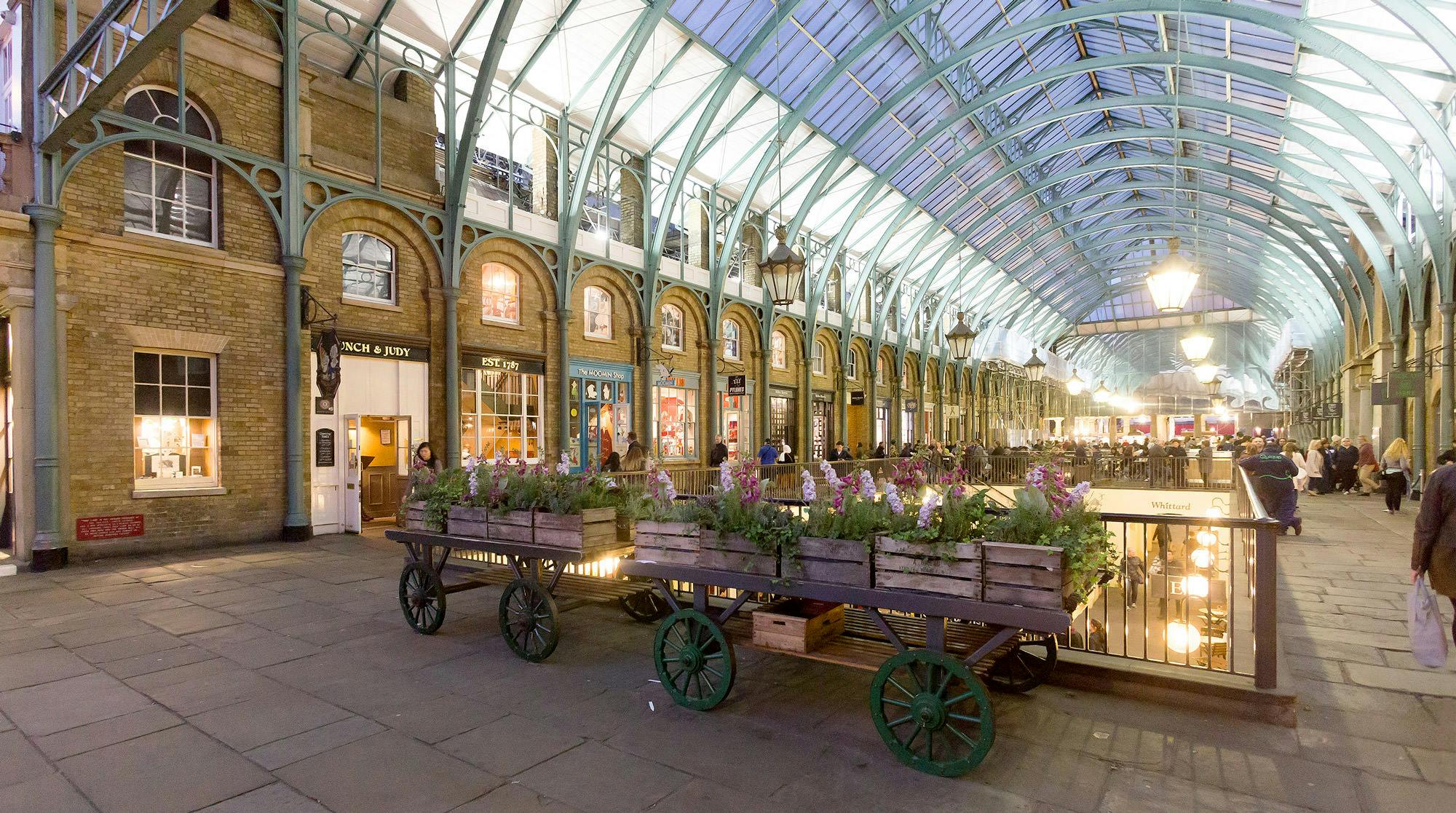 For a special family occasion we can't recommend Marcus Wareing's Tredwells highly enough; casual, but chic this restaurant doesn't punish adults for dining with children. There are no plastic surfaces, no garish colours, bland menus or eye rolls when you walk through the door. Little ones receive a very warm welcome and their own simple, delicious children's menu.
"For the more discerning young palate there is also a junior 6-course tasting menu."
For the more discerning young palate there is also a junior 6-course tasting menu. Grown ups get the food and wine you'd expect from a Michelin starred chef and everybody wins. After dinner, you should really try to catch a spectacular west end show like Matilda or The Lion King, two shows that even staunch musical loathers like ourselves couldn't help but love.
If you were hoping to enjoy some ballet or opera during your stay, but can't make the timings work, visit the Royal Opera House on the last Sunday of every month for their open family days with live performances in a relaxed environment, or find your nearest professional classical concert at Bach to Baby.
Looking for a fun alternative to family game night? Sign up for Hint Hunt (ages 9+) in nearby Euston. You have an hour to escape by solving puzzles and mysteries and make it out in time…or else!
Bringing up Borough
If you prefer a more bustling pace, your family will love staying in Borough or London Bridge. Not recommended for anyone bound to a stroller as the narrow, packed, cobblestone streets are hard enough to navigate on foot, let alone wheels, but you'll get the greatest views of the city, and well, it looks and feels the most London-y part of town. Start early with a wander around the world famous Borough Market which has something for the fussiest and most adventurous eaters alike.
No trip to London is complete without a visit to the South Bank. With the finest river views, it's the perfect spot for a morning run or an evening walk. There is always something to spark young imaginations at the Southbank Centre from stories to interactive theatre and tinkering workshops. Grab a quick bite at the food market, browse the books under the bridge, see a show and just soak it all in. If it's a clear day spin round the London Eye or if it's raining take the family to the sprawling Tate Modern for hours of hands-on creative play.
Children love to climb aboard HMS Belfast which offers a unique opportunity to learn about life at sea during WWII, explore the ship and, of course, be the Captain! Going further back to the Middle Ages take a family tour of the Tower of London where Richard III gives anyone's dodgy uncle a run for their money! And if the Princes in the Tower isn't a gruesome enough tale for your heirs, there's always The London Dungeon.
Some Friendly Advice For London Family Breaks
If you are kind and brave enough to take your children to Hamleys, take a Xanax before you go and avoid the weekends.
Sometimes only a go on the swings will do, London Play will use your location to map out the nearest playgrounds.
The London Aquarium - spare yourselves and your children! It is extortionately expensive, dated and somewhat depressing. The aquarium at the Rainforest Café is far more impressive. Ok, it's not educational, but for the same price you can see the fish AND have lunch.
Travelling with children on the underground
The London Underground is exhausting for parents and children alike with too many stairs and too many people; be confident and use the bus, become one with the BabyBjörn and walk, or cab it. Expensive as they may be, black cabs have a trump card over Uber; aside from actually knowing where they're going, you can pile your baby or toddler into the car as is - be it screaming or sleeping, strap them into the Bugaboo and just roll out the other end in one piece. Trust us, it's money well spent.
There is a real citywide initiative to make London more attractive for families to live and visit, to find the most up-to-date family fun to be had in town be sure to check the weekly listings on Urban Explorer during your stay.
London can be an intimidating destination for young families, but a very rewarding one too. The key is to not over plan, we guarantee you'll want to come back again and again, so go where the day takes you and savour the memories made along the way!
Credits: jvrt_ andyw4ndy nazzy_naz_xo ladyalexyz the_phofografer charlie_girling bethrogers263 asojunior sam_bruce_skates fiveadventurers couchsurfinusa sciencemuseum