"Rome is not like any other city. It's a big museum, a living room that shall be crossed on one's toes." – Alberto Sordi.
We couldn't agree more. The Eternal City is brimming with beautiful sights at every turn. Take it all in from a lofty vantage point –– stay in a Plum Guide home that's got a rooftop worth spending time in. Lucky for you (and us), we've spent some time scouring the rooftops across our Rome collection on a quest to find you the ultimate outdoor oasis in the city. Here are just 11 of our favourites: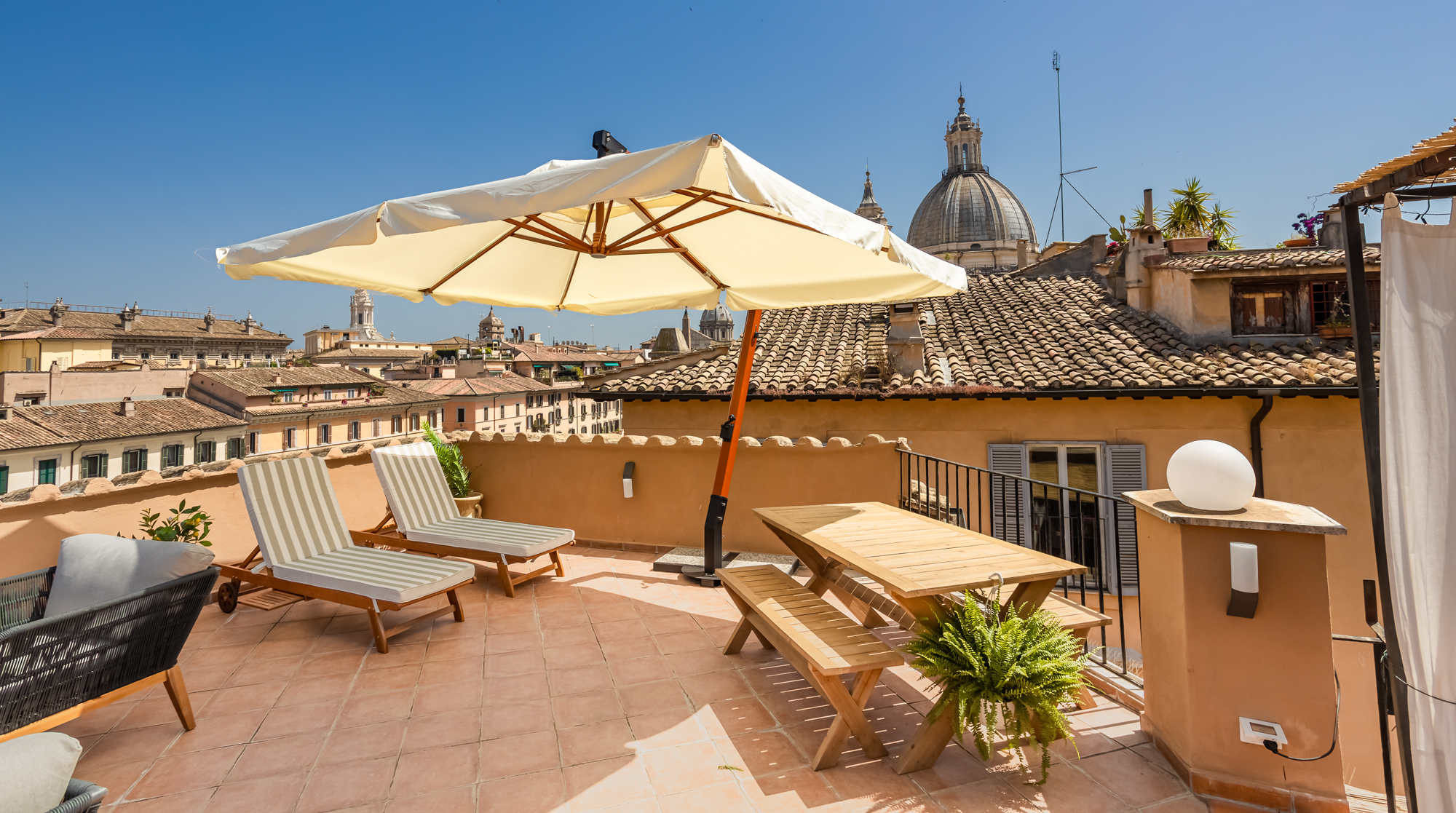 Insert heart-eye emojis. This rooftop is even more stunning than it looks in the photos. That's cause you get to take it all in with the breathtaking surroundings. The space itself is well furnished, with sun loungers, a covered dining nook, sociable seating areas, and a shaded swing. Phew.
When in Rome, stay here.
From £37 per person per night, sleeps 15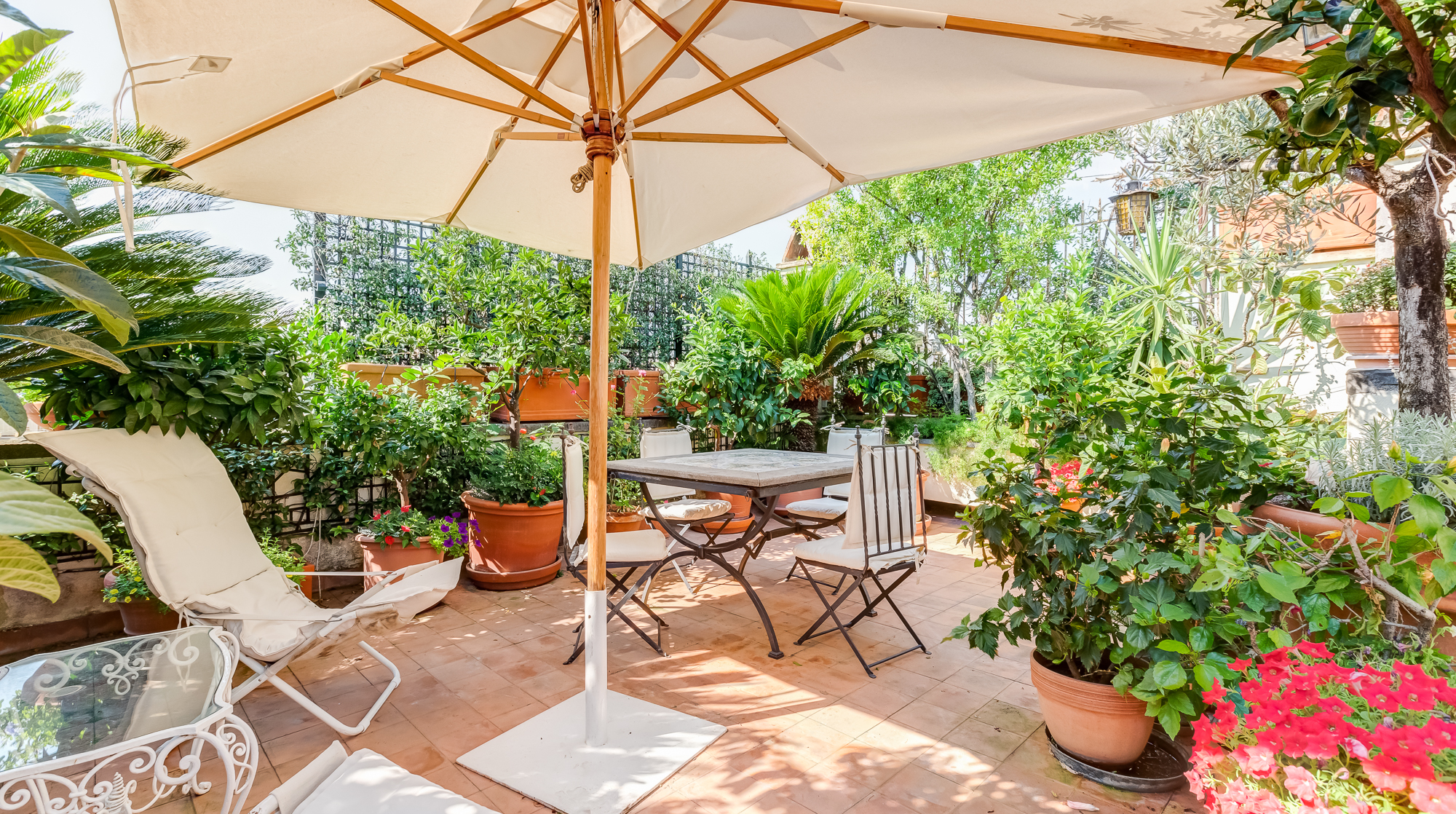 If that picture hasn't already convinced you, here's what you need to know. This serene space isn't technically a rooftop terrace, it's just a terrace. But we added it to this list because, well, we're into it. The lush greenery, wrought-iron garden chairs, and terracotta tiles all work together to make this one of the loveliest spots in Rome. And that is saying something.
This Plum Guide home is absolutely beautiful on the inside too. How could it not be?
From £60 per person per night, sleeps 11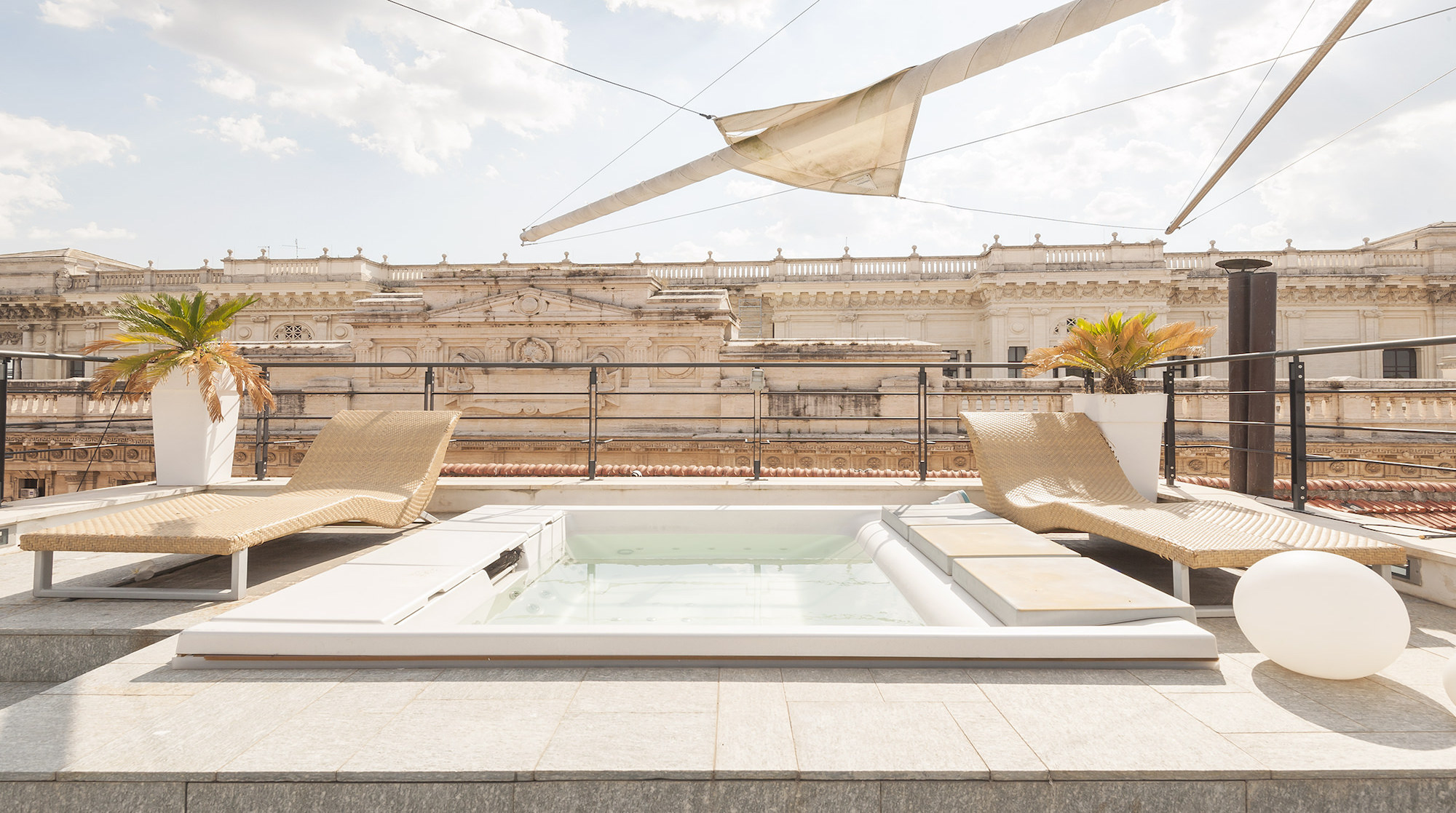 Plop down in a jacuzzi on a sun-drenched rooftop in Rome –– could life get any better? Views of the historic Prati neighbourhood surround you, and there's a lounger on each side to dry off or take a post-pasta afternoon snooze. Utter bliss.
From £274 per person per night, sleeps 6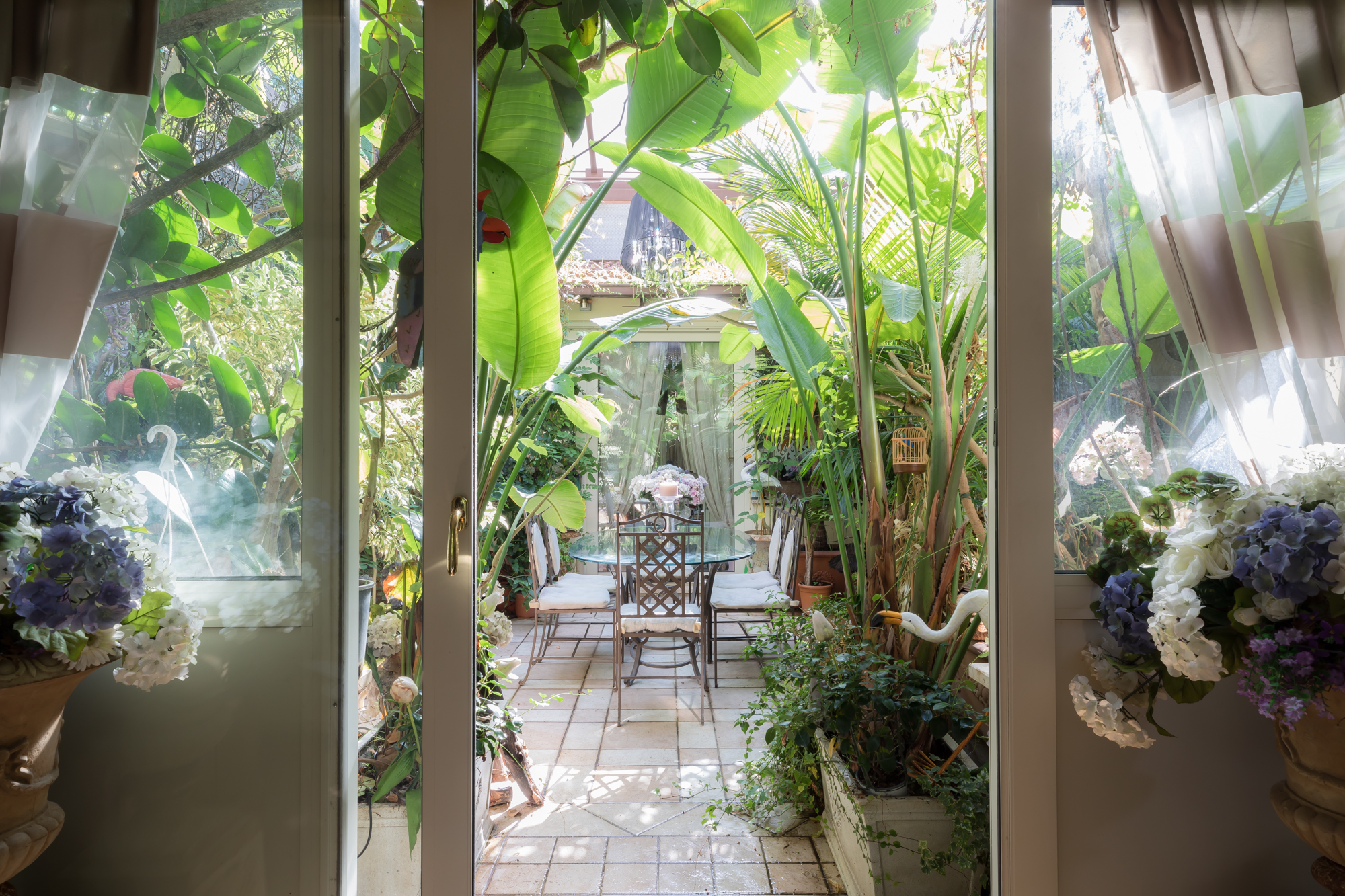 Banana Leaves is downright gorgeous on the inside, but it's the outdoor terrace that gives it that jaw-dropping effect you're looking for (well, we're guessing you're looking for since you're here). Dine here one evening, surrounded by pretty plants, as you look out at Roman rooftops and toast to this enchanting city.
From £75 per person per night, sleeps 4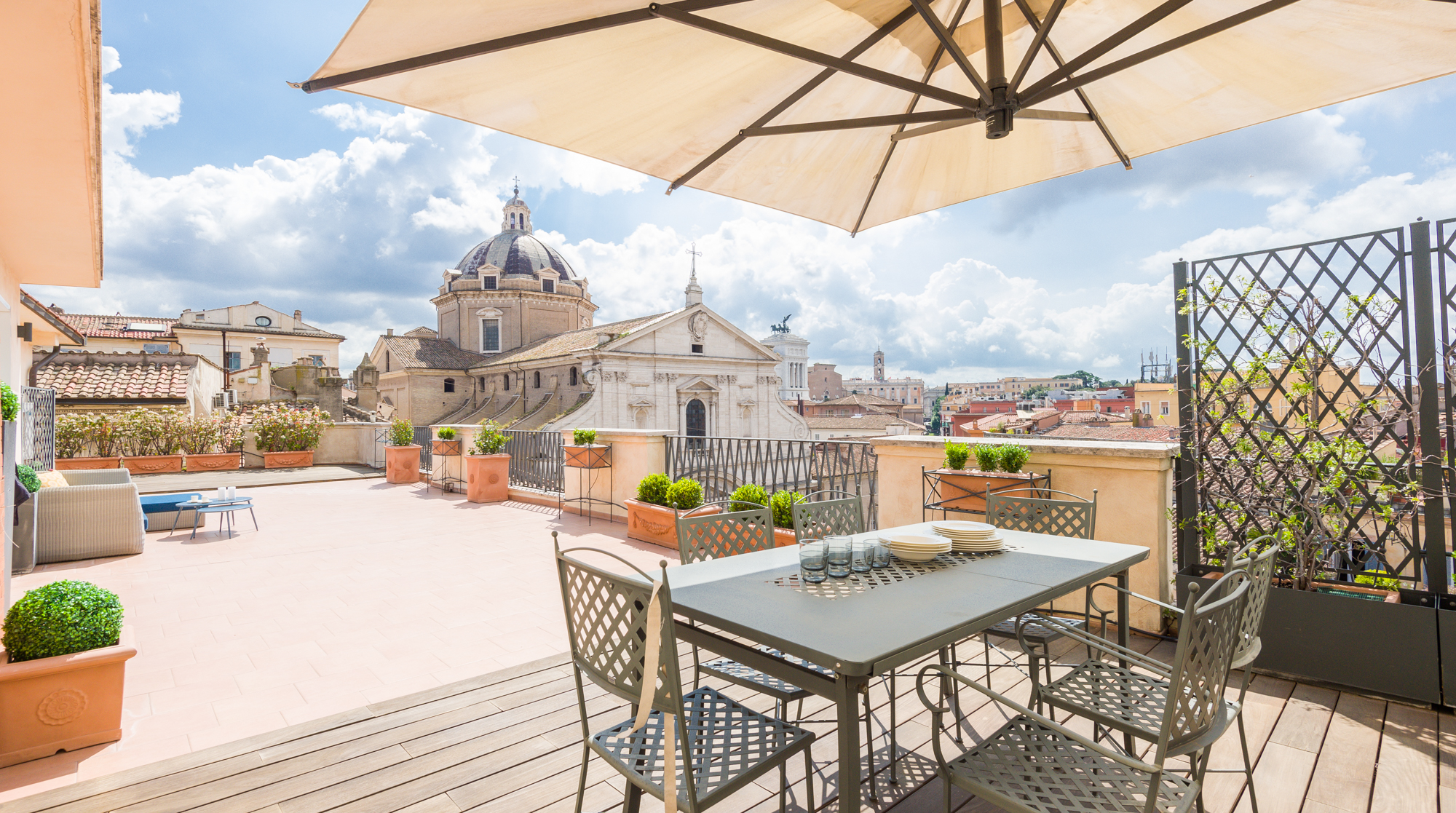 Park yourself in the heart of historic Rome at Hen of the Wood. The terracotta roof terrace is wide and spacious, complete with shaded dining area, sun loungers, and sweeping views of the exquisite Rome skyline. Inside isn't too shabby either, to say the least. Take a little look.
From £66 per person per night, sleeps 6
This Trastevere home has a roof terrace designed for al fresco dining. There's even a heavy-duty barbeque and a kitchen sink for all you serious chefs. If you're not up to the cooking effort, you can still enjoy this tranquil space with lots of shades and lots of green.
From £48 per person per night, sleeps 4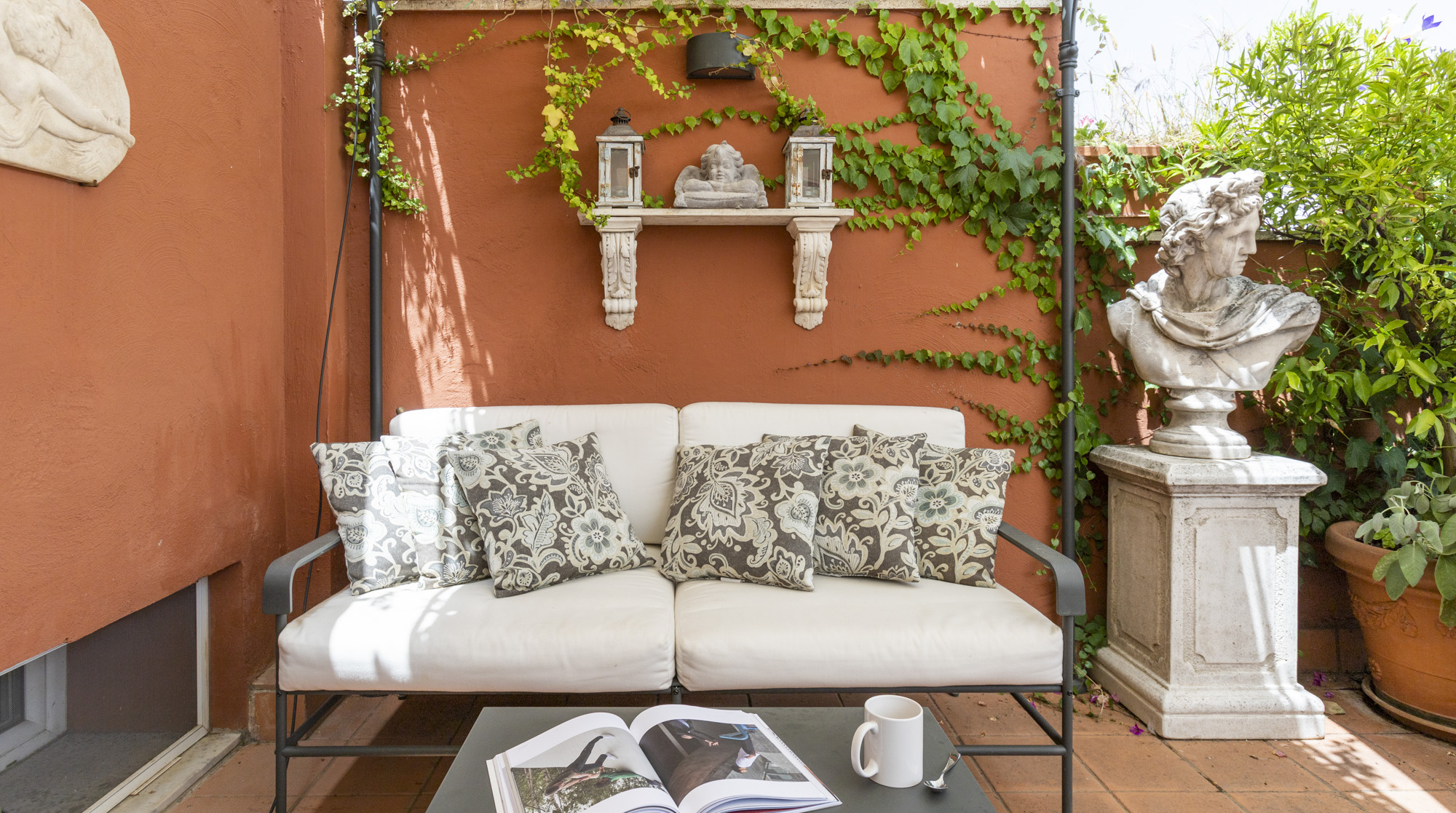 La Chambre Claire is home to one of the loveliest terracotta terraces we've ever seen. And we've seen a fair few in our time. With Italian design details, comfortable seats, and lots of pretty plants, you've got an outdoor space that's designed to dazzle.
From £105 per person per night, sleeps 5
Base yourself in the midst of Roman history. Here, the roof terrace gives you a clear view of the historic skyline, between the Quirinale and the Vittoriano monument, You're steps away from the ancient Forums. Imagine having your morning espresso to that view.
From £150 per person per night, sleeps 5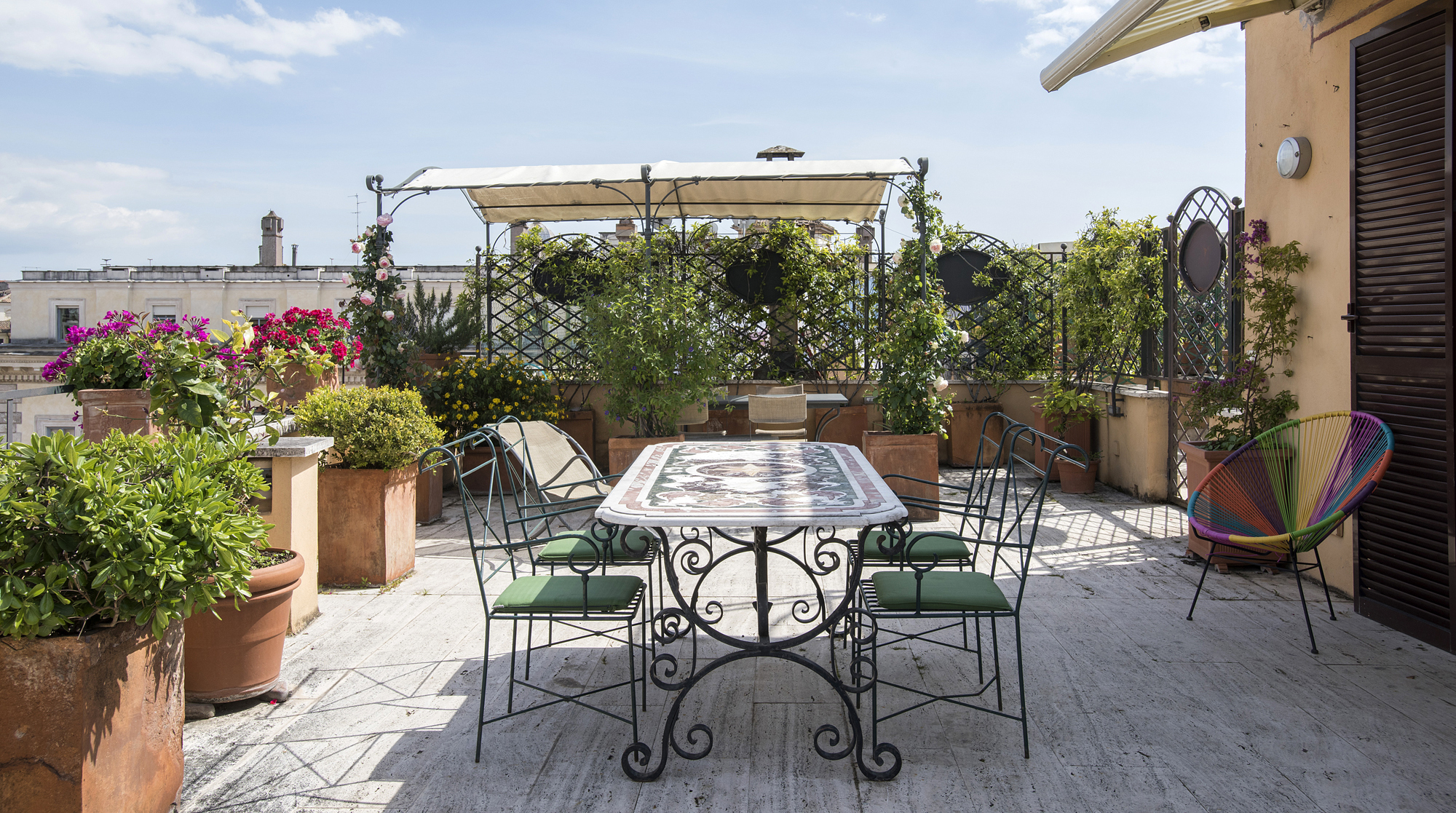 When it comes to views in Rome, it doesn't get much better. Head to the roof of the Duchess and you're met with a direct view of the Vittoriano. You're surrounded by the quintessential Roman terracotta potted plants and beautifully patterned tabletop. This rooftop is in full bloom, quite literally, in the summer.
From £67 per person per night, sleeps 4
Yes, this quirky conservatory is on the terrace of a Trastevere home. Brimming with character and bursting with greenery, it's a peaceful spot to retreat to when you need a moment away from the bustling streets. Some may find it a little cluttered, but we think it just adds to the charm.
From £79 per person per night, sleeps 2
Enter this courtyard roof terrace, and you'll feel cocooned in by the surrounding buildings. Luckily they're historic and quintessentially Italian. This terrace is on the rustic side, but there's something about being tucked in between Roman rooftops that makes it feel even more magical. Tear yourself away from restaurants for a candlelit courtyard dinner, just for one eve.
From £69 per person per night, sleeps 5