Lisbon is one of the most picturesque cities in Europe - with some of the freshest seafood you'll ever taste. But don't just take our word for it. Explore its cobblestone streets, ancient ruins and many many cathedrals yourself - all with a comfy and centrally located base to call your home.
There are plenty of cheap-but-chic Lisbon homes to choose from. Below is our list of just 15: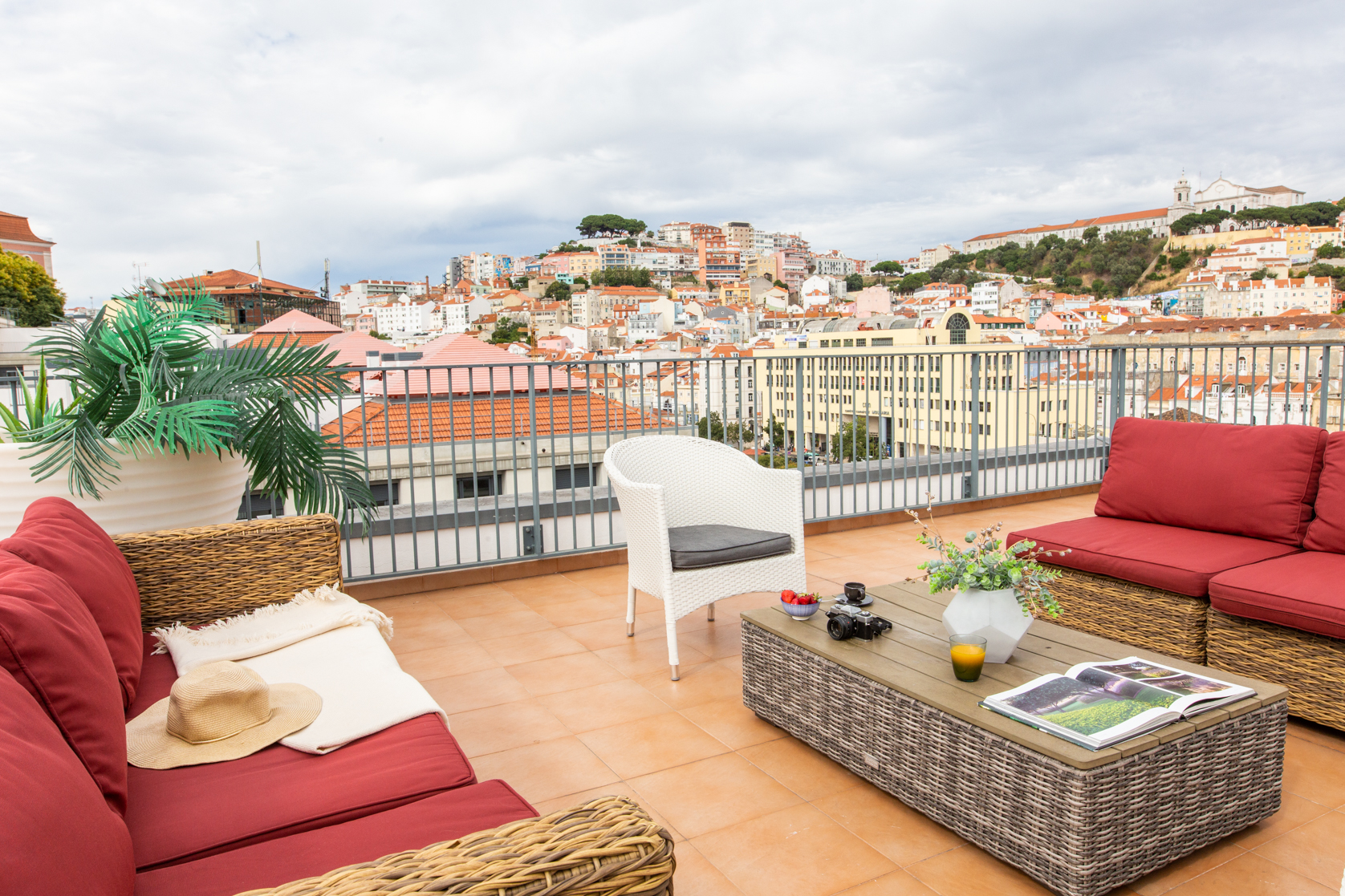 Yes, you can. The winning feature of this four-bedroom Baixa apartment is its enormous roof terrace and panoramic city views, castle included. We're not quite as excited about the design, but it's a great central base for a large group that wants a sociable homestay. Think evenings drinks on that terrace with that view.
From £109 per person per night, sleeps 7
Whether you're a lover of pine wood or not, you're going to love the chilled vibes in this uber relaxing Baixa home. Sunbathe on the little balcony, catch a glimpse of the sea on your right, and be prepared to fight for the bright attic room.
From £54 per person per night, sleeps 7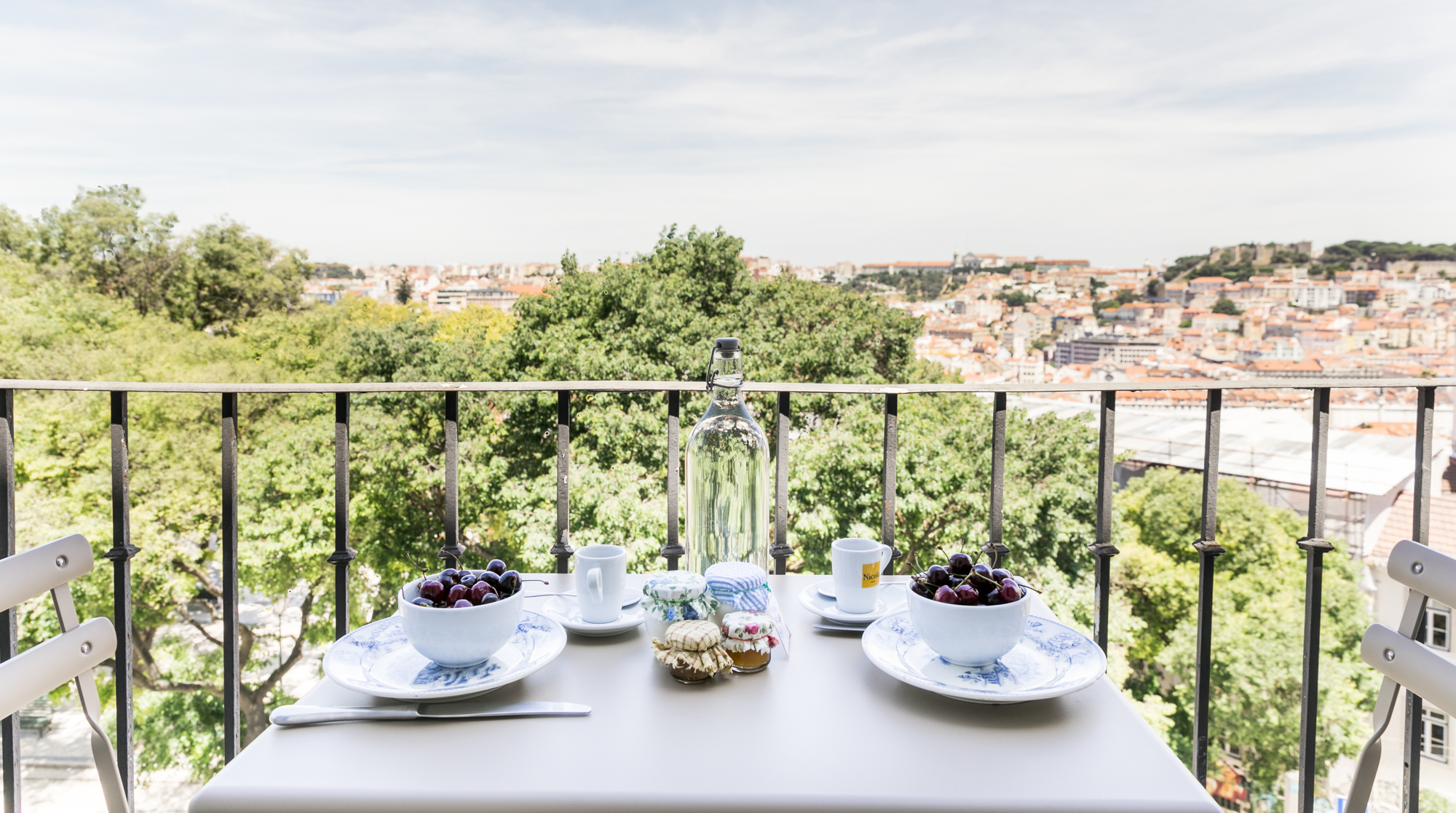 Imagine waking up to that view. Yes, you've got the high ceilings, personal design touches and sumptuous bedding. But it's the glorious Lisbon views that take the cake in this two-bedroom home in the lively neighbourhood of Bairro Alto.
From £58 per person per night, sleeps 6
Families heading to Lisbon, take note. This is the ideal Lisbon home to settle into with your little ones. There's plenty of space for everyone to stretch out and still have a little privacy here. There's even a playroom with an Xbox to keep both big kids and little kids occupied.
From £32 per person per night, sleeps 10
Walk into this two-bedroom Alfama home and marvel at the high level of Insta-inspo on full display. This apartment is brimming with beautiful furnishings, stylishly arranged on a backdrop of traditional Portuguese tiling. You're surrounded by the historic centre of Lisbon for lots of easy sightseeing options, right at your doorstep.
From £65 per person per night, sleeps 5
Settle into this character-filled Lisbon home, and you won't feel much need to leave. The host has left lots of books, board games, movies and even a mini-golf course for your amusement. Heading to Lisbon in a large group? There's enough here to entertain and occupy all members for a fair few days.
From £34 per person per night, sleeps 9
Relax in the Scandi-chic interiors of this two-bedroom apartment with oodles of natural light. Alfama is known for its historic beauty, which contrasts nicely with the contemporary design of this home. Look out for the Portuguese touches - the mural details and original azulejo tiles are a lovely touch.
From £42 per person per night, sleeps 6
Want a Lisbon homestay that comes with extra perks? This three-bedroom home in the traditional neighbourhood of Alcantara comes with access to a gym and a pool. Perfect for a quick dip after a full day of city-wide wanders.
We love: the original hardwood flooring, the epic bridge views and the sumptuous velvet seating.
From £44 per person per night, sleeps 6
This picture-perfect (see above) three-bed home is as chic as it is comfy. We're fans of the tasteful decor on display, with contemporary pieces and vibrant colours interspersed with the apartment's original features. No, we haven't seen many mint green bathrooms before - but hey, it works.
From £29 per person per night, sleeps 8
Get your fill of the classic Lisbon views of the city's colourful rooftops from this not-so-humble home. This split-level apartment gets plenty of natural light from its many, many windows. The downside? The pastéis de nata on show aren't included.
From £55 per person per night, sleeps 4
Wine lovers, welcome to your new home. Situated in super posh Baixa, this apartment comes with a dramatic wine rack, two spacious bedrooms, and a very sociable dining space. Bring your own wine.
From £50 per person per night, sleeps 4
This compact one-bedroom in Graça screams cosy charm (if such a thing were possible). It even has its own little courtyard-like terrace, perfectly designed for a candlelit dinner in. Of course, there are several local eateries to explore in the area, and São Jorge Castle is just a short walk away.
From £50 per person per night, sleeps 2
Plant yourself in Lisbon's city centre in this tidy one-bedroom apartment. Design-wise, we're not overly excited. But the canine portraits are a fun touch and it's incredibly good value for this location. It's also a snug fit so don't attempt to squeeze in more than two people.
Extra points for the river views.
From £55 per person per night, sleeps 2
This home gives off stylish beach shack vibes as soon as you enter. It may not be the biggest or the brightest apartment on this list, but it's the kind of space where you'll instantly feel some much-needed zen.
We love: the exotic little ornaments, the four-poster bed, and that statement bathroom sink.
From £33 per person per night, sleeps 4