Find expert tips, here on Plum Guide. From where to stay, what to eat, and what to see in some of the world's finest cities. Find expert approved homes too: Plum Guide is a collection of the very best vacation rentals in the world, approved by our expert Home Critics after a rigorous 150 point test.
If Jerusalem is Israel's wise father-figure, Tel Aviv is the cool younger brother everyone wants to be around. While some parts of the city are quite old—Jaffa, for example, is 3,500 years old—Tel Aviv has a young and curious energy. Lively night clubs along the port make Tel Aviv a clubbing capital of the world, while revamped neighbourhoods like Florentin are redefining what art means in an ever-changing city.
Then, there's the iconic White City, with it's old Bauhaus buildings mixed in with newer, high rise buildings catering to the city's booming tech scene. The mix of old and new is in constant flux, and the city thrives while finding a balance.
Follow our guide to the best areas to stay in Tel Aviv for tourists, at a decent price, so you can truly experience one of the greatest cities in the world.
WHERE TO STAY
Lev Ha'ir
Florentin
Kerem Hateimanim
Tel Aviv Port
Lev Ha'ir
Lev Ha'ir literally translates to 'heart of the city' in Hebrew and that's exactly how we'd describe this neighbourhood. With roots dating back to the end of the Ottoman era, the Lev Ha'ir of today is a mix of old and new. The most distinctive buildings are found in the White City—a Unesco World Heritage site touting 4,000 Bauhaus buildings.
STAY HERE IF YOU LIKE:
Historic buildings, start-up culture, art.
A TYPICAL DAY IN LEV HA'IR:
Kickstart your day with a self-guided walk through the White City, a collection of over 4000 buildings constructed in a specific Bauhaus style. To understand the White City, you'll have to rewind to the 1930s. At the time, several German Jewish Architects left Europe for what is now Tel Aviv. Missing the cafe culture of Europe, they began building houses in a similar style.
Besides the White City, there's much to see and do in Lev Ha'ir. Soak up the culture along Rothschild Boulevard, dotted with cafes, boutiques and restaurants. If you're really into handcrafts and want to check out the local design scene, spend an hour or two perusing the stalls at Carmel Market. Shop for everything from exotic spices to independent designer fashions and handmade art.
UNPACK YOUR BAGS HERE: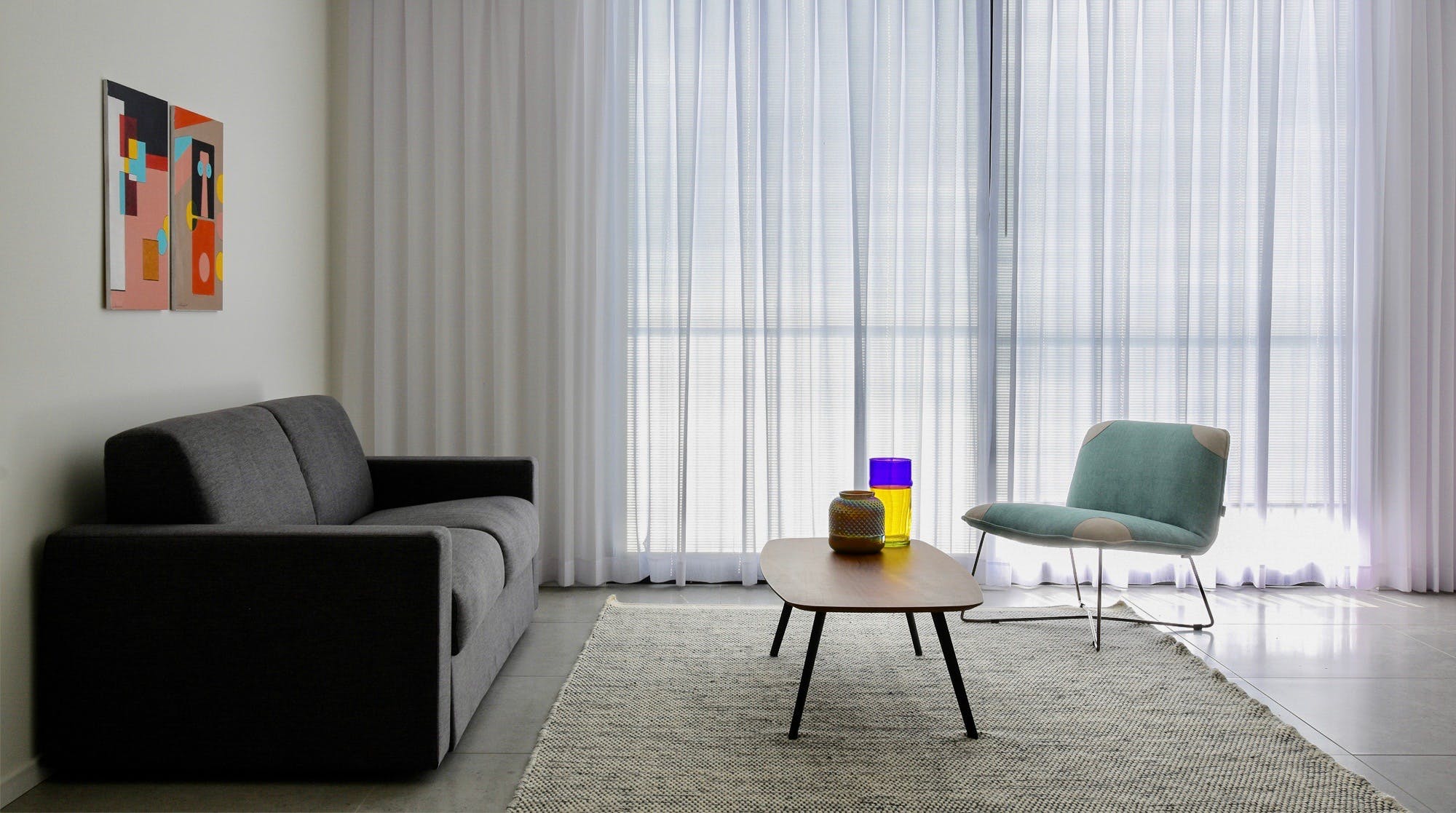 When choosing where to stay in Tel Aviv Lev Ha'ir is a safe bet. This home is near Rothschild Boulevard, with its stream of coffee shops, bars and restaurants. The living room lets in lots of natural light (thanks, huge windows!) and while the decor is on the simpler side, beauty is in the details.
Our personal favourite design touch? The herringbone timing in the toilet.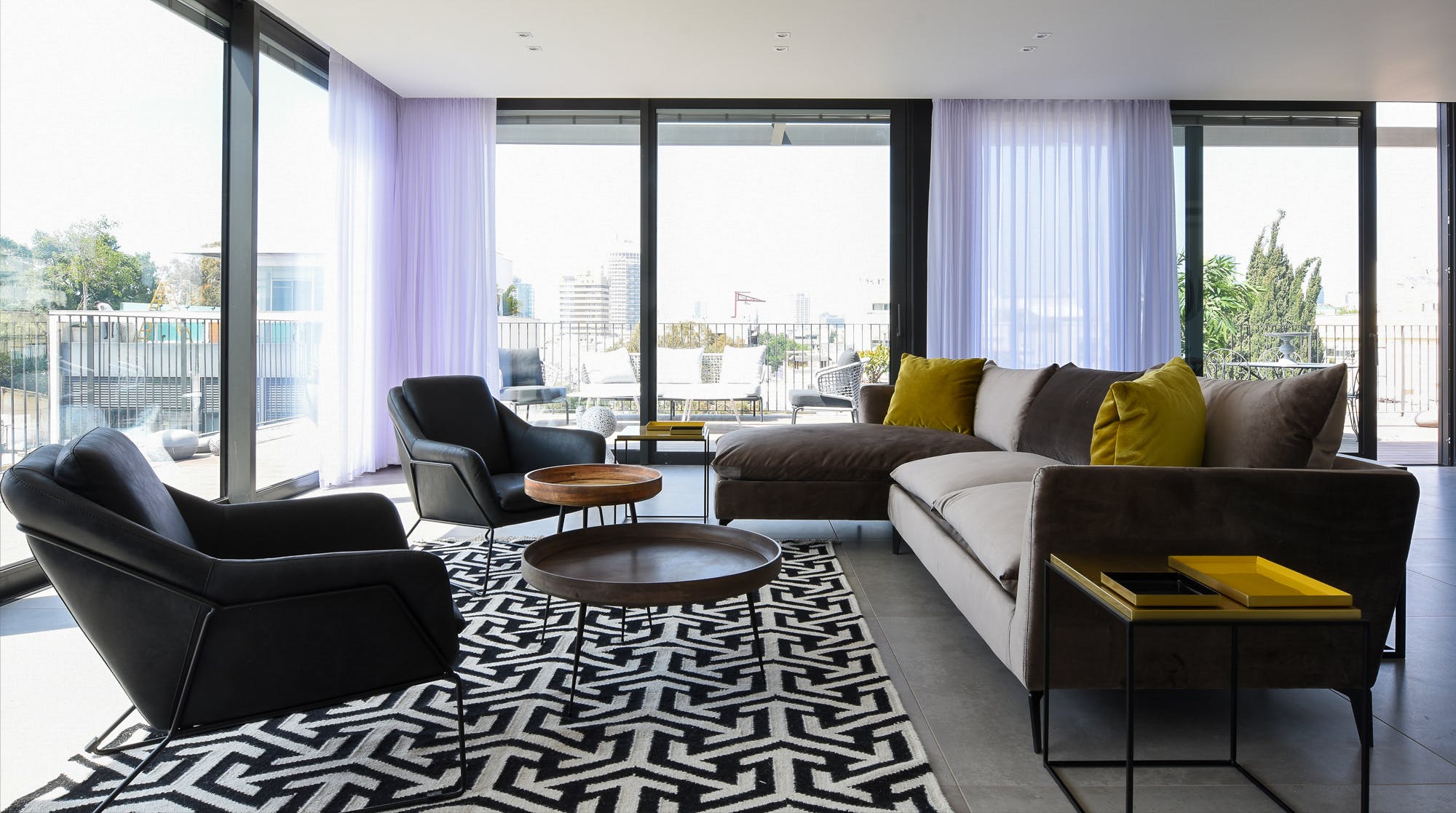 Yes, a bird's eye view is exactly what you'll get when you rent this posh home. Modern and monochrome, the wraparound terrace is so dreamy we wouldn't fault you for actually sleeping out there! It's the perfect place to start and end your day, either with your morning coffee or a stiff nightcap. The apartment is sleek throughout and fairly minimal to appeal to everyone's taste.
Neve Tzedek
Founded in the late 1800s, Neve Tzekek is actually older than Tel Aviv itself. Not only is it the city's oldest neighbourhood, but it was also the first Jewish neighbourhood built outside of Jaffa. Today, Neve Tzedek is one of Tel Aviv's most upscale and desirable neighbourhoods.
STAY HERE IF YOU LIKE:
Architecture, shopping and old meets new influences.
A TYPICAL DAY IN NEVE TZEDEK:
There's a decidedly bohemian vibe here, as seen in a mix of architectural styles. On one extreme there are hundreds of historic sandstone buildings and the other, 1920s Electric architecture sprinkled in with brand spankin' new luxury developments.
The location just outside the city has made this a coveted place to live, and residential prices continue to increase here. The Main Street is Shabazi and it's lined with restaurants, designer stores and artist studios.
UNPACK YOUR BAGS HERE: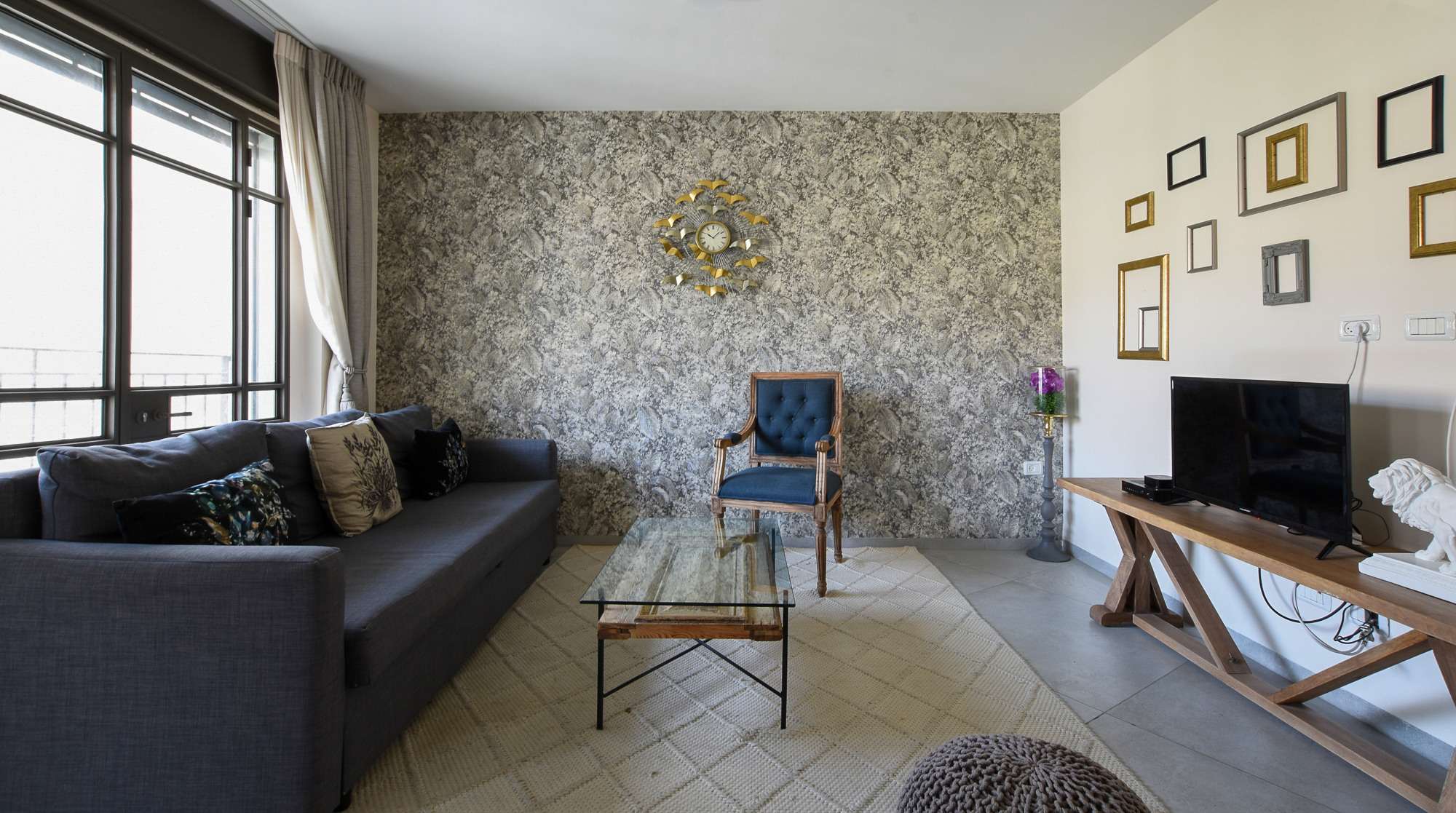 That's exactly what you'll find upon entering this decorative home. The space feels modern yet charming and yes. As you might have guessed, there are vintage-style picture frames in gold and ornate versions, as well as patterned wallpaper and gilded clocks.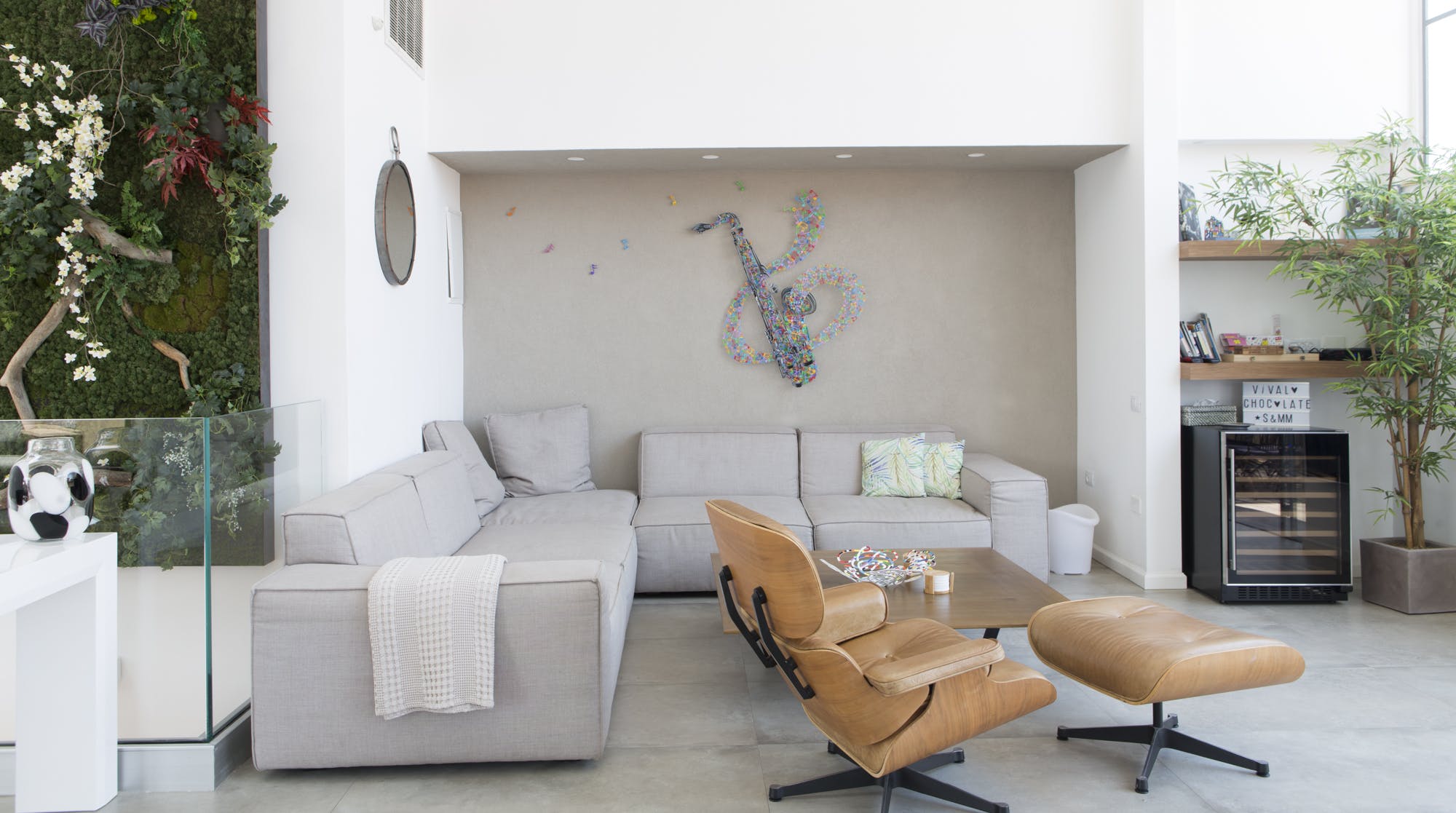 Get ready for gorgeous views of Tel Aviv from the terrace at this luxurious home. Located in the heart of the bohemian Neve Tzedek neighbourhood, you'll fall in love with the floor-to-ceiling windows in the living room and Eames-esque furniture. We'd say the design is playful and also minimal.
Florentin
Art lovers will find their happy place in Florentin. Located between Jaffa and Neve Tzeked, Florentin has had a major makeover in recent years. Today, it's easily the city's trendiest neighbourhood and where you'll experience the grittier side of Tel Aviv's art scene.
STAY HERE IF YOU LIKE:
Street art, hipster vibes and art galleries.
A TYPICAL DAY IN FLORENTIN:
Similar to other revamped neighbourhoods around the world, Florentin began attracting artists and musicians in the late 1890s because the rents were considerably lower here than in other areas. That's surely not the case today (rent-wise), but Florentin still has a very defined bohemian energy to it.
By day, you can pop into the many stores based here, from designer boutiques and art galleries to tattoo parlours.
UNPACK YOUR BAGS HERE: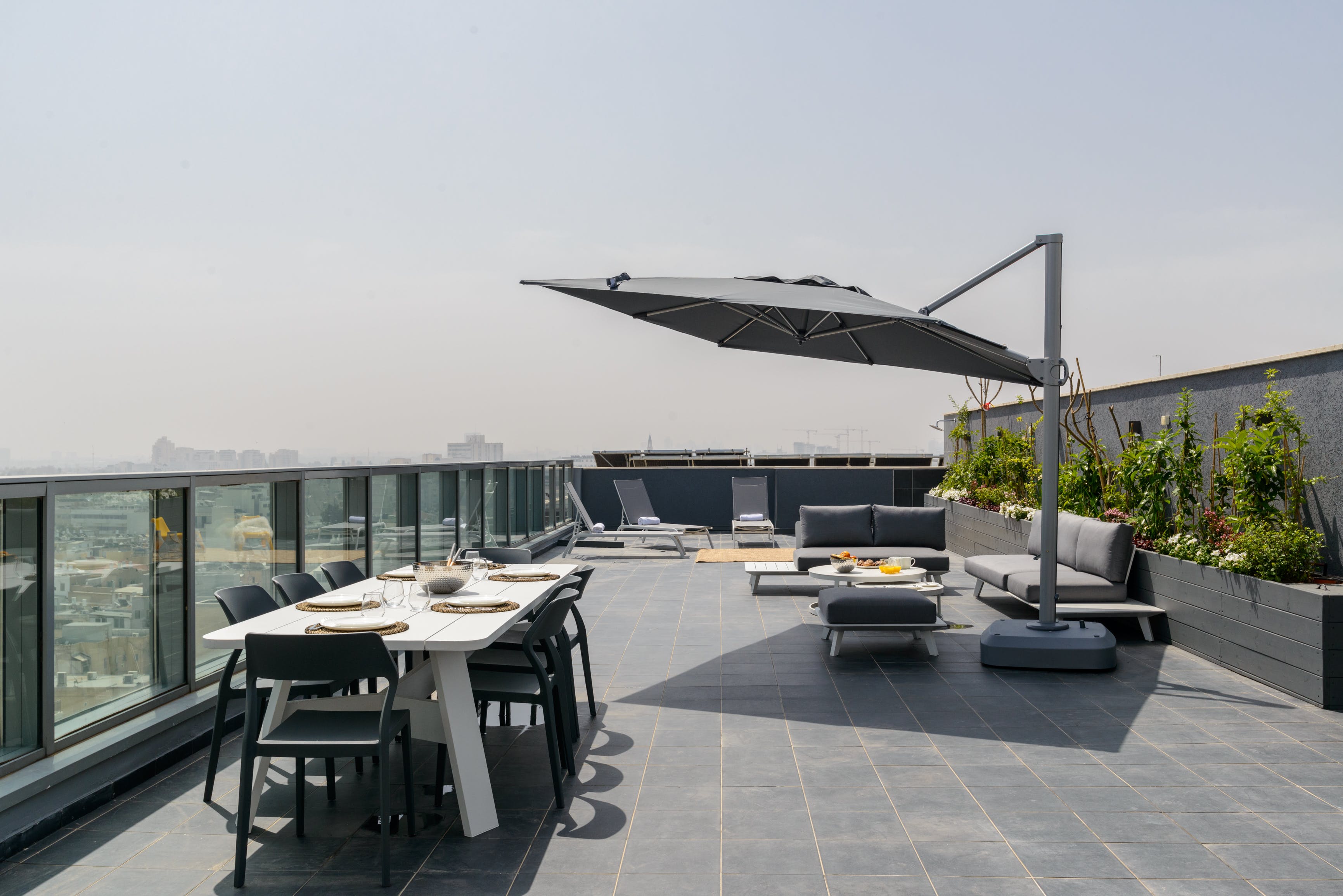 When it comes to panoramic views of Tel Aviv, this home is tough to top. With multiple balconies and a terrace that easily fits 20+ people, you'll have plenty of time working on that tan. The interior is equally impressive, especially the Danish-designed CH07-inspired chair, the Flop-Like lights and the Beni Ourain-style rug. It's chic minimalism at its best.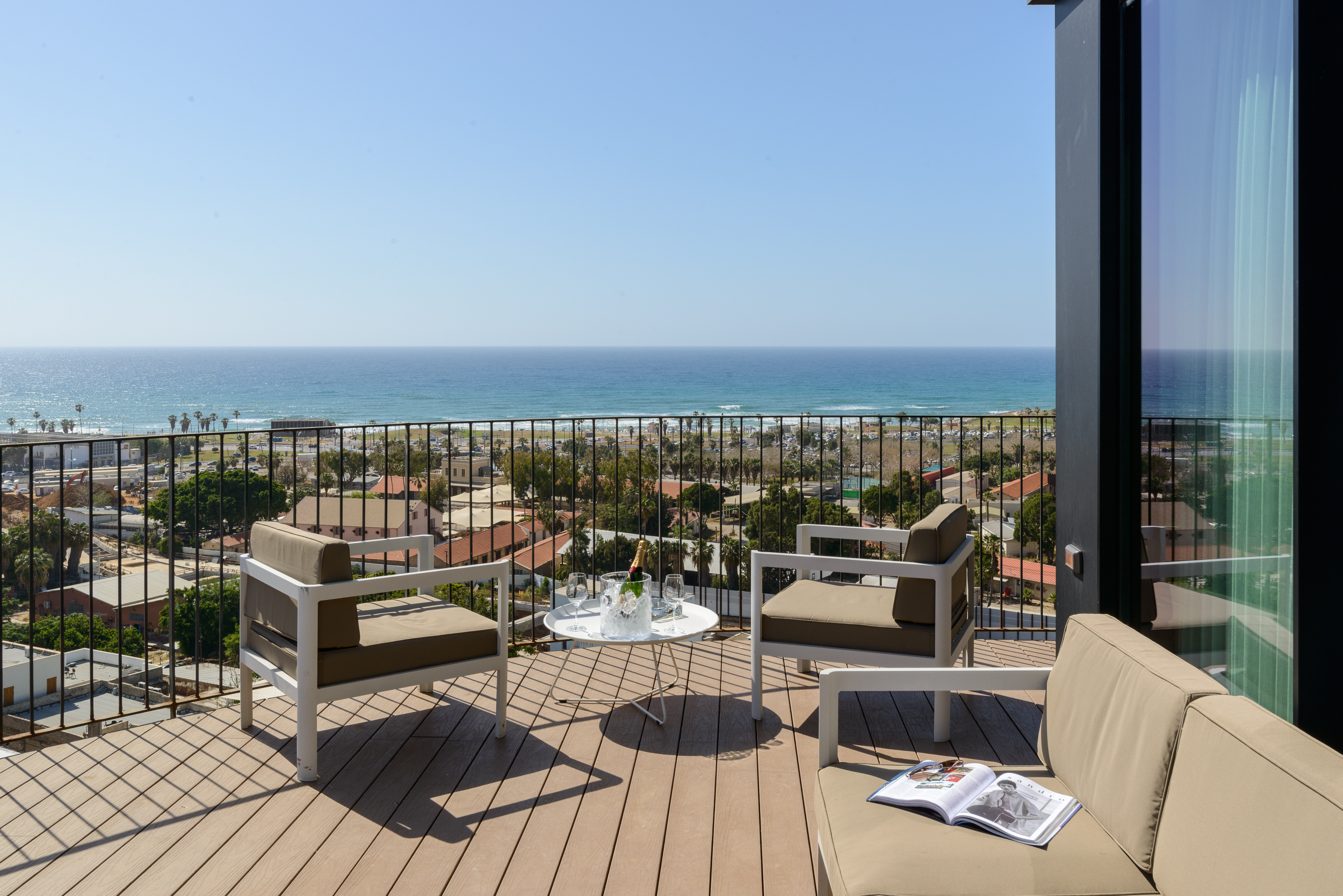 This home comes with pristine ocean views and a large terrace for unwinding after a day of sightseeing. It's super luxury, with an overall neutral colour scene, a marble-like staircase and a toned down Hollywood Regency style throughout. Oh, and there's free daily housekeeping offered for this home. Sold? We thought so!
Kerem Hateimanim (the Yemenite Quarter)
Tucked away behind Carmel Market is Kerem Hateimanim, otherwise known as the Yemenite Quarter. Yemenite immigrants founded the area in the late 1880s and even today, you can feast on traditional Yemeni restaurants like Shlomo & Doron.
STAY HERE IF YOU LIKE:
Markets, food, alfresco bars.
A TYPICAL DAY IN KEREM HATEIMANIM:
There's a certain charm to the Kerem HaTeimanim neighbourhood. Walking down the winding alleyways actually feels like time has stopped. It's easy to picture what life was like for people years ago. That, plus so many restaurants serving traditional Yemenite cuisine give travellers a real sense of place.
Some of the best street food can be found here, too, from malawah flatbreads and meat dumpling soups to middle eastern staples like hummus and falafel.
UNPACK YOUR BAGS HERE: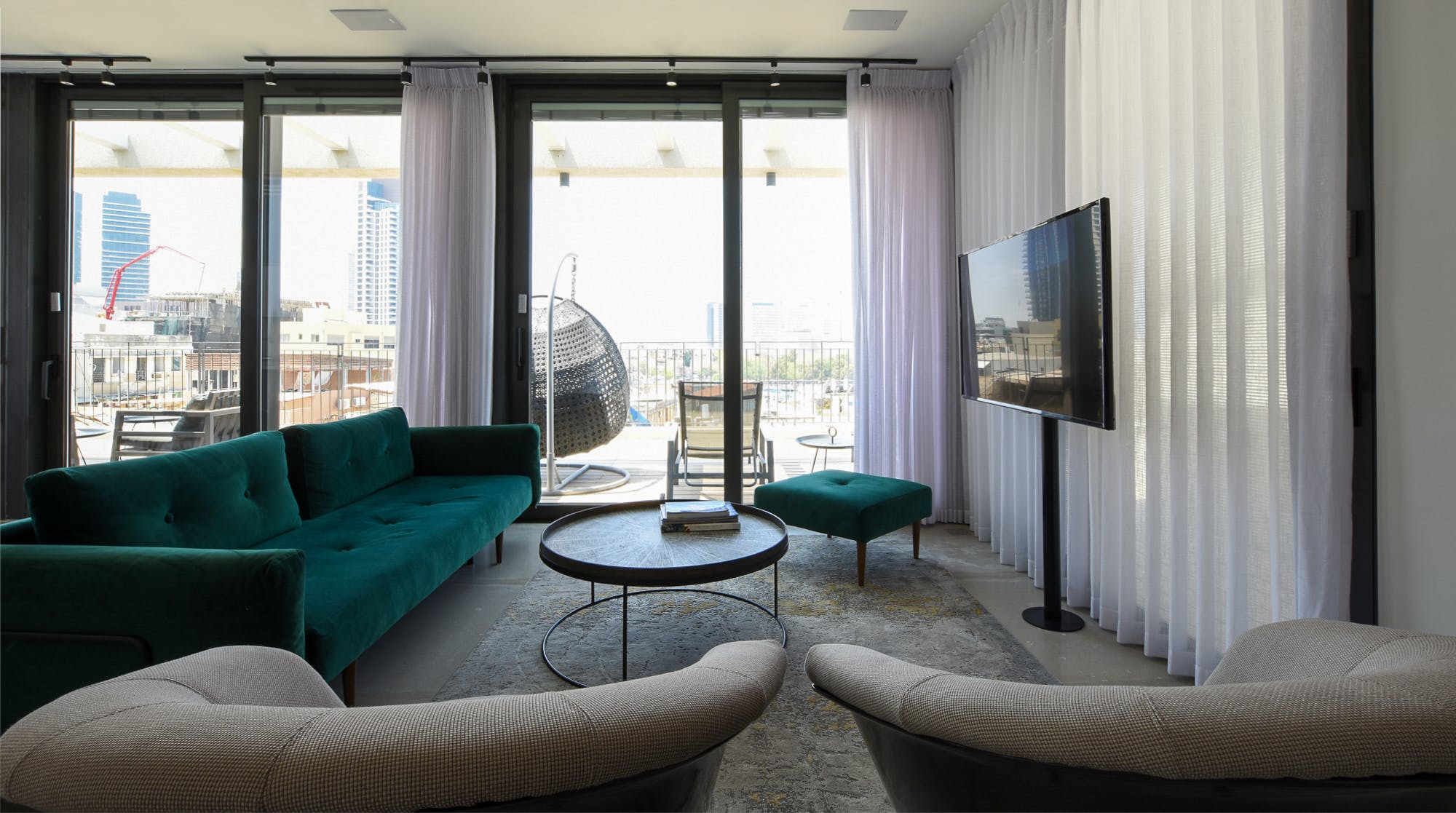 Located close to where artsy Kerem HaTeimanim and vibrant Nachalat Binyamin intersect, Marble Town is a stunning two-bedroom home both modern and bright. It also comes with a gorgeous terrace with stylish yet still comfortable lounge furniture. You'll note a mix of opulent materials with clean lines that add to its refined look and feel.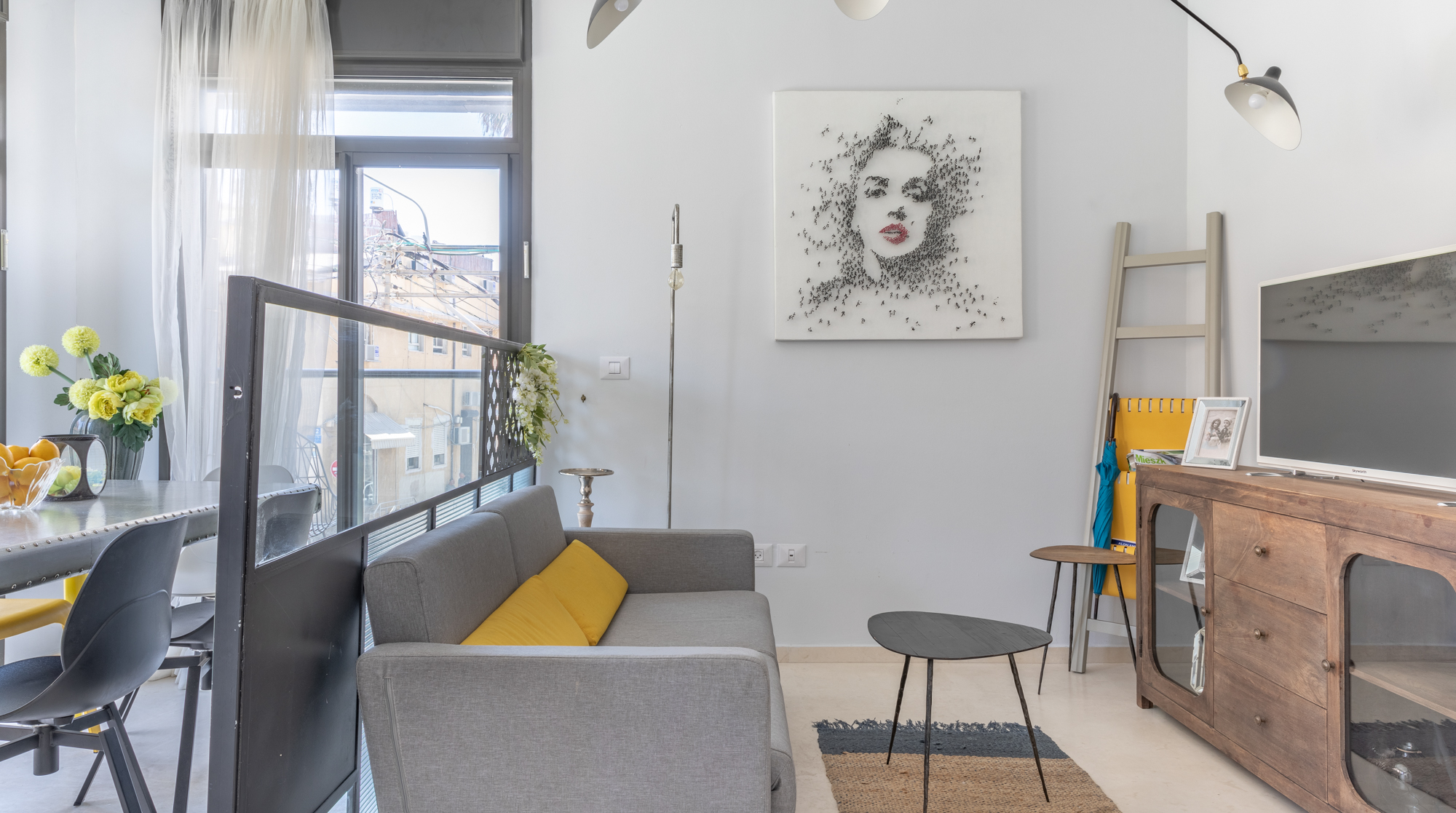 We'd say the biggest perk of this home is the location. You're a five-minute walk from popular Banana Beach (get ready for those blissful morning sea breezes) and you're surrounded by the restaurants, bars and cafes of Kerem Hateimanim.
Furniture is simple yet thoughtful, and we really like the marble-like countertop in the kitchen and bright pops of colour throughout.
Jaffa
If the name Jaffa sounds a bit familiar, that's because it is. Jaffa is connected with several bible stories surrounding Japhet, one of Noah's three sons. After the great flood, Japhet founded Jaffa as a city. But that's not all! In Greek mythology, the port city of Jaffa was attacked by a sea monster and ultimately saved by Perseus.
STAY HERE IF YOU LIKE:
Flea markets, souvenir shopping, street food.
A TYPICAL DAY IN JAFFA:
Jaffa (or, Yaffa in Arabic), is at the southern end of Tel Aviv. There's so much to see here and luckily, it's compact enough to see the main sites in a couple of hours. Dotted among historic stone buildings, miscues and churches, you'll find art galleries featuring local Israeli artists.
The Jaffa Flea Market (Shuk Hapishpishim) is an absolute must, even if you're not in the shopping mood. Vendors sell everything, from traditional crafts like Arabic ceramics and Persian tiles to travel-sized souvenirs that fit right in your suitcase.
UNPACK YOUR BAGS HERE: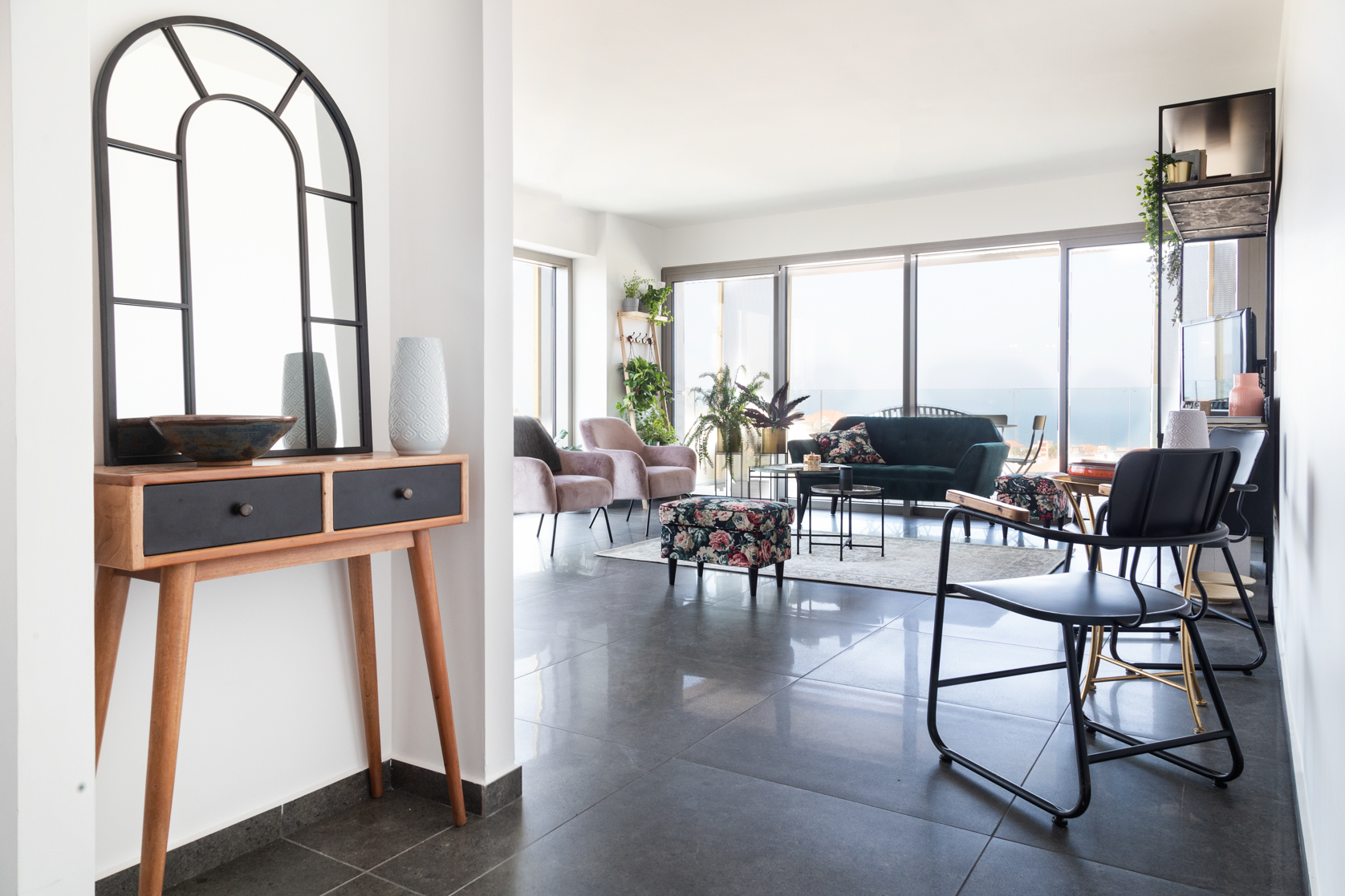 See what we did there? Sea and the City is truly the best of both worlds—minutes from the beach and yet still in the heart of Jaffa's ancient streets. Besides stunning views of The Med, textured materials and gold details throughout, the kitchen features state-of-the-art appliances. Basically, if you love to cook, you'll love this kitchen…and if you don't cook, you might be tempted to try!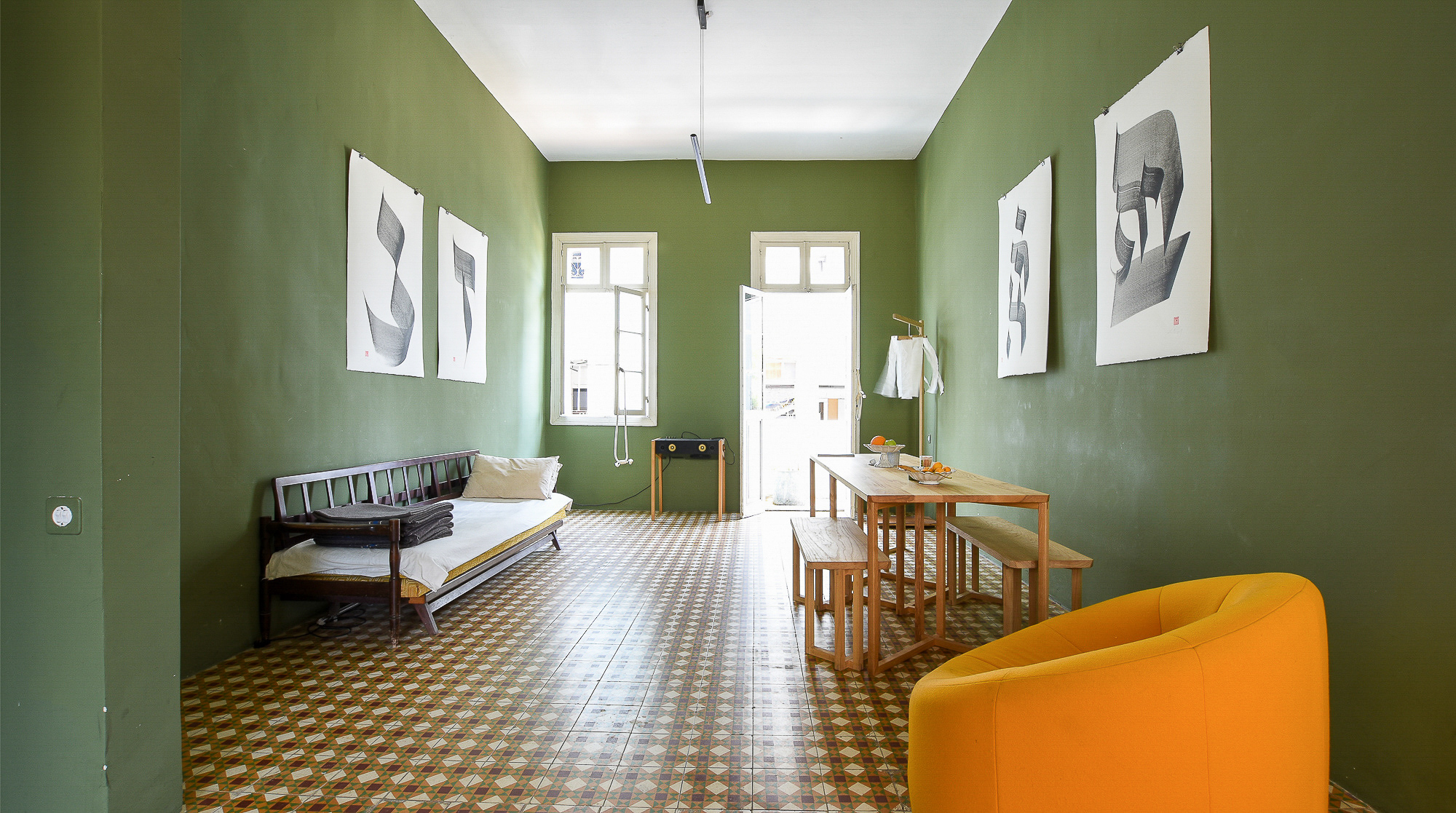 This home has is one of our more off-beat offerings, and we mean that in the best ways. The decor is inspired from atmospheres from across the globe, with colours and design detail that give off an air of Zen all around. We'd say it has a mostly Japanese-like theme going on, and it's a really tranquil environment to rest up after a long day. Old Jaffa's flea markets are a close way away.
Tel Aviv Port
Originally the Tel Aviv Port was used for commercial shipping but today, that's hardly the case. Located in the north of the city, the Tel Aviv Port is essentially one big, happy playground for adults and kids alike. Summers are especially lively here; many Israeli fashion designers even keep their doors open until ten in the evening.
STAY HERE IF YOU LIKE:
Wind in your hair, beach vibes, ocean views.
A TYPICAL DAY IN TEL AVIV PORT:
Wooden boardwalks connect cafes, bars and restaurants with boutiques, ice cream parlours and everything in between. During the day, the beaches are packed and come nightfall, the port comes alive with partygoers heading to concerts and a few rounds of drinks. While It's tempting to stay all day outdoors, don't miss out on the Namal Market at Hangar 12. Comparable to London's Borough Market or La Boqueria in Barcelona, food of every colour, shape and smell can be sampled here.
UNPACK YOUR BAGS HERE: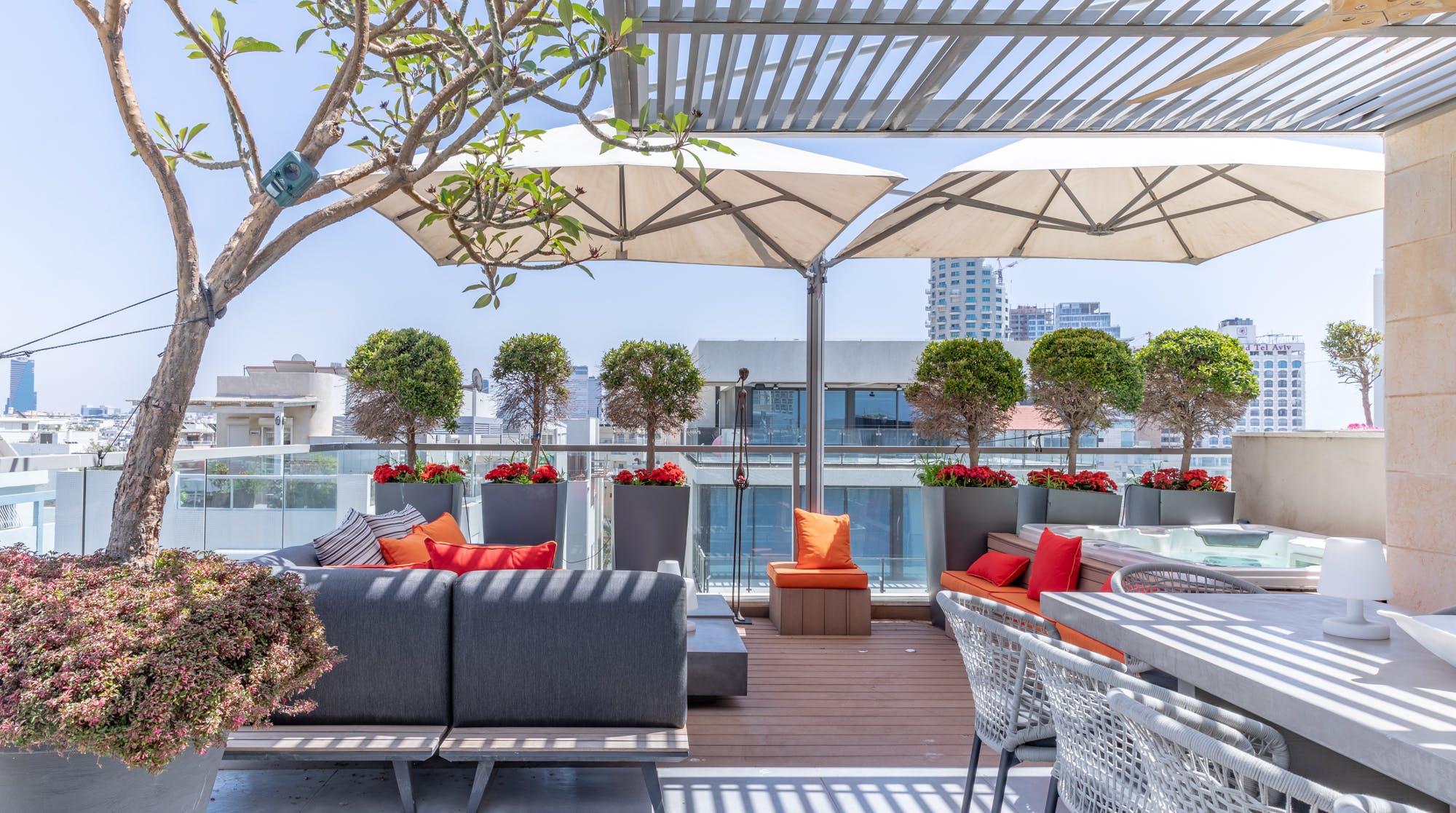 This two-story home is mere steps from the beach and pretty much perfect in every way. From the original artwork on the walls (they're by Israeli sculptor Yaacov Agam) to a sunken jacuzzi on the large rooftop terrace. The floating staircase makes the space feel even more open and with daily cleaning available, you're set for a very comfortable stay.
BEST AREAS TO STAY IN TEL AVIV FOR…
Whatever your tribe, we have a home away from home for you.
BEST AREA TO STAY IN TEL AVIV FOR FAMILIES:
Neve Tzedek
We'd say that Neve Tzedek is a great place to stay for families, especially because it offers a respite from the busyness of other Tel Aviv neighbourhoods. There's a bit of everything here—stores, boutiques, restaurants, cafes, art galleries and craft stores. That, plus some really beautiful architecture.
Kids love the Nahum Gutman Museum of Art, named after the Israeli author, painter, sculptor and illustrator of the same name. As it happens, Gutman spent much of his childhood in Neve Tzedek, so it's only fitting that kids would enjoy this one. Entrance for kids is free. If time allows, pop into Sipur Pashut, one of Tel Aviv's most beloved bookstores.
BEST AREA TO STAY IN TEL AVIV FOR ROMANTIC GETAWAYS:
Pack some culture into your day with a visit to the Ilana Goor Museum. Ilana Goor, who founded the museum in 1995, is an artist, designer and sculptor and has become a stable of creativity in Jaffa. The collection here is eclectic and has even been called an "artistic jungle." Don't leave without snapping a selfie of you and your sweetie on the rooftop overlooking the Mediterranean.
For dinner, you'll have your pick of romantic restaurants. OCD—don't freak out by the name—is one of the best dining experiences to have in Tel Aviv. Although its layout is more communal, meaning you'll sit next to people you don't know, it really opens you up to conversation. This, all while tasting flavours that pop in your mouth.
BEST AREA TO STAY IN TEL AVIV FOR ART LOVERS:
Art is everywhere in Tel Aviv and Lev Ha'ir is no exception. For an introduction to contemporary artwork in Israel, pay a visit to the Chelouche Gallery on Mazeh Street. One of the nice things about the community that has formed here is the blend of emerging designers with more well-known names. The harmony of the two makes for a truly inclusive experience.
After your visit, take a stroll down one of Tel Aviv's hippest streets. Shenkin Street is where you'll find Israel's coolest designers, from Ronen Chen and Naama Bezalel to Banot - Luli Liam. One of the newer additions is a shop from Brazilian designer, Carmen Miranda.
BEST AREA TO STAY IN TEL AVIV FOR YOUNG TRAVELLERS:
Hipsters are flocking to Florentin in droves and we know why. This former industrial city has had a major makeover in the past few decades and it's all anyone under the age of 35 can talk about. At the centre of Israeli art and culture, you'll find vibrant street art, vegan eateries, designer boutiques and a very lively nightlife scene as well.
Want to take a bit of Florentin's shabby chic vibe back with you? Thanks to Pachot M'Elef – Street Art Gallery, you can. Much of the work featured here is inspired and reflective of the murals already existing in Florentin, expect you can actually take these home. Daniel Siboni, who co-owns the gallery with Eli Edri.
BEST AREA TO STAY IN TEL AVIV FOR SIGHTSEEING:
In short, we'd say the White City. Rothschild Boulevard is lined with trendy cafes, restaurants, bars and boutiques. Architecturally speaking, you'll see a contrast of old, Bauhaus buildings and newer, glass skyscrapers. Sheinkin Street is another important street in the White City. It's changed a bit over the years but is still considered one of Tel Aviv's most iconic streets. Today, the street is lined with old boutiques and cafes, each trying to stand out among the throng.
BEST AREA TO STAY IN TEL AVIV FOR NIGHT-LIFE:
When it comes to nightlife in Tel Aviv, the port is where it's at. Most of the big clubs are located near each other, if not next door neighbours. Both Shalvata and Lighthouse attract an out-of-town crowd. Go to one or both to hear DJ's spinning dance-heavy tracks. Add bright lights and a packed crowd into the mix, and it's a full on party.
BEST AREA TO STAY IN TEL AVIV FOR WALKING:
The walking promenade that takes you up and down the coast gives you a glimpse into everyday life by the beach. Roller Skaters, runners, bikers and walkers share the path with you; talk about some serious people-watching! The path starts in Jaffa in the south and goes north until you hit the port. From there, rest up with a lunch overlooking the ocean.
BEST AREA TO STAY IN TEL AVIV FOR WORK TRIPS:
This really depends on your industry as well as how many nights you plan on entertaining clients—in which case, you might choose the port or White City. Ramat Hachayal is another area to consider. It's east of Tel Aviv (only about 15 minutes drive away) and is where many US companies like IBM are based.
BEST AREA TO STAY IN TEL AVIV FOR FOODIES:
Food-wise, you'll have a field day in Florentin. Grab some grub at Dalida, a trendy little eatery serving up salads, fresh seafood, mezzo and more. You can also try Mezcal, which has been a staple in Florentin for years and has nailed down the art of taco making. Then there's Casbah, rustic restaurant serving downright delicious food (seriously, try their burger)!