Bauhaus: The School that changed the world
One hundred years ago, a group of radical thinkers came together and changed the world forever – their influence still shapes our lives every day.
~
Though it only existed for fourteen years before the school was closed under growing pressure from the Nazi regime, Bauhaus has revolutionized creative and artistic thinking worldwide. 2019 marks its centenary and we think it's only appropriate to highlight the influence Bauhaus has had on the modern world.
Before we get started, here's a little background information. Throughout the nineteenth century, architects had extensively debated if and how advances in technology, which had been propelled since the Industrial Revolution, should be reflected in modern architecture. What was concluded was that architects indeed had an obligation and a moral duty to accurately reflect modernity in all of its forms, good and bad, and change the way people lived and worked.Today, we call this movement Modernism.
Let's take a look at our very own "Bauhouse" to illustrate some of those key ideas. Click here to check out Bauhouse
The home stands on a leafy street in an area called the Hansaviertel (Hansa district.) This neighbourhood was almost completely destroyed during the Second World War and rebuilt as a social housing project between 1957 and 1961 in the Bauhaus style. Some of the leading architects of this project included Walter Gropius (founder of the Bauhaus School), Egon Eiermann and Oscar Niemeyer, to name a few.
One of the main concepts of Bauhaus was that form should follow function. This meant that architecture and design should be objective and without fuss, yet practical, and most importantly, it should be affordable.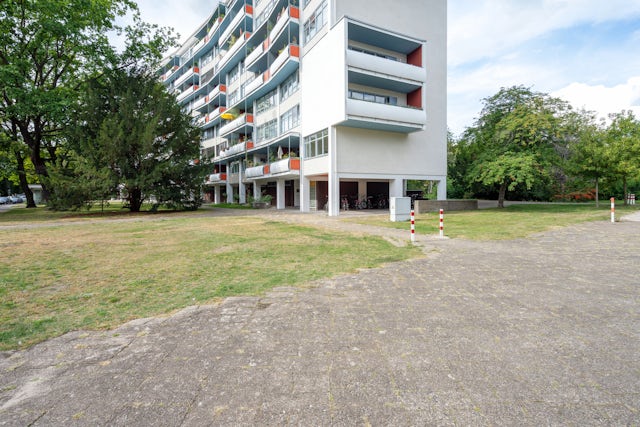 This translated into rational and clear structures, merged with modern technology, such as central heating, which was, of course, a huge luxury at the time. It was essential that homes have open floor plans and tonnes of natural light, in place to improve living standards, especially for the working class. It will come as no surprise that these ideas and topics are still of interest for architects and city planners today.
Photography by Bürgerverein Hansaviertel, Archiv
What we can clearly recognise from our own Bauhouse is the openness of the layout, the bright white walls, clean lines, and the functional use of curtains against glass doors to allow for more natural light to fill the space.
Of course it's a welcome addition to have posters from the Bauhaus archive lining the walls of this home. We especially enjoyed Herbert Bayer's "Humanly Impossible" self-portrait. Himself educated at the Bauhaus School, he draws on surrealism and experiments with cutouts and unconventional perspectives. His self-portrait, which delicately combines the idea of a classical sculpture as well as an amputee, is a clear stance against the idealised body, as Nazi art and culture was prescribing in the 1930s.
By combining art, typography, architecture and design in one space, Walter Gropius and Bauhaus pushed the concept of the "Gesamtkunstwerk", a total work of art. This revolutionary way of thinking meant that buildings weren't simply empty carcasses designed by architects, but instead everything inside – every pipe, every window, every piece of furniture and every piece of art – was there to create one concept and one utopian world.
Below you will see two photos taken of similar apartments in the same building. The only difference is that one photo was taken around 1960, while the other was taken in 2019. What stands out most is that the interior design is not hugely different. Minimalism is clearly the order of the day here – each piece of furniture simplified until it is just an outline. These practical and streamlined designs are so familiar to us that they no longer seem striking or exceptional. But it is thanks to Bauhaus that the philosophy of usefulness before decoration is still predominant in design today.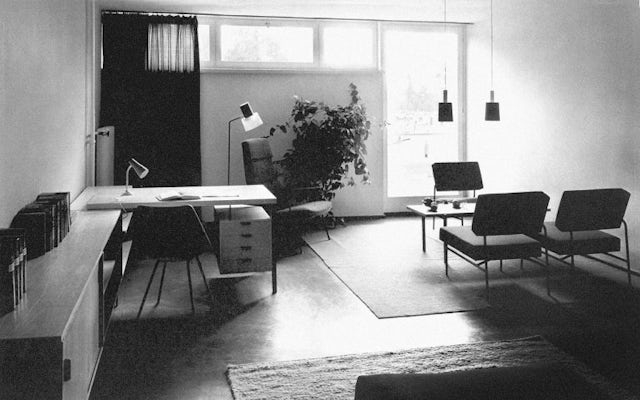 Photography by Carola Seppeler
Although we often think of IKEA as typically Swedish, its entire concept is fundamentally rooted in the Bauhaus philosophy. But the mass-produced furniture giant isn't the only one who has taken their inspiration from the rebellious art school. Terence Conran, founder of The Conran Shop and Habitat, has cited Bauhaus as his inspiration, and Apple is a perfect example of the "Gesamtkunstwerk", combining technology with clever and considered design.
Unfortunately, Bauhaus is often discussed as if it were just another design movement, but moreover it was also an ideology of European Enlightenment. Whether or not you enjoy the Bauhaus aesthetic, its impact on the modern world is undeniable. Based on truth, clarity and reason, it was in place to reject outdated concepts of society and create a better, more progressive world. Bauhaus' centenary is an opportunity to remind ourselves of the group of radical thinkers that created our modern world, and how we can go back to some of their early inspirations.