Find expert tips, here on Plum Guide. From where to stay, what to eat, and what to see in some of the world's finest cities. Find expert-approved homes too: Plum Guide is a collection of the very best vacation rentals in the world, approved by our expert Home Critics after a rigorous 150 point test.
When you're planning a trip to Paris, the only thing you should be worrying about is how soon you can get a macaron. When it comes to where to stay, that's too easy to have concern. We have not one, not two, but the 12 best Airbnbs in Paris for you to rent out. From family trips to crazy times with friends, each of these is perfect for travellers to Paris. Yes, we even have a special one picked out for all you romantics out there.
Read on for our curation of the best homes to rent out in Paris:
Where Is It?
How Many People Can Stay Here?
Sleeps 8, 4 bedrooms, 4 bathrooms
What The Critics Say:
'...have a stunning view of the Eiffel Tower as you're right in the centre of the main tourist attractions. This really would make the perfect base for a truly memorable family trip!'
Tell Me More…
Whether it's your first time to Paris or you're bringing kids with you, this is the place to be if you want to be at the heart of all things touristy. Seriously, it's in the Eiffel tower neighbourhood! With sites like the Grand Palais and the Rodin Museum within walking distance, there's no shortage of places for you to see in this neighbourhood.
While you may want to pop into the Louvre, this space is a gallery in and of itself as the entryway is filled with quirky art pieces. Get this: The bathroom even has golden taps. Now that's one cool place. On a nice day, head to Champs De Mars to soak in all the Eiffel Tower views you can. If you ever get tired of tourist attractions, take a shopping break at Le Bon Marché, a series of luxury department stores that sell clothing as beautiful as the 1869 building they're housed in.
Where Is It?
How Many People Can Stay Here?
Sleeps 6, 2 bedrooms, 2 bathrooms
What The Critics Say:
'Sweet and elegant, this two-bedroom apartment will impress with its contemporary decoration, including numerous warm wood touches. It's ideal for a group of friends who wants to discover the spirit of the Marais - come plunge in to the history of Paris!'
Tell Me More…
Let's be real, there are few things better than spending hours sitting in a cafe watching people go by. This is even better in a foreign country and Le Marais is the neighbourhood to do it in. This stylish and vibrant neighbourhood is home to an amazing number of cafes with outside seating and great coffee.
When you're done strolling for the day, head back to the apartment and crash in the luxurious, green velvet sofa. Wash your face in the sleek, black bathroom that features the same elevated sink as the kitchen.
Where Is It?
How Many People Can Stay Here?
Sleeps 4, 1 bedroom, 1 bathroom
What The Critics Say:
'Only a hop, skip and a jump away from some of Paris' most loved attractions such as the Louvre, Tuileries gardens and Palais Royal, this one-bedroom apartment is certainly central'
Tell Me More…
Compared to most other rentals in Paris, this place is a real steal. It's only three minutes from the Palais Royal Louvre metro stop and walking distance from countless things. Seriously, if you don't rent this place out we might have to. A short walk from the Seine river and the Louvre, yet still tucked away from the hustle and bustle, it's a perfect balance of relaxation and attractions.
Speaking of major attractions, push through a sea of tourists to see the Mona Lisa at the Louvre and then reward yourself with a slice, or three, of scrumptious carrot cake at the super cute brunch spot Café Marcelle. On a real note, if you love brunch as much as we do, you're in the right area. From Claus to Le Fumoir, the options are endless. I guess you'll just have to try them all!
Where Is It?
How Many People Can Stay Here?
Sleeps 4, 2 bedrooms, 2 bathrooms
What The Critics Say:
'Inside, the home has a rustic, country-house feel, with rough-hewn beams and terracotta kitchen tiles. The master bedroom has a slightly more modern edge, with luminous signs that differ from the woody charm of the other bedroom.'
Tell Me More…
Let's get this out of the way right now, if you're looking for a glamorous Parisian locale, this is not the place for you. But, are you the kind of person who hates cities but loves Paris? Then this awesome rental is calling your name, yes, yours!
Though easily connected to many sites in Paris, such as its namesake the beautiful Place Des Vosges, this space will have you believing you're deep in the countryside instead of at Paris' front door. Filled with vibrant plants, hardwood accents, and home to a beautiful, rustic kitchen, this place is a warm escape from the craziness of exploring.
Speaking of, great sites to see in the area include the Museé National Picasso-Paris, the Bastille Opera House, and the breathtaking Notre Dame Cathedral. Then, escape back to your "countryside" oasis when you're done with the crowds for the day.
Where Is It?
How Many People Can Stay Here?
Sleeps 6, 3 bedrooms, 3 bathrooms
What The Critics Say:
'This home's unquestionable superpower is its grand living space with high vaulted ceilings, exposed beams and filled with a curated collection of contemporary artwork. With a fireplace to curl up in front of in the winter and a private leafy outdoors for the summer, it makes the perfect family home to entertain all year round.'
Tell Me More…
This place is incredibly weird - in the best way. With in your face artwork, zebra print throw pillows, and so, so many plants, it really makes a statement the second you see it. Whether you have a big family that would enjoy a space like this or a great group of friends, this place will greet you with open arms.
One of the coolest features in the home is the spiral staircase situated at one end of the living room. Not only is it super cool looking, but it allows for a seriously great entrance when meeting people downstairs.
Step out into the neighbourhood and see more vibrant prints at the nearby Grande Mosquée De Paris, filled with beautiful mosaics. If you're on that friends trip, stop into Brewberry, which sells beers from all over the world. Then take the festivities back to the vibrant outdoor garden.
Where Is It?
How Many People Can Stay Here?
Sleeps 3, 2 bedrooms, 1 bathroom
What The Critics Say...
'With a rooftop terrace that provides stunning views of Montparnasse Tower and, of course, the Eiffel Tower, it's a perfect spot to soak up the sun in the summer months.'
Tell Me More...
This is the place for anyone who wants to visit Paris without the tourist experience. Does the fantasy of your Paris experience involve taking long walks in the park and not encounter too many tourists? Then this is the spot for you. Found in the 6th arrondissement, the area is a bit more residential than most of Paris. Speaking of walks, there are few better than one through the nearby Luxembourg Gardens. Take a picnic, take a nap, whatever you feel like doing. In the mood for something a bit creepy? Check out the Roman Catacombs that are found not too far from here. Plus, this place isn't called the glass library for nothing. Grab a book and stare out the large windows at the Eiffel Tower. That's enough time as a tourist right?
Where Is It?
How Many People Can Stay Here?
Sleeps 4, 1 bedroom, 1 bathroom
What The Critics Say:
'A quintessential Parisian top floor apartment with beautiful views of Notre Dame, this one-bedroom apartment has heaps of romantic charm.'
Tell Me More…
If you're looking for somewhere to stay during a romantic getaway to Paris, this is undoubtedly the place. With a cosy bedroom, warm accents throughout, and an amazing terrace, this place knows how to do romance. If you ever get around to leaving it, the Latin Quarter is a great space for lovebirds.
Pop into Shakespeare & Co for a peek at a sea of amazing books. Or take in a jazz concert at the tiny venue Caveau De La Huchette. Of course, no trip to Paris is complete without cheese so a visit to Androuet cheese shop is a must. We won't blame you if you choose to bring them back to eat in bed.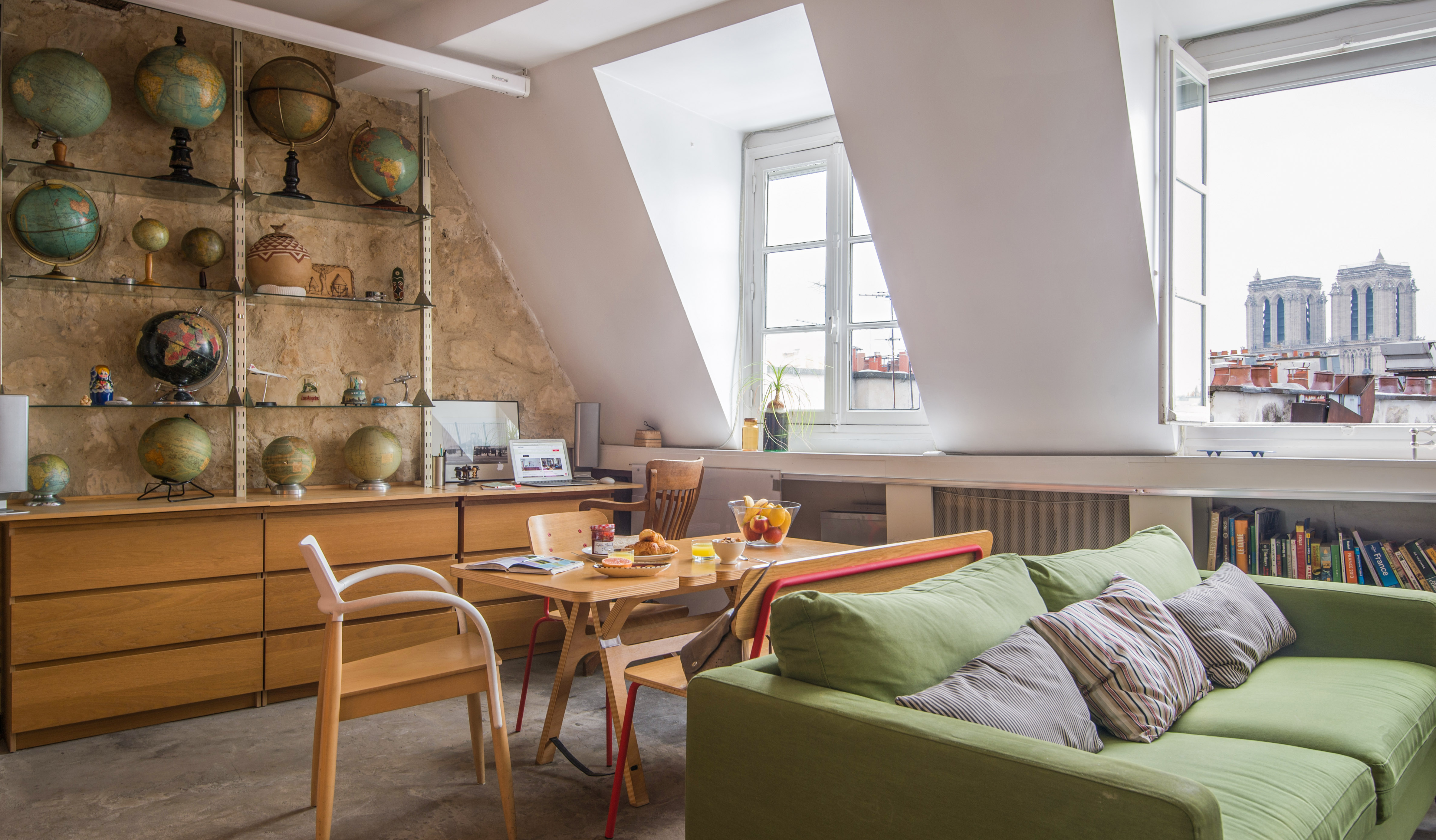 Where Is It?
How Many People Can Stay Here? Sleeps 4, 3 bedrooms, 2 bathrooms
What The Critics Say:
'Child-friendly bedrooms are the star, with some of the wackiest wallpapers we've seen in our collection, while grown-ups will enjoy the mid-century decor with iconic pieces and a modern open-plan kitchen-diner.'
Tell Me More…
If you're travelling with younger kids, this is the place to be! With two children's bedrooms already set up in the rental, your family will feel like you're right at home. Both the rooms feature really fun wallpaper prints that your kids are going to love! I mean the apartment is literally called The Jungle Book so why should we even be surprised that the print is filled with them?
For the parents, the sleek living area and open kitchen are going to be as enticing as that wallpaper. While this apartment is in a more residential area of Paris, its central location means that you and your family can get anywhere in the city with ease. In the area, take your kids for a stroll through the park or to the local market.
Where Is It?
How Many People Can Stay Here?
Sleeps 10, 5 bedrooms, 5 bathrooms
What The Critics Say:
'A large group will benefit from its multiple communal spaces featuring four living areas, a beautifully landscaped garden and a stunning dining room with an impressive dining table. We couldn't help but feel like Alice down the rabbit hole in such an extravagant setting, full of exquisite pieces and animal references – your very own Parisian Wonderland.'
Tell Me More…
This is the place to get for when you're bringing EVERYONE with you. With five bedrooms that sleep ten people, get your whole group here for a good time. Or bring your big family for a reunion. Not only is it huge, but it's also crazy ornate. For real, if there was a contest for 'most ornate place in Paris', this space might take second only to Versailles.
If you're looking for an authentic, high end Parisian experience, you'll get it here in spades. The area is filled with wealthy locals and provides a truly genuine feel. See for yourself and take a walk past the amazing private villas. A big clout for the area is that it's the birthplace of Proust and was a hangout for many big artists. As you walk, step into Pierre Hermé to try a bunch of delicious macaron flavours.
Where Is It?
How Many People Can Stay Here?
Sleeps 4, 2 bedrooms, 2 bathrooms
What The Critics Say:
'There are lots of mismatched vintage objects and a smart collection of artwork, making this home ideal for friends or a family who appreciate a home with a creative side.'
Tell Me More…
If you're a history buff then there are few places that compare to Bastille. As you walk around the colourful neighbourhood, it may be hard to picture that such a siege took place in somewhere so beautiful. Bordering Le Marais and Republique, the area feels youthful, filled with concept stores and food markets. As for the loft, the long windows and large skylights allow so much light in that you'll feel bathed in it. Enjoy the framed children's drawings alongside other works of art hung around the space. Bring friends with you to take advantage of the open floor plan to hang out and connect.
Where Is It?
How Many People Can Stay Here?
Sleeps 4, 1 bedroom, 1 bathroom
What The Critics Say:
'...make your way through this conservatory-like apartment that feels perched in the clouds: a futuristic kitchen, minimalist interiors and a spectacular marble shower room. The ideal space for design aficionados.'
Tell Me More…
Do you like floor to ceiling windows? Trick question, everyone does. Well, this place is so cool that its giant windows overlook The Opera House. That is no shabby view. Besides the windows, another awesome feature in this space is the white, spiral staircase.
This is a great area if you love to explore little shops and streets. Bourse-Sentier is filled with great thrift shops, cafes, and speciality shops, all a close walk from the Seine. If you're looking to venture out, the Opera metro stop is only two minutes away from this rental. With the views you have, however, you may never leave.
Where Is It?
How Many People Can Stay Here?
Sleeps 4, 1 bedroom, 1 bathroom
What The Critics Say:
'Located on the seventh floor with unbeatable views of the Iron Lady in all her glory, this home is both luxurious and homely...We fell in love with the marble bathroom and gold detailing - the perfect spot for a decadent shower.'
Tell Me More…
If you're looking for a rental that feels more like a hotel than someone else's home, this is a great fit for you. The apartment has a completely sleek look from the kitchen to the bathroom. Speaking of the bathroom, check out that marble shower. The bedroom is just as minimal with a big comfy bed and subtle colour accents. Between the shower and the bed, you will be able to relax properly after a long day exploring.
Also, can we talk about the amazing view of the Eiffel Tower out the window? With this rental located right off Champs De Mars, you are so close to the action that you can already see it up close and personal before you even leave for the day.