Fabulous Free Things To Do in Paris
Visiting Paris on a budget can be tricky, but by no means impossible. We've done the hard work for you (shock) in finding this list of the best things to do without spending a cent.
~
Paris is known for being a rather expensive city to visit, full of fine dining restaurants, luxury stores and plenty of other wonderful things to splash the cash on. That said, with a bit of advanced planning, you can have a brilliant time exploring the city without breaking the bank. Here at Plum Guide, we've taken it upon ourselves to compile a list of the very best free things to do in Paris. So, without further ado, let's see what that entails…
Museums and monuments
There are fourteen museums owned and operated by the City of Paris; all of which are free to the public (though special or temporary exhibits may come with a ticketed admission fee). Here are some of the best museums you can visit free of charge that you won't want to miss.
Petit Palais
Built for the 1900 Universal Exhibition, Paris's museum of fine arts boasts an extensive collection of paintings by great masters such as Rembrandt, Monet, and Cézanne as well as decorative murals and sculptures spanning 1903 to 1925.
Musee d'Art Moderne de la Ville de Paris
Opened 1961, MAMP is the city's major museum for modern and contemporary art of the 20th and 21st centuries with works by Picasso, Braque, Matisse and many more.
Maison de Balzac
Tucked into the heart of the old Passy village (16th arrondissement), this modest house with gardens is the only surviving residence of the great writer, who occupied rooms from 1840-1847, including the study where he worked on La Comédie Humaine. Stay nearby in one of our wonderful Plum homes like Hubbub.
Musée Carnavelet
Housed in two adjacent mansions in the Marais, the museum chronicles the history of Paris from the prehistoric age onward with collections across 11 departments including archeology, furniture, photography, paintings and sculptures.
Musée Cognacq-Jay
Extensive collection of mainly 18th century art and artefacts collected from 1900-1927 by La Samaritaine department store founder, Ernest Cognacq, and his wife, Louise Jaӱ.
Maison de Victor Hugo
Wander the rooms where the great author lived and wrote for 16 years, including the bedroom where he died. Located in the Hôtel Rohan-Guemenee in the Place des Vosges.
Other museums like the Louvre, Musée Rodin, Musée Picasso, and the Musée d'Orsay waive admission on the first Sunday of the month or selected times. Friday evenings, the Louvre waives admission for students and those under 26 years of age. Be prepared to show proof such as a student ID or passport to make the most of these free things to do in Paris.
Cemetries
Père-Lachaise Cemetery
Established in 1804, Père-Lachaise is Paris's largest cemetery, its first garden cemetery, and the most visited non-secular cemetery in the world. More than 1 million people are interred here, including some of the greatest talents of the 19th and 20th centuries. Famous denizens include Edith Piaf, Jim Morrison, Oscar Wilde, Chopin, Collette, Gertrude Stein and Isadora Duncan.
The Catacombs
One of the 14 municipal museums of Paris, the tombs hold the remains of more than six million Parisians, most transferred from above ground burial plots in the late 18th through mid-19th centuries.
Gardens
Le Jardin du Luxembourg
Commissioned in 1612 by Queen Marie de Médicis, the public gardens are home to more than 100 monuments, fountains, statues as well as Luxembourg Palace which houses the French Senate. In spring and summer, pick up a snack from one of the food kiosks for an impromptu picnic along the central octagonal fountain basin. Pony rides, puppet theatres, and miniature sailboat rentals are favorites for families with young children.
Jardin des Plantes
Established in 1635 by royal physicians for growing medicinal plants, today France's main botanical garden covers a staggering array of plants and flowers as well as a botanical school, various exhibits and outbuildings, a small zoo (ménagerie), and the French National Museum of Natural History. Four galleries house collections on evolution, botany, mineralogy and paleontology and anatomy.
Arènes de Lutèce
This amphitheater from the Gallo-Roman era is a public park tucked into the Latin quarter. Instead of gladiators dueling to the death, today you're likely to see kids playing soccer. Afterward, make your way to Rue Mouffetard, the market street immortalized by Hemingway in A Moveable Feast. The cobbled street leads into Place de la Contrescarpe, a charming square surrounded by cafes, pubs, shops and restaurants where you can chill out far from the madding crowd of your fellow tourists.
City walks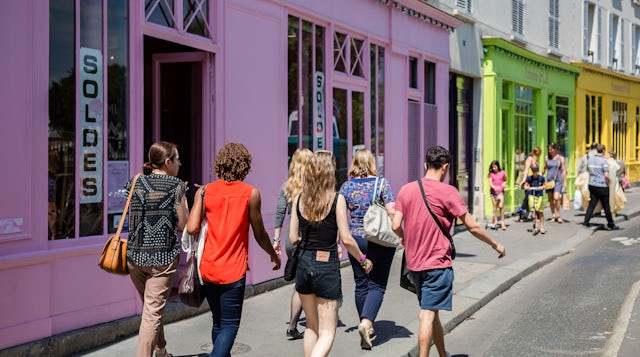 The Marais
This historically Jewish quarter is known for its traditional bakeries, delis, and kosher butchers, though over the past few years the Marais has undergone quite the transformation as a hipster haven. Along the Rue des Rosiers, trendy boutiques, bars and cafes are overtaking the former mom-and-pop shop businesses. The neighborhood has also become a hub for gay culture and nightlife. The area is home to several free museums including Maison de Victor Hugo and Musée Carnavalet. Like the sound of the Marais? Then be sure to stay in one of our homes like La Manufacture du Temple in this iconic area.
Montmartre
Though très touristy, with no shortage of souvenir sellers as well as local artists angling to sketch your portrait, Montmartre retains much of the ambiance of its Belle Epoque heyday as an artist colony and nightlife district. Sites worth exploring include the Basilica of the Sacré-Coeur, the Museum of Montmartre, the Au Lapin Agile Cabaret (patronised by Picasso), and the Moulin Rouge (in nearby Pigalle).
Saint-Germain-des-Prés
This upmarket left bank enclave is home to Le Jardin du Luxembourg, Musée du Luxembourg, Musée d'Orsay and Odéon Théâtre de l'Europe, one of France's five national theatres. Call time out and people watch at Café de Flore, the city's oldest coffeehouse, or soak up the intellectual vibe of Les Deux Magots, where Hemingway, Sartre, Camus, Simone de Beauvoir and other great minds of the 20th century gathered. Whatever you decide to do in Saint-Germain-des-Prés, you're sure to love it.
Marche aux Fleurs-Reine Elizabeth II
Renamed after D Day to honor Britain's Queen Elizabeth, Paris's most famous flower market is located on Île de la Cité near Pont Neuf. Opened in 1830, the market comprises several rows of early 20th century cast iron pavilions with an extensive variety of seasonal and exotic flowers and plants on offer. Assuming you're not too burdened with blooms, continue to nearby Sainte-Chapelle or Notre Dame Cathedral.
Seasonal events
Spring
Springtime in Paris is legendary for good reason, but the City of Light is a city for all seasons, with fun, free programs taking place every month. If you plan to stay in Paris anywhere from several days to a week or more, snag yourself a Paris City Pass, which provides free entry to more than 60 top attractions and museums including the Louvre, Notre Dame, and the Arc de Triomphe, a free river cruise to see the sites along the Seine, and free, unlimited public transport. It also allows you to skip the lines, which can be legendary come spring and summer.
Cinema de Réel is an annual March film festival, 200 French and international documentary films are screened for free throughout the city. Starting in April (through December), Kiosques en Fêtes hosts free cultural events (music, talks, sports) at bandstands throughout the city. La Nuit des Musée (The Night of Museums) takes place on the third Saturday in May, where top French museums including the Louvre, Musée d'Orsay and Centre Pompidou waive admission and stay open late into the evening.
Summer
Summer brings Rendez-vous Aux Jardins where more than 2,300 gardens open free to the public during this three-day event in June. There's also Paris Plages. Launched in 2002, it's a pop-up of artificial beaches along the Seine and the Bassin de la Villette runs every summer from mid-July through end-August, turning the waterfront city into a 'seaside' resort. On July 14th, La Fête Nationale (Bastille Day), a military parade along the Champs Elysees launches the day. (If you're looking for the best spot to view it, head to Place du Trocadéro). Following it is the air show, best viewed from Place de la Concorde. Both the Louvre and Paris Opera both open free that day as well. The finale is of course the fireworks display at the Eiffel Tower.
Autumn
For one weekend in September in honour of European Heritage Days, Paris monuments and buildings such as l'Arc de Triomphe, Musée d'Orsay and Fondation Louis Vuitton open their doors and become free things to do in Paris. There's also Nuit Blanche, a much anticipated 'sleepless night' in October where works by contemporary artists are put on display around the city.
Winter
For the winter holidays, districts such as the Avenue des Champs-Elysees are decorated with illuminations and pop-up Christmas markets appear city-wide. In December, the free skating rink is installed on the square in front of the Hôtel de Ville (City Hall). In January, parades and marching bands ring in the new year along the Champs Elysees, closed off to cars for the occasion. Confetti cannons, pony rides, and street performers entertain all ages. February gets a facelift with Carnaval de Paris, a festive costume parade. Harkening back to the popular 16th century tradition of the "promenade de boeuf gras," carnival mascot, Pimprenelle (a cow in a scarlet dress) leads revelers through the city from Place Gambetta to Place de la Republique.
Start planning your trip to the city to make the most of these amazing things to see and do by browsing our collection of homes in Paris. Our home critics expertly vet each and every award-winning home on our site to ensure the very best standards because, of course, you deserve them.