An Expert Guide: The Best Penthouses in London
Take your trip to London to a whole new level with a stay at one of the city's finest penthouses.
~
In Pretty Woman, when Julia Roberts asks Richard Gere why he rents the penthouse when he's too afraid of heights to look at the view, he replies with: 'It's the best. I looked all around for penthouses on the first floor, but I can't find one.'  It's true: if you want the best, you've got to press that button. That's exactly why we here at Plum Guide has scoured the city to find the best penthouses in London for you to rent, so all you have to do is take your pick, get ready to arrive in style and, if you're anything like Richard Gere's character, perhaps work on your head for heights. Take a peek at our top three. 
Panoramic views from Clerkenwell penthouses
The Penthouse Perspective
The Penthouse Perspective has some fantastic 360 views of London. Wake up to the sun shining off the iconic architecture of the Gherkin, Shard, Walkie Talkie and St. Paul's Cathedral as the whole space floods with light through the floor-to-ceiling windows. The décor is chic but welcoming, with lots of comfy spots to admire the view: take it in from the plush leather sofa in the living room, the loungers on the decked terrace, or wrapped up in a fluffy duvet in bed. Not to mention the penthouse's Le Corbusier LC4 – the ultimate in luxury furniture. The fully stocked kitchen is ready for you to live out your culinary fantasies, while the bathrooms exude a sense of relaxation and tranquility.
Galleria Penthouse
Another alternative close to Clerkenwell is the Galleria Penthouse. Perched on the 9th and 10th floors of a modern building just minutes from Old Street Station, this apartment boasts enviable views over Shoreditch and the City from the light-filled interior, balcony and spacious rooftop terrace. A contemporary split-level space with an eclectic artwork collection and stylish window-lined living and dining room, this unique home is a real treat for art lovers, business travellers or those simply seeking the perfect base from which to experience vibrant East London.
Staying here in one of the best penthouses in London, you are the heart of one of the most 'happening' parts of town.  Surrounded by design agencies and architectural studios, take a walk around to explore some of London's quirkiest shops. These include Timorous Beasties, a design studio with a retail space full of exquisite textiles and heritage-inspired homeware with contemporary twists. Visit The Old Curiosity Shop in nearby Holborn for their Tim Burton-esque collection of footwear in keeping with the Victorian Gothic history of the neighbourhood. Or, if you're after something a bit more this millennium, browse all things bright and beautiful at Clerkenwell London. Small, but perfectly formed Exmouth Market is home to several independent shops worthy of a look around as you make your way towards Islington.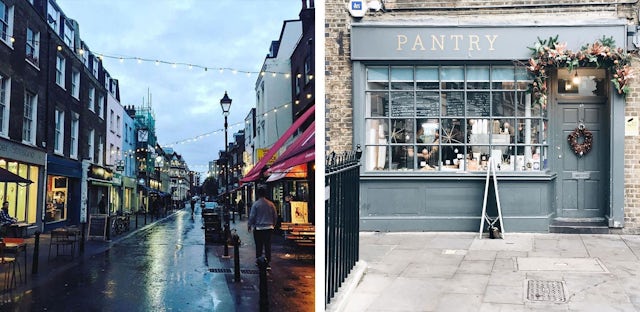 Start your days with international flavours at The Modern Pantry and mark your evenings with modern, refined British cooking in the cosy surroundings of The Lady Ottoline or with the finest Italian fare north of the Alps at Luca and Palatino. Here you're within walking distance of big name attractions like the British Museum and the Barbican, but if you have an interest in the Knights Templar the Museum of the Order of St. John is a little-known gem in the area.
Fabulous sights over Fitzrovia
Newman's Penthouse
Newman's Penthouse embodies the ideal London base: solid craftsmanship, eclectic style, iconic views and an unbeatable location. Fitzrovia lies just north of Soho, south of Camden and east of Marylebone before blurring into Bloomsbury – you're as central as you can be without sleeping in Oxford Circus Station. Newman's Penthouse is undoubtedly cool, yet homely with fantastic views of London's Victorian rooftops from every room and quintessentially British touches like a roll top cast iron bath, a proper range cooker in the kitchen and a Big Green Egg in the mature garden.
It will be hard to tear yourself away from that roof garden, but you really should since all of London is on your doorstep. Although this home is spitting distance from Oxford Street, skip the famed street's thoroughly unremarkable shops and head straight to Soho to rummage around designer boutiques like Other and A.P.C, or to Covent Garden to explore the independent stores of Seven Dials. There are many famed cultural sites just a stroll away, but if you're after something more contemporary than the British Museum or less graphic than the Wellcome Collection, check out the latest in contemporary art at Lazarides, the Frith Street Gallery (unexpectedly found on Golden Square) or check out what's happening at The Vinyl Factory.
In the evenings, there might even be too much to choose from – restaurants and watering holes completely line Charlotte Street, Goodge Street, Windmill Street and Rathbone Place. The Carpenter's Arms is a fine local, Dickie Fitz is good for all-day dining or you can splash out at Roka. Drown your sorrows at the LCC, confess your sins at Reverend J W Simpson's and, for a big night, email yourself onto the Basement guestlist. Having said all that, if it were us, we'd probably just go back home for some wine on the roof terrace.
Get to Know Knightsbridge from above
There is so much more to Knightsbridge than Harrods and Harvey Nichols. Unpack your bags and in this amazing space, which is the epitome of luxurious London living. The designer of this home also designed Annabel's, setting the (incredibly high) standard from the offset. You'll love the spacious and sumptuous interiors, but it's the terrace that really steals the show.
Start your day with an invigorating walk in Hyde Park or a leisurely breakfast in the beautiful, grand café at the V&A Museum which houses an awe-inspiring and eclectic collection of art, design and fashion. As you surely know, Knightsbridge is famed as a fashion destination. After you've fuelled yourself with coffee and breakfast, get ready to shop until you drop.
Escape the tourists who swarm to the the two big aforementioned department stores and focus instead on the designer boutiques of Sloane Street. They're all there – British icons, Italian classics, French powerhouses, and the brilliant Shanghai Tang, but the jewel in the crown has to be Giuseppe Zanotti because our hearts (and soles) bleed for his sculptural stilettos. For classic British men's tailoring and extraordinary bridalwear stroll down Beauchamp Place (inexplicably pronounced "Beechum"), while interior design lovers will fawn over Skandium. Listen closely: we'll let you in on one of our all-time favourite secret shops, Mint. Just don't go telling anybody.
Evenings in Knightsbridge run the gamut. Dress to impress if you want to dine at Zuma, but expect elegant yet relaxed affairs at Scalini, Mr. Chow and San Lorenzo.  You'll find a slew of celebrity chef restaurants in the area's five-star hotels, with Outlaw the flavour of the moment.  Want to break in those swanky new dancing shoes? Buddha Bar, Boujis and Tonteria await.
If you're in the market for chic, characterful accommodation but want to swap the city vistas of the best penthouses in London for views of the river, check out Plum's exclusive selection of London houseboats instead.