Why This Lamp Hangs Over Every Danish Dining Table
An unparalleled icon when it comes to lighting design, the PH-lamp is an integral part of many Danish homes
~
Known for its multi-shade system, the PH-lamp (which stands for Poul Henningsen) is an unparalleled icon. First shown at the 1925 Exposition Internationale des Arts Decoratifs and Industriels Moderne in Paris (where it took home the gold medal), it has since found its way into many homes around the world.
In our search to find the most beautiful homes in Copenhagen, we have come across quite a few examples of PH-lamps suspended above dining tables. While it firmly positions the lamp within the Danish context from which it grew, it also alludes to the revolutionising design that was to change the course of lighting design forever – not just in Denmark, but on an international level.
The man behind the lamp, Poul Henningsen, was an architect-turned-designer, whose objective was to create the perfect glare-free light. Fascinated by light from a young age, he grew up in the glow of oil lamps and Victorian-style tassel fixtures at the turn of the twentieth century. Aware of and captivated by electric light and its importance to modern life, Henningsen sought to minimise the harshness and unflattering hues of the new bulbs. The result was a product with mood-altering properties – a lamp capable of completely changing the feeling and look of a home's interior.
Functional, simplistic and rational, the PH-lamp series, which began with the 1925 example (named Paris after the destination city), reached its pinnacle with the PH 5 pendant, a design from 1958. Recognised as Henningsen's most popular design, this is the lamp that we most often come across in Copenhagen homes. The five-shade system allows for a perfect and balanced distribution of light, and also a warmer light thanks to the internal red cone and blue light reflector.
For the multi-shade system design, Henningsen was inspired by the logarithmic spiral. As one of the first designers to take a scientific approach to lighting design, he strove to create a beautiful lamp that provided warm, ambient light as close to natural light as it could get – also expertly merging form and function. The outcome was an effortless style icon that perfectly represented modern culture – and it was also famed for its balanced distribution of light and shade across the screen's curve.
Henningsen designed a lot of other lamps throughout his career too, and 1958 saw the unveiling of some of his most spectacular designs – the Artichoke and Snowball pendants. While these catered more towards public spaces than ordinary homes (the Artichoke pendant was designed for Langelinie Pavilion, a Copenhagen institution), he still employed the principle behind the PH multi-shade system to every lamp he ever put his hands on.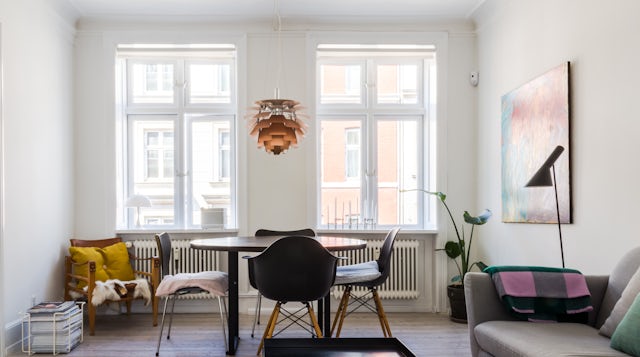 When our Home Critics visit Copenhagen homes, they often comment on how PH lamps steal all of the attention. Firmly suspended above many dining tables in the Danish capital, these lamps provide light that's bright enough for eating and gentle enough for socialising. A popular wedding gift in Denmark, a classic PH 5 pendant is a symbol of good and timeless taste, among older and younger generations alike. It's the safe choice that not only adds a sculptural touch to any home, but also increases the quality of life by minimising the kind of light that causes strain on the eyes.
A native of Ordrup (just north of Copenhagen), Henningsen never actually graduated as an architect, but he still went on to become Tivoli Gardens' lead architect at the beginning of the Second World War. He was also a skilled writer, dabbling in scripts, poetry, and social criticism.