Find expert tips, here on Plum Guide. From where to stay, what to eat, and what to see in some of the world's finest cities. Find expert-approved homes too: Plum Guide is a collection of the very best vacation rentals in the world, approved by our expert Home Critics after a rigorous 150 point test.
From Goya to Guernica, football to flamenco, skyscrapers to street art - Madrid is an always moving metropolis that contains layers of multitudes. It's a beguiling mix of old and new, an epicentre for both business and creativity, and boasts world-class museums that are on any art lover's bucket list.
Above and beyond all that though, it's a really great place to have a drink. Park yourself down on a terrace, crack open a caña (beer) and while away the better part of an afternoon and evening in the sun, people watching and snacking on olives, tostas, and jamon.
We want to make sure you do Spain's capital right, so read on for more hot tips and tricks for what to do and where to stay in Madrid.
Where To Stay in Madrid
Malasaña
This neighbourhood gets its name from 17 year old Manuela Malasaña, a ballsy young woman who defended her home to the death against Napoleon's troops back in the day. Her spirit of rebellion carried on in the post-Franco counterculture movement of the 80s, which infused the area with a surge of artistic tour-de-force.
Pedro Almodovar is just one of many residents who made it big. This trendy area is still young and alive, although it's decidedly more hipster than punk these days.
Between colourful street art on every corner (much of which has been painted by local up and coming artists), a cool restaurant scene, and independent boutiques, this is the beating heart of the city for all the cool youth.
Stay here if you like:
Street art, Williamsburg at its peak, good eatin' and drinkin'
A typical day in Malasaña:
Your day in Malasaña begins as all days should - with some good coffee. Today it'll come by way of HanSo Café. Once you're sufficiently perked up, weave your way in and out of Malasaña's streets, each one adorned with bright murals.
For a spot of culture, head to Centro Cultural Conde Duque. This former barracks is now a hip art space encompassing a library, revolving exhibitions, and the Museum of Contemporary Art.
Vintage Treats
"Some of the city's best vintage shops can be found here too, most of them congregated along Calle de Velarde."
Once done, it should be somewhere around early afternoon. As such, Madrid custom dictates it's time for a vermouth! La Ardosa is the spot for this - their red vermouth and Spanish omelettes have been a mainstay of the neighbourhood since 1892.
From there, meander along (feeling that mild buzz of mid-afternoon drinking), popping in and out of shops along the way. Direct yourself to Hijo de Epigmento for Spanish ceramics and textiles from Mallorca, El Moderno quirky art and home accessories, and Antiqua Casa Crespo, the oldest shoe store in the city famed for their canvas espadrilles.
Some of the city's best vintage shops can be found here too, most of them congregated along Calle de Velarde. Vintalogy alone should keep you busy for an hour or two - it's said to be the biggest thrift store in Europe. La Mona Checa is another local favourite, while Heritage & Rare is the go-to for expertly curated pieces sourced by industry experts.
For dinner, you have no shortage of choice! Mercado de San Ildefonso is a cool street food market in an industrial setting. Right across the street, Tienda de Vinos is a lively spot for a drink, a political debate, and some home-style cooking. La Tasquita de Enfrente is a classic, family-run restaurant serving seasonal Spanish food, while Ojala is an uber-trendy beach-themed restaurant covered in sand, fairy lights, and palms.
Malasaña is one of the city's most thriving nightlife hubs, so be sure to take full advantage. Head to La Via Lactea, a grungy spot emblematic of the neighbourhood's punk past. Kikeller is a newer addition, located inside a designer furniture shop and gallery space.
End the evening with a churro from La Churreria Madrid 1883, the city's oldest churro shop.
UNPACK YOUR BAGS HERE:
Tucked away on a quaint side street in bustling Malasaña, this gem of an apartment has got bucket loads of character. Our favourite parts? The Japanese staircase which leads to a hidden library, the beautifully exposed masonry, and the industrial-meets-eclectic decor which gives the space a young and cool feel.
Chueca
This is Madrid's gay village and home to a thriving community of bears and hipsters.
Stay here if you like:
Eccentrics, bearded men, leather
A typical day in Chueca:
Like its friend and neighbour Malasaña, Chueca's charm comes from its independent shops and lively nightlife. Start the day with influencer-approved coffee and truly great lighting at Hermanas Arce, before poking around the area's many boutiques. We love Ecoalf for designs made from recycled materials, with sustainability at heart, while Patromono Olivarero is an absolute mecca for olive oils (bring some home as a souvenir).
Feel Good Shopping
"We love Ecoalf for designs made from recycled materials, with sustainability at heart"
La Juguteria is a refreshingly un-seedy erotic shop offering bespoke service. It's perhaps the single most emblematic establishment of Chueca's blending of debauchery and gentrification.
For a little art and culture around here, the Museo del Romanticismo is an 18th-century manor which offers a taste of what life was like for a noble-person of that era - complete with having one's own private collection of Romantic (as in, the time period, not the theme) art.
In the afternoon, peruse Mercado San Anton, an international market offering everything from bagels to truffles to sushi, before having a picnic at El Retiro. Or, climb to the market's fourth floor for a rooftop drink. For dinner, Gastromaquia is a local gem for creative fare, while Casa9 offers a daily-changing menu of market-fresh plates that won't break the bank.
But it's well after dinner time that Chueca really comes alive. Studio 54 replicates the vibes of the New York original with interiors by Tomas Alia, while Macera does beautifully crafted cocktails using small-batch liquors and homemade ingredients.
UNPACK YOUR BAGS HERE:
With a minimalist design ethos that showcases natural materials, the aesthetic here almost seems lifted from the Scandis. Located in one of Chueca's more sanitised areas, there's an upscale, trendy air about this place, thanks in no small part to the charming views.
Chamberí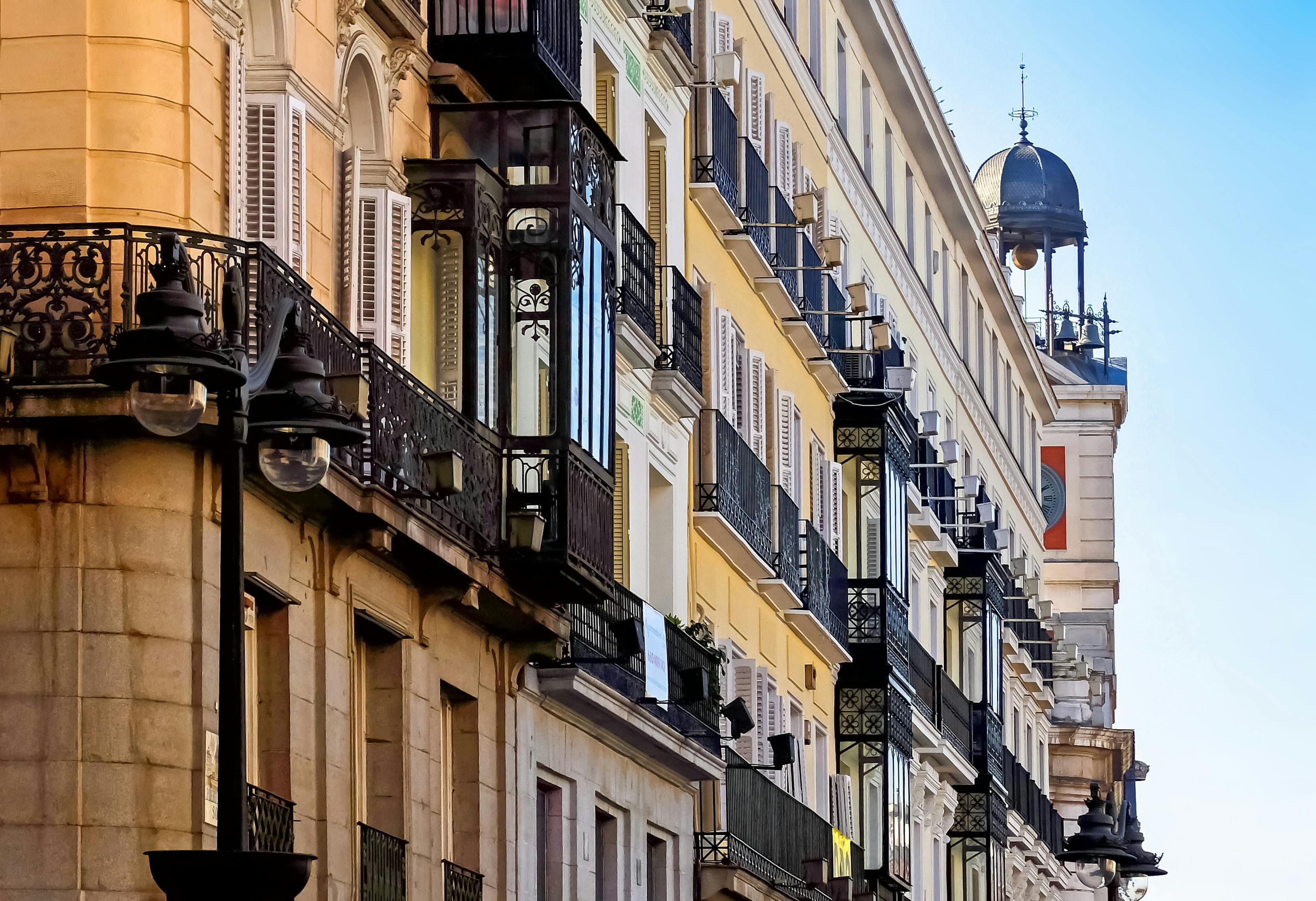 Not as bougie as Salamanca but not as young and grungy as Malasaña, Chamerbi has a value and a charm of its own. Between a flourishing cultural scene, plenty of places for a great meal, and thriving business hub, this mostly residential neighbourhood is less touristy than some of the others, but still has plenty to do and see.
Stay here if you like:
Upscale boutiques, high ceilings, and the feeling of a village inside a big city
A typical day in Chamberi:
It may not be the Golden Triangle of Art, but if you're after a dose of more local culture, Chamberi has plenty to offer amongst its residential streets and high-end boutiques.
Starting with a leisurely brunch is a must around here - Perrachica is beautiful and does a great spread towards the Trafalgar district, while Mallorca Market is the one for dining al fresco thanks to their pretty terrace. The latter is also a bustling, upscale food market, so while you're here, have a poke around.
Did Somebody Say Wine?
"For drinks, head to Taberna Averias for 400 different wines and a staunch no beer policy."
One of the neighbourhood's most unique offerings is Estacion Museo Chamberi, a former metro station dating back to 1919 that's completely frozen in time. On one hand, it has a strange dystopian feeling, while also making you feel like you're on the set of a 1950's film, which is an intersection we feel strangely comfortable with.
For something a little more current, try Galería Machado-Muñoz, which has contemporary art exhibits along with some interesting interior design. Museo Sorolla houses works by Spanish artist Joaquin Sorolla - he may not be Picasso or Goya, but we think his stuff deserves a spot on your itinerary all the same.
Chamberi's boutiques are as good an excuse as any to visit this area, especially if you have a few extra euros to burn. La Alpargateria makes beautiful espadrilles, while NAC boutique has seasonal collections of distinctly Spanish fashions with some pieces from international designers. Their window displays will lure you in even if their clothes don't.
Come evening, Lakasa is a shockingly un-touristy spot for seasonal, game-centric fare by big deal chef Cesar Martin. If you go, order the beef Wellington. Another meat-heavy must-try is Sala de Despiece. Designed to look like an industrial butcher's, it has amazing interiors and incredible food, but is often busy (you'll have to queue).
For drinks, head to Taberna Averias for 400 different wines and a staunch no beer policy. Finish your evening with a classic film at Cine Verde, a cinema that's been around since 1958 and still shows the same programmes, or local theatre at Teatro de la Abadia, a community theatre dedicated to promoting social change with their productions.
UNPACK YOUR BAGS HERE:
Two words for you: rooftop pool. If that's not enough reason to stay here, maybe the spacious interiors, monochromatic white colour scheme, and carefully-picked out furniture will be.
Barrio de las Letras
Once home to Spain's literary golden boys - Lope de Vega, Quevedo, Góngora and Cervantes - Barrio de las Letras somehow retains its bohemian, old world feel despite being a stone's throw from the famed Golden Triangle of Art. Amongst odes to the literati, this neighbourhood is also dotted with contemporary art galleries and exciting gastronomy.
Stay here if you like:
Spanish literature, avant-garde restaurants, cobbled streets
A typical day in Barrio de las Letras:
The best thing to do here (as we would argue, it is anywhere) is simply to wander. Weave in and out of narrow streets and larger boulevards, taking note of occasional tiles underfoot, scrawled with quotes from Spain's literary masters.
Rooftop Cocktails
"glam-up for a rooftop cocktail at fancy-schmancy Radio ME Rooftop Bar, atop the ME Reina Victoria Hotel."
Be sure to stop by La Integral, a gallery-market concept selling works by local artists and designers behind the facade of an old confectionary, and Casa Museo Lope de Vega, the home of 16th-century Spanish writer, which also houses a private art collection.
In stark contrast to the literary legacy around here, the visual arts scene in this barrio is all modern - check out Formatocomodo for works by young artists, Ponce + Robles for contemporary Spanish art, and The Goma for conceptual installations.
Ready for a mid-afternoon tipple and snack? Park yourself down on one of the many terraces lining Plaza Santa Ana, admiring monuments to Calderón de la Barca, Federico García Lorca, and the Teatro Español.
For more substantial meals, Bistronómika serves market fresh seafood (arguably the best and freshest in the city), TriCiclo does inventive versions of Spanish classics, and Cerveceria Cervantes is more classic, with tiled walls and good seafood tapas closer to Paseo del Arte.
For drinks, join young professional media types at Matute 12, a former record shop which is now a bar with a speakeasy hidden in the crypts underneath, or glam-up for a rooftop cocktail at fancy-schmancy Radio ME Rooftop Bar, atop the ME Reina Victoria Hotel.
UNPACK YOUR BAGS HERE:
Tucked up in between Paseo del Arte, Las Letras and Retiro, we love this homely flat for its picturesque views, charming original fixtures, and great location. With classic Spanish blue tiles in the kitchen, exposed wooden beams, and furnishings that lean towards mod, there's a retro nuance here that adds character.
Lavapiés
Home to the largest concentration of immigrants in the capital, Lavapiés is a lively, multicultural neighbourhood. Medieval streets climb through the neighbourhood like ladders, giving way to its main arteries painted with colourful murals by local street artists.
Relatively low prices mean that newcomers to the city still flock here, as well as young people, struggling artists, and anybody else looking to escape the clutches of gentrification (for now).
Stay here if you like:
Grassroots art and culture, multiculturalism, street art
All Four Corners
"Mercado San Fernando, a traditional Latin American market where you can now find relics from all four corners of the world"
A typical day in Lavapiés:
The city is known for its annual festival, Fiesta de San Lorenzo, which takes place every August 10th. For this day (and the rest of the week, really) the streets turn into one big party, with music, drinks aplenty, and general merriment.
The rest of the time, the lively spirit here is still palpable. Mercado San Fernando, a traditional Latin American market where you can now find relics from all four corners of the world, is emblematic of the neighbourhood's character and a great place to start.
Eat your way through stalls selling empanadas, pasteis de nata, tacos, ramen, and Spanish charcuteries, leaf through books at Casqueria, and sip natural wines at Bendito Vinos y Vinilos. We could happily spend all day here, but we have a strong and unwavering love for markets that we don't expect all of you to share, so at some point, you'll likely want to move on. When that time comes, Casa Blanca, as traditional of a Moroccan tea house as you'll find in Spain, offers a moment of repose.
Afterwards, have a gander at La Tabaclera, a cooperative cultural space where locals can set up exhibits, screenings, talks, gigs etc. Housed in an old tobacco factory, the building has a cool, eclectic feel.
For dinner, dig into Senegalese food at Dakar, or for something quicker and cheaper, grab a samosa at one of the many stalls around the neighbourhood. In fact, you could happily compose a meal of all the street food around here.
There are some really great bars in Lavapiés too: El Eucalipto is a small yet always fun Cuban bar with great mojitos, fresh juices, and often dancing (later on, anyway); La Fisna Vinos is small wine bar for local, small-batch Spanish wines; and El Juglar is a laidback spot for drinks and live music (often jazz or soul), with Flamenco on Sundays.
UNPACK YOUR BAGS HERE:
This characterful bolthole is as electric as the neighbourhood surrounding it - think pop art posters, plants, and a turquoise-tiled bathroom. The one downside is that it's located up three flights of pretty steep stairs, so won't be accessible to those with mobility issues.
La Latina
Home to arguably the busiest and best tapas scene in Madrid (and ergo, the world), La Latina's narrow cobbled streets give way to Piazza-like squares where tourists and locals alike flock for cocktails, caña, and tapas. Two neighbourhood markets and a treasure trove of churches give the area a lively and charming character.
Stay here if you like:
Tapas, terraces, Sunday flea markets, hidden churches
A typical day in La Latina:
Wander the maze-like streets and you'll stumble upon beautiful churches and basilicas, the most notable of which is the neo-classical Basilica de San Francisco el Grande, which houses a Goya fresco. Capilla del Obispo is a striking chapel worth checking out too and has been standing here since the 16th century.
If it's a Sunday, you'll spend the morning perusing the stalls of El Rastro, a popular flea market selling clothing and antiques, which spills out onto the side streets. Local antique shop merchants often join in on the fun, setting up stalls on Sundays in accordance with the flea. Take advantage, because it's a rarity for anything to be open on a Sunday in Spain.
If it's any other day of the week, your market fix will come by way of Mercado de la Cebada. Over a hundred years old, this neighbourhood icon blends tradition with some important updates. Here, you'll find local merchants selling fresh juices, fish, jamon, and produce, alongside a handful of more artisanal offerings.
Afterwards, wander down Calle Ruda, stopping at La Tienda de la Cerveza for a craft beer before popping in and out of the street's characterful shops.
And now, for the real reason you came to this neighbourhood: tapas. The highest concentration of tapas bars is along Cava Alta and Cava Baja, though all the neighbourhood's squares will have many a place to eat and drink.
Hemingway was once a regular at local haunts like La Venencia, a sherry (and sherry only) bar seemingly untouched by time, and the oldest restaurant in the world, El Sobrino de Botin. It's 300 years old, always packed, and makes a damn good suckling pig.
Next, direct your attention to the artsier vibes of Maria Pandora, a kitschy and slightly uncanny-feeling champagne bar where the tapas of choice are plates of fruit and sweets. They also host regular poetry readings.
Want something classic but not pretentious? Alcamen de Vinos, with its tiled floor, tostas, and tapas is as "authentic" as it gets, while El Viajero boasts a leafy rooftop terrace for good food and pretty views.
If the crowds of the piazzas get to be too much, Principe de Anglona Garden is a beautifully landscaped spot hidden behind the Anglona Palace, where you can have a quiet moment. We also love Sala Equis, an old XXX movie theatre which now is just a regular movie theatre, showing currents and classics in a crumbling, partially-covered courtyard.
UNPACK YOUR BAGS HERE:
Thoughtful interior design and great lighting are just two of the reasons why we love this place, located in a more bohemian and less touristy nook of La Latina. There are tons of great eateries at your doorstep, and El Rastro flea market is only a few minutes away on foot.
Paseo del Arte
Not really a whole neighbourhood, but this small section between Centro and Barrio de las Letras is probably one of the most well-trodden in the city. Madrid's museum trifecta, Museo del Prado, Reina Sofia Museum, and Museo Nacional Thyssen Bornemisza are all here and accounted for, with their world class art waiting to be seen.
Stay here if you like:
Art museums
A typical day in Paseo del Arte:
If you do it right, you could spend a whole week in this Golden Triangle of Art. Start your day with coffee and a bite at Nubel, conveniently located inside the Reina Sofia and generally deemed better than Prado's cafe. You'll then, of course, spend the morning at the museum, ogling 20th-century art - most notably, an impressive Picasso collection, along with Dali, and Serra (amongst many, many others).
Try to make it out in time for lunch, at which point you can get some fresh air and wander around the Botanical Gardens before sitting down for a nice meal on the terrace at Spanish Farm, which fittingly serves Spanish, farm-fresh dishes. Make sure to finish your meal with a cafe con leche, because you'll need energy for the rest of the afternoon.
Up next is the museum monolith, Museo del Prado. One of the undisputed greatest art museums in the world, here you'll find works by Goya, Caravaggio, Raphael, Bosch, Rubens, Titian, and Valasquez. Lose yourself here all afternoon, or just do the highlight reel and try to squeeze in your third stop: the Thyssen. One of the largest private collections in the world, the Thyssen has everything from the Italian Renaissance through to German Expressionism.
In the evening, you could easily stay in the area for dinner, though the central location of this micro-neighbourhood means you're also not far from plentiful options around Gran Via or the less touristy offerings of Barrio de las Letras.
Should you choose to stay close to home though, Viridiana is helmed by celebrity chef Abraham Rivera and serves inventive fusion dishes. Just up the street, Horcher retains old world glamour (think waiters in tuxedos and white tablecloths) and a game-heavy menu.
UNPACK YOUR BAGS HERE:
If you're tempted by staying in Paseo del Arte, chances are you're appreciative of an artistic aesthetic. The eclectic vibes of this central pad pair modern furnishings alongside antiques and a lovely stained glass window detail. Right by Puerta del Sol, you're only a few minute's walk from the Prado.
Puerta del Sol & Gran Via
If Madrid is a galaxy, then Puerto del Sol is its aptly-named sun. Bang in the centre of everything, the city's major roads fan out from here, including Gran Via, Madrid's most famed street.
You'll find some of the city's most important monuments here, from the New Years' clock tower to the statue of a bear and a strawberry tree, representing the city's slightly perplexing coat of arms. Grand Belle-Epoque edifices sit next to modern skyscrapers, visual reminders of Madrid's effortless blending of old and new.
Stay here if you like:
Monuments, shopping, other tourists/people in general
A typical day in Puerta del Sol - Gran Via:
Start at Kilometre 0 at Puerta del Sol, the point from which all distances in Madrid are measured. From there, take in the palatial-looking, all white Madrid Post Office, where the famous clock which chimes in the New Year is located. Though it looks impossibly grand, it's still a functioning post office - pick up a postcard from one of the many stalls around here and send it off inside, just to say you did.
From here, you'll also be able to see La Osa y el Madroño (the bear and the strawberry tree), that statue representing the city's coat of arms that we mentioned earlier. Meander onto Mercado de San Miguel to snack on tapas, or engage in a little retail therapy along Gran Via, lined with international designers and high-street shops. If you're in town to catch a football game,Santiago Barnabeu Stadium is a quick 15-minute metro ride from here.
Being well-catered to tourists, there is no shortage of places to eat, drink, and party around Centro. However, with a handful of notable exceptions, the offerings around here are not the best of the best. Our solid bets: Chuka Ramen Bar is the best of its kind in the city and a nice change from all that Spanish food, and Casa Labra is a veritable institution for tapas, dating back 100 years.
Wherever you end up, save room for dessert at Chocolateria San Gimes, which doles out piping hot churros and thick, muddy hot chocolate 24/7.
UNPACK YOUR BAGS HERE:
With light-filled interiors and thoughtfully curated art by Teté Alexjandres on the walls, this flat hits the right mark between minimalism and cosiness. Your prime location right by Puerta del Sol puts you within arm's reach of all the city's top sights.
Los Austrias
Madrid's most storied history can be found in this quarter, once the stomping grounds of the Habsburg Dynasty. With its neoclassical gardens, Royal Palace and regal churches, this barrio was the former city centre and remains an important relic of the country's golden age in the 16th century.
Stay here if you like:
History, palaces, the Habsburgs
A typical day in Los Austrias:
A day in Madrid's most regal quarter is best spent walking from one monument to the next, taking in the imperial splendour and rich history.
Plaza Mayor is the centre of it all, once Madrid's city centre and now home to several tourist-centric businesses. Once you've taken it in, you'll head to Monasteria de Corpus Christi las Carbonaras, where cloistered nuns prepare traditional sweets and cookies and dole them out from a small wooden window.
From there, the next stop is Almudena Cathedral - it took 110 years to finish, and as a result is a real mishmash of styles, which is interesting to see. You'll be in the royal gardens now, so make your way to the neighbourhood's most popular landmark, the Royal Palace. While it's still the official residence of the Queen, she's hardly ever in town except for state ceremonies.
Spend the afternoon wandering the Jardin de Sabatini, beautiful neoclassical gardens adjacent to the Palace. Monasterio de las Descalzas, a 16th Century convent that's still running, is another popular stop along this tourist route. However, you can only visit with an official tour guide, many of whom don't speak English, and there's little to no information available about any of the relics inside. We say save yourself the trouble and just admire it from the outside.
When dinner time comes, La Bola serves cocido Madrileño from classic clay pots. Otherwise, head to Taberna El Lio, a wine bar with an extensive list, also offering tapas by Michelin-starred chef Pepe Rodriguez for very reasonable prices.
UNPACK YOUR BAGS HERE:
Right on the fringes of Las Austrias, you're within easy walking distance to the neighbourhood's top sights, but on a more charming street slightly away from the tourist hub. Inside, crisp minimalism reigns, with fun accent walls in royal blue and emerald green giving the space a cheery feel.
Salamanca
The ritziest of Madrid's barrios, Salamanca boasts upscale boutiques, a handful of Michelin stars, and lots of women wearing perfectly-pressed dresses. Your top-tier couturiers all have outposts here, along with the most prestigious bullfighting ring, a handful of museums, and beautiful homes along its 19th-century boulevards.
Stay here if you like:
High-end dining, Manolo Blahnicks, bullfighting
A typical day in Salamanca:
If you're the type of tourist who ambles around with a dust-covered bag, unfortunate trainers, and a sweat-streaked face (no judgement, this is us most of the time too) you probably will feel slightly amiss in Salamanca.
This upscale neighbourhood is beautiful, and so are the people who come to hang out here. Calle José Ortega y Gasset is Spain's answer to the Champs Elysées, meaning that this is where you'll find Spain's flagship stores for Cartier, Louis Vuitton, Chanel, and Abercrombie & Fitch (when is somebody going to tell them to stay in their own lane?).
The real must-do on this street though is Oriol Balaguer, a patisserie from the chef behind the "Best Dessert in the World" title from years past and former-colleague of Ferran Adria. Come here for some of the best pastries and chocolate confections you'll likely ever have.
Hit a few more shops before lunch, at which time you should direct yourself to Platea, an old cinema which is now a gourmet food hall full of trendy restaurants and cocktail bars.
Continuing on, Plaza de Toros Monumental de Las Ventas is worthy of a few hours. The most prestigious bullfighting ring in the world, it still holds fights in the summer. Museo Taurino, located within the complex, is a museum all about this most controversial and classic Madrileno sport. If bullfighting isn't your thing, Museo Lazaro Galdiano, an early 20th-century mansion with an impressive private art collection, is a nice alternative.
In the evening, splash out at one of Salamanca's Michlin-rated fine dining establishments: Ramon Freixa, two Michelin-star holder at the Hotel Unico Madrid; Albora, which earned a star for its elegant take on Spanish dishes; or StreetXO, the more casual, Asian-inspired outpost from the purveyors of three Michelin-starred DiverXO. If that's not in the budget or if you've not managed to get reservations, Banibanoo serves very good traditional Iranian food in a pretty yet more chilled setting.
UNPACK YOUR BAGS HERE:
When in Rome, do as the Romans do. Or in this case, when in Salamanca, make sure you're living really, really well. A lavender-fringed pond greets you on the way into this gorgeous pad, and sleek lines, modern furnishings, and all the mod-cons you could hope for await inside. You're an easy walk away from Puerta del Sol, too, so prime sightseeing is well within reach.
BEST FOR...
Best for Young Travellers
Malasaña.
You're young, you're hip. Not only do you know who Pedro Almodovar is, but you maybe even care that he used to live here. Maybe not. Either way, it doesn't really matter, because this barrio has enough bars, restaurants, boutiques, and cafes to keep you busy for as long as you're staying.
You'll come, you'll upload an influencer-style portrait in front of some graffiti, eat brunch on the sand of beach-themed Ojala, have a taco at Mercado San Ildefonso, and drink a little too much at La Via Lactea. And that's only the tip of the iceberg - you want a bar that's also a library (Tipos Infames)? Check. A bar that's also a gallery and designer furniture shop (Kikeller)? Double check.
Round it out with some late-night churros and a new jacket from Europe's largest vintage shop, Vintalogy, and it's starting to sound like a pretty perfect holiday.
Sidenote: if you're young and broke, redirect your attention to the much more affordable and still very cool (in a less curated way) barrio of Lavapiés instead.
Best for Art Lovers
Paseo del Arte. Obviously.
With Museo del Prado, Reina Sofia Museum, and the Museo Nacional Thyssen Bornemisza, all within a 10 minute walk of each other, this location is unbeatable. Throw in some Catalunian archaeology at Galeria de Arte Felix Cervera, a Goya monument, pretty Botanical Gardens, and Neptune's Fountain, and you've got a few days sorted without ever leaving the neighbourhood.
You're adjacent to the also enviably artsy neighbourhood of Barrio Las Letras (some even consider the Golden Triangle of Art to belong to the latter). Wander over that way for relics from Spain's literary greats, contemporary art galleries, and avant-garde dining.
Best for Nightlife
Chueca.
Home to Madrid's gay community and a port of call for anybody in need of a good drink, a night out here is raucous.
Barbanarama has a fun 80s theme, while Bearbie is one of many homes of the Madrid bear community. From show tunes and karaoke at Bambalinas, to cheap beer and free tapas at El Tigre, to handcrafted cocktails at Macera, there's something to be found here for all who enjoy a strong beverage and a good time.
Nearby Malasena also has a vibrant nightlife scene, though emphatically more vanilla.
Best for Business Travellers
Chamberi.
Upmarket Chamberi is a popular hub for businesses, so chances are that even if your company doesn't have their offices here, you'll be scheduled in for a meeting with somebody who does.
With five metro stations to whisk you around the city for those precious moments when you're not sitting in a conference room and a direct train that'll take you to the airport in 15 minutes, this location is an efficient choice.
It also doesn't hurt that there are some great restaurants in the area - expense dinner at Lakasa for seasonal plates, and put your usual workday cafeteria lunch to absolute shame with a quick visit to Pasteleria Mallorca, an upscale food hall that also has a popular terrace for brunch.
Best for Foodies
La Latina.
Congratulations - you have now found yourself in tapas central. Get a caña (beer) and sit down at one of the busy restaurant terraces along Cava Alta or Cava Baja. Any restaurant worth it's salt will bring you some free tapas to go along with it, and they're usually pretty generous. If they don't, this is a surefire sign that it's a tourist trap. So basically, if you order a beer and don't get some snacks with it, down that bad boy and then run like the wind to somewhere more accommodating.
Don't feel like putting in that amount of guesswork? At over 300 years old, El Sobrino de Botin is the oldest restaurant in the world, and well worth fighting off other tourists to get a table at. Otherwise, Posada de la Villa is a local landmark housed in a 17th-century inn, serving traditional food like garlic soup and tripe. Malacatin is another favourite local tapas haunt, as is Alcamen de Vinos, with its tiled floors and tostas.
For something a little more upscale, Corral de la Moreria serves five-star eats and hosts essentially private flamenco shows from its dining room of four tables. Make sure to save some time to wander around Mercado de la Cebada to get handsy with some tomatoes and snack on top-tier jamon.
If you've got the time, make a special trip to nearby Cruz Blanca Vallecas, for arguably the best cocido Madrileño available. These guys have won a ton of awards for their version of the traditional chickpea and tripe stew that's a must-try while in Madrid. Be warned, you'll have to book your table well in advance.
Best for Sightseeing
Centro.
Like with most European capitals, the highest concentrations of monuments, museums, and postcard-worthy points of interest is the city centre. Of course, this also means you'll be battling throngs of other tourists for seats at just about any table, but such is the price to pay for being at the doorstep of all the city's must-dos.
Kilometre 0 at Puerta del Sol, the New Year's clock at Madrid Post Office, and the famous Strawberry and Bear statue are right here, while just a few minute's' walk away is the Golden Triangle of Art: Museo del Prado, Reina Sofia, and the Thyssen, with the Botanical Gardens and Neptune Fountain next door. You'll also be within 15 minutes' walk of Madrid's historical centre of Las Austrias, where you'll find the Royal Palace, Almudena Cathedral, and the Royal Theatre.
Best for Walking
Los Austrias
With slightly less congested streets than Puerta del Sol, strolling around Los Austrias will transport you back to a bygone era of colonialism and Elizabethan collars. After visiting the top historical sights in this neighbourhood - the Royal Palace, Almudena Cathedral, Sabatini gardens, and more cathedrals than any Abuela could force you to go to in a lifetime.
Meander about the smaller streets and find quaint shops, great restaurants, and more than a few occasions for something sweet. Be sure to stop by Monasteria de Corpus Christi las Carbonaras, where nuns serve traditional pastries from behind a tiny window.
Once that's all said and done, you're just a few minutes away from Puerta del Sol, with its handful of monuments, shopping along Gran Via, and Paseo del Arte a little further on. With this as your starting point, you could easily hit all the touristic points of interests on foot.
Best for Romance
Barrio Las Letras.
Literature and romance go hand-in-hand, and you'll find it in spades around Las Letras. Between beautiful quotes adorning the streets in gold, atmospheric terraces lining the sidewalks, and knowing that you're walking in the footsteps of some of the greatest writers and artists ever, there's just something poetic in the air here.
Amble around bookshops, art galleries, and cafes, before wandering over to nearby El Retiro park for a sunset stroll against the backdrop of royal monuments lit up in golden hues against the lake. Find your way to the Jardines de Cecilio Rodríguez, a pretty garden pavilion where peacocks wander around, and then to the rose garden to really hammer home the romance.
Back in Las Letras for dinner, cosy up at Casa Alberto, or head up to Radio ME Rooftop Bar for picturesque views and an elegant setting (though be warned, it gets a little club-y later on in the night).
Best for Families
Puerta del Sol
A busy, touristy centre might not seem like the ideal choice for kids, but hear us out: you're close to everything. There are plenty of kid-friendly activities nearby, and you won't have to worry about a long and cranky commute home at the end of the day.
For a museum little ones may actually like, the whimsical Casa Museo Raton Perez is your top choice. It's entirely dedicated to Spain's version of the tooth fairy, who is even said to live here.
You could also try your luck at Caixa Forum - there's a revolving roster of exhibits here (of interest to those young and old), with hands-on activities and workshops for little ones. Nearby, rent a rowboat on the lake at Retiro Park, or play on the sandy playground.
As a treat for being so well behaved (hopefully), end the day with a visit to Chocolateria San Gimes for churros and hot chocolate.