15 Quirky Homes From Around the World
The perfect antidote to that generic hotel look we're so bored of seeing.
Not everyone loves a quirky home. There are those who prefer a more muted, toned-down feel to their interiors, nothing attention-grabbing or 'odd'. Each to their own, but we're quite partial to a bit of quirk here at the Plum Guide. It's a fine line between quirk and plain weird, of course, but that's half the fun. If you like a house to be a tad unconventional, and to have an eclectic mix of furniture, artwork, nick-nacks, colours, and patterns, then you're going to want to check out these homes here. They're the antidote to the generic hotel look we're so bored of seeing.
Portrait of an Artist
This apartment gets the prize for quirkiest seating in the Plum Guide Collection, no question! This is a really fab home, with beautiful exposed-brick walls and a great outdoor space too.
Magic Tiles
We absolutely love this home, located in the characterful Old Jaffa neighbourhood of Tel Aviv. Not only does it have spectacular views from its fab roof terrace, but it's brimming with charm throughout. We love the vibrant bathroom tiles, fab original artwork throughout, and endless interesting bits and pieces picked up by the owners from around the world. Great mix of old and new.
Bird's Nest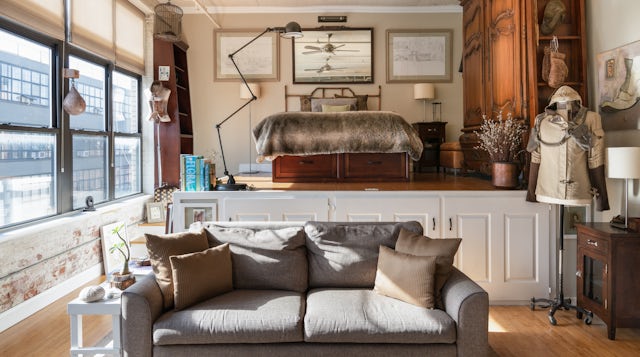 This home might just take the biscuit for quirkiest things we've seen in a home: there are two fishtanks, a set of teeth in a jar, and seven birds nests. Yes, you heard us, birds nests.
Farobasso
Two Vespas in glass cabinets. Bicycles above the beds. Kids will love this place!
Technicolour Voyage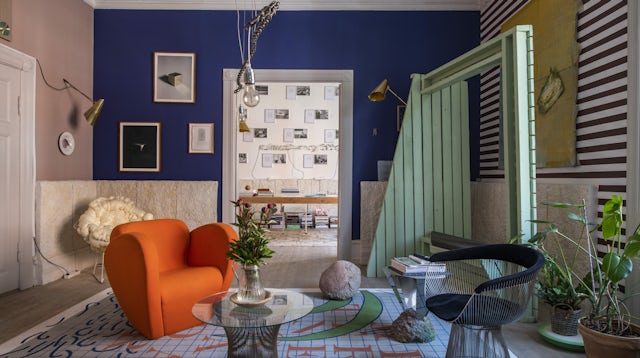 This is one of the jewels in the Plum Guide's Crown of Quirk. Quirky in all the right ways. Perhaps not surprisingly, this is the home of an artist, and it's absolutely filled with unique artworks, awesome furniture, the works. One of our very favourite characterful homes. Take a tour of our photos and enjoy the artistry.
In Full Bloom
This home is most definitely ready for its Architectural Digest close-up. A masterclass in quirk, the owner has a really terrific eye for mixing bold colours, fabrics, and artworks, in a daring but always elegant way. We absolutely love the various printed wallpapers, fabrics, and original artworks from celebrated artists including Nathalie du Pasquier and Etel Adnan. We have a lot of love for In Full Bloom.
Cloud 9
Cloud 9 is packed-full with quirky details. Fun artwork, a vintage TV set, antlers on top of the fridge, trompe l'oeil wallpaper, the list goes on. It's also got a fantastic, central location in Midtown Manhattan. This one's a winner.
Wonderland
Where to begin when talking about Wonderland? It's like living in a museum, except that you don't have to share it with tourists and you can touch things, even pick them up. We really urge you to scroll through the photos of this treasure trove - it really is extraordinary. And we don't use that word lightly.
The Drawing Board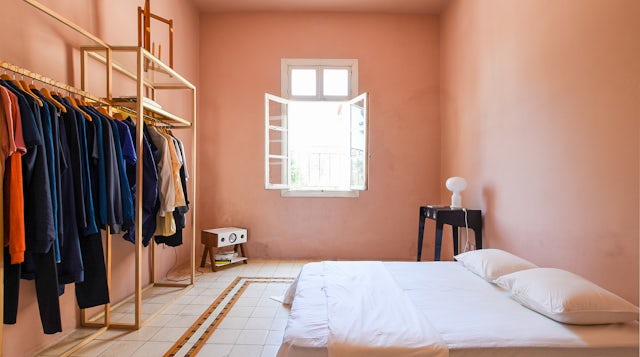 This home might be on the minimal side of things compared to most of our other quirky contenders, but this one's definitely unconventional. It's got a distinctly Japanese feel to it - the beds are mere centimetres from the floor and the artwork blows around in the breeze. This is undoubtedly a stylish animal, but some guests might find it just the wrong side of monastic. It's a subjective one!
A Doll's House
The wall above the keyboard - which features masks, skeletons, thingymajigs from around the world - is a work of art! The whole home has been lovingly-crafted with unusual things. It's not the most luxurious home on our books, but it's got charm aplenty.
Entertainment Central
This Berlin home is a bundle of contradictions, just like all the best quirky homes. It mixes exquisite, period features (like the plaster moulding on the cornices and wood panelled walls) with modern, pop-culture pieces, including mario-kart art and old school lockers.
Saturday Night Fever
There's a bed that doubles as a dance-floor. Need we say more?
The Alfresco Edit
Drawings on the unfinished plasterwork, paintings in the kitchen, pink cushions in the garden, and mismatched prints and patterns all over the place. Minimalists will probably want to run a mile, but for the rest of us it's pure charm and character.
Upside Down
This awesome London pad is pretty darn cool. We love the incredible vaulted ceiling, abundance of natural light, and bold art collection. Quirk appeal: ten out of ten.
Like things a little different? Check out these 11 unusual staircases from around the world.