Mid-Century Modern Homes You Can Actually Stay In
No other architectural style represents Southern California living like mid-century modern does. Praised for its seamless simplicity, organic design, and integration with natural surroundings, this style is synonymous with a glossy, bygone era.
~
Mid-century modern structures are as much a part of Los Angeles' cultural fabric as palm-lined boulevards and the Hollywood sign. Architectural models of excellence like the Eames House in the Pacific Palisades from 1949, and other homes from the Case Study House Program are representative of this. But it's Pierre Koenig's Stahl House – which is still one of the most famous homes in LA – that continues to grab most of the attention. Sitting elegantly atop the Hollywood Hills, it impressively overlooks the Los Angeles basin in a floor-to-ceiling, glass-windowed spectacle. Some might recognise it from Julius Shulman's famous 1960 black-and-white photograph, Case Study House no. 22, Los Angeles, which forever imprinted it on our minds, at once portraying the relaxed, leisurely California lifestyle and the magnetism of the 'floating' structure.
While the Stahl House isn't available to rent for holidays (one could only hope…), we have a fair share of mid-century modern homes in our collection at The Plum Guide. They are perfect to give you that feeling of casual glamour as you sip classic cocktails by the pool, only really pausing to take in the pastel-coloured beauty of those magical LA sunsets.
Broadleaf
Modernist architecture was a response to fundamental changes in society and technology in the first half of the twentieth century. Born out of a belief that form should follow function, it became an ever-evolving, universal movement with an affinity for minimalism, widely adaptable to different conditions and lifestyles. Mid-century modern became the American exploration of this style, with California Modern as the localised pendant. And Broadleaf is a prime example of this mode.
Built in 1957 by architect Philip Kimmelman, Broadleaf is flawlessly fitted to the Southern Californian lifestyle. Nestled so deep into the Hollywood Hills that it almost feels as if you're in the countryside, you can spend endless days camped out by the pool, basking in the dappled sunlight peeking out from behind the trees. The structure is spontaneous, wild, and free-flowing, seamlessly blurring the lines between the indoors and outdoors in an unpretentious fashion – and importantly, setting the scene for the laid-back, easygoing attitude associated with this part of the world.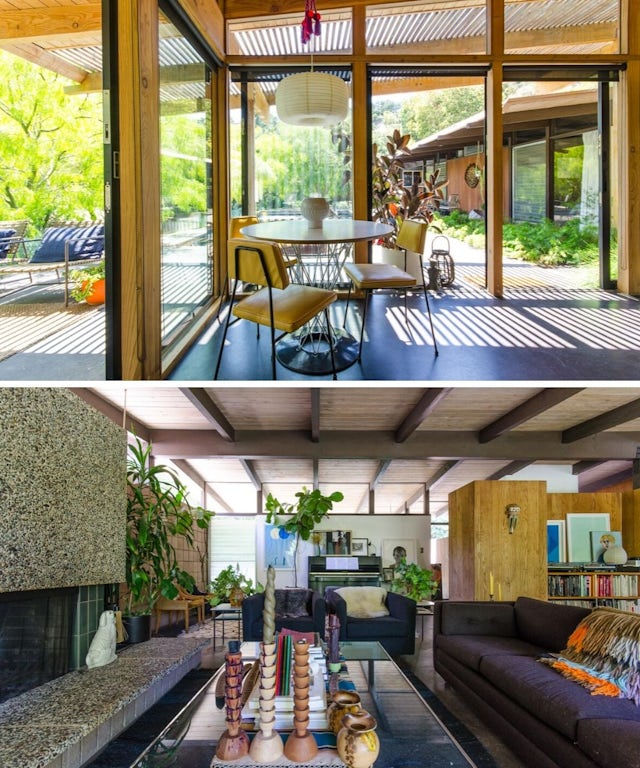 Originally designed as Kimmelman's own residence, it's still a family home to this day. Putting forward a kind of visual poetry that we can't get enough of, it boasts incredible open-plan spaces for socialising, intimate nooks for sitting back and slowing down, and outdoor areas that are as habitable as the indoors. Simultaneously functional and aesthetically-pleasing, it's as easy on your eyes as it is good for the soul.
Amazingly, it complements the terrain surrounding it without conquering it, courtesy of landscape architect, Garrett Eckbo, whose work once unified the entire street. Leafy, rugged, untamed, the encompassing nature is as dramatic and breathtaking as the home itself, allowing for a kind of harmony that appears effortlessly complex. Like any other LA home, Broadleaf requires you to have a car as it's in a secluded part of the Hills. But for mid-century modern enthusiasts, it's the perfect location – Case Study House no. 21 (also known as the Bailey House) is just down the road, another sublime Pierre Koenig production.
From £1138 per night, sleeps 8
A Sign is Born
Designed by Japanese-American architect, Kazumi Adachi, A Sign is Born dates back to 1958. Originally built as the residence for Mr and Mrs Lou Rifkin, it represents a time in Los Angeles' residential architecture where the mid-century modern style was at its peak, and the want for elegant asymmetry was higher.
If you feel like this home looks familiar, it's because you might have seen it before. It has acted as a backdrop for several editorials (Vogue to Elle, GQ to Marie Claire), offering a glance into a glossy, glittery bygone era, filled with poolside glamour and sunkissed seconds. We can almost imagine Julius Shulman, perched on a ledge with his camera, capturing the modern beauty of this architectural masterpiece against Los Angeles' topography and the Hollywood sign.
If you haven't already noticed, this home offers a stunning view of the iconic sign. It's tucked away in Beachwood Canyon, a neighbourhood that once went by the name of Hollywoodland – famously also lending its name to what was to become the most iconic real-estate advertisement in the world. The 'LAND' part of the Hollywood sign was dropped in 1949, making way to the sign as we know it today, and fostering an idealised, enclaved community right beside Griffith Park.
Setting foot inside A Sign is Born feels like travelling back in time. It received an update in 1996 by Josh Schweitzer, but the original look and structure is kept intact. With polished concrete floors, an earthy colour palette, and furniture that suits the mid-century modern formula, it appears both bold, casual, and glamorous at the same time. And let's not forget about the kidney-shaped pool. An icon of an area (and symbolic mid-century California living), it basks in and complements the magnetic beauty of the Hollywood sign as if the two were made exclusively for each other.
From £1121 per night, sleeps 10
The Outpost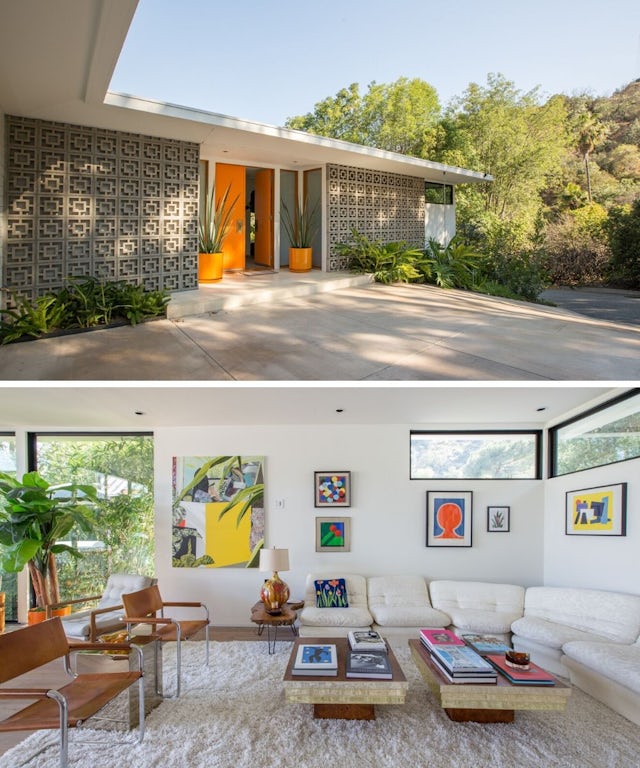 The Outpost appears as if it's taken straight out of Palm Springs, California's mid-century modern mecca. Elegant brise soleil dominates the façade and a glossy bright orange door welcomes you, immediately transporting you to a different time and a place called paradise. The sunlight's glowing, the colours are bolder, the picture-perfect swimming pool a brighter, more invigorating shade of turquoise. It's a place where you can escape from the hustle and bustle, from LA's slow traffic and long queues on the freeway, to somewhere that's entirely submerged in bliss.
Even though The Outpost isn't necessarily as swanky as some of its Palm Springs counterparts like the Sinatra or the Kaufmann House, it still makes for a pretty wonderful and unusual escape in the Hollywood Hills. Recently renovated and restored to its former glory (with a modern update, of course), it feels funkily understated. The colour scheme is groovy, and the stunning collection of mid-century modern furniture is impressive. Did you know that Scandinavian architects and designers were also prolific at this time? That's why we often see Hans J. Wegner and Arne Jacobsen furniture in perfect synergy with George Nelson's Bubble Lamps and Florence Knoll sofas.
It doesn't take much imagination to picture Slim Aarons with his camera, ready to document the spontaneous, casual glamour that'll undoubtedly occur once you start lounging by the pool. The jetliner views of the metropolis make for a pretty stunning backdrop too, with the flashing neon lights of the Sunset Boulevard billboards in the far, far distance.  
From £1441 a night, sleeps 6