The Full English Breakfast: 11 Of The Best In London
No visit to London would be complete without indulging in a full english breakfast – a traditional meal that has stood the test of time.
~
London is lucky to have an abundance of restaurants serving breakfast from a variety of cuisines. From buttermilk pancakes to avocado on toast, eggs benedict to shakshuka, you're spoilt for choice.
However, if you're visiting London for the first time, or simply want to be a tourist in your own city, we suggest starting your day with the most classic breakfast England can offer – a large, overly indulgent, full english. It's a breakfast tradition that dates back to the early 1300's and can be thoroughly enjoyed in the early mornings, or for brunch (a phenomenon inspired by the hangover). Read on for our pick of the top eleven spots to try a fry up in the city, that will keep you away from the usual tourist-traps:
E. Pellicci
@maxolesker
For a truly classic, no frills, greasy spoon, full english fry up, the best place to visit is E. Pellicci in Bethnal Green. Open since 1900, it has been serving full english breakfasts for over a century and is now an East End landmark. The cafe is still in the hands of the same Italian family who opened it, so it's no surprise the small, humble space is brimming with history and an endearing atmosphere.
The Wolseley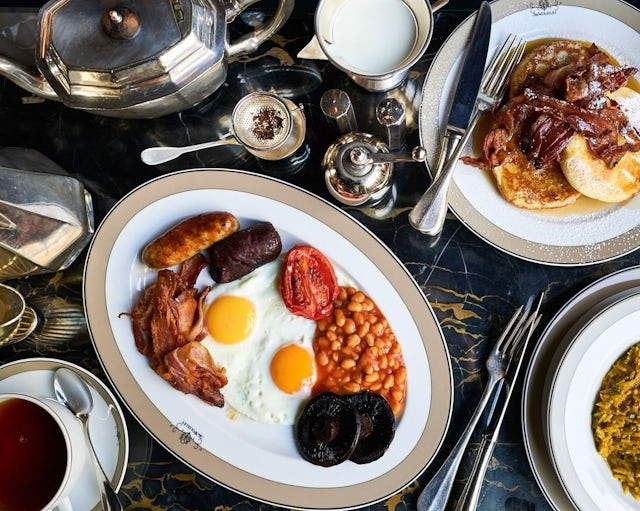 @thewolseley
If you're prepared to loosen the purse strings a little to experience an iconic London breakfast experience, The Wolseley will not disappoint. From the grand European interior to the impeccable food, it's a winner. It even became a favourite haunt for the renowned critic A.A.Gill, who loved the breakfast so much, he wrote a whole book about it. Open from 8am on the weekend, arrive early and eat slowly.
Coal Rooms
@coalrooms
If you ever find yourself in Peckham, or need an excuse for a journey off the beaten track, grab a seat at the kitchen counter of Coal Rooms and enjoy the scents of fresh food being cooked in the coal oven. The full english here comes with all the trimmings, pork & caramelised onion sausages, hash browns, pigs head blood pudding and, with something we could devour over and over again, roast beef butter on toast.
Quo Vadis
@quovadissoho
Quo Vadis is a quintessential London restaurant, steeped in tradition and history. Its past is pretty colourful – it once housed a Soho brothel and was home to Karl Marx. Today, customers return time after time for the consistently high level of food, sourced from local and seasonal ingredients. The cooked breakfast here is no exception, best enjoyed right by the beautiful stained-glass windows.
Parlour
@parlouruk
Parlour is a relaxed gastropub with a light-hearted menu, committed to providing top quality pub grub. The menu here is celebrated for the innovative takes on British classics, and while the full english is fairly by the book, it's a pretty knockout version. Named, The (No Subs) Full Parlour Breakfast, it's hearty and delicious. Make sure to accompany it with a freshly baked soda bread roll.
Regency Cafe
@berkeleysqb @sabrinathemillennialwitch
Sitting right alongside E. Pellicci in terms of the best traditional cafes London can offer, Regency cafe is another old-school breakfast institution. Serving city punters since 1946, an art deco exterior, gingham curtains, photo framed walls and extra portions of baked beans continue to be a winning formula. It's also been a popular destination in the media over the years, appearing in films such as Layer Cake and Rocketman, and featuring in Japanese Vogue.
Dishoom
Since its opening in 2010, Dishoom has quickly become a favourite in the city. Presently, no matter what night of the week you try and visit, there will be a long queue snaking out of the door. Another ingenious way to try their delicious food is to go at breakfast time, the menu of which is fresh and innovative – they introduced a double bacon naan version to their single version just last month. They also now have a vegan take on the full english, The Vegan Bombay, which is definitely an inventive way to try this classic meal.
The Full Nelson
@thefullnelsondeptford
If you're vegetarian or vegan and are reading this, probably wondering why you even are, do not be disheartened, this is your answer to hungover cravings. Serving, The Full Nelson, in a pub setting, this veggie twist on the classic fry up includes scrambled tofu, potato and apple rostis and a beer battered vegan "sausage".
Hawksmoor Guildhall
@hawksmoorrestaurants
On the other end of the scale, Hawksmoor Guildhall serves up an incredibly hearty full english in a high-end restaurant setting. More widely recognised for their high quality meat, popular with the city crowd, their inventive take on the breakfast classic is just as impressive. Order the breakfast for two to share, arriving on a chrome iron serving plate, it has all the trimmings of a traditional full english, complete with additional items such as short-rib bubble and squeak and grilled bone marrow.
Balthazar
Located in the hugely popular and buzzing location of Covent Garden, Balthazar is a favourite amongst both tourists and locals for fuelling up before a day in the city. A concept originally born as a French brasserie style restaurant in the heart of New York, the London version is now equally successful as its Manhattan equivalent. Go straight for the full english (bypassing the eggs and caviar) and you won't be disappointed.
Cafe Boheme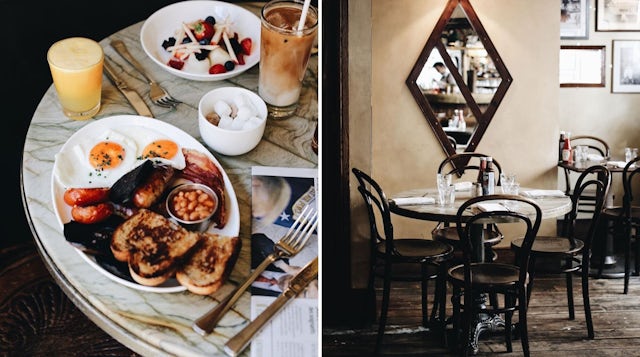 @cafeboheme
Known for late night croque monsieurs and champagne, amongst one of the liveliest streets in Soho, this popular brasserie will never let you down, especially if you are looking to fuel up before a day exploring. The full english in particular is executed really well – best enjoyed on one of the al fresco tables, enjoying the relative morning calm.