TV-Shows You Should Watch If You Love Interior Design
Looking for inspiration to spruce up your place now that you're spending all of your time at home? We've got you covered!
~
Are we the only ones wanting to redecorate our homes like crazy at the moment? Our minds have been too occupied in the past, only seeing our sofa as a place to take a nap, but now, we're noticing how the old pillows actually don't go with the new rug we recently bought. And how our bookcase is in dire need of some alphabetisation, colour-coordination, and a couple of new plants. And how our crockery is mismatching in an awkward way, not in that cool vintage way that's plastered all over Instagram.
As we're spending more time at home than ever before, we've opened the floodgates to everything that's wrong with our homes. Perhaps we've become overly critical? But at the same time, it's also a unique opportunity to work with your imagination and create the home base that you've always wanted. Seeing as we're probably also spending more time than ever consuming TV-shows and films on various streaming platforms, why not combine the two? It's a win-win for everyone involved. That's why we've put together a list of our favourite TV-shows that we look to for interior design inspiration. We hope they'll bring you as much joy, creativity, and new ideas that they have given to us!
Mad Men
The pinnacle of TV shows to watch if you love interior design, Mad Men had to be the first entry on the list. Set in 1960s New York, it's mid-century heaven, with each space having been designed with the utmost attention to detail, and so true to its decade that it's on the obsessive side. The homes are all extraordinary – from the all-American Draper residence in Westchester to Don and Megan's swanky mid-century penthouse on Park Avenue (with a quintessential 1960s sunken living room and a Case Study-style open kitchen), and Megan's bohemian Los Angeles bungalow with views of Laurel Canyon (anticipating changing design tastes that would come into fashion in the 1970s).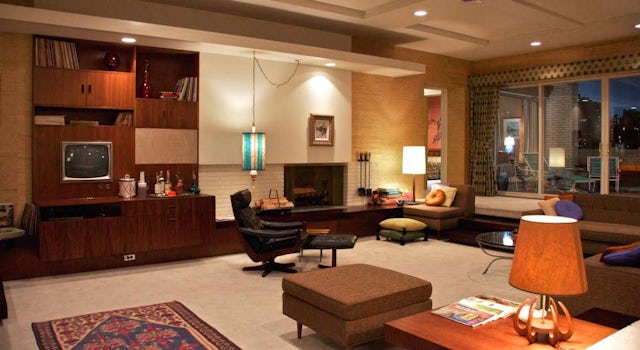 And let's not forget about the offices, Mad Men is about a fictional advertising agency, after all. The 1964 Sterling Cooper Draper Pryce office is entirely outfitted with furniture from Hermann Miller's catalogue, a bold colour palette, and curated greenery – perhaps some of it could inspire your work from home set-up? As nuanced in its interior design as it is in the portrayal of the iconic decade, Mad Men is a must-watch for interior design enthusiasts.
(Photos:
Interior Design
)
The Bridge
If you're craving a (much-needed) dose of Scandinavian interior design, look no further than The Bridge. (We are, of course, talking about the Danish/Swedish co-production here, not the multiple international remakes). So stylish that we somehow manage to forget that several murders occur in the homes, every space is as impressive as the last But if we had to pick a favourite, Martin Rohde's home in the middle of the woods from season one is a strong contender. Down-to-earth yet heavily curated in a minimalist way, white walls mix with oak panels, furniture by Arne Jacobsen and Hans J. Wegner, and the quintessential free-standing fireplace for a naturalistic take on Scandinavian style. And while you're at it, watching The Bridge is also a good chance to brush up on your Danish and Swedish language skills for your next trip to the region.
(Photos:
Ouno Design
)
Big Little Lies
Picturesque and dreamlike, Big Little Lies' setting is hypnotic to say the least. Despite taking centre stage in a murder investigation, Monterey is the kind of place you'll want to visit after binging both seasons. With its laid-back small-town feel and breathtaking views of the Pacific Ocean, it's an atypical setting for a drama of this magnitude, but it somehow just works – especially when paired with a stellar soundtrack (we're forever humming Cold Little Heart). Each character represents something different, polarised at first, connected at last, something which is also manifested in their private homes. There's Celeste's house: a glass-walled spectacle with views of the rugged Californian Coast and a terrace extraordinaire. Renata's superior, futuristic hilltop mansion with some of the biggest windows we've ever seen. Jane's easy-going, homely, and creativity-fuelled bungalow. Bonnie's chilled out, escapist fantasy of a mid-century modern home with a bohemian twist. And of course, the jewel of the crown, Madeline's picture-perfect beauty of a beach house, which is so close to the sea that you can practically hear every time a wave climbs ashore. Book this home on Plum for your next beach holiday!
(Photos:
Architectural Digest
and
Curbed
)
The Marvelous Mrs. Maisel
Quick-witted, spellbinding, nuanced, glossy, The Marvelous Mrs. Maisel transports you straight to 1950s New York. Everything is candy-coloured, saturated, a technicolour world appearing before our eyes, the costumes just as fascinating as the world they inhabit. The most iconic setting is that of Rose and Abe Weismann (which is also Midge's on and off home), an apartment in a fancy Upper West Side building with a friendly doorman. Inspired by a real-life building from 1909, it's the ultimate representation of a bygone era that's gone, but not forgotten. Theatrical yet sophisticated, Dorothy Draper-esque details mix with a pastel theme colour palette, for an over-the-top Hollywood Regency interior that reflects the family's status and eccentrism. In other seasons, Midge's family life (and new-found knack for stand-up comedy) takes her to some pretty exciting places – from apartments in Paris to a family-run Catskills resort (à la where Baby meets Patrick Swayze in Dirty Dancing), to the Fontainebleau Miami Beach where the grand staircase in the lobby becomes the centre of attention.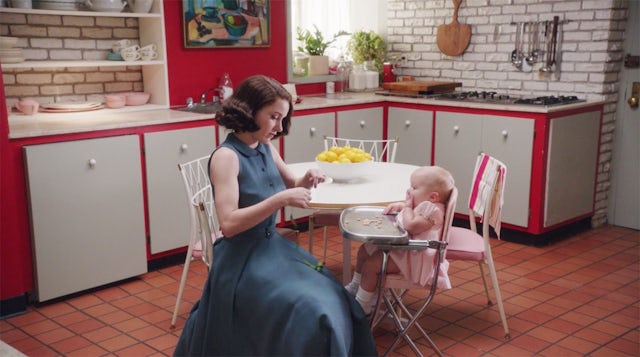 (Photos:
IMDB
and
Elle Decor
)
The Politician
In a show that's about power, it's ironic that it's actually the set design in The Politician that steals the show. Centred on preppy high school student, Peyton Hobart, on his quest to become a student body president, it also features a gallery of characters where each one is more complex, calculating, and backstabbing than the last. Set in Santa Barbara, California (but filmed in and around Los Angeles), the homes are all opulent, dramatic, and captivating. It's easy to see the influences – a little bit of Dorothy Draper's Hollywood Regency, gestures to Wes Anderson's whimsical universe, some heavy nods to design duo Sister Parish and Albert Hadley too. Most importantly (and also relating to the narrative), many of the homes have a stately quality, with impressive dining rooms, grand staircases, and entranceways that are as big as (if not bigger than) your typical London apartment all showcasing exactly why we look to The Politician for interior design inspiration. Peyton's bedroom is particularly presidential – it wasn't modelled after John F. Kennedy's bedroom in the White House for nothing.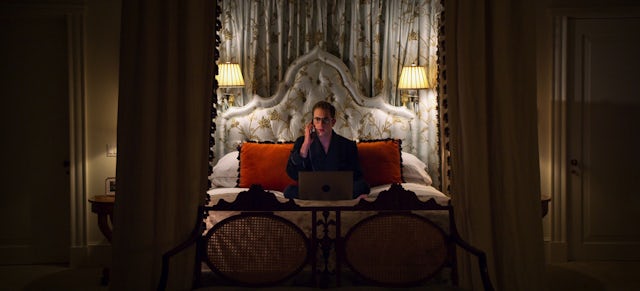 (Photos:
Architectural Digest
)
Other noteworthy mentions:
Otis and Jean's drool-worthy home in Sex Education. The Norwegian-style chalet is tucked away in the countryside, offering breathtaking views of rivers and woodland. We often dream of having breakfast on the terrace, just like Otis does.
The iconic beach house from Grace & Frankie, which is a lively mix of Frankie's bohemian, laid-back outlook on life, and Grace's classic, preppy style with a nautical twist.
Everything in The Crown. Every room in Buckingham Palace is just marvelous (although it might be a tad more difficult to replicate in your own space…). Our home, Earl of Fitzroy, features in season two, can you recognise it?
Sex & The City because Carrie Bradshaw's apartment is the stuff our New York dreams are made of.
Gossip Girl is another noteworthy New York drama that boasts incredible homes. The Waldorf apartment with its regal features and grand staircase, to Dan's Brooklyn cool apartment with a garage door separating him and his sister's Jenny's bedrooms, to the Van Der Woodsen's streamlined Upper East Side abode.
The Good Place presents interior design for the afterlife, featuring grand palaces to minimalist studio apartments, and everything you could think of in between.
Completed Netflix? Find some inspiration on what to do next with our ultimate list of travel books