Find expert tips, here on Plum Guide. From where to stay, what to eat, and what to see in some of the world's finest cities. Find expert-approved homes too: Plum Guide is a collection of the very best vacation rentals in the world, approved by our expert Home Critics after a rigorous 150 point test.
Sure, we know Los Angeles has lots more to offer than just Hollywood and movie stars, but when you're visiting the City of Angels, why not channel your inner Streisand (Malibu) or Denzel (Beverly Hills) and settle into their neighbourhood for a few nights?
With these spectacular holiday homes to choose from, both in those neighbourhoods and beyond, trust us, you're going to see a familiar face or two before your trip is over. Just be sure to act like the rest of us Angelenos and give the stars their space – we wouldn't think of bothering them at Whole Foods or our local yoga class.
Here are our picks for the best Airbnbs in Los Angeles, places with both good locations and comfortable luxury to recommend them.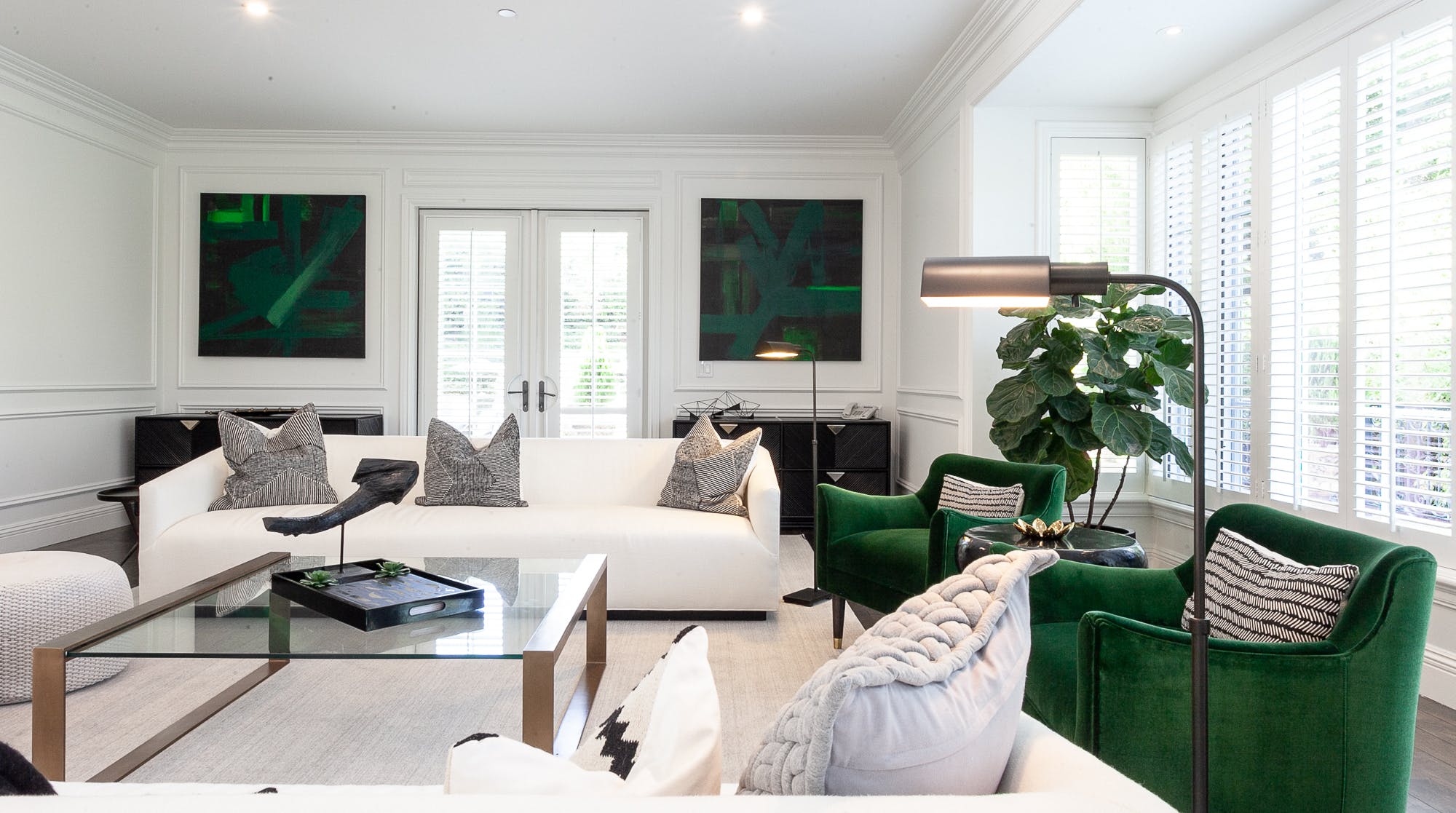 WHERE IS IT?
HOW MANY PEOPLE CAN STAY HERE?
Sleeps 16, 8 bedrooms, 10 bathrooms
WHAT THE CRITICS SAY:
'The Sculpture Garden is a mansion in the truest sense of the word. Fans of restraint might feel a bit out of place, but if grandeur is your thing - this is hard to beat. '
TELL ME MORE…
High in the Beverly Hills, this mansion reflects the luxury living that makes Beverly Hills one of the most exclusive cities in the world (it is actually a separate burg from Los Angeles). Like most places in LA, you'll need a car to get around or have the Lyft and Uber apps at the ready, because walking anywhere from here is not practical.
With an interior look created by Chad, the home's owner and a professional designer, this modern home truly has it all, with a swimming pool, lush garden, huge kitchen, and movie-theatre-like screening room. You (and your friends and family) may never want to leave. But when you do, Rodeo Drive shopping is right down the hill and the clubs (think SoHo House) and restaurants of Sunset Boulevard and West Hollywood are both just minutes away.


WHERE IS IT?
HOW MANY PEOPLE CAN STAY HERE?
Sleeps 10, 5 bedrooms, 6 bathrooms
WHAT THE CRITICS SAY:
'You'll feel like a million bucks walking through that arched doorway, gazing up at the spectacular chandelier and sauntering through the property grounds.'
TELL ME MORE…
If you don't know the difference between the Beverly Hills flats and the Beverly Hills hills, this lovely large house in the flats will help you figure it out. The flats are just what they sound like, the part of the city that lies on flatter land that stretches from Pico Boulevard to Sunset Boulevard, with the most desirable addresses north of Santa Monica Boulevard.
That's where this home that comes complete with game room and swimming pool is located, within walking distance of the central shopping and dining area of Beverly Hills. This makes it easy to sample Chef Helene An's indescribably good garlic roasted Dungeness crab and her famed garlic noodles at Crustacean, then walk some of it off going home. Surfing beaches are an easy 16 km drive west, while Hollywood's late night hotspots are a similar distance east.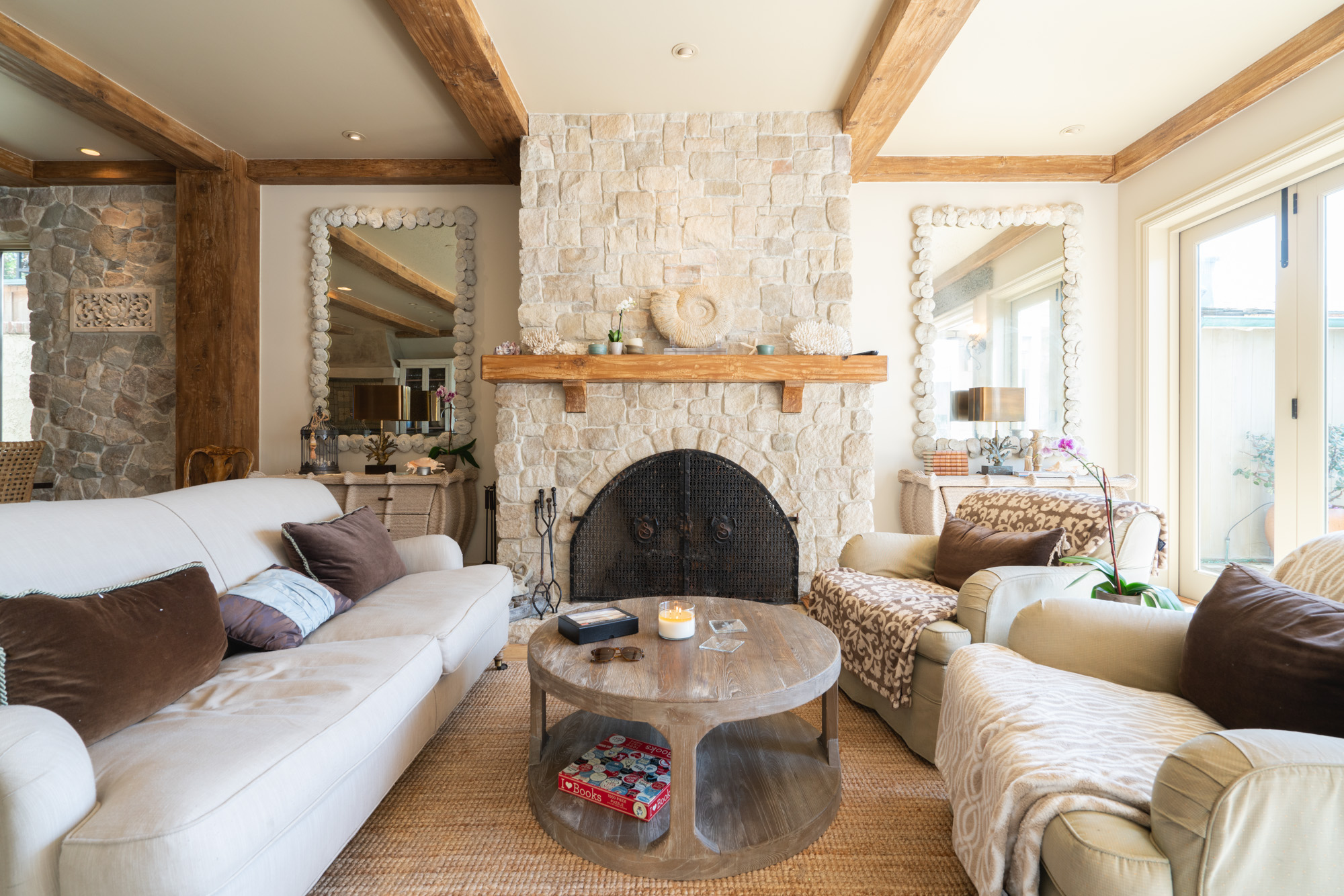 WHERE IS IT?
HOW MANY PEOPLE CAN STAY HERE?
Sleeps 8, 5 bedrooms, 6 bathrooms
WHAT THE CRITICS SAY:
'Malibu Colony - a private gated community - provides privacy and entertainment to celebrities and residents alike. It's a world unto itself, and a real treat if you're able to stay here.'
TELL ME MORE…
Nestled on a secluded cove just north of Malibu Pier, Malibu Beach Colony has long been a place where Hollywood goes to hang out, from Liz Taylor and Cary Grant to Leo DiCaprio and Tom Hanks – they own homes there, too. It's also where the Charlie Harper character of 'Two and a Half Men' ostensibly lives, but it is also a real place where kids (and adults, too) can run free on the beach, use a SUP in the nearby lagoon, and surf the breaks right out the door.
This beach house has views for miles, a comfortable interior vibe, and easy access to Pepperdine University, too. Walk across Pacific Coast Highway to Malibu Country Mart to take a yoga class, shop for t-shirts at John Varvatos, or carbo load with some mind bendingly good homemade spaghetti carbonara at Tra di Noi.


WHERE IS IT?
HOW MANY PEOPLE CAN STAY HERE?
Sleeps 16, 7 bedrooms, 8 bathrooms
WHAT THE CRITICS SAY:
'This is an ideal home for a large group of friends or family, looking to spend quality time with one another in a peaceful location.'
TELL ME MORE…
Want the ultimate Malibu experience? Then you'll need to head way out along PCH to this past-Point Dume beachfront home where ocean, sun, and sand rule. This is what locals call being 'way out' in Malibu, for it's 65 km just to get to Santa Monica and the same distance – but literally over the hills and through the woods – to Hollywood.
So make a plan to settle in and enjoy this place near Barbra Streisand's place in Point Dume, where she'll look down from the bluffs above as you surf the hard-to-access break there, which you'll have to drive to find an entrance to, then walk quite a ways. It's easier to just hit nearby Zuma Beach, where beach volleyball nets and surfing spots are plentiful.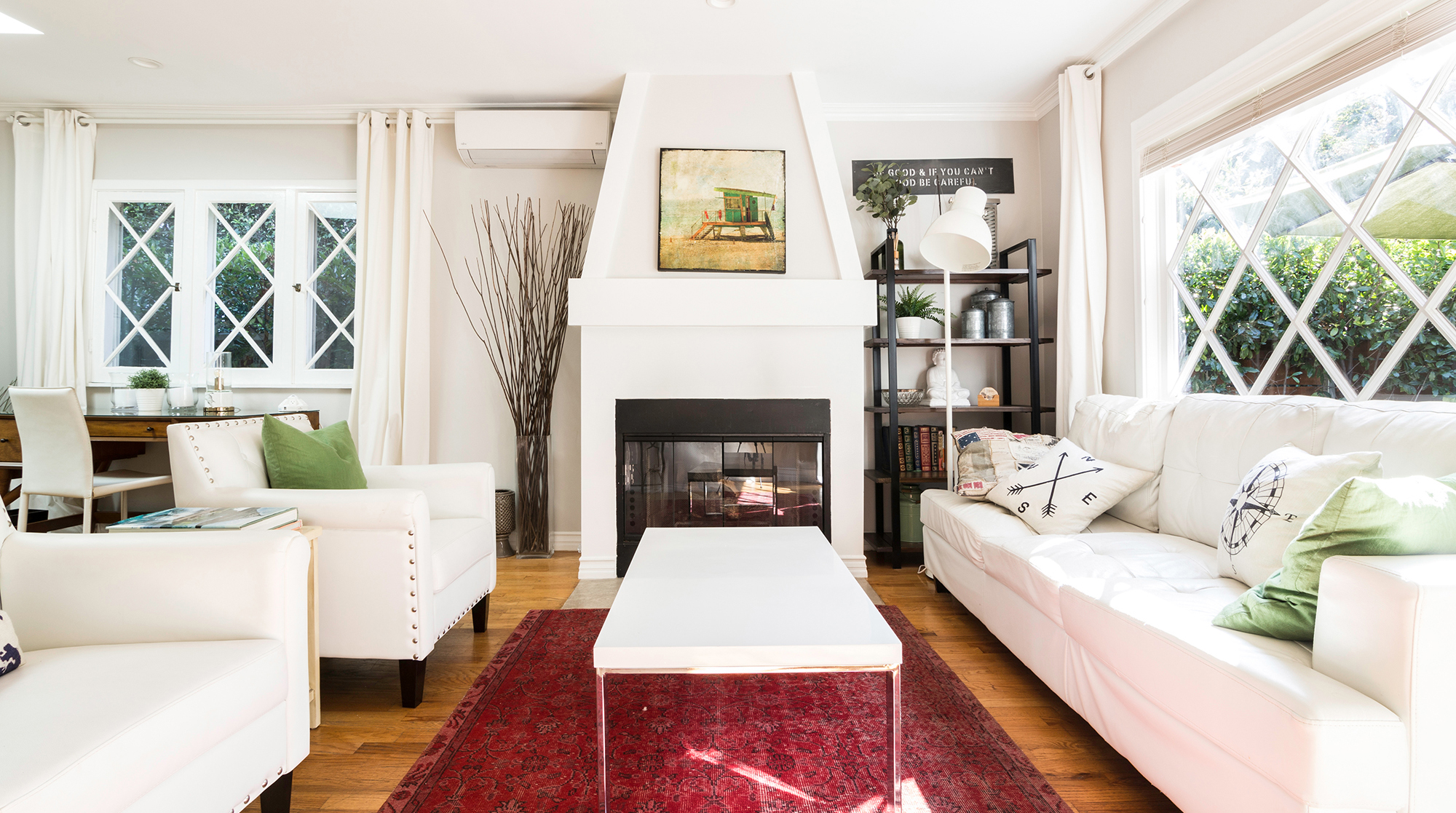 WHERE IS IT?
HOW MANY PEOPLE CAN STAY HERE?
Sleeps 2, 1 bedroom, 1 bathroom
WHAT THE CRITICS SAY:
'Beyond its two outdoor patios and toasty indoor fireplace, this home's an incredible value within minutes of WeHo's vibrant scene.'
TELL ME MORE…
West Hollywood is another of LA's separate cities, like Beverly Hills or Malibu, that set their own rules while being a part of the larger LA scene. In WeHo, those rules include embracing everyone's sexual orientation, so much so that the city's nickname is "Boys' Town."
From this sleek bungalow, it is only a few blocks west to the most famous gay bar/restaurant/nightclub in all of LA, The Abbey, where you never know when someone's gonna start dancing on the ceiling. In between are lots of retail shops, gyms, and restaurants that cater to every taste. Or walk east to the La Cienega Corridor, a famous hot spot for chic restaurants like Nobu Los Angeles and the Fig & Olive.


WHERE IS IT?
HOW MANY PEOPLE CAN STAY HERE?
Sleeps 14, 7 bedrooms, 5 bathrooms
WHAT THE CRITICS SAY:
'This is the perfect entertainment oasis, with all the amenities you'd need to make guests happy and looked after.'
TELL ME MORE…
While the hills above West Hollywood are technically not part of WeHo, everyone thinks they are. So why not choose this large, multi-level house with views right down into WeHo and beyond as your home base, especially if you're planning to host a few business meetings, have a few friends over for a pool party and barbecue, or just need a place for the whole family to happily stay together?
One thing about living in the hills is the need for a vehicle to get you back down to the hubbub of Sunset Boulevard below, but if hitting a few famous clubs is in your LA game plan, this is an excellent starting-off spot, perhaps with a taxi driver. The Viper Room, Whiskey A-Go-Go, and The Roxy are all right down the hill to the west, while The Comedy Store and Chateau Marmont are just to the east. Of course, when you're in this beautiful eyrie up in the sky, you may just ask the party to come to you.
WHERE IS IT?
HOW MANY PEOPLE CAN STAY HERE?
Sleeps 8, 4 bedrooms, 4 bathrooms
WHAT THE CRITICS SAY:
'The Spanish Manor is charming and eclectic with a backyard perfect for entertaining. A Tiki Hut out back, saltwater pool and hot tub, plus a fireplace and heat lamps make for the perfect party recipe.'
TELL ME MORE…
This Spanish-style house reflects one of LA's classic architectural styles, for after all, California was Mexican and Spanish long before the British-born colonizers made their way west. That alone makes it a cool place to call home, and it is also in the perfect location for roaming around our sprawling city, which we advise doing only when it is not morning nor evening rush hours.
The stories you have heard about traffic here are all true, and while there will eventually be a Metro subway/light-rail line passing very near here, it is still under construction and won't be open until 2024. Happily, you can walk a block to be at LACMA, the art museum where you can play in the Urban Light installation by Chris Burden out front and try to see every one of the 140,000 objects this huge museum has in the collection before you tucker out.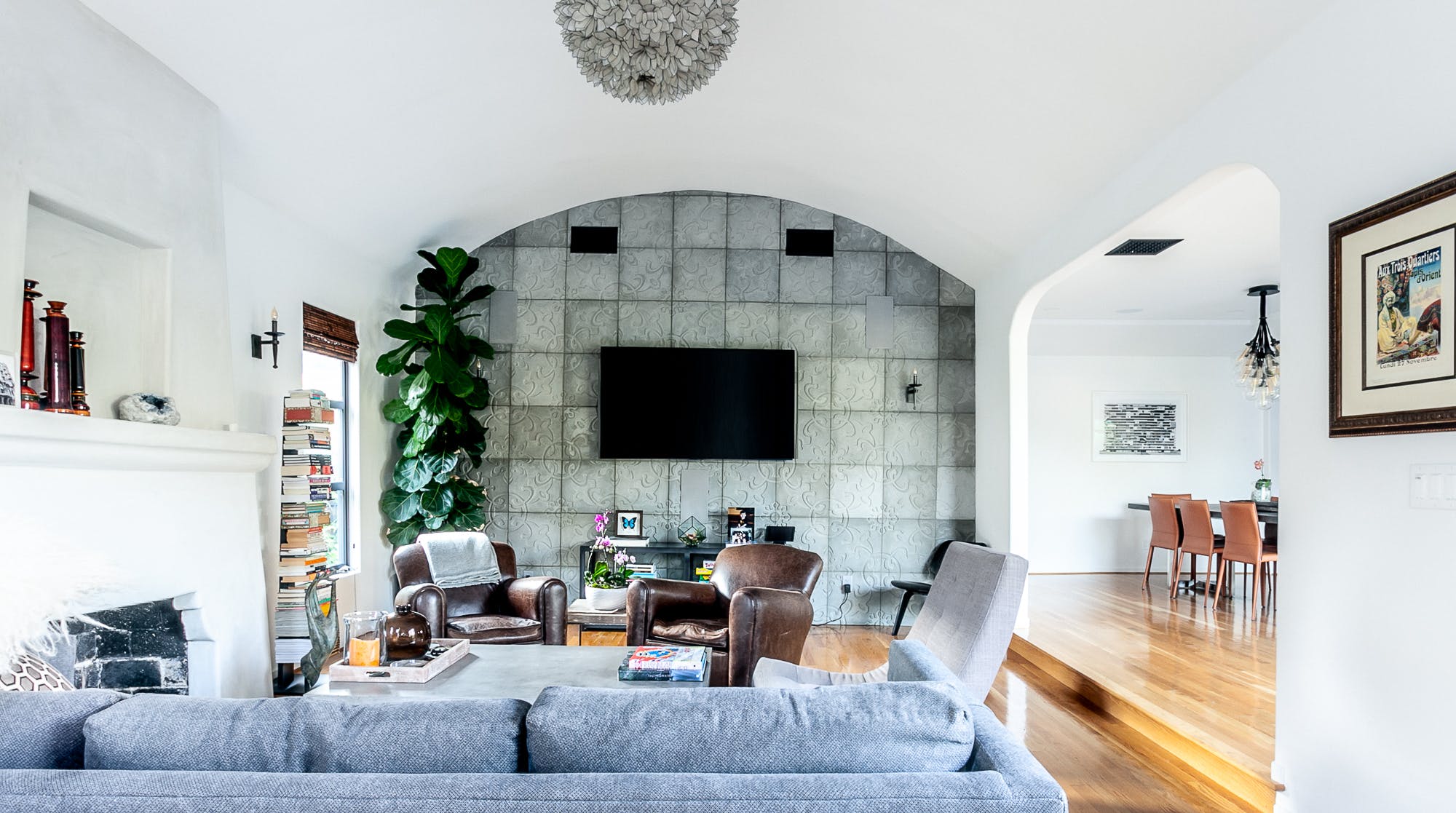 WHERE IS IT?
HOW MANY PEOPLE CAN STAY HERE?
Sleeps 8, 3 bedrooms, 3 bathrooms
WHAT THE CRITICS SAY:
'Green Tangerine is a stylish base that can sleep up to eight guests. It was originally built in 1926 but was recently completely rebuilt and is now a full-fledged "smart-home."'
TELL ME MORE…
With a classic indoor-outdoor design, this cosy place allows the wonderful Southern California weather to fill the house with warmth and light. Add in the piano and the hot tub in the garden and this picturesque place is perfect for happy hour festivities.
You'll probably be ready for a cocktail after spending the day walking in this neighbourhood, where the Petersen Automotive Museum shows off cars most of us can only dream of owning, like a bright-red 1955 Ferrari 125S – or the Batmobile! And as of early 2020, the exciting new Academy Museum of Motion Pictures will be a quick stroll from this home as well, just past LACMA.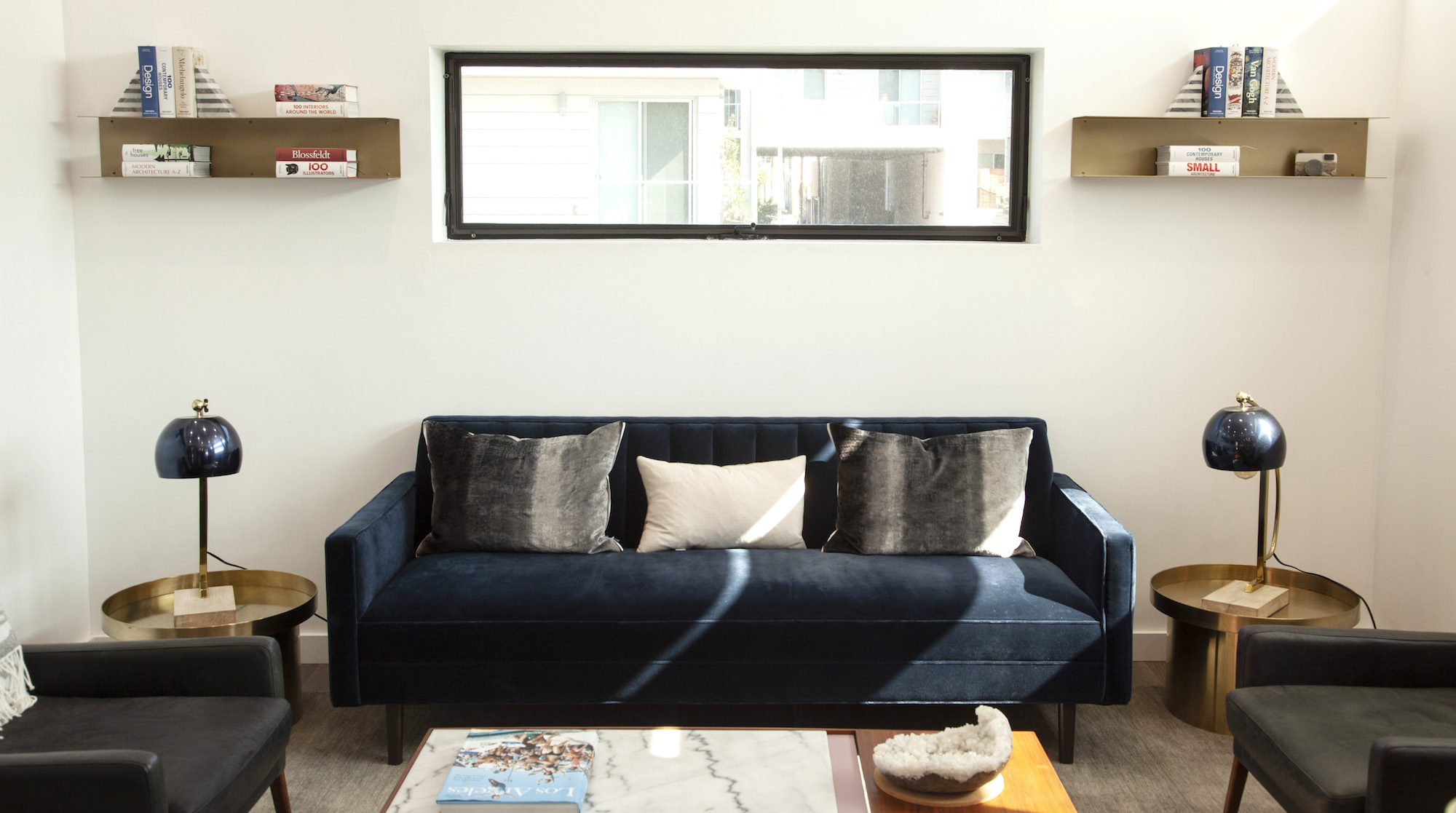 WHERE IS IT?
HOW MANY PEOPLE CAN STAY HERE?
Sleeps 4, 2 bedrooms, 3 bathrooms
WHAT THE CRITICS SAY:
'The interesting modern exterior and design give The Fun Guy a lighthearted and pleasant feel.'
TELL ME MORE…
Located in the south end of Hollywood, this townhouse has a cool artist's vibe and a key location if visiting Paramount Pictures and Raleigh Studios is part of your LA plan. Walk there to take a meeting or two, then celebrate your Tinseltown success – or drown your sorrows – with a stroll over to Providence, where Chef Michael Cimarusti's award-winning tasting menus full of seafood and wagyu beef will make everything seem right with the world.
Wander back home and jump in the hot tub, or head north toward Hollywood Boulevard where there's always something happening until the early morning hours.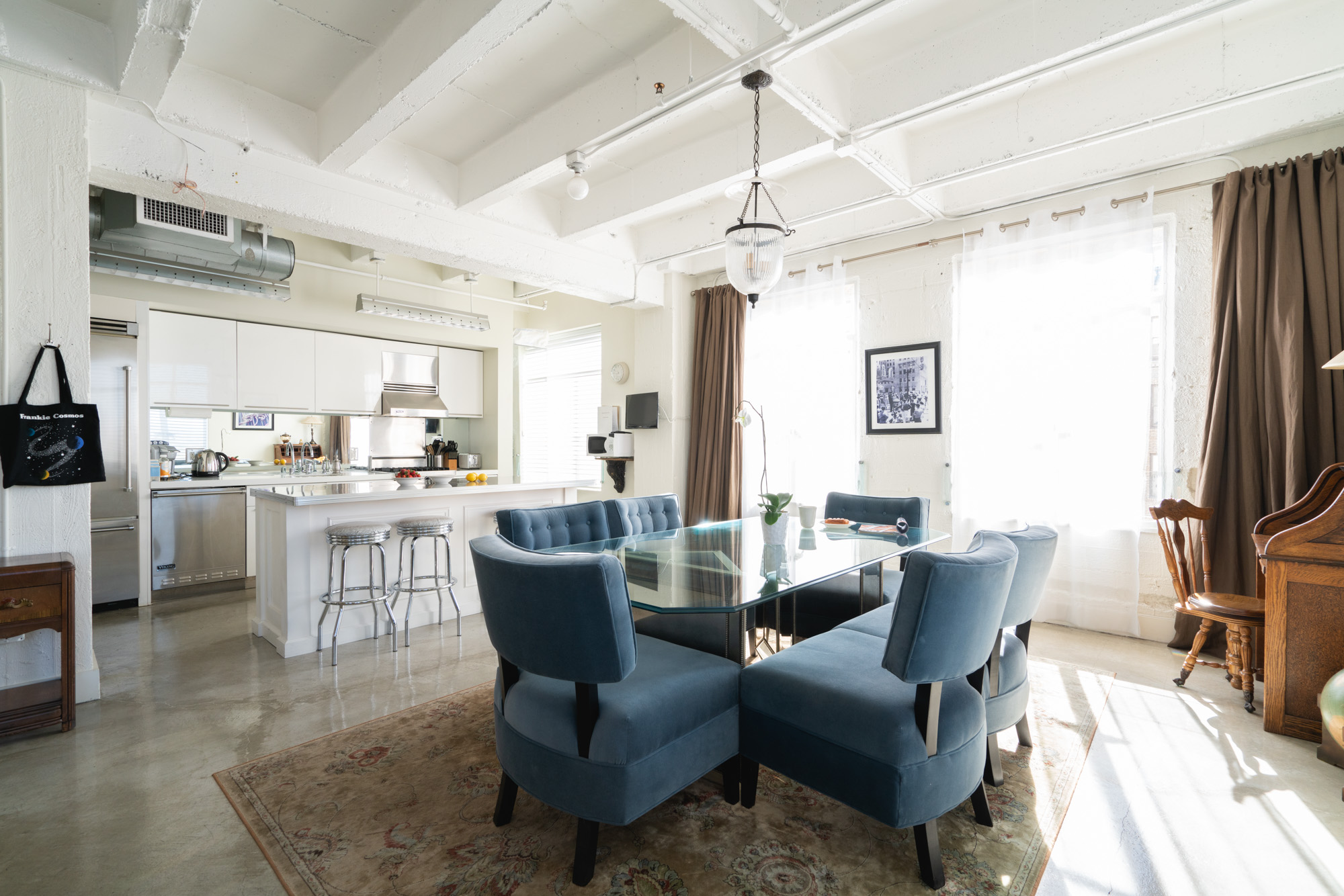 WHERE IS IT?
HOW MANY PEOPLE CAN STAY HERE?
Sleeps 4, 1 bedroom, 1 bathroom
WHAT THE CRITICS SAY:
'Be prepared for LA madness on your doorstep, but should you need to escape it all...just head back on up to your room or the tranquil rooftop terrace.'
TELL ME MORE…
Get immersed in the Hollywood scene in this elegant apartment inside a historic building perched at the famed intersection of Hollywood and Vine. The Pantages Theatre, an Art Deco masterpiece built in 1930, is right next door, so plan to grab tickets to the Broadway shows that cycle through here all year long. Be sure to look down at the sidewalk wherever you walk around here, for the golden stars embedded there are part of the Hollywood Walk of Fame.
See if you can spot Neil Patrick Harris, Kristin Chenoweth, and Sir Andrew Lloyd Webber's stars right outside your front door. You'll also be just over the hill from the Universal Studios Theme Park, where Harry Potter lives, and Warner Bros. Studio, which offers a fascinating behind-the-scenes tour of their working studio.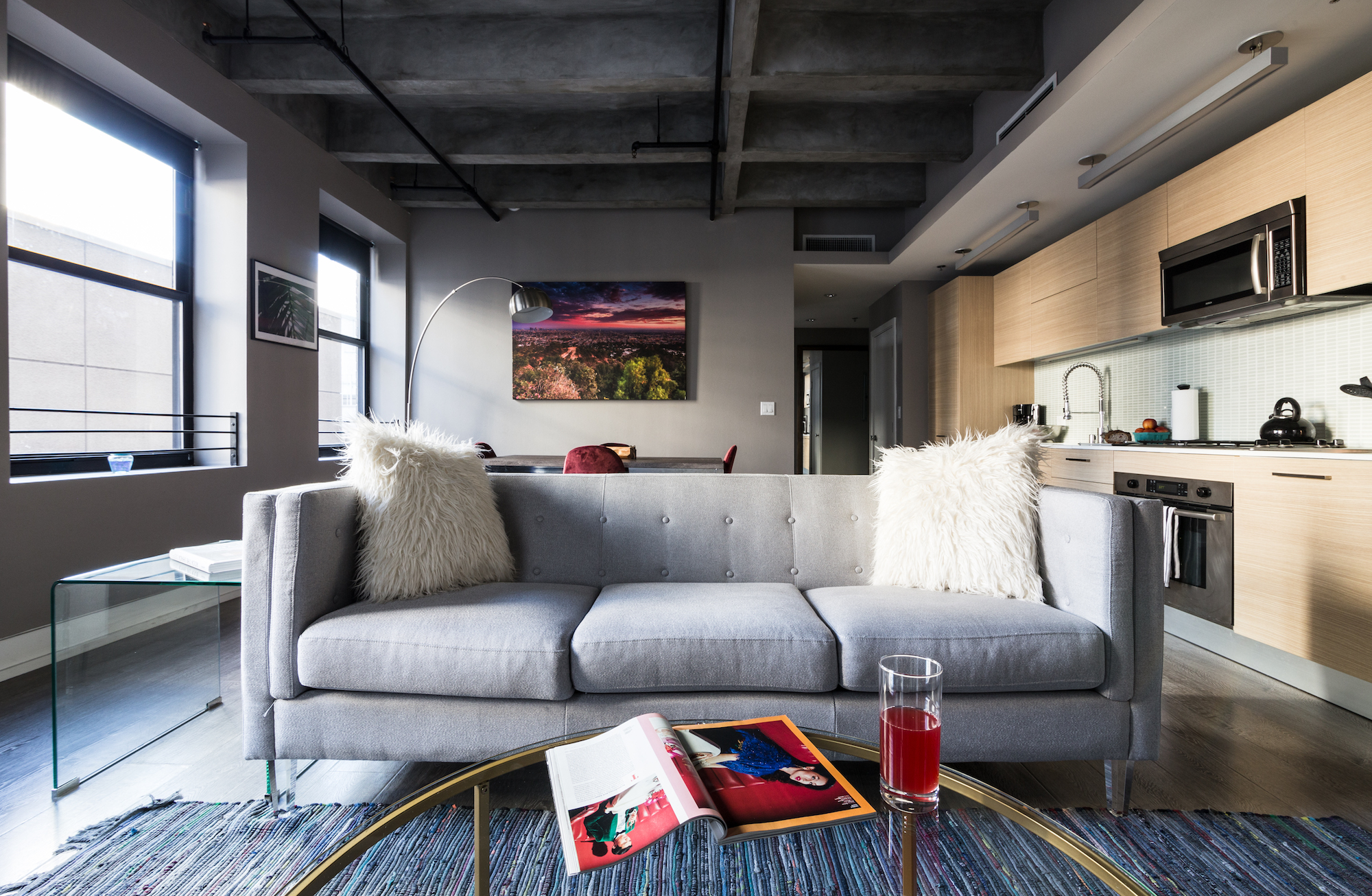 WHERE IS IT?
HOW MANY PEOPLE CAN STAY HERE?
Sleeps 2, 1 bedroom, 1 bathroom
WHAT THE CRITICS SAY:
'Meditate in the zen garden, soak up some rays at the rooftop pool, or host a small dinner party in your open-concept kitchen.'
TELL ME MORE…
With its central location in Downtown LA, this one-bedroom apartment can easily do double duty, as a work-centric spot during the day and a get-out-and-have-fun home base in the evenings and weekends. Corporate offices and law firms surround it, the LA Convention centre is a quick walk away, and LA Live, The Grammy Museum, and Staples centre are all even closer.
This is the place that is truly a real city in the vastness of Los Angeles, so expect all the city hassles, with expensive parking and crowded streets, but it also has all the vibrant life and excitement of every big metropolis. If you've got a sweet tooth, don't miss Bottega Louie on 7th and Grand streets, for their French macarons melt in your mouth.


WHERE IS IT?
HOW MANY PEOPLE CAN STAY HERE?
Sleeps 4, 1 bedroom, 2 bathrooms
WHAT THE CRITICS SAY:
'Smack in the heart of Downtown LA, this modern building is stacked with all the amenities and services you'll need during your stay.'
TELL ME MORE…
Urban living with all the amenities, that's what this spacious apartment offers, with easy access to some of DTLA's coolest venues for music and the arts just down the street. Spend some time wandering around here and you'll discover the Orpheum Theatre, the Theatre at the Ace Hotel, and The Mayan – that's the one with the absolute wackiest design you've ever set eyes on.
All are constantly filled with both well-known and more local bands, while stepping a few more blocks to the east you'll find the big time acts that fill the Staples centre arena. Walk to any one of them from this well appointed home, then if the weather's fine, head up to the rooftop swimming pool that's included with your rental stay.