Find expert tips, here on Plum Guide. From where to stay, what to eat, and what to see in some of the world's finest cities. Find expert-approved homes too: Plum Guide is a collection of the very best vacation rentals in the world, approved by our expert Home Critics after a rigorous 150 point test.
Until the moment you fly over the Los Angeles basin, you may not have any concept of just how huge the city is. Not only does it cover 502 square miles, but more than 10 million people live in the city, and LA county is even bigger, with about 17 million citizens and even more land area.
It sprawls from the Pacific Ocean over hills and into valleys and also includes numerous smaller burgs like Beverly Hills, Culver City, Santa Monica, Malibu, and Torrance that aren't even counted in that number. And don't get us started on the fact that almost everyone is driving a car here!
So the first step in planning an itinerary for how to spend a long weekend in LA is to be realistic. If you decide to stay at the beach in Malibu, then travelling to Downtown LA for a concert at Staples Center can take you hours to get there, especially on a Friday night, when traffic is at its worst. But on Saturday morning, you'll probably breeze right across town.
Beyond that, focus on the experience you want out of your long weekend in LA. Is it the Downtown LA art or concert scene? The sophisticated Beverly Hills shopping and dining offerings? Do you love world-class museums like the ones along Miracle Mile? Or is it all about the beach experience that SoCal does so well?
Consider exactly where you'll want to be and when, then book your Plum Guide weekend home with that in mind. We're here to help you hone in on the perfect place to be in LA LA Land.
If you're not quite sure, this guide will help you find the optimum spot to call home in the City of Angels. And if you cannot decide, there is always the option of getting in the car and driving from one end of town to the other. We Angelenos do it all the time, admittedly while shouting at the GPS that tells us it will take 45 minutes to go five miles.
WHERE TO STAY
THE BEACHES
Venice and Santa Monica
VENICE
Los Angeles is famous for its kilometres of beaches, that range from way up past Point Dume in Malibu all the way down to Long Beach. But no place is more iconic than Venice Beach, known for its hippie vibe, Muscle Beach outdoor gymnasium, and jam-packed boardwalk, as well as the sophisticated dining and shopping on Abbot Kinney Boulevard that has sprung up as Venice has become a key part of the Silicon Beach revolution.
Snapchat started here and Playa Vista and Marina del Rey are just a few miles south, where Google, Facebook, YouTube, IMAX, and numerous other tech companies have built custom-designed campuses.
STAY HERE IF YOU LIKE:
Crowded beaches with freaks and geeks in abundance, stay here if you like renting bikes to ride the 26 mile beach path called the Strand, hanging out at a cafe on the boardwalk, watching the sunset from a sky-high bar with amazing views of the whole city.
A TYPICAL DAY IN VENICE:
Begin with exercise, as that's a SoCal beach must. Swim in the Pacific Ocean (but don't really plan to surf here, no good breaks), bike along the Stand, play a few beach volleyball matches or paddle tennis games. Hit Eggslut for breakfast, and eat the best warm-brioche-bun enclosed bacon, egg and cheese sandwich of your life – made with cage free eggs, naturally.
Shop and gawk along the boardwalk, then make your way to Main Street for more high-end boutiques and lots of bars and restaurants, or stay on the boardwalk all the way to Navy Street to hang with locals at The Waterfront where Erdinger beer flows from the taps and rose all day is the mantra.
Hit Abbot Kinney Boulevard for art galleries and expensive shops and top Venice restaurants including Gjelina, where you might just run into Tom Hanks and Rita Wilson.
Finish the day at High Rooftop Lounge in the Hotel Erwin, where the sun sets to the west over the ocean and you can see the whole LA basin by looking to the east. That is the perfect spot to get your bearings, for you can really see all the way to Hollywood, Downtown LA, and beyond from this amazing bar.
UNPACK YOUR BAGS HERE: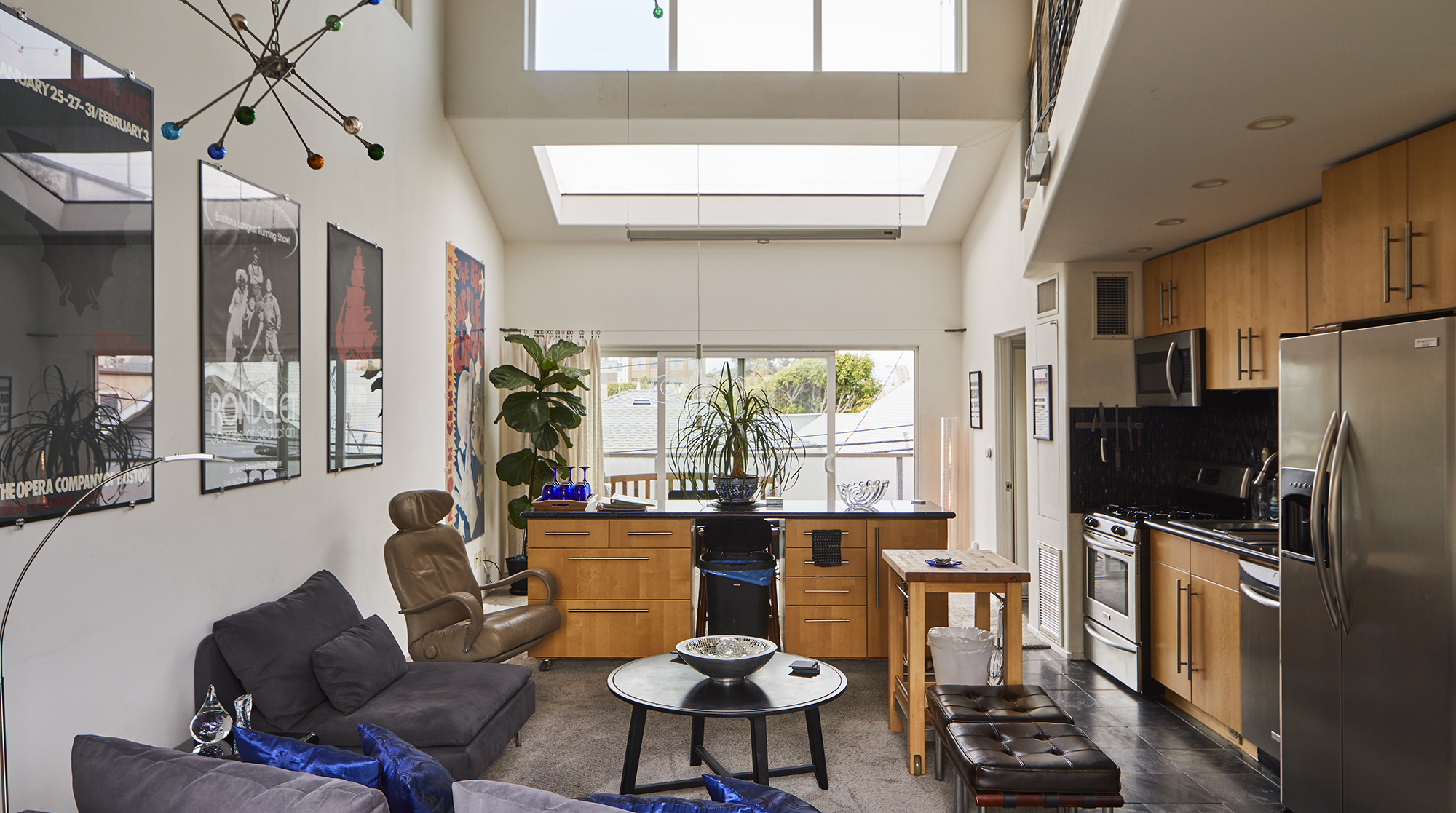 You'll be right at the boardwalk and a few steps from the beach in this comfortable 3 story home that has all the necessary amenities and a central location that allows you to easily come and go. Three balconies bring the ocean breezes in, and even more importantly in Venice, it also comes with a parking space.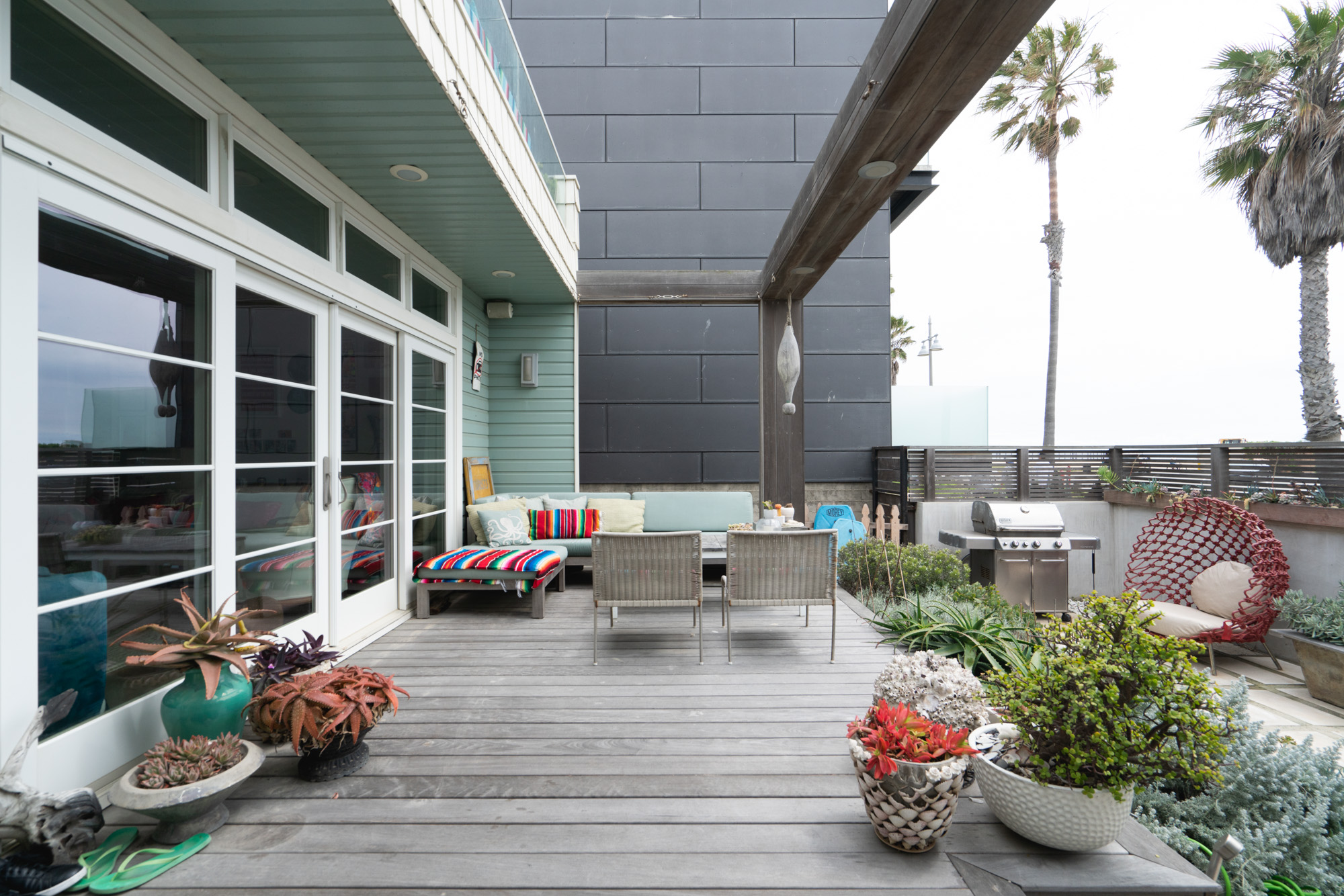 Beachfront living in Venice doesn't get any better than this, as you'll discover sitting on your verandah looking out at the ocean. Add in the cool, eclectic furnishings, dedicated parking space, central location to both Venice and Marina del Rey, and a washer and dryer – which are incredibly important when spending lots of time in the water and on the sand – and this one is a real gem.
SANTA MONICA
Santa Monica is Venice's more sophisticated older sister, so expect to find fewer freaks here, unless there's a concert at the famous Santa Monica Pier – then all bets are off. Otherwise, it's easy to find an empty beach here, although not in the spots where there are surf breaks.
There, you can take a lesson or two and then go hang ten, but remember that the Pacific Ocean here never gets exactly warm, so plan to wear a wetsuit, even in the summer. And remember that May Grey and June Gloom are very real at all SoCal beaches when the marine layer often keeps the clouds at the shoreline all day, so plan accordingly.
STAY HERE IF YOU LIKE:
Kilometres of empty beaches, crowds at the pier's amusement park, high end shopping, nightclubs and movie theatres, and easy access to the Metro system, with the ability to take a light rail train to Hollywood and Downtown LA.
A TYPICAL DAY IN SANTA MONICA:
Play some beach volleyball, the sport that started here in SoCal, grab a surfboard and ride the waves, or pedal all the way to Malibu and back on the Strand to start your day, before it gets too hot. Bring socks or sand shoes if you plan to be on the beach in the afternoon, for the sand gets burning hot.
Spend the afternoon at Pacific Park on the pier, especially if you've got kids in tow, and do all the rides, including the iconic Ferris wheel. Shop along the no-cars blocks of the Third Street Promenade and take in an art film at the Laemmle Royal Movie Theater.
Hungry? For the best pizza in town, hit Stella Barra and order an avocado and arugula pie. Or indulge in California's original Asian Fusion restaurant at Wolfgang Puck's Chinois on Main, where the Shanghai Lobster's curry sauce has been making people groan with pleasure for over 30 years. Hit Harvelle's blues club for some live music and an eclectic crowd of locals to dance your way into the night.
UNPACK YOUR BAGS HERE: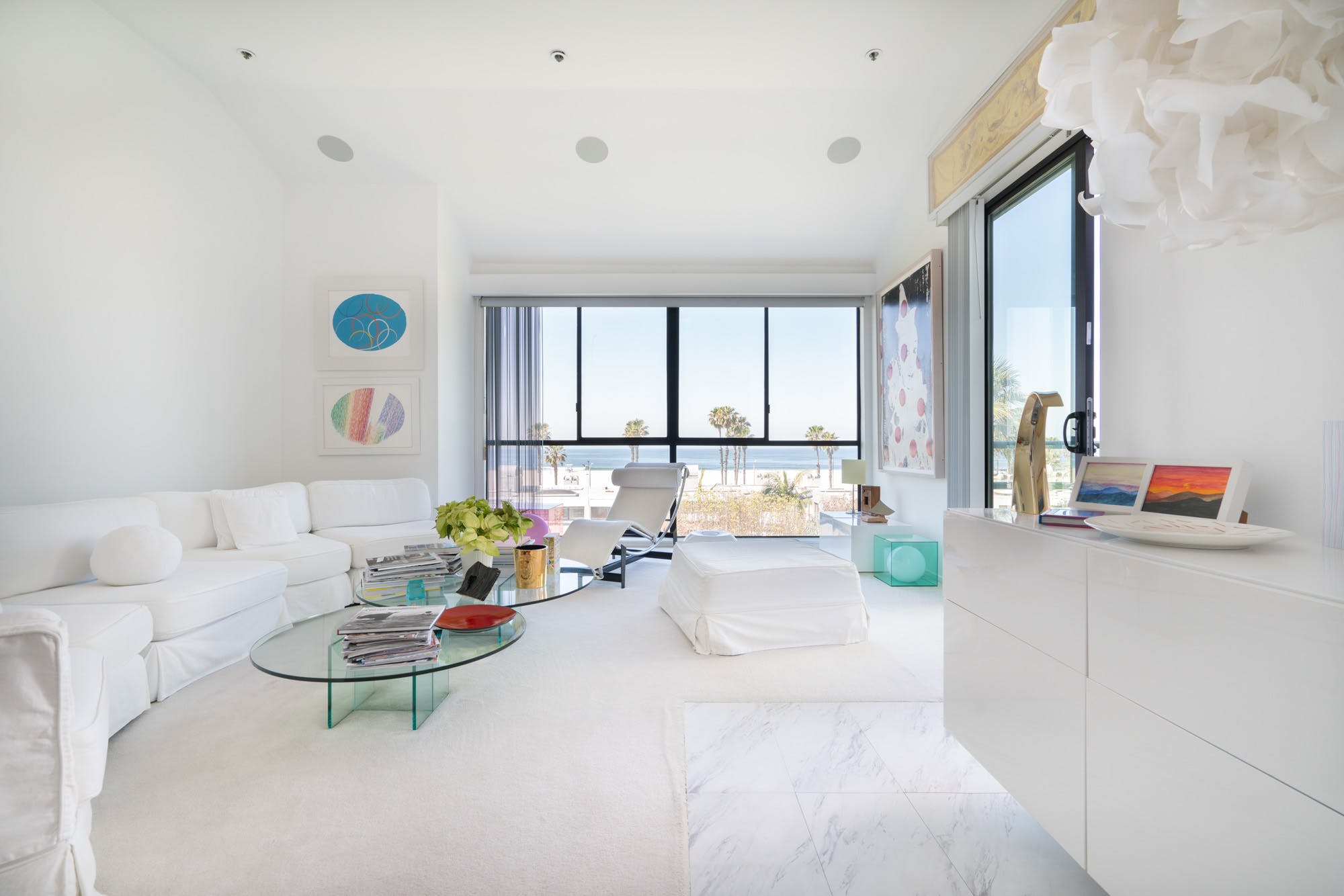 Much of Santa Monica sits up on a large bluff, but not this ultra-mod apartment with splendid views. It's not quite toes-in-the-sand close – you'll have to stroll a block to the beach – but it is just at the edge of Venice, in a perfect location for wandering over to Main Street, down to the Venice boardwalk, or just right into the ocean for a swim.
The pier is a bit of a hike north, so grab an electric scooter to get there. Warning: don't ride that scooter on the Strand, or you'll get a ticket for over $400. The Strand is for non-motorised vehicles – mostly bicycles – only.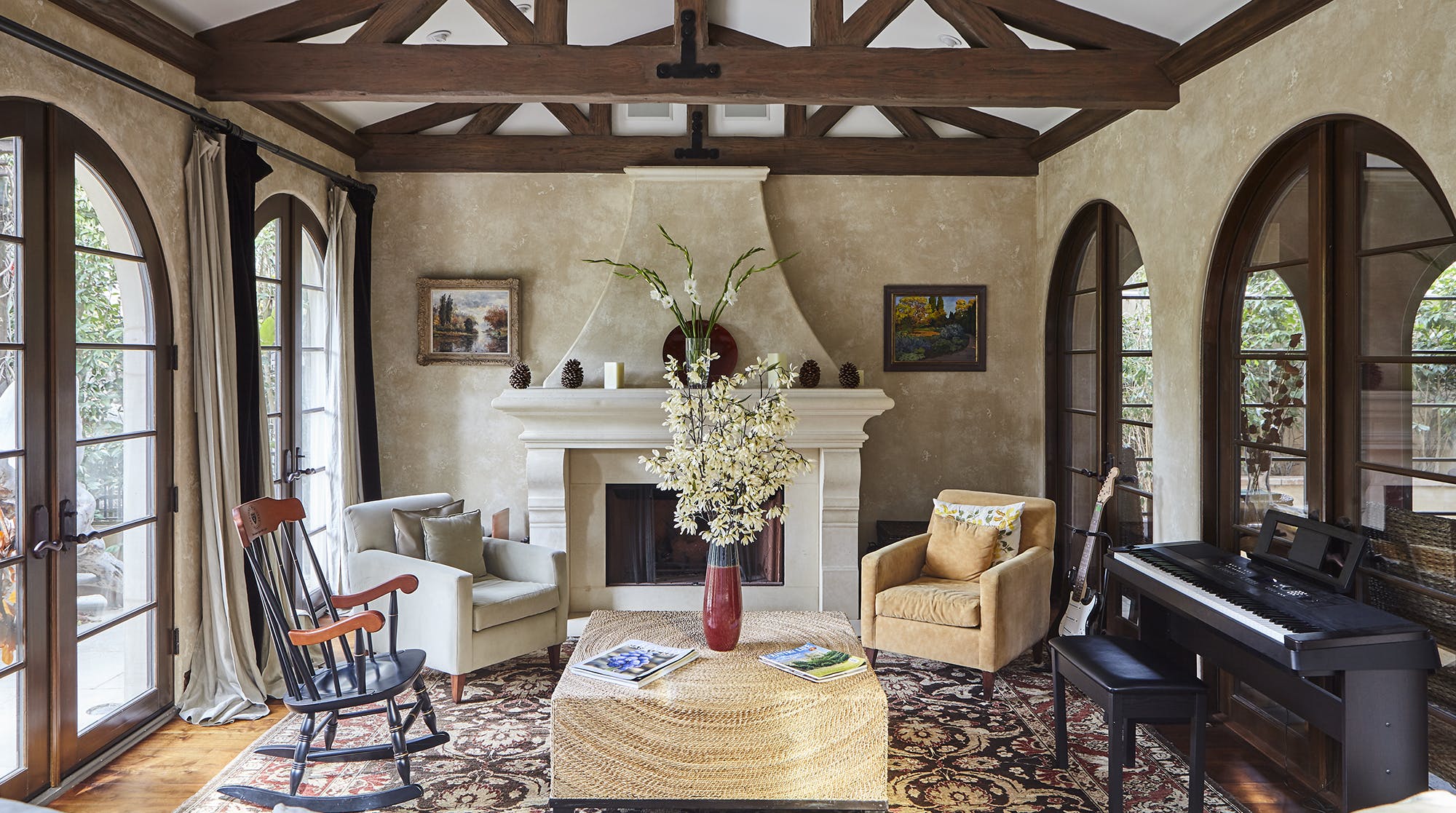 For the ultimate Santa Monica experience, this large house has everything you could possibly need, from a swimming pool to a big-screen movie screening room. It sleeps 16, so bring the family or all your besties and enjoy. Plus, it's a quick walk to Brent Bolthouse's The Bungalow club, where Santa Monica's elite meet to see and be seen.
THE HILLS
Beverly Hills and the Hollywood Hills
BEVERLY HILLS
The hills that ring LA are a world of their own, with secluded homes – which are often mansions, if you're in Beverly Hills – that offer views of the city down below. You'll need a car to get down the mountain, but you'll feel far from everything and a bit like one of the movie stars who populate the hills of Beverly. You can stay in the flats, too, but the hills will make you feel like a true local.
STAY HERE IF YOU LIKE:
Away-from-it-all homes with famous neighbours who aren't very close, your own swimming pool, fabulous views, easy access to Rodeo Drive and the Polo Lounge.
A TYPICAL DAY IN BEVERLY HILLS:
From atop one of the hills that make up Beverly Hills, you can range down into the expensive shopping and top-rated restaurants of Rodeo and Beverly drives, or you can go the other way, "over the hill" and end up in the San Fernando Valley, where Universal Studios, Warner Bros. Studios, and Walt Disney Studios await. Or head to one of the hiking trails scattered all across the hills, like the 2.3-mile loop in Franklin Canyon. The Getty isn't far to the west and this world-class art museum and garden is always free, but you will have to pay for parking.
Dinner time takes you back down to the flats, where Wolfgang Puck has two seriously good restaurants. Hit Cut for some of the best steak you'll ever have or go to Spago and try his sophisticated pizzas and seafood. At either place, you're bound to see a famous face or two.
For a bird's eye view of the sunset over the ocean, try The Rooftop by JG, Chef Jean-Georges Vongerichten's classy eatery atop the Waldorf Astoria Hotel, with views to both east and west.
UNPACK YOUR BAGS HERE: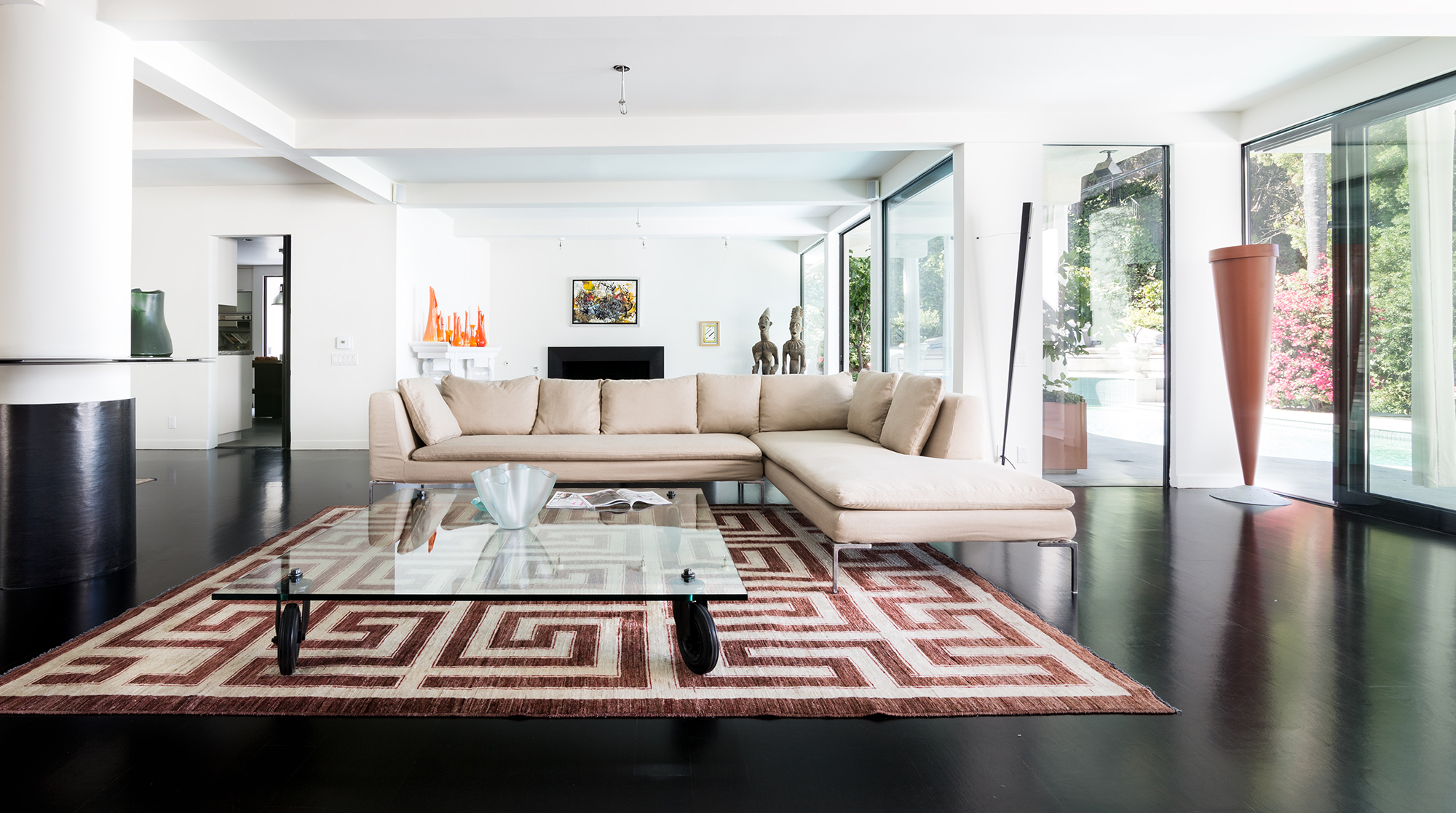 The swimming pool, sleek outdoor dining area, huge kitchen, and floor-to-ceiling cathedral windows all make this four-bedroom house in the hills an ideal place for entertaining . . . or a special hideaway for only two.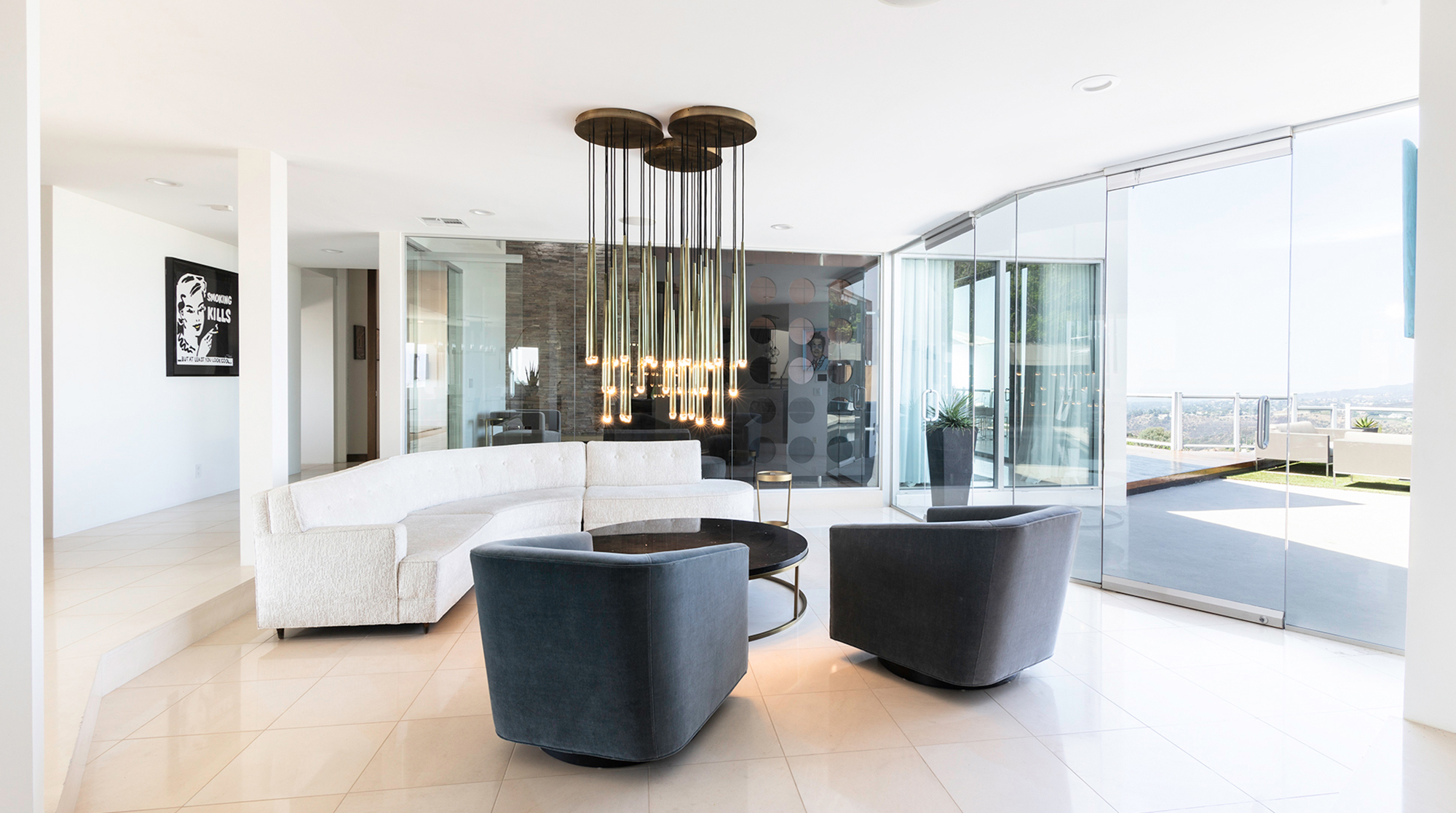 Views, views, and more views are what make this lavish home special, for day or night there's always something to see from this quintessential Beverly Hills home. Soak or swim laps in the swimming pool, do a special movie screening in the large cinema room, and shoot a selfie or three from the street looking in, for this multilayered modern home is a beautiful architectural achievement.
HOLLYWOOD HILLS
East of Beverly Hills are the Hollywood Hills, with homes that are sometimes a bit funkier than those in the more posh neighbourhood to the west, but sometimes you'll find a mansion here that reeks of wealth and power. Laurel Canyon marks the ostensible dividing line, drive up there to check out Harry Houdini's incredible mansion. Those hills lead right to the studios in the valley, too, and heading south drops you right into the heart of Hollywood.
STAY HERE IF YOU LIKE:
Windy streets with an eclectic mix of both homes and people living in them, famous hiking trails that allow dogs and celebrities to climb side by side, easy access to the incredible Hollywood Bowl venue, a great view of the iconic 'Hollywood' sign
A TYPICAL DAY IN HOLLYWOOD:
Join the crowds who spend their mornings hiking Runyon Canyon, especially if you want to see some movie stars and their obedient dogs on the trek. Then hit Hollywood Boulevard to see those same stars' footprints and handprints in cement at the TCL Chinese Theatre, visit Madame Tussaud's Wax Museum next door, and if you're really a stargazer, take one of the many open-air bus tours of the stars' homes that originate right on that block, too.
Have an early Japanese dinner at Katsuya, where the Flaming Mandarin cocktail will knock your socks off, then keep going to see a touring Broadway show at the Pantages Theatre, and be sure to look around the building itself, an Art Deco masterpiece.
UNPACK YOUR BAGS HERE: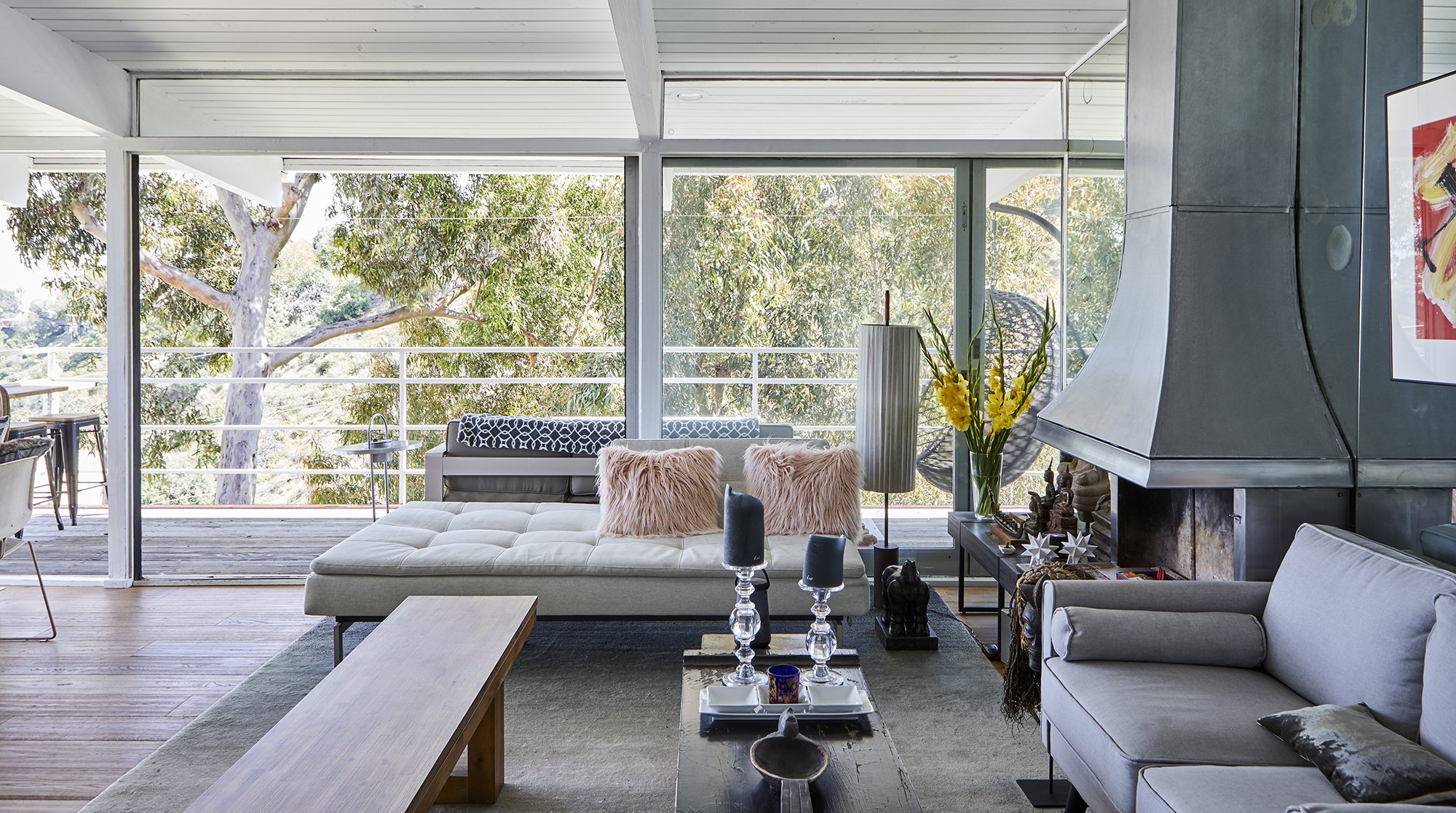 This classic Hollywood Hills home has sweeping views of the LA basin, because of its location way up near Mulholland Drive. If you've rented a Mustang convertible for your long weekend in LA, then pop the top and zoom along that twisty road – you'll feel like you're in a movie since countless flicks have characters taking that same cruise. The views you'll see are of the valley, dude.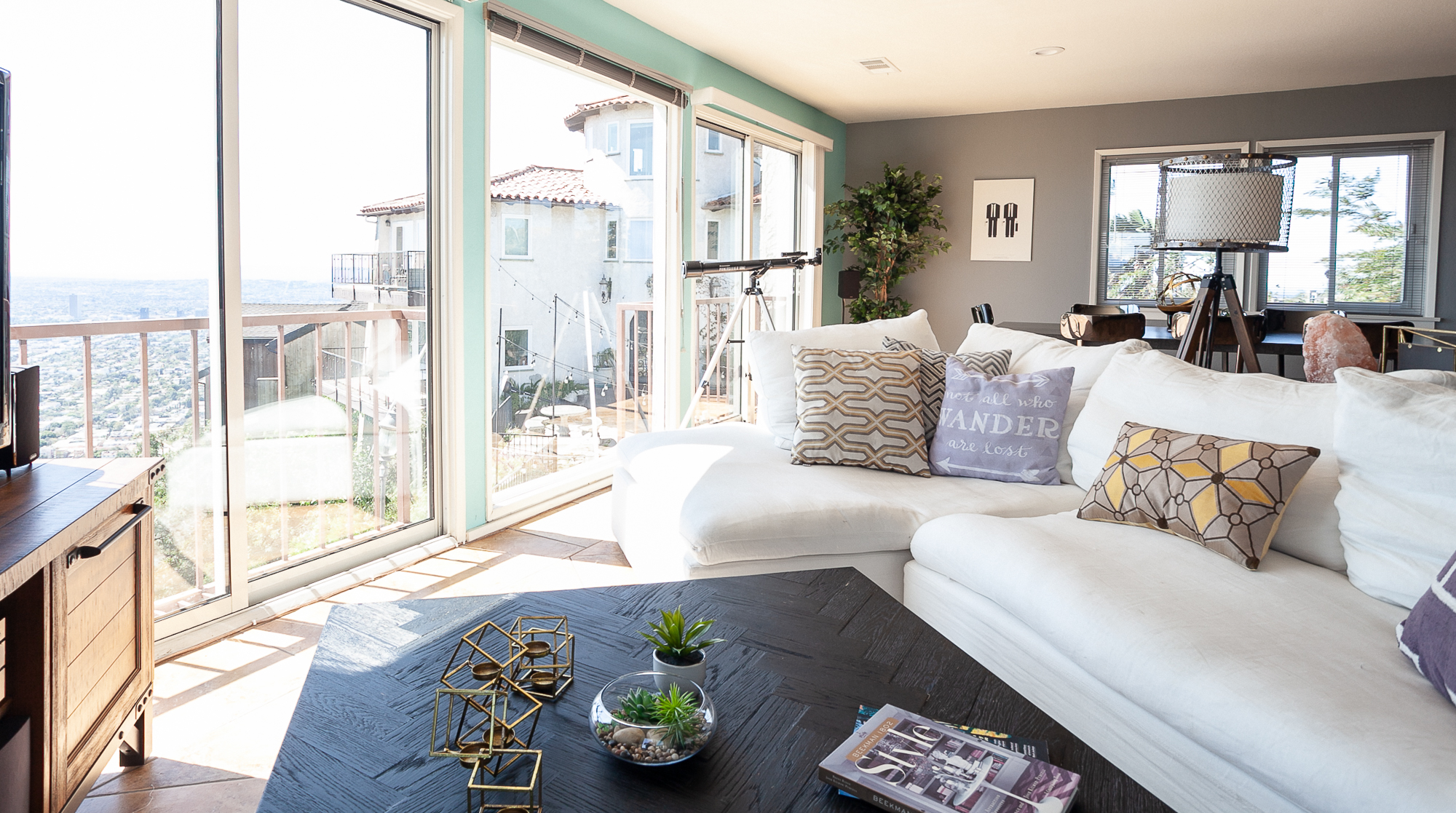 Iconic movie posters grace the walls of this snug house, but you won't even notice them, for the views from here are outrageous. There's even a telescope set up in the living room, to make sure you don't miss a thing. Pick a direction and focus in, you never know what you're going to see in the houses and on the streets down below your eagle's perch. Plus, this home sleeps 4 to 6 comfortably and has a fun, kitschy interior design.
IN THE HEART OF THE BEAST
DOWNTOWN LA
Downtown LA is kind of like an ageing female movie star. It's been going through a series of facelifts for the last 15 years, which means new construction and renovations propping everything up and making parts of it look prettier than it ever was.
But there's an ugly underbelly, too. That's because LA is struggling with a terrible homelessness problem, which is centred in DTLA in an area called Skid Row. That means a few blocks of homeless encampments and desperate people, located along Sixth and Seventh streets and edged by Broadway and Alameda. So be aware of where you choose to stay, for in DTLA the vibe can change dramatically from one block to the next
STAY HERE IF YOU LIKE:
An up-and-coming artists' scene, visiting the oldest parts of LA, seeing incredible architectural achievements, hitting music arenas and small, cool clubs.
A TYPICAL DAY IN DTLA:
Downtown LA is the heart of Los Angeles, the place where it all began. Begin the day with a visit to Olvera Street, where El Pueblo de Los Angeles was settled in 1781. Take a guided walking tour or just wander, to see the Avila Adobe house, the La Plaza de Cultura y Artes and the rest of the historical landmarks here. Be sure to visit the 'Mexican Marketplace' of Olvera Street, where shopping is enhanced by folkloric dancers and strolling Mariachi bands.
Get more modern with visits to the big three architectural wonders of DTLA. Begin with the ultra-modern Cathedral of Our Lady of the Angels designed by Spaniard Jose Rafael Maneo and completed in 2002, then move on to the Walt Disney Concert Hall, Frank Gehry's stainless-steel masterpiece.
Try to catch a show there, but save time for The Broad (pronounce that 'Brode'), a modern-art museum with a unique perforated look designed by Diller Scofidio + Renfro in collaboration with Gensler. That one's filled with work by Warhol, Koons, Lichtenstein, Picasso, and other revered artists.
Find sustenance in DTLA at old classics going strong like El Cholo, the Mexican restaurant started 1923, or The Original Pantry Cafe, circa 1924. Or hit one of the newest hotspots like Breva, the Basque brasserie in the Hotel Figueroa, or Preux and Proper, which successfully brings New Orleans flavours to the West Coast.
UNPACK YOUR BAGS HERE: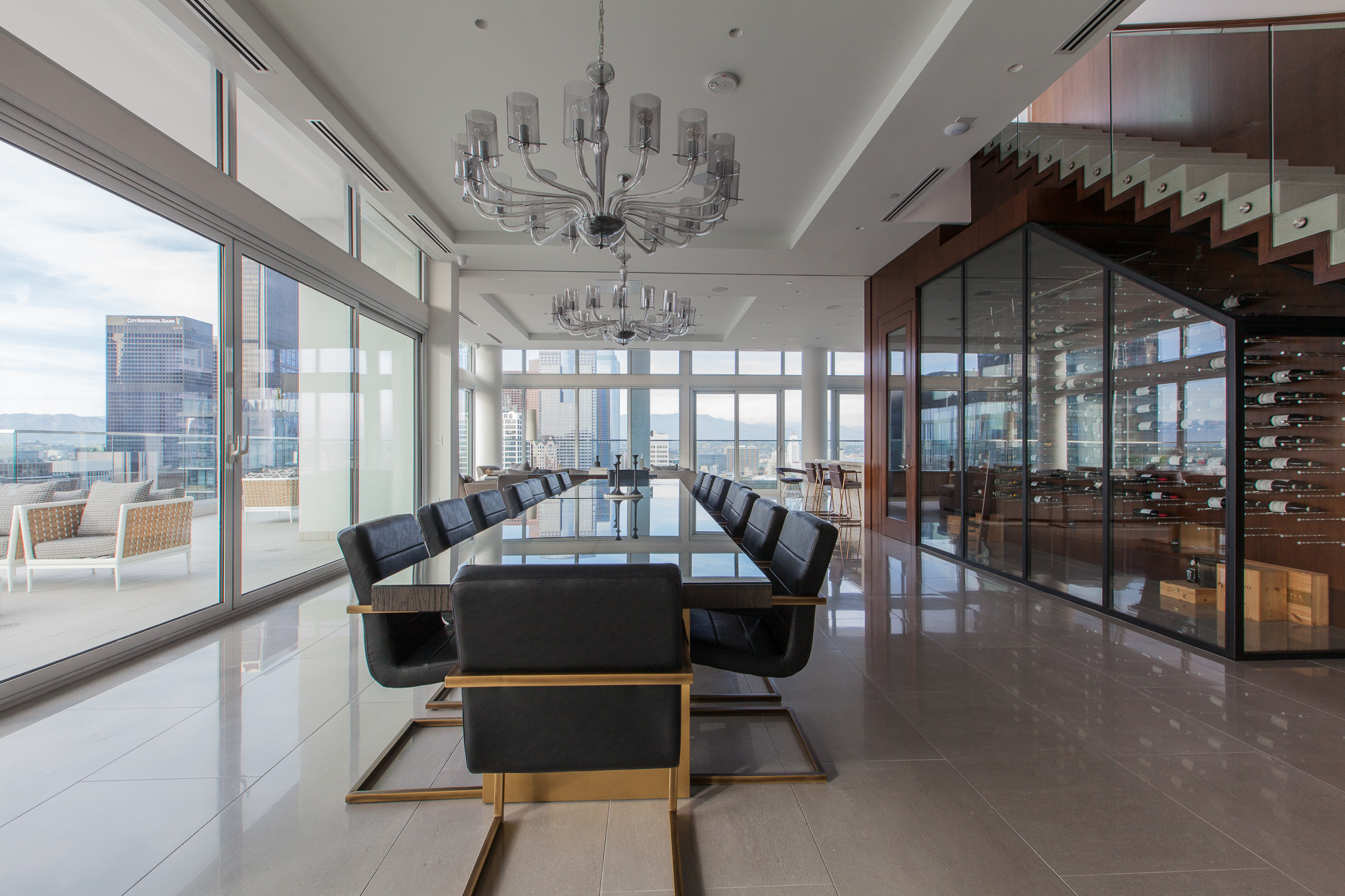 This is the quintessential symbol of DTLA's Renaissance, a completely over-the-top space that is 10,000 square feet of luxury with 360º views of the surrounding city. One of the two dining rooms seats 18, which should give you the idea of what this place is like. With four bedrooms and ten bathrooms, this is the spot to show off the fact that you have arrived on the LA scene.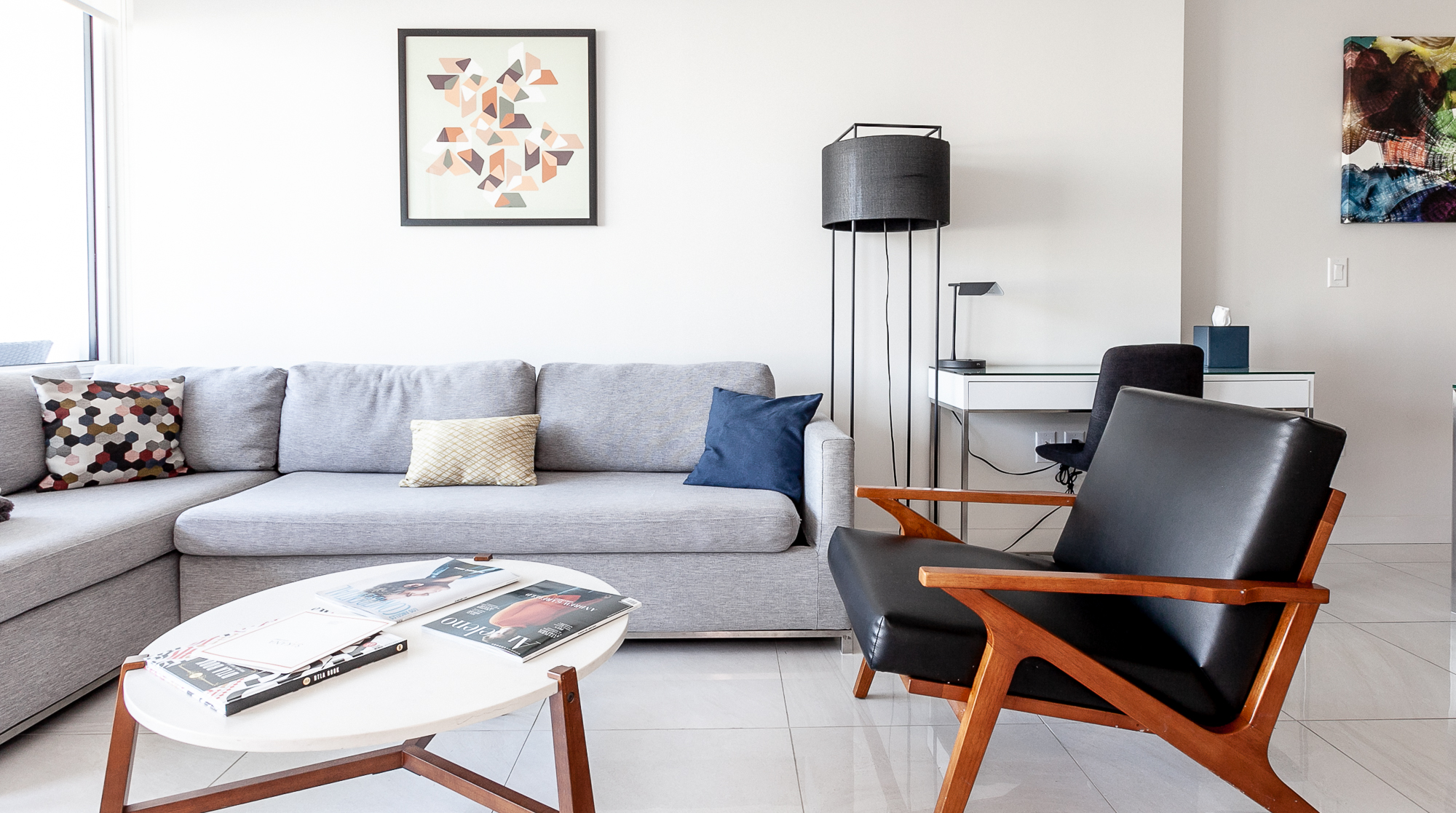 City living at its best, this one-bedroom apartment is perfect for a long weekend spent hitting the DTLA Arts District and its numerous galleries and eateries, seeing a big music act or one of LA's top sports teams at Staples Centre or perhaps attending a big awards show there, like the Emmys or Peoples' Choice Awards. Whatever your long-weekend pleasure, this DTLA hideaway puts you right on the pulse of the city.