Find expert tips, here on Plum Guide. From where to stay, what to eat, and what to see in some of the world's finest cities. Find expert-approved homes too: Plum Guide is a collection of the very best vacation rentals in the world, approved by our expert Home Critics after a rigorous 150 point test.
On the off chance LA hasn't made it onto your travel bucket list, it's time to change that, stat! The backdrop for dozens of iconic movies throughout the years, there's something so timeless about Los Angeles. Coined the "City of Angels," LA has a way of making you feel like you're floating. Star-studded events and some not so under-the-radar celebrity sightings are par for the course here, and you'll be right in the centre of the action.
Whether eager to dine your way through LA's innovative food scene, ready to get some serious vitamin-sea (see what we did there?) or just ready to rooftop hop your night away, this is your movie and we're just watching it.
When it comes to where to stay in Los Angeles, it really comes down to personality. Follow our guide to find out what area best suits your travel style.
WHERE TO STAY:
First off, let's get our bearings. When we say Downtown LA, we're referring to a couple of smaller areas, too: Chinatown, Little Tokyo and the Arts District to name a few. In general, this neighbourhood is quick to spot, what with its many art museums, modern high-rise buildings and architectural landmarks like the El Pueblo de Los Angeles. In terms of convenience and cultural attractions, Downtown LA is arguably the best area to stay in Los Angeles.
Almost 100 Years
"we are a fan of El Cholo, the Mexican restaurant that opened its doors in 1923"
STAY HERE IF YOU LIKE:
Being close to everything, urban art, an inclusive and creative culture.
A TYPICAL DAY IN DOWNTOWN:
As its name suggests, Downtown LA is where all the action takes place, both during the workday and after hours. It's a mix of everything and everyone, from young professionals and Instagram influencers to artists, foodies and families. Brimming with noteworthy restaurants (we are a fan of El Cholo, the Mexican restaurant that opened its doors in 1923), an innovative fashion scene and loads of street art, Downtown does not disappoint.
Start your day with a stroll through the city's Fashion District, also part of Downtown LA. This area covers 90 city blocks and showcases Los Angeles' diverse style. Sift through fabric stores and warehouses or simply window shop as you walk. Definitely check out Santee Alley. It's filled with more than 250 stores and stalls, with items ranging from affordable clothing and jewellery to one-of-a-kind accessories.
LA is sunny year-round, so don't feel too bad about spending a few hours indoors at a museum. The Broad features both modern and pop art through curated exhibitions and public programming. There's also the MOCA (Museum for Contemporary Art) and the Grammy Museum.
Not everyone makes it in Hollywood, but there's nothing stopping you from living in Hollywood, even if it's only for a few days. Rich in LA history, Hollywood is where you'll see some very old (and lavish) mansions, as well as charming bungalows and cosy guest cottages. That said, don't expect to stay in - the nightlife here is abuzz with restaurants, bars and clubs.
Take in the views
We recommend getting up early and going for a hike or run up Runyon Canyon. There are plenty of trails to choose from, some easier than others.
STAY HERE IF YOU LIKE:
The 'Hollywood' experience, nightlife, movie history.
A TYPICAL DAY IN HOLLYWOOD:
There is so much to do in Hollywood, we suggest you rock some sneakers. Because Hollywood is home to major landmarks like the TCL Chinese Theatre and the star-studded Walk of Fame, you'll want to get an early start to beat the crowds.
Come lunchtime, don't just grab and go. Instead, dine in one of Hollywood's long-standing establishments. For example, Pig'n Whistle was regularly frequented by Shirley Temple and Musso & Frank Grill has played host to literary heavyweights like John Steinbeck and F. Scott Fitzgerald. Musso and Frank turned 100 this year.
Looking for something a bit more interactive? Madame Tussauds is a hit with families while couples might opt for a night out bowling at Lucky Strike. For nature lovers, book a horseback riding tour at Sunset Ranch, complete with a barbecue meal.
With Venice as maybe the only exception, West Hollywood has got to be the best LA neighbourhood for people-watching. It's home to the iconic Sunset Boulevard and the streets are lined with entertainment of all forms. There's a large LGBTQ community in 'WeHo' and the annual Gay Pride parade takes place here every year. Shop by day and rooftop party by night.
Instagrammers dream
With so many fantastic view from the rooftop restaurants and bars, you'll be sure to get the perfect spot. Try Restoration Hardware and E.P & L.P for the perfect holiday photo.
STAY HERE IF YOU LIKE:
Great shopping, a welcoming community, rooftop views, parties.
A TYPICAL DAY IN WEST HOLLYWOOD:
West Hollywood is a really walkable neighbourhood, so take your time stopping at all the must-see sights. Take a stroll along the Sunset Strip and if you're feeling cheeky, splurge on a feed at André Balazs' Chateau Marmont Restaurant. Then, head to Melrose to see the views from the public rooftop at Restoration Hardware. It's an Instagrammers dream backdrop, with sweeping views of the Design District.
Keep the rooftop hop going with a round of drinks at the Asian-fusion hotspot, E.P & L.P. Evening views are the best, so try to time your visit accordingly.
The Hollywood Hills
Home to the famous Hollywood Sign, the Hollywood Hills are where some of LA's most lavish mansions are located—all with breathtaking views of the city. If you can't splurge on a rental here, take in the view from the Hollywood Bowl, instead. That, or hike your way to the Hollywood Sign, erected in 1923 and originally reading 'HOLLYWOODLAND.'
Picture Perfect
Spend and evening at the Griffith Observatory to take in some of the best views of the city - the night sky lit up with stars lends itself to the perfect photo opportunity.
STAY HERE IF YOU LIKE:
Panoramic views, mansions, hikes, peace and quiet.
A TYPICAL DAY IN HOLLYWOOD HILLS:
If you're staying in the Hollywood Hills, plan on hiking to the Hollywood Sign. You can do this yourself or sign up for a guided hike through a tour company. Early mornings are great, as you'll beat the heat (and the crowds) or opt for an evening hike and watch the sunset over the hills. The rest of the night, you might just want to chill out at your luxury pad, glass of wine in hand and listening to your favourite bands blast through the speakers. If you want to get out, then Griffith Observatory is a must. The observatory is an interesting learning experience in itself but the real attraction here is the view. The views at night are breathtaking, spanning the entire city, this is the perfect spot for a romantic photo.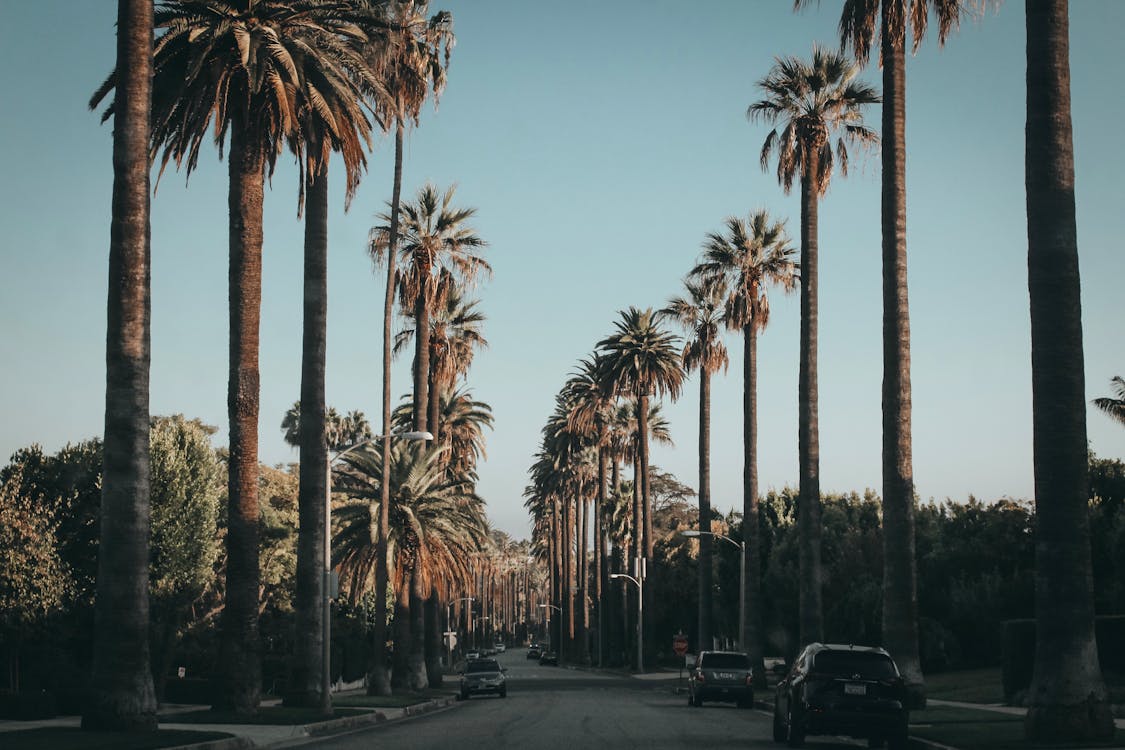 As the Weezer song says, "Beverly Hills, that's where I want to be." We totally feel him on that because it's where we want to be, too. Not only is Beverly Hills a central LA hood, it's packed with so many amazing restaurants, hotels and shops. From the infamous Rodeo Drive to the gorgeous art-deco Saban Theatre, Beverly Hills has it all.
Fountain Coffee Room
"Grab a bite at The Beverly Hills Hotel- their Fountain Coffee Room is one of the most glamorous lunch spots we've seen"
STAY HERE IF YOU LIKE:
Luxury at every turn, stunning backdrops, high-end fashion.
A TYPICAL DAY IN BEVERLY HILLS:
Start your day strong with a self-guided tour through the heart of Beverly Hills. Grab a bite at The Beverly Hills Hotel- their Fountain Coffee Room is one of the most glamorous lunch spots we've seen and the food's not bad, either.
Next, have your very own 'Pretty Woman' moment on Rodeo Drive, where all the major fashion stores are located: Balenciaga, Bulgari, Versace, Valentino and more. Even if you don't drop 12 grand on a purse, the window shopping and palm tree-lined street are enough to put you in that movie star mindset.
Located in LA's west side, this beachfront neighbourhood is a dreamy slice of paradise by any standard. Compared to Venice (see below), Santa Monica feels more refined and upscale, with a slightly older demographic.
Don't get us wrong - there's still tons to do but you can do so at a slower pace. Aside from the famous Santa Monica Pier, there are countless bars and restaurants to enjoy when the sun goes down.
STAY HERE IF YOU LIKE:
Beachfront views, local art, family-friendly atmosphere.
A TYPICAL DAY IN SANTA MONICA:
Adopt a slower pace in Santa Monica- you're at the beach after all! Head straight to the beach for a few hours of beach bumming- later, explore the beachfront pathway that passes through Venice and runs all the way to Redondo Beach. When you get hungry, shop at one of the many farmers' markets around.
Come sunset, head straight to the iconic pier. Home to one of only a few remaining oceanfront amusement parks, The Santa Monica Pier is super dreamy at night with all those twinkling lights along the Ferris Wheel.
There's a certain lovability about Venice which you really have to see to believe, but we'll do our best! A postcard from Venice will give you all the SoCal feels: palm trees, delicious food stands, vibrant street art and seemingly endless Insta-worthy backdrops. It's bizarre and yet we can't get enough of it.
STAY HERE IF YOU LIKE:
Street performers, eco-friendly everything, party vibes day and night.
A TYPICAL DAY IN VENICE:
The best way to experience Venice is to keep moving. Wake up bright and early for a SUP—stand up paddleboard—class on the water. Not quite ready to take your yoga skills to the beach? There are more traditional studios as well, like Yoga Nest or Yoga Collective. After class, go for brunch at Dudley Market, one of LA's most notable new restaurants.
Brave the crowds with a walk along the famous Venice Boardwalks. It's people watching at its finest: street performers, rollerbladers, skaters and beach bums all in one place. After burying your toes in the sand, walk to Abbot Kinney Boulevard for some seriously amazing shopping. We're talking high-quality leather goods at Cuyana, spiritual books at Mystic Journey and vintage everything at Current/Elliott.
Echo Park is having a major moment right now and we're so on board. Eastside trendsetters have packed up and promptly relocated to this happening hood and they've transformed the neighbourhood, for better or worse. Today, it's a fun mix of dive bars, casual dining spots, art galleries and live music venues. It's hipster to the core.
Echo Park?
It is fun mix of dive bars, casual dining spots, art galleries and live music venues
STAY HERE IF YOU LIKE:
Public green spaces, palm trees galore and East Side vibes.
A TYPICAL DAY IN ECHO PARK:
Some say that Echo Park is the 'new Silver Lake' and we'd have to agree. Located between Silver Lake and Downtown LA, Echo Park is walkable and full of hidden spots you won't soon forget. A typical day here might start with a pedal boat ride around Echo Park Lake, followed by a visit to the Baxter Street Stairs (there are 231 of them) for sky-high views.
Getting hungry? We thought so. Snag a table at Pollen for coffee, breakfast and an all-around lovely outdoor setting. Vegans can go to town at Sage Vegan Bistro - everything from mac & cheese to nachos and pizza is on the menu. Bar Bandini is a fun pre-dinner spot for wine and conversation. Then, indulge on Mediterranean inspired organic vegan food at Elf Cafe.
Back in the 1920s, Culver City was home to the Metro Goldwyn Mayer (MGM) Studios Inc., and while part of the studio still stands today, it's mostly divided between Sony and Columbia Pictures. Moviemaking aside, Culver City has become a foodie Mecca, with restaurants serving up all types of cuisines and usually for reasonable prices to boot.
STAY HERE IF YOU LIKE:
Film studios, great food, a 'city' feel within a city.
A TYPICAL DAY IN CULVER CITY:
Culver City is a bit far removed from the craziness of Downtown LA, and that's partly why people like it so much. Get your morning coffee fix at Cognoscenti Coffee. The small shop boasts coffees from top roasters across the States. Then, head to The Baldwin Hills Scenic Overlook for, you guessed it, city views!
Spend the afternoon exploring the many galleries and shops making up the Culver City Art District. Arcana: books on the Arts is a long-running store selling new and also old, out of print books. Then there's Platform, a building housing shops like high-end accessories brand Pop & Suki, as well as crowd pleasers SoulCycle and Sweetgreen.
BEST FOR…
BEST AREA TO STAY IN LA FOR FAMILIES:
Kids young and old love Santa Monica and it's easy to see why. The beachfront neighbourhood has a playful nature to it- just take the century-old Santa Monica Pier for example. Take a spin on the Ferris wheel (it's solar powered!) or ride the historic carousel. You can even test your balancing skills with a class at the trapeze school. There's also the Santa Monica Pier Aquarium, which is always a hit with the little ones.
Alternatively, rent a home in the Hollywood Hills. Sure, it's a bit of a splurge but what are vacations for? A major upside of the Hollywood Hills, besides the insane views of course, is that it's far quieter than Downtown LA and some of the other lively neighbourhoods on our list. Start your morning with a lazy breakfast on your terrace or get fit with a hike to the Hollywood Sign. Everyone drives in LA, so traffic aside, you'll have plenty of time to explore Los Angeles at leisure.
BEST AREA TO STAY IN LA FOR ROMANTIC GETAWAYS:
With nicknames like "LaLa Land", "City of Angels" and "Tinseltown", Los Angeles has a big heart. Couples will love an afternoon or early evening at Echo Park. Not only does it offer a reserve from the hustle and bustle of Downtown LA and Hollywood, but Echo Park Lake is simply stunning. Pack a picnic and enjoy on a patch of fresh grass or rent a pedal boat and get out on the water. Dining-wise, there's the Historic Boathouse restaurant called Beacon as well as plenty other dining outside the park.
BEST AREA TO STAY IN LA FOR ART LOVERS:
Art takes many forms in Culver City, from creative cuisine to handmade jewelry. Swing by Coolhaus for their "farchitecture" (food and architecture) ice cream scoops. They have all sorts of flavours like red velvet mascarpone, balsamic and fig and even a 'Netflix' ice cream.
In terms of galleries, Culver City has a really active community of artists and other creatives. There are lots of interactive events throughout the year, many of which include art exhibitions paired with beer bars, wine drinking and all live music. Thinkspace is a personal favourite of ours, as is Blum & Poe.
BEST AREA TO STAY IN LA FOR YOUNG TRAVELLERS:
Venice is the hipster haven we all need in our lives. There is so much going on here and yet somehow all the chaos really works. While Santa Monica is a posher part of town, Venice has grunge, grittiness and an all-around playful vibe. Aside from street performers and food stalls, Venice has some of the yummiest restaurants in all of LA.
Head into any cafe—The Cow's End Cafe is our personal fave—and you'll see a mix of freelancers typing away on their laptops and groups of friends gathering for a mid-afternoon beer…or kombucha…or bulletproof coffee. Make sure to check out Abbot Kinney Boulevard, as some say it's the hippest street in all of Venice and a go-to spot for shopping nice yet not mass market brands.
BEST AREA TO STAY IN LA FOR SIGHTSEEING:
Hollywood is usually the first place travellers go upon landing in Los Angeles, and for good reason. This is where all the major touristic landmarks are located, like the Hollywood Walk of Fame, the TCL Chinese Theatre, the Egyptian Theatre and Madame Tussauds. You can even take a picture with the Hollywood Sign as the backdrop.
A lot of tours depart in Hollywood as well, many of which take you to some of the elusive mansions in Beverly Hills where celebrities live, plus a pit stop along Rodeo Drive for some shopping and photo taking. Alternatively, you can sign up for a tour through Warner Brothers Studio or head to Universal Studios Hollywood.
BEST AREA TO STAY IN LA FOR NIGHTLIFE:
Nights out start early and end late in West Hollywood, or 'WeHo' as the locals call it. There's something for every drinker here, whether in the mood for cocktails or a local brew. Speaking of cocktails, our pick goes to Saint Felix. Their signature craft cocktails are super inventive and because it's more of a laid-back vibe, you'll actually be able to hear your friend across the table.
On the other end of the spectrum are dive bars like Bayou. It's a good (and fairly cheap) go-to for drinks and some grub before hitting the clubs later. If you're a fan of the American tv-show, "Vanderpump Rules" you'll want to check out Sur, Pump and the brand's newest addition, Tom Tom. If you're lucky, you might even catch a few of their 'sur'-vers in action.
BEST AREA TO STAY IN LA FOR WALKING:
Unlike other major US cities, Los Angeles isn't necessarily a walking city. Sure, once you're in a designated neighbourhood, it's easy to walk around but in general, driving is the main form of transportation here (way more than public transport).
If you do want to stick to foot-friendly neighbourhoods, Downtown LA is your best bet. In fact, Little Tokyo, which is part of the downtown but not covered in our guide thus far, has some really nice attractions to explore on foot. There are so many peaceful gardens, Buddhist temples, museums—like the Geffen Contemporary at MOCA—restaurants and so much more.
BEST AREA TO STAY IN LA FOR WORK TRIPS:
In LA for work? Well, lucky you! The biggest thing to keep in mind when planning any trip to Los Angeles, and especially a work trip, is that there is traffic…lots and lots of traffic. So, it's a good idea to find accommodation relatively close to your office. Road rage is real in LA and you won't want to run the risk of arriving late to meetings or spending half your day commuting.
That said, we'd say a safe bet is Downtown LA. Tons of companies are located here and if your company isn't, you're central enough that you can drive anywhere within a reasonable amount of time. Plus, there is so much to do in Downtown. From Ahmanson Theatre and the landmark Bradbury Building to high-end restaurants and some seriously impressive street art, there's never a dull moment.
BEST AREA TO STAY IN LA FOR FOODIES:
Don't brush Silver Lake (and neighbouring Echo Park) aside based on its location - Forbes recently named it #1 on their "hippest hipster neighbourhood" list. That said, locals already know this because Silver Lake has long since been a hood home to artists, bohemians and the 'out there' type of people we all know and love. Also, the food scene here is tough to top.
Dinners (and breakfasts and lunches) will blow your mind here. It really comes down to what you're in the mood for because it's hard to go wrong. Little Pine is great for vegans while Alimento (try their Tortellini in Brodo paired with wine on tap) is a go-to for Italian fare. For the best of the best, head straight to Botanica. You can thank us later.
CHECK OUT THE BEST HOLIDAY HOMES IN LOS ANGELES NEXT: LA APARTMENTS