Find expert tips, here on Plum Guide. From where to stay, what to eat, and what to see in some of the world's finest cities. Find expert-approved homes too: Plum Guide is a collection of the very best vacation rentals in the world, approved by our expert Home Critics after a rigorous 150 point test.
We know that Rome is one of those places that seems totally unmanageable to do thoroughly in a few days. With its storied history, an entire bucket-list's worth of sights, and some pretty good eatin' along the way, you'll probably be tempted to do and see it all while you're here.
So we're just going to give it to you straight: wipe that thought from your mind. There is no conceivable way to do "all" of Rome in a few days, or even in a few lifetimes.
In fact, the best way to ruin your trip and not actually enjoy all the things that make Rome great - the gold and pink facaded houses, treasure chest of hidden piazzas, sidewalk cafes serving aperitivo - is to stick solely to the tourist circuit, frantically trying to stuff everything in to a 72-hour window. So, let go of that thought, relax, and let us do the planning.
FRIDAY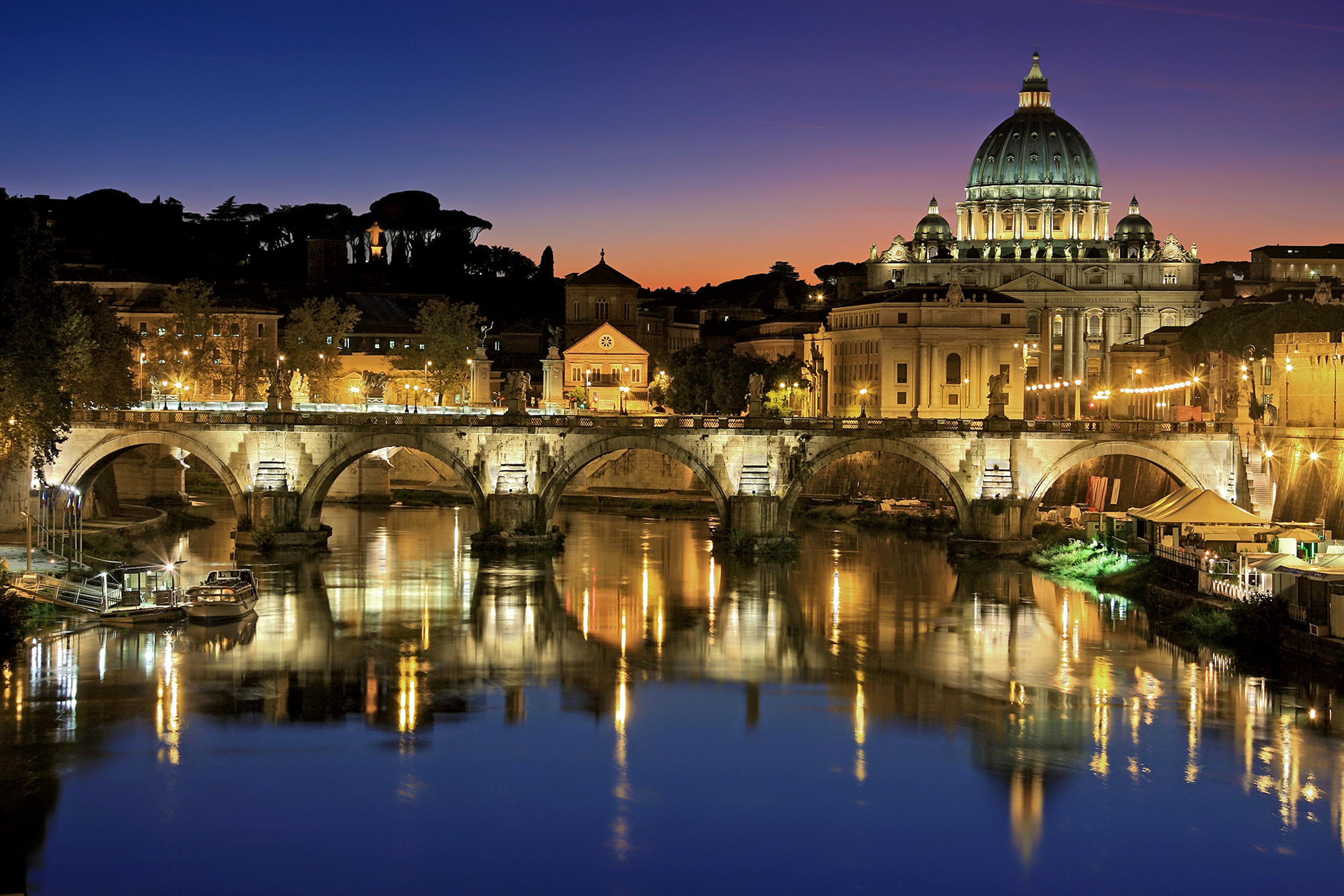 Morning:
You'll wake up early because this is going to be your heaviest touring day - you've just arrived in Rome, and whether you've been a thousand times before or you're an Eternal City virgin, chances are you'll want to see the Colosseum. So will a lot of people - shocking, we know. And, even if you have walked by it many times before, this Flavian-era amphitheatre will still take your breath away.
Do yourself a favour and either download or hire a guide - the history of this incredible place is worth knowing, and makes seeing it still standing all the more impressive. If you want to go inside, we highly recommend pre-booking your entrance tickets here. A limited number of people are allowed in at any given time, and waiting in queue could easily take up your afternoon if not.
From there, fill up your water bottle with free sparkling water from the fountain across the street (this is low-key our favourite part of Rome) before checking off the next few must-do items with a wander around Palatine Hill. The largest and supposedly oldest of the Roman hills, this is rumoured to be where the feral brothers Romulus and Remus were raised by their wolf mama, the former of whom gave the city its name. Some time later, this spot was the stomping grounds of Rome's elite classes - the relics of the palaces and playgrounds of which you'll see as you wander.
From the top of the hill, gaze down at the Roman Forum. If you haven't had your fill of history yet, you can then clamber down for a stroll through the Forum itself, home to those crumbling arches that you've seen on postcards and in history books.
If you're planning on doing all three sights, you can get a combo ticket. Entrance is free for EU residents, but you'll still need a ticket for your Colosseum time slot.
Afternoon:
By this point, we'd gather that you'll need a break and some refreshment. Stroll over to Roscioli Salumeria Con Cucina for a well-earned lunch. With large arched doorways in exposed masonry and wine bottles lining the walls, this deli-counter and restaurant is an amazing bet whether you want to people watch over a quick bite or a 4 course meal of classic Roman dishes. We can highly recommend the cacio e pepe, the oxtail stew-stuffed zucchini flowers, and the cheese and charcuterie platter from their deli.
From there, find your way to another landmark of Ancient Rome, the Pantheon, stopping for the requisite photo-opp and refuelling with an espresso at the world-famous Sant'Eustachio el Cafe, before ambling on to the Trevi Fountain. Like so many rom-com heroines did before you, toss your coin into the water to make your wish, and try not to get trampled by the hordes of other tourists doing the same thing.
You'll likely be pretty knackered from your morning of sightseeing, so take it easy - as the midday heat starts to wane and the sun comes down, all of Rome becomes bathed in a golden light. Try to get lost in the winding streets, popping in and out of piazzas.
Evening:
For the last big-deal sight today, park yourself down near Piazza Venezia for an aperitivo at Enoteca Provincia Romana; sit outside and take in the views of the sparkling white Palazzo Venezia. You could stay here for dinner, but we think it's worth lugging your tired bones just a little further afield.
Pop to the second outpost of the infamous Neopolitain L'Antica Pizzeria da Michele (widely agreed to be the best of the best) or try haute versions of Roman street food at the new and trendy Mercerie, the newest brainchild of Michelin-starred chef Igles Corelli, which also has fantastic cocktails and natural wines.
Have a few glasses of wine, relax, and upload today's Instagram stories. But also, don't kill yourself if you weren't able to do it all today - you can always come back tomorrow, or next time.
If you're not too tired after dinner, enjoy a cocktail at The Jerry Thomas Project, renowned for its cocktails that many have tried and few have succeeded in copying.
Where to stay:
SATURDAY
Morning:
Grab a coffee nearby your Plum pad before setting off - one of the many wonderful things about Rome is that great espresso is not hard to come by, and the innocuous-looking neighbourhood bars (as in espresso bar) are often the best to grab a jolt of caffeine and a pastry to kick-start your day.
After that, you'll dabble in a little art - if you're a more contemporary kind of person, direct yourself to MAXXI, the Zaha Hadid-designed museum dedicated to 21st century art, or go classico to the Borghese Gallery and Gardens, where you'll find works by Bernini, Da Vinci, Caravaggio, Titian, and many, many more. Or do them both, Rome is your oyster.
Even if you choose not to go inside the Borghese, the gardens are a beautiful spot for a mid-morning stroll, and you don't need to pay entry, so use this as a mid-way point between MAXXI and your next activity. Before or after the gardens, stop for a coffee and lunch at Antico Caffè Greco, Rome's oldest cafe where the likes of Byron and Keats used to write at marble-top tables amongst and museum-worthy artworks from its many illustrious patrons.
Afternoon:
From there, you have another choice to make: either continue the artistic-historical grand tour of the city by heading out to see the Vatican, or opt for a more local side of Rome.
Vatican:
If you go the Vatican route, make sure you've purchased your tickets in advance to avoid major queues, and heed warning that the Sistine Chapel is closed on Sundays (which is why we suggest doing it today, if you're doing it at all).
You'll need at least three hours at the Vatican and its museums to feel like you've done it justice, so plan accordingly if you also wanted to do both art museums this morning - the Vatican itself houses 7 kilometres of museums. Either pick and choose or get up as early as you can muster.
Pro tip: take your photos of the famous spiral staircase from above, and don't go down it - once you're at the bottom, you can't get back up as there's a strict no re-entry policy here.
After spending the afternoon ogling some of the most impressive art to come out of the Western world - hello Michelangelo - and some of Christianity's most important monuments, reward yourself with a craft beer and expert pizza at L'Osteria di Birra del Borgo Roma.
OR
Monti:
If you choose to continue exploring the city at a more leisurely pace instead, meander down to Monti, 25 minutes on foot from the Borghese. A neighbourhood traditionally associated with Rome's bohemian, artistic set, in the last few years it's become inhabited by young creatives looking to open small businesses, shops, cafes, and restaurants, dotted in between historical haunts. If you want to do as the Romans do, you'll be doing it here.
Explore local designers' boutiques and vintage shops along Urbana, and seek out Via del Boschetto for retro homewares and fun places to pick up a gift or souvenir.
Be sure to keep a special eye out for Moll Flanders, an amazing consignment shop to pick up vintage treasures, and LOL, a well-curated, colour-coordinated boutique that we can never seem to leave empty-handed.
For dinner (or pre-dinner drinks), we love La Barrique, a classic-feeling Roman wine bar (heavy on the natural and organic stuff) which also has a great menu. For cheaper eats, Pasta Chef is a neighbourhood staple, doling out heaping portions of fresh pasta to sit in or take away. After dinner, gelato at Fatamorgana is an absolute must for everything from blue cheese- and pear-flavoured gelato to the classic limone.
If you can make your way up Scalli del Grillo around sunset (depending on the time of year you're visiting, this could be either before or after dinner), you'll be rewarded with some pretty incredible views.
From Piazza del Grillo, you can see the Forum along with ruins and architectural relics of Medieval, Baroque, and Renaissance time periods seemingly stacked on top of each other. It's almost absurdly picturesque.
Evening:
Whichever option you choose, you should end the night with top-quality drinking in Testaccio, a neighbourhood pulsing with local-approved bars and nightclubs. Monte Testaccio is where most of the magic happens around here - the foundation of this mountain is made almost entirely of old terracotta pots (53 million of them, in fact), which were broken down and thrown into what was then a dumping site and is now the aforementioned mountain.
At its base, wine storage facilities once set up shop, most of which have now been turned into bars and clubs. Direct yourself to Via Dei Monte and go buck wild from there.
Start classy at Barnaba, a cosy-cool wine bar that's an always-busy watering hole, beloved for its great selection from independent producers, before working your way up to the steamy, sweaty dance floor of l'Alibi, one of Rome's most storied nightclubs where you'll find a young and rowdy LGBT-friendly crowd and danceable music.
If you're not in the dancing mood but still don't want to go home just yet, grab a beer at l'Oasi del Birra, or cocktails at Blind Pig.
Where to stay:
SUNDAY
Many restaurants, sights, and shops are closed in Rome on Sundays, but thankfully, what pops up in their place is the Mother of all Sunday activities, the world over: markets.
Morning:
Nurse any potential hangover you may have with a restorative trip to Campagna Amica Market, which sells organic, non GMO-modified produce, cheeses, meats, and snacks from Italian farmers with an emphasis on environmental sustainability, farm-to-table ethos, and very fair prices.
Eat your way around the stalls sampling Pecorino Romano and homemade breads from nearby Genzano. You can even go the hair-of-the-dog route with a local craft beer, and pick up some wine for later.
Eat it as you weave through the market, elbow-to-elbow with locals doing groceries and restaurateurs stocking up, or haul your bounty to the banks of the Tiber for a mid-morning picnic.
Afternoon:
Cross the Tiber and head to Trastevere, just across the bridge. This is one of Rome's most charming neighbourhoods, chock full of sidewalk trattorias, lively bars, and maze-like, cobbled streets.
On Sundays, the area comes alive with the Porta Portese flea market, which happens to be the city's largest. Browse tables of antiques, clothing, and trinkets. When you tire of bargain-hunting, veer off into the side streets and take in the honey-hued homes.
Evening:
Find your way to La Tavernacchia Da Bruno, a home-grown, family affair of a trattoria that's been going strong for five decades, serving Umbrian and Roman cuisine with a few nods to Sardinia. Also in Trastevere, C'è Pasta…e Pasta is a Jewish-Roman haunt which does kosher, fresh-made pastas alongside regional Jewish specialities like battered cod and fried zucchini, and is well-worth a stop for this different take on Italian food. Both are open on Sundays, don't worry.
Back at your Plum pad, pop open that bottle of Sangiovese you bought at the market earlier, and toast to a well-done Roman Holiday.
Where to stay:
P.S:
If you're like us, one of the most important parts of travelling is the food, so here are a few extra suggestions, should you find yourselves straying from the path we've set out for you: