How to Spend A Weekend in Rome
Get ready to explore food markets, visit the Vatican and plenty more with this guide to a quick trip to the Eternal City.
~
With its storied history to discover, an entire bucket-list worth of sights to see and plenty of pasta and gelato to devour, we can all agree that planning a weekend in Rome can be a little incredibly overwhelming. That's where we here at Plum Guide come in to help. Let us guide you to the very best the city has to offer in this carefully curated itinerary.
Saturday Morning
Wake up early because this is going to be your most full on day of sightseeing. Whether you've visited a thousand times before or you're an Eternal City first timer, chances are you'll want to marvel at the Colosseum. Do yourself a favour and either download a guide or hire one - the history of this incredible place is worth knowing, and makes seeing it still standing all the more impressive. If you want to go inside, pre-book your entrance ticket to avoid disappointment. A limited number of people are allowed in at any given time, and waiting in queue could easily take up your afternoon if not. Next up, wander around Palatine Hill. The largest and supposedly oldest of the Roman hills, this is rumoured to be where brothers Romulus and Remus were raised by their wolf mother, the former of whom gave the city its name. Some time later, this spot was the stomping ground of Rome's elite classes - the relics of the palaces and playgrounds of which you'll see as you wander. From the very top of the hill you'll get a great view of the Roman Forum below. You can then wander down for a stroll through the Forum itself, home to those crumbling arches that you've seen on postcards and in history books. Planning on doing all three sights? Get a combined ticket. Entrance is free for EU residents, but you'll still need a ticket for your Colosseum time slot.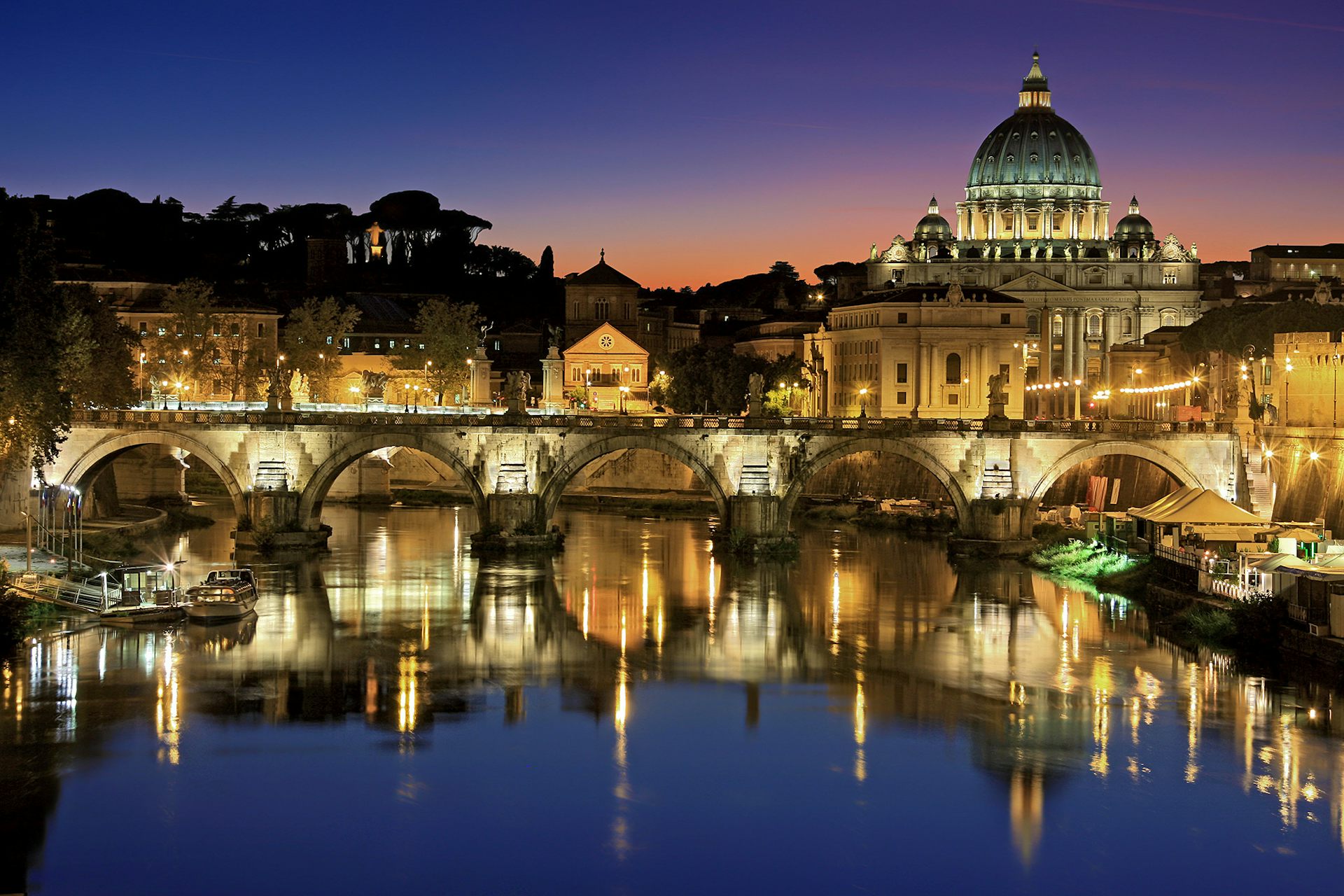 Saturday Afternoon
By this point, we gather you'll need a break and a bite to eat. Stroll over to Roscioli Salumeria Con Cucina for a well-earned lunch. With large arched doorways in exposed masonry and wine bottles lining the walls, this deli-counter and restaurant is a great option whether you want to people watch over a quick bite or enjoy a 4-course meal of classic Roman dishes instead. The cacio e pepe is what dreams are made of. Oh, and the oxtail stew-stuffed zucchini flowers are good…and the cheese and charcuterie platter from their deli…Ok, everything is delicious. From there, find your way to another of Ancient Rome's landmarks, the Pantheon, stopping for the requisite photo-opp and refuelling with an espresso at the world-famous Sant'Eustachio el Cafe, before ambling on to the Trevi Fountain. Toss your coin into the water to make a wish (and try not to get trampled on by the hordes of tourists doing the same thing).
Still got time to spare? A visit to the Vatican could be an option. Make sure you've purchased your tickets in advance to avoid major queues, and heed warning that the Sistine Chapel is closed on Sundays (which is why we suggest squeezing it in this afternoon). Don't fancy the Vatican today? Dabble in some contemporary art instead by making your way over to MAXXI, the Zaha Hadid-designed museum dedicated to 21st century art. Classic styles more to your taste? Head to the [Borghese Gallery and Gardens], where you'll find works by Bernini, Da Vinci, Caravaggio, Titian, and many, many more.
Saturday Evening
You're likely exhausted after a rather full on first day of your weekend in Rome, so take it easy from here on. As the sun starts to come down, Rome becomes bathed in a golden light. Sit yourself down near Piazza Venezia for an aperitivo at Enoteca Provincia Romana; sit outside and take in the views of the sparkling white Palazzo Venezia. You could stay here for dinner, but we think it's worth venturing just a little further afield. Pop to the second outpost of the infamous Neopolitain L'Antica Pizzeria da Michele (widely agreed to be the best of the best) or try haute versions of Roman street food at the new and trendy Mercerie, the newest brainchild of Michelin-starred chef Igles Corelli, which also has fantastic cocktails and natural wines on offer. If you're not yet ready to retire to your Plum home, The Golden Frame after dinner (well done you), enjoy one of the renowned cocktails at The Jerry Thomas Project.
Sunday Morning 
Although a number of Rome's restaurants, sights and shops are closed on Sundays, fear not, because we've got markets instead. Head out from your delightful Plum home like Paolina's Chamber and venture to Campagna Amica Market, which sells organic cheeses, meats and snacks from Italian farmers. There's a real emphasis on an environmental sustainability, farm-to-table ethos here, and very fair prices too. Eat your way around the stalls sampling Pecorino Romano and homemade breads from nearby Genzano before choosing some of the tastiest looking produce and heading to the banks of the Tiber for a mid-morning picnic.
Sunday Afternoon
Cross the Tiber and head to Trastevere, just across the bridge. This is one of Rome's most charming neighbourhoods, full of sidewalk trattorias, lively bars and maze-like, cobbled streets. It's also one of our favourite places to stay in Rome. On Sundays, the area comes alive with the Porta Portese flea market, which happens to be the city's largest. Browse tables upon tables of antiques, clothing and trinkets.
Sunday Evening
It's the last evening of your weekend in Rome, so you'd better make it a good one. Find your way to La Tavernacchia Da Bruno, a home-grown, family-run trattoria that's been going strong for five decades. Serving Umbrian and Roman cuisine with a few nods to Sardinia, expect a feast. Also in Trastevere, C'è Pasta…e Pasta is a Jewish-Roman haunt which does kosher, freshly-made pasta alongside regional Jewish specialities like battered cod and fried zucchini, and is a great example of Italian cuisine with an innovative twist.
So, there we have it – our guide to spending a weekend in Rome. Has this tempted you to a trip? First up, you need to find out which of Rome's neighbourhoods is the best for you. Then time to choose the perfect Plum home in Rome. Our home critics handpick only the top 3% of vacation homes, meaning you're guaranteed the high standards you deserve no matter which one you choose. Here at Plum Guide, we're serious about standards…and we know you are too.