Find expert tips, here on Plum Guide. From where to stay, what to eat, and what to see in some of the world's finest cities. Find expert-approved homes too: Plum Guide is a collection of the very best vacation rentals in the world, approved by our expert Home Critics after a rigorous 150 point test.
Berlin is a strange mix of wayward history, the greatest clubbing in Europe, swanky dining and shopping, and a large immigrant population from all over the world.
The once divided city is a mecca for artists, writers, and DJs, flocking for cheap rents and the city's commitment to independence and radical energy. Berlin is alive, and it's ready for you.
But we know - it's a lot to unpack. Especially when you're trying to find out where to stay in Berlin. Should you go east, to the once-DDR? Or west, where Bowie and Iggy Pop partied?
No matter what, we'll help you along the way. Don't fall victim to the bland currywursts or the overpriced beer gardens. Don't end up in a tourist trap, munching on a stale pretzel, without really seeing what else this wild, gritty city has to offer.
Follow our guide for the best areas to stay in Berlin for tourists. Berlin opens its raggedy arms to you. We'll help match your holiday with Berlin's forever slogan: "Poor but sexy." Or, if not so poor — extra, extra sexy.
WHERE TO STAY:
Kreuzberg
Friedrichshain
Charlottenburg
Schöneberg
Neukölln
Mitte
Thank the Germans for their literal language. Mitte means "middle," and, naturally, it's the central heart of the city — offering easy access to pretty much anything cultural, musical, outdoorsy, or otherwise. Best of all, most of the historical monuments are stitched between cobblestone streets in Mitte. Including the stuff you see on the postcards, like the TV Tower and Brandenburg Gate and Museum Island.
Stay Here If You Like:
Monuments, museums, bougie restaurants and shops, high-end art galleries, easy access outside the city for day trips.
A Typical Day in Mitte:
Start the day at Distrikt Coffee, a speciality coffee shop that uses premium beans from The Barn Berlin, and lends an air of sophistication — such is Mitte's bougie, rather-traditional European charm. The breakfast is a dream of smashed avocado on sourdough toast, pillow soft pancakes, toasted banana bread with syrup and caramelized nuts, and a Berlin rarity: bread pudding, made with pain au chocolat. Other breakfast options — like Mogg or the Viennese-style Café Einstein — should fit the bill, as well.
After that, mosey toward Hackescher Markt, cut straight from old Berlin — featuring nine courtyards, restored from the '90s. Now, it's the hub of fashion and designer shopping — everything from the Nike Store to the ever-hip Broke + Schön. Don't miss Auguststraße, which simmers with multiple art galleries like KW Institute for Contemporary Art and Deschler. Head around the corner, near U-Bahn Weinmeister Str., for trendy vintage shopping at Made in Berlin and the multi-floored Pick n Weight.
Museums abound in Mitte — from the classical Pergamon Museum to the bizarre Designpanoptikum, which features a quirky assemblage of industrial equipment, which the equally-strange owner has arranged in a surrealist fashion. Mitte's historic monuments are unmissable - from the iconic TV Tower overhead to the powerful Brandenburg Gate.
For dinner, opt for the Tel Aviv-inspired Night Kitchen, on Oranienburger St., in what was once horse stables for the old post office in Berlin. You pay a single price for alcohol and food. You are simply asked, "Do you have allergies? Do you eat meat?" Then, they prepare a dinner party for you, before your very eyes. Alternate options — like the Italian Mädchenitaliener or the finger-lickin', grungier Mexican street-food, Maria Bonita, aren't half-bad, either.
For post-dinner music, b flat Jazz Club is one of the best in Berlin. Hackendahl bar has old-world, 1920's vibes, while Mein Haus am See has a livelier atmosphere, pumping out delightful tracks and delivering the goods — cocktails, beer, wine, whatever's on your mind.
UNPACK YOUR BAGS HERE: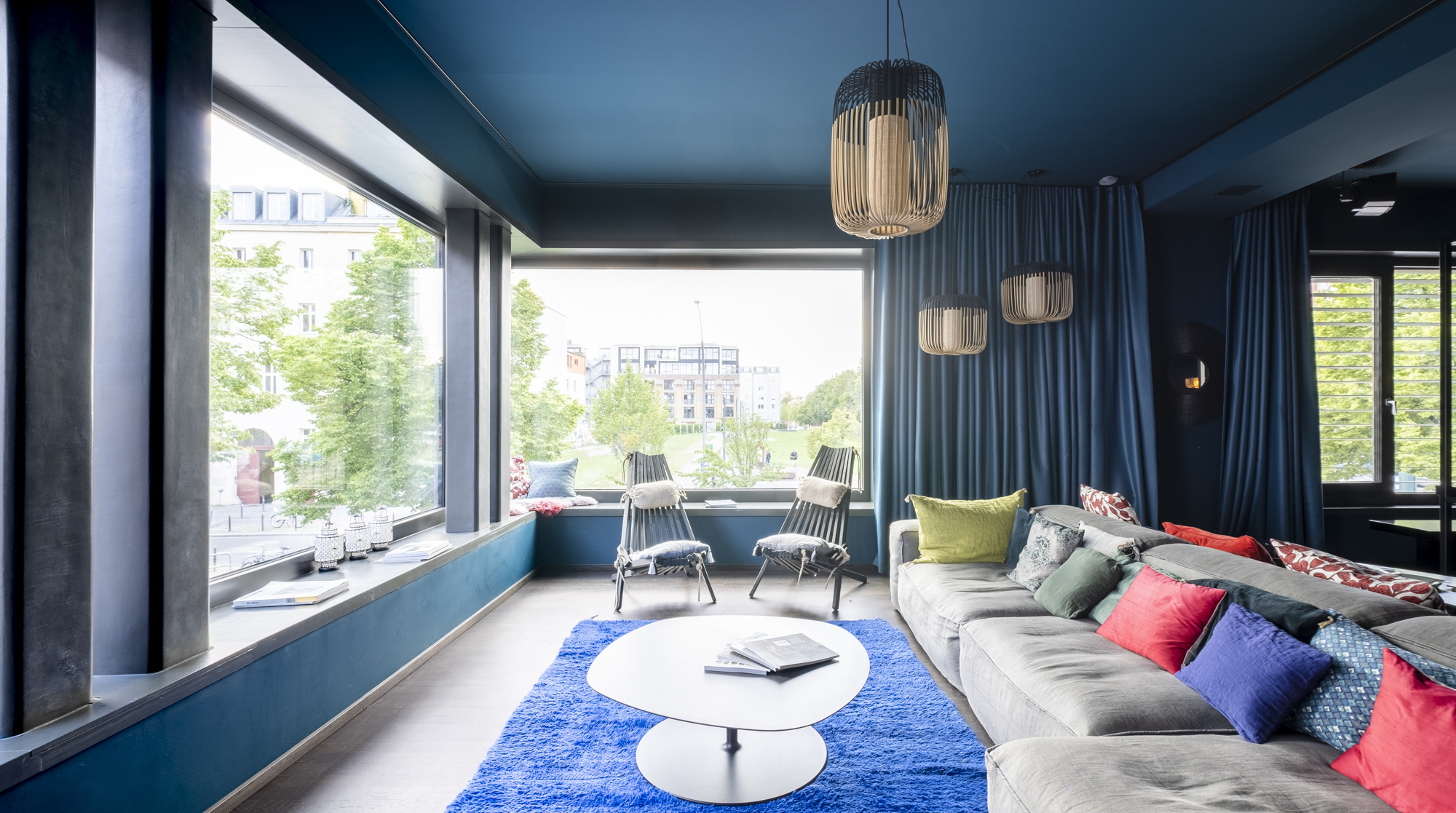 Mitte is the chic-est borough of Berlin — and Berlin Blues has the artistic flair to match. The 2 bedroom place is wellness inspired, offering midnight blue tones, 1960's space lamps, and Japanese Shaman masks.
The home offers an incredible view of the Berlin Wall Memorial — a constant reminder of where this city came from. Yoga mats and a Teppanyaki grill set lend extra comfort to your stay, making you question — why can't you live in such luxury forever?
Animalia is a sun drenched home away for 6 lucky people, located near U-Bahn Rosenthaler Platz. The owner and his father crafted each of the artworks in the house, and the vintage-style cast iron chairs come directly from the uncle's bar. A family affair, you could say. Plus, on the terrace, find a brilliant view of the Zion Church — a stunning display of architecture, inaugurated in 1873.
Kreuzberg
Kreuzberg is rather infamous. It's a strange mix of raggedy hipsters, a lively Turkish community, astonishing gastronomy, cool art galleries, and pumping clubs. Back before the Berlin Wall came down, Kreuzberg was the poorest area of West Berlin. It was a kind of open zone for trendy cafés and artists to flock, create together, and build a world that still offers a hint of Istanbul mixed with Brooklyn hip.
The Landwehrkanal sweeps directly through it — a perfect place for mid-afternoon picnics and strolls and evening beers from little corner shops — the lovable spätis that make up the backbone of this city.
Stay Here If You Like:
Turkish food, trendy boutiques, live music, urban gardens
A Typical Day in Kreuzberg:
Brunch spots and hip cafés are a stone's throw from nearly every corner of Kreuzberg. For a carb-heavy dream, hit up Albatross — a bakery that supplies more than 50 Berlin cafés and restaurants with delightful sourdough bread, absolutely to-die-for cinnamon rolls, cardamom loops, and other sweet and savoury delights.
Kreuzberg's Berlinische Galerie offers a stunning display of modern art — with ever changing exhibitions that challenges your preconceived notions of art.
Kreuzberg's Bergmannkiez, toward the west, drifts toward the "posh" end of Berlin-charm, with cobblestone streets and high-end shopping. For second-hand chic and an eclectic array of jewellery and dresses, check out Allet Schick. Bergmannkiez is also the home of the number 1 currywurst shop in all of Berlin — Curry36. Plus, Bergmannkiez's Viktoria Park offers one of the best views of the city from atop its "mountain," next to Berlin's only waterfall. It's a perfect place for a little picnic or drink in the middle of the day.
For lunch, head into Prinzessinengärten — a lush urban garden with a rotating menu, made with the vegetables grown directly within its walls. They also brew their own beer! Sit out in the sun between the trees, mere steps from the bustling city. It's an oasis.
Don't miss the Bethanien mid-afternoon — a place that looks far more like a fortress than a normal building, that was once an old hospital run by nuns. Much like the rest of the city, the Bethanien has gone through many different eras — becoming a squatters residences in the '70s before its current iteration — a place for art exhibitions, an open-air cinema (don't worry — they show movies in English), and a few restaurants.
For dinner, a must-stop is Burgermeister at Schleisisches Tor — located in an old toilet, directly beneath the train. Ron Telesky Canadian Pizza is also to die for (try it with a drizzle of maple syrup), and located on one of the most stunning streets, Dieffenbachstr. This pretty street is lined with enormous trees and buildings that uphold the timeless old world Berlin architecture.
Kreuzberg's street food market at Markthalle Neun offers a smattering of some of the best of the best in the city — from artisanal pasta from Mani in Pasta, to Big Stuff Smoked BBQ, to countless bio wine shops, ice creameries, Korean BBQs, amongst others. Whatever your palate craves, Markthalle Neun has the answer.
For your late night, hit up the LGBTQ-friendly and super festive Barbie Deinhoff's, the ultra hip craft beer place, John Muir, or the part-record-store, part-dive bar, Wowsville (with a sister pizza joint across the streets). Live music absolutely kills at Monarch, directly in the grit of Kottbusser Tor, with a stunning view of the train and the bustling city below.
UNPACK YOUR BAGS HERE: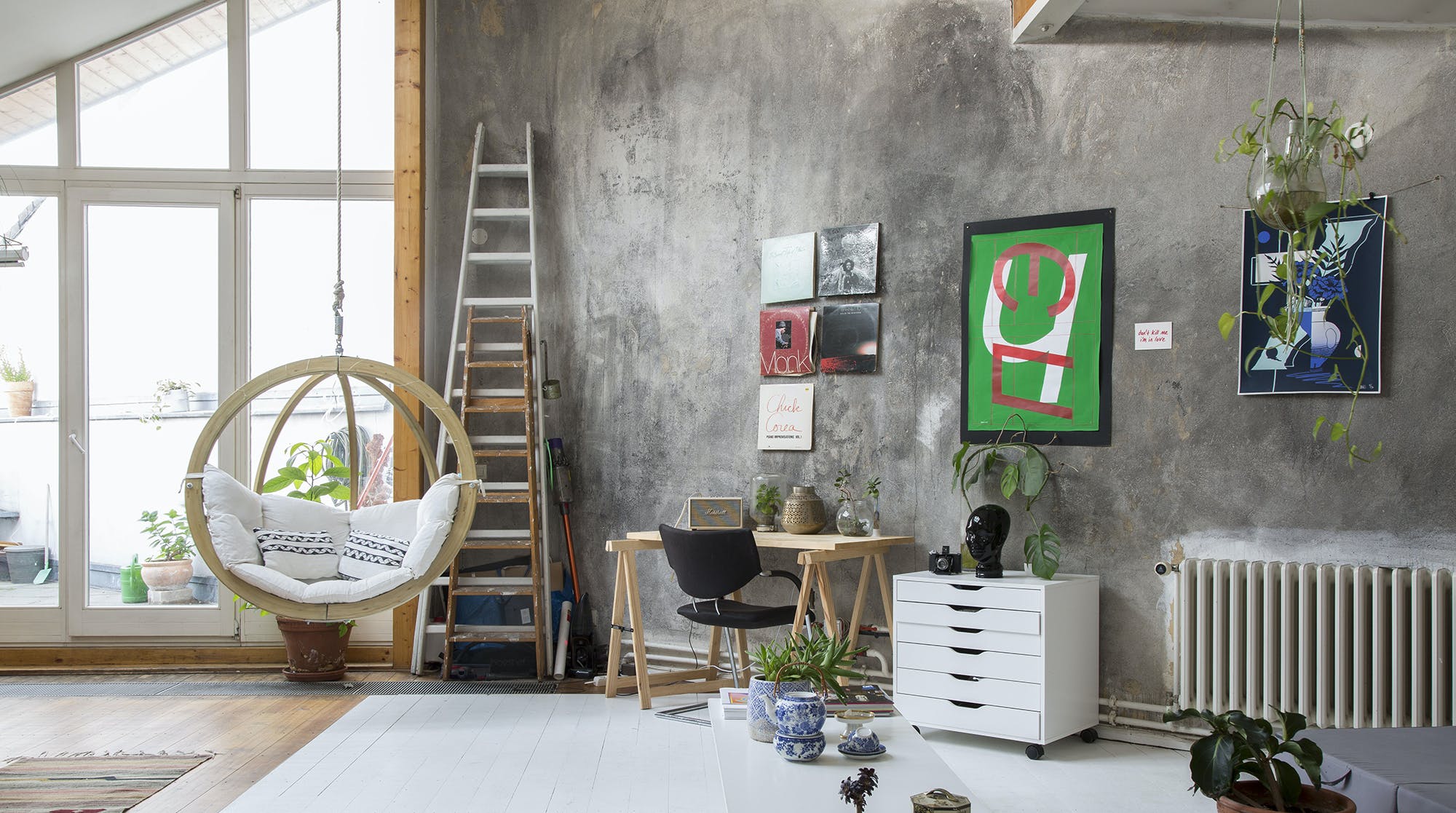 Vintage-hip is Kreuzberg's MO, and Lofty Ideals takes that to the extreme — crafting a bohemian dreamer's loft, within walking distance to the chaos at Kottbusser Tor and several bars and clubs. It's an art exhibition, filled with greenery, with light streaming in from the ceiling windows.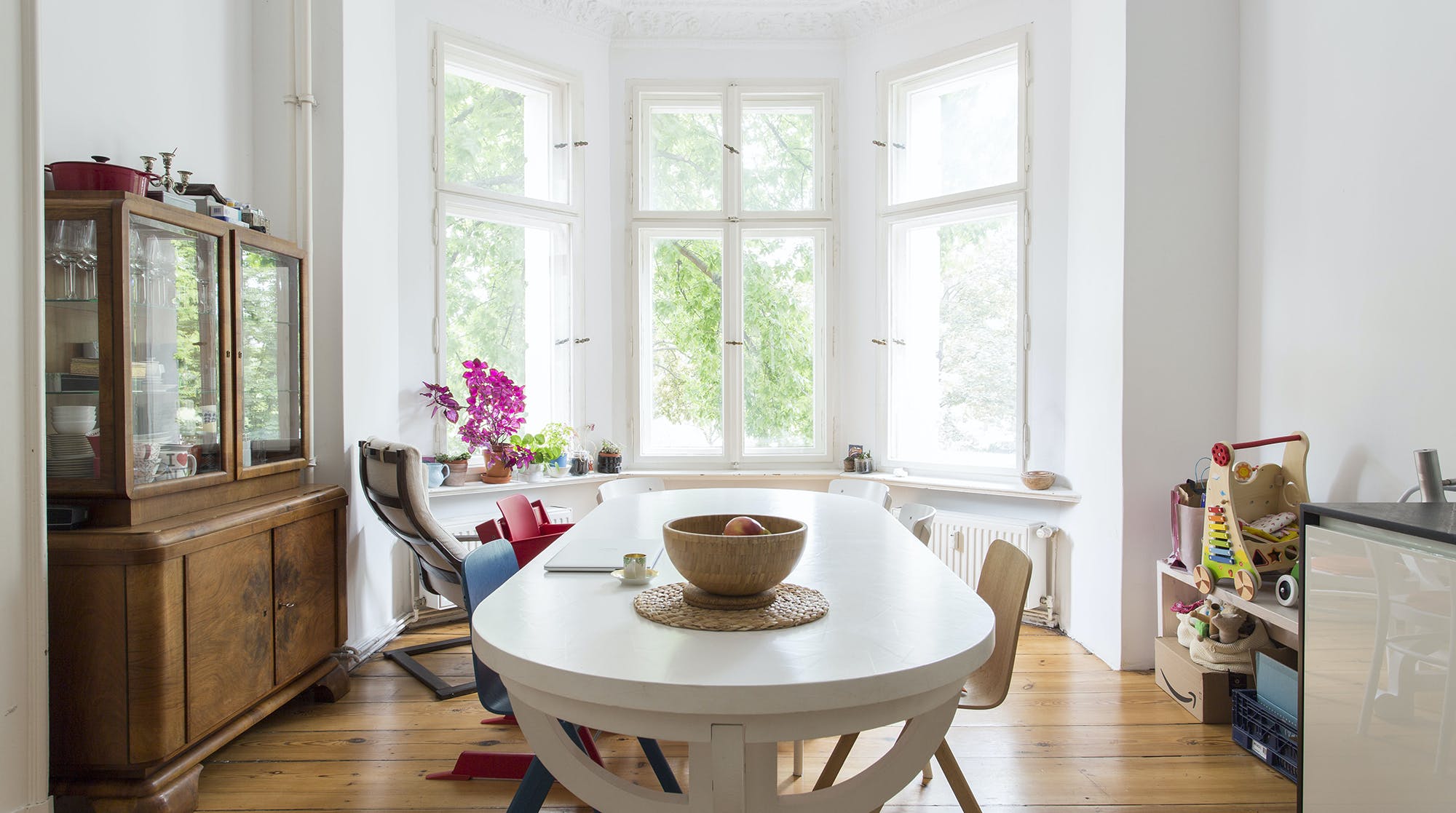 Orange Blossom is a sun-drenched option directly in the hip and vibrant Wrangelkiez, across the street from Gorlitzer Park — which offers a stunning sunset over the top of a beautiful old-Euro church. The apartment is stocked with books and plants and features Italian granite countertops. The doorway is lined with graffiti — a quintessential bit of Berlin flair.
Friedrichshain
Friedrichshain is a bustling kiez — connecting the lively, family-friendly Boxhagener Platz with the buzzing tourist bars along Simon-Dach-Str. with the historical Karl-Marx/Frankfurter Allee (a large boulevard that played host to old Nazi parades). It's difficult to scratch the surface of this hood — as it plays host to bountiful restaurants, pulsing techno clubs, and speciality shops.
Stay Here If You Like:
Clubbing, third-wave coffee shops, punk squats, brunch.
A TYPICAL DAY IN FRIEDRICHSHAIN:
Friedrichshain is awash with stunning cafes and breakfast spots. For a heavy, fit-for-a-tight-wallet meal, opt for Datcha, a Russian restaurant that doesn't mess around with portion sizes. Silo Coffee is Australian third-wave coffee with a swanky breakfast — including a build your own breakfast option that starts on Sironi Toast, with two organic eggs and toppings like goat's cheese whip.
Friedrichshain's boutique shops line the area around Boxhagener Platz, and you can spend hours dipping in and out of the unique shops — with a stunning array of second-hand clothes at Sometimes Colored, beautiful stationery and other household decor at Schwesterherz, and even a paint-your-own pottery shop (who doesn't like homemade gifts?) at Paint Your Style.
Mid-day, opt for Wahrhaft Nahrhaft ("truly nutritious"), which plays host to stunning desserts — like their homemade Reese's cups or their tiny cheesecakes. If ice cream is what you're after (Germans are great at this), the dark chocolate at bio-Eiscafé Caramello is an organic-lovers dream, whilst many call Eismanufaktur Berlin the city's very best.
Friedrichshain bars can be a bit tricky. Simon-Dach is a minefield of overpriced tourist traps. Pop off to some side roads for gems. Sheriff Teddy's offers incredible cocktails and plays old movies on a projector on the wall. Die Tagung is a classic DDR bar with grim faced bartenders and cheap pints. For a brilliant German meal and the best pint around, hit up Hirsch — it will become your home away from home.
Of course, Friedrichshain is the hub of clubbin' — with Berghain topping the list of the best clubs in the world, ://about blank and nearby Sisyphos, along with a smattering of other clubs offering a wealth of late night and early morning (and dipping into "late" morning) options. In Berlin, you can quite literally stay out all night, all day, and all night again.
But still, you're going to need a place to put your stuff.
UNPACK YOUR BAGS HERE: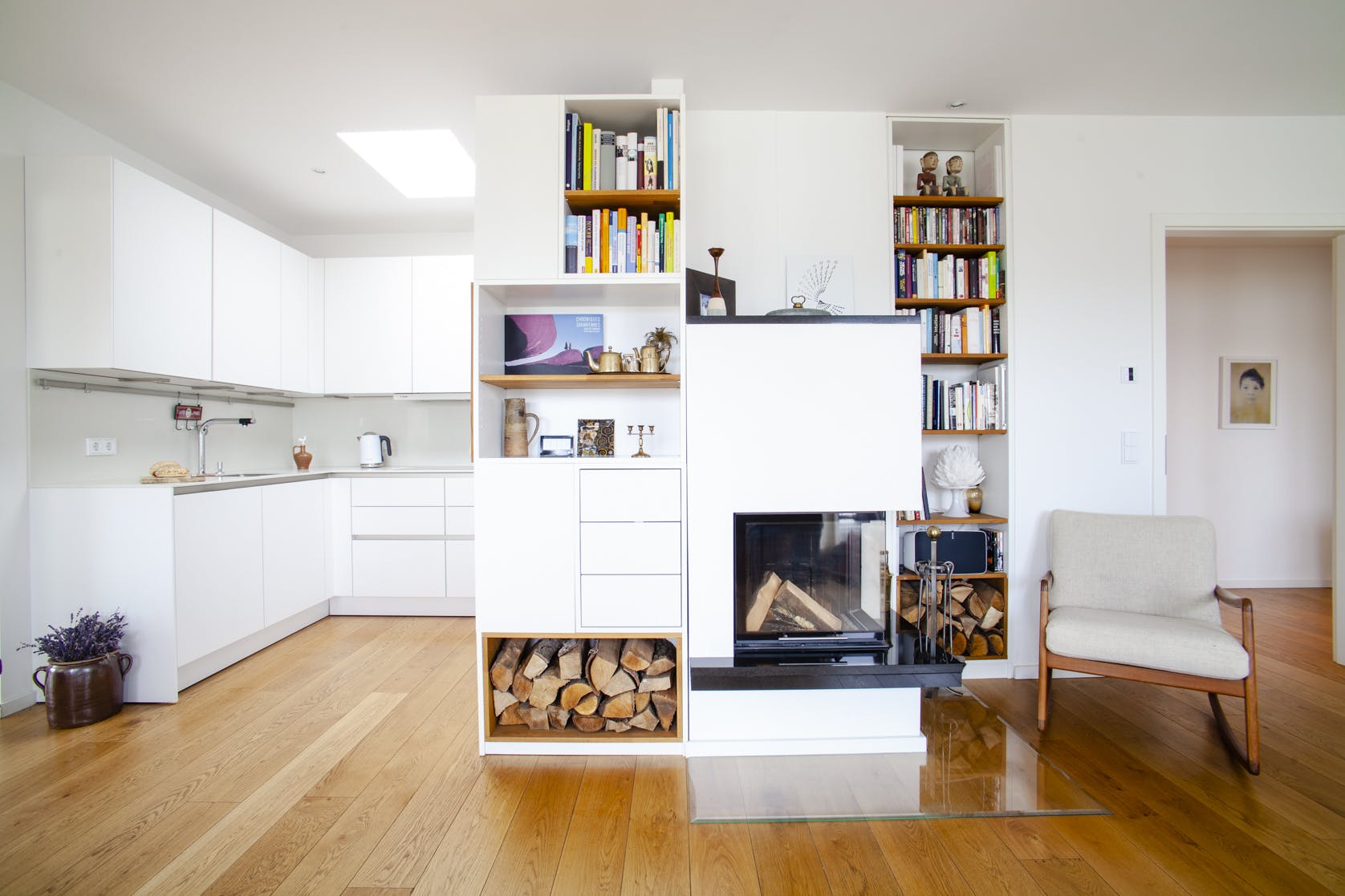 The minimalist Musical Genius rests atop a modern building in northern Friedrichshain, providing a stunning view of the city. Each corner pulses with character, featuring fashion artworks, antique family heirlooms, and personalised artwork from the host's children. What's more, there's a piano, a harp, and even a sauna for guest use.
From up high, you rule the city and have easy access to the nearby train to whisk across it.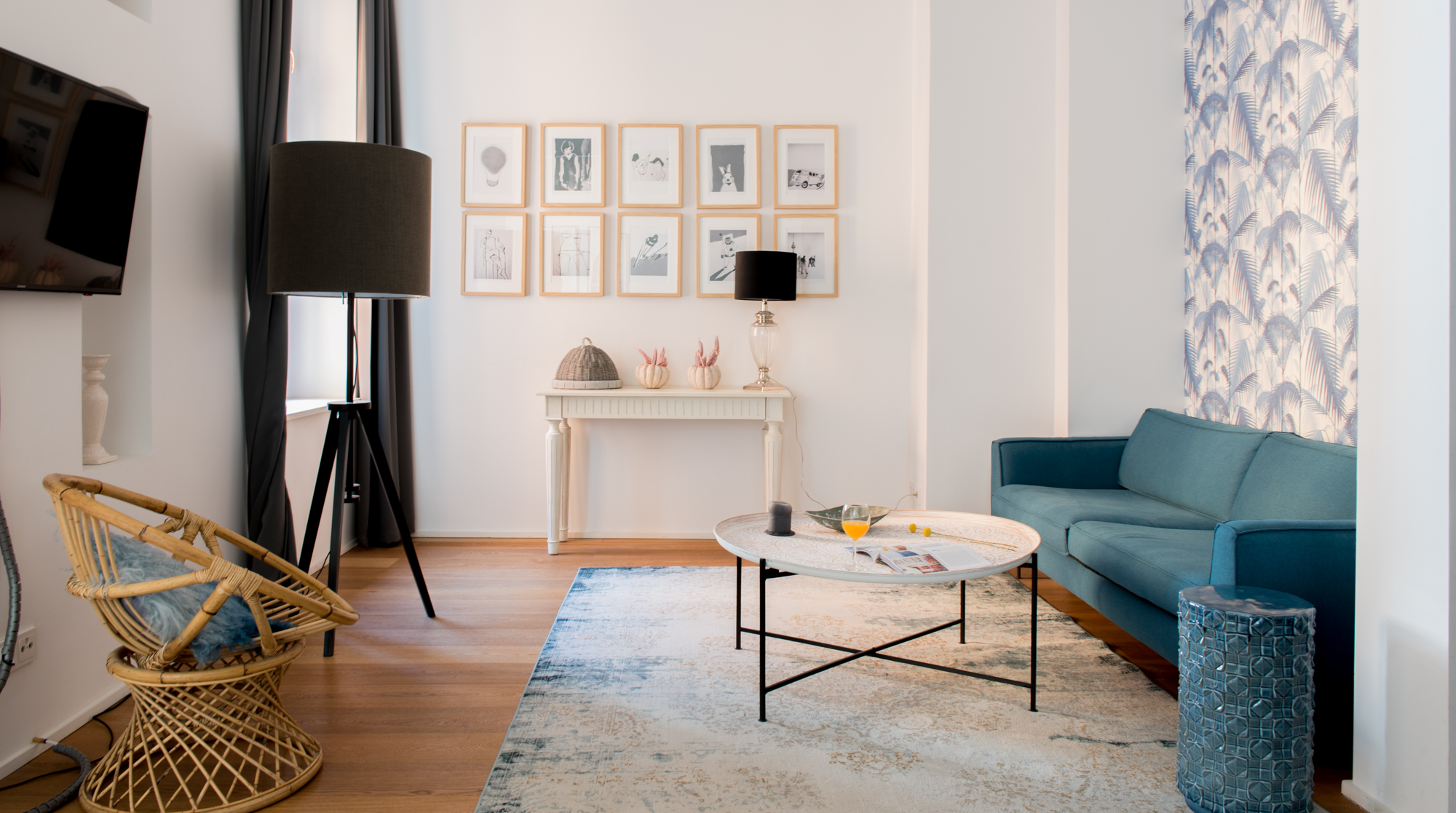 Located just north of the world's most iconic techno club, Berghain, House of Palms is a safe haven from wild nights and long days of exploration, featuring stylish wallpaper and unique illustrations. Enormous windows and tall ceilings make the rooms feel enormous, filled with light. House of Palms further features a sauna, a BBQ, and a bamboo garden, along with a shared rooftop terrace to unwind.
Prenzlauer Berg
Just north of Mitte, find Prenzlauer Berg — a once-portion of East Berlin, which, from the 1960s onward, offered a rich counterculture of bohemians and artists. In 1989, Prenzlauer Berg made history — becoming the site of the peaceful revolution that finally crumbled the Berlin Wall. After that, throughout the 1990s, Prenzlauer Berg became the home to Berlin's at-the-time anarchistic squatting scene.
Of course, in the wake of this rampant, ever-changing history, Prenzlauer Berg has seen quite a bit of gentrification. And these days, it's more of a family-haunt — with some of the most beautiful buildings (left over from pre-war) lining its streets!
Bougie eateries, trendy bars, trendy and beautiful families with prams are scattered throughout Prenzlauer Berg, making it a perfect place for travelling families and people who want a more "demure," yet still gorgeous Berlin.
Stay Here If You Like:
Upscale shopping, vegan food, beer gardens, flea markets, family-friendly cafés.
A TYPICAL DAY IN PRENZLAUER BERG
Start your bougie day in Prenzlauer Berg at CAFE KRAFT: rustic in its decor, with absolutely jaw-dropping coffee, Instagram-worthy interiors, and an outta this world weekend brunch (and carrot cake, if you like your dessert with breakfast). The ABC's of Allan's Breakfast Club offers hearty portions (Eggs Benedict with salmon, anyone?) and lets you get boozy with your morning; the second part of their name IS "& Wine Bar," after all.
Prenzlauer Berg is home to Mauer Park — a hub for people watching, located directly near the Berlin Wall Memorial. On Sundays, Mauer Park explodes with bizarre vintage stalls and an eclectic array of food trucks. Countless buskers and musicians arrive to serenade — and the karaoke "Bear Pit" never disappoints. Why not sing us a tune?
For dinner, you can't get much better than Prater — an old beer garden dating back to 1837, which offers a wide array of German food, along with a little shack with some of the best German doughy pretzels and wursts city-wide. Kreuz + kümmel offers an inventive take on Indian food, pairing Indian flavour with old German classics.
For late night adventures, investigate Misirlou for its stellar cocktails and old-world, vintage feel — or opt for the iconic 8mm, which offers a cutting soundtrack and frequently hosts some of the best live gigs in the city, despite its tiny, gritty space.
UNPACK YOUR BAGS HERE: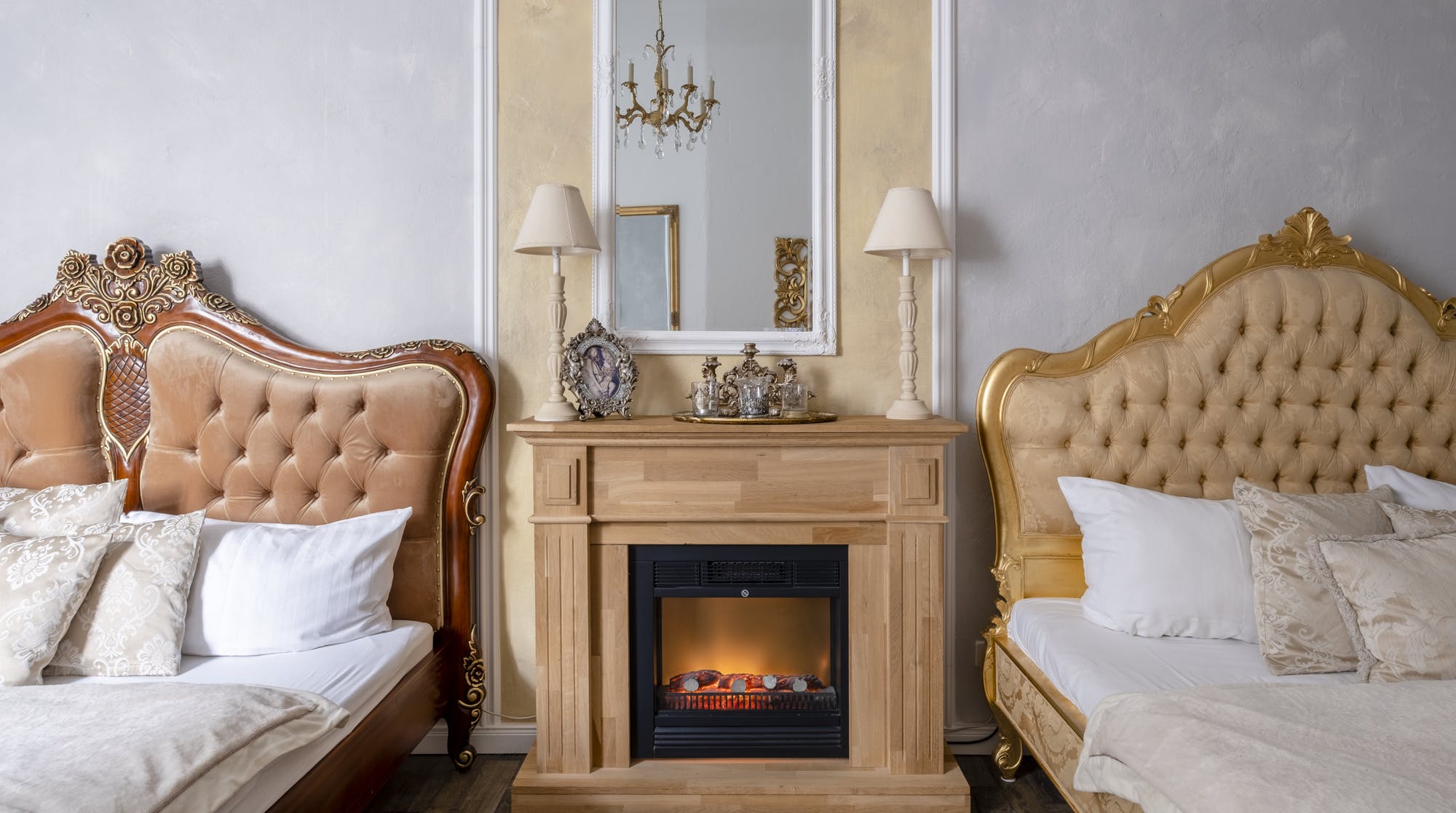 Baroque Chronology demands your attention in more than name alone. The decor is eclectic — think enormous golden mirrors, vintage mahogany furniture, a jacuzzi in the style of the 1980s, and a massive Berlin mural on the wall. It's luxurious, in a neighbourhood that demands such a lifestyle — a massive contrast to gritty Neukölln, but not without artistic flair.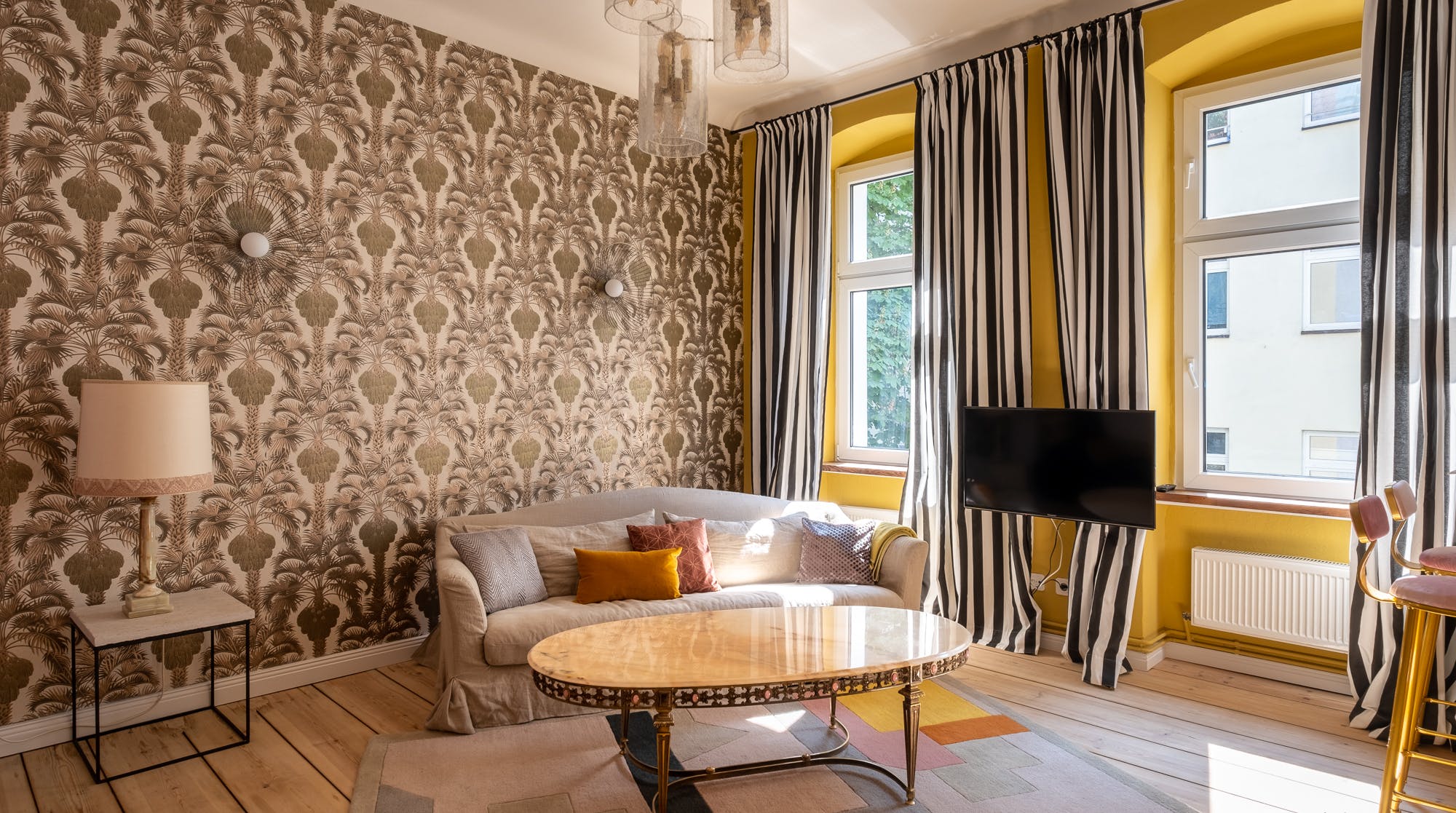 This apartment upholds elegance above everything — with vintage furnishings, gorgeous decorative wallpaper, and an adorable sun-drenched balcony. You're located steps away from beautiful Helmholtzplatz, which bustles with weekly markets and is stocked with boutiques and trendy cafés.
Charlottenburg
West Berlin edges toward affluence — a pretty wicked contrast to the grit, grime and hipster sensibilities of Kreuzberg and Neukölln. Charlottenburg has the largest royal palace in all of Germany — the Schloss Charlottenburg — dating back to the end of the 17th century and built in rococo and baroque styles. Days in Charlottenburg are busy, with shopping galore at Kurfürstendamm, exploration of the iconic Berlin Zoo, and picnics in the Tiergarten.
Stay Here If You Like:
Castles, historical Monuments, shopping, fine dining.
A TYPICAL DAY IN CHARLOTTENBURG:
Start the day with Charlottenburg's posh array of breakfast and brunch spots — with the high ceilings and soft interiors of Sets, with simplistic fare that's, above all, worthy of several photographs — and doesn't disappoint in flavour. If bagels are what you're after, What Do You Fancy Love offers a wide selection (bagels are still quite a difficult thing to find in this city), along with fresh-pressed juices and smoothies and smoothie bowls (we like the cleverly-named juice "Botox Me," with ginger, apple, and mint).
Spend your day perusing the countless shops at Kurfürstendamm (no end of luxury, plus your run-of-the-mill H&Ms). But a trip to Kurfürstendamm isn't complete without a leap into the Kaufhaus des Westerns, or KaDeWe, Berlin's luxury 6 storied shopping centre. KaDeWe has all the designer goods, including an entire gourmet department, where you can find some of the finest foods from all over the world.
While shelling off cash around Kurfürstendamm, make sure you dart off to one of the small side streets, like Bleibtreustraße and Knesebeckstraße, as they feature beautiful and classically built townhouses from over 100 years ago, along with several little lesser-known cafés and boutiques.
For the very best Indian food in Berlin, dart into Bombay Café Bunty's for inventive takes modern Indian fare — featuring a Masala Cheese Corn Ball, stuffed bread with four types of cheese, and Nutella-stuffed naan. For an excellent Italian-owned pizza experience, with a neighbourhood feel steeped in old Italian charm, opt for San Giorgio (the parma ham and parmesan is a dream).
Back when Charlottenburg was part of the central hub of West Berlin, Paris Bar was the epicentre for artists and writers and filmmakers. These days, it serves up incredible food and cocktails against a sophisticated backdrop of dark walls and bright white tablecloths. Beneath the arches of the train, close to the iconic old translation Bahnhof Zoo, find Bar Zentral—a smoky and dark little bar with cocktails that punch back. Try the martini with white port.
UNPACK YOUR BAGS HERE: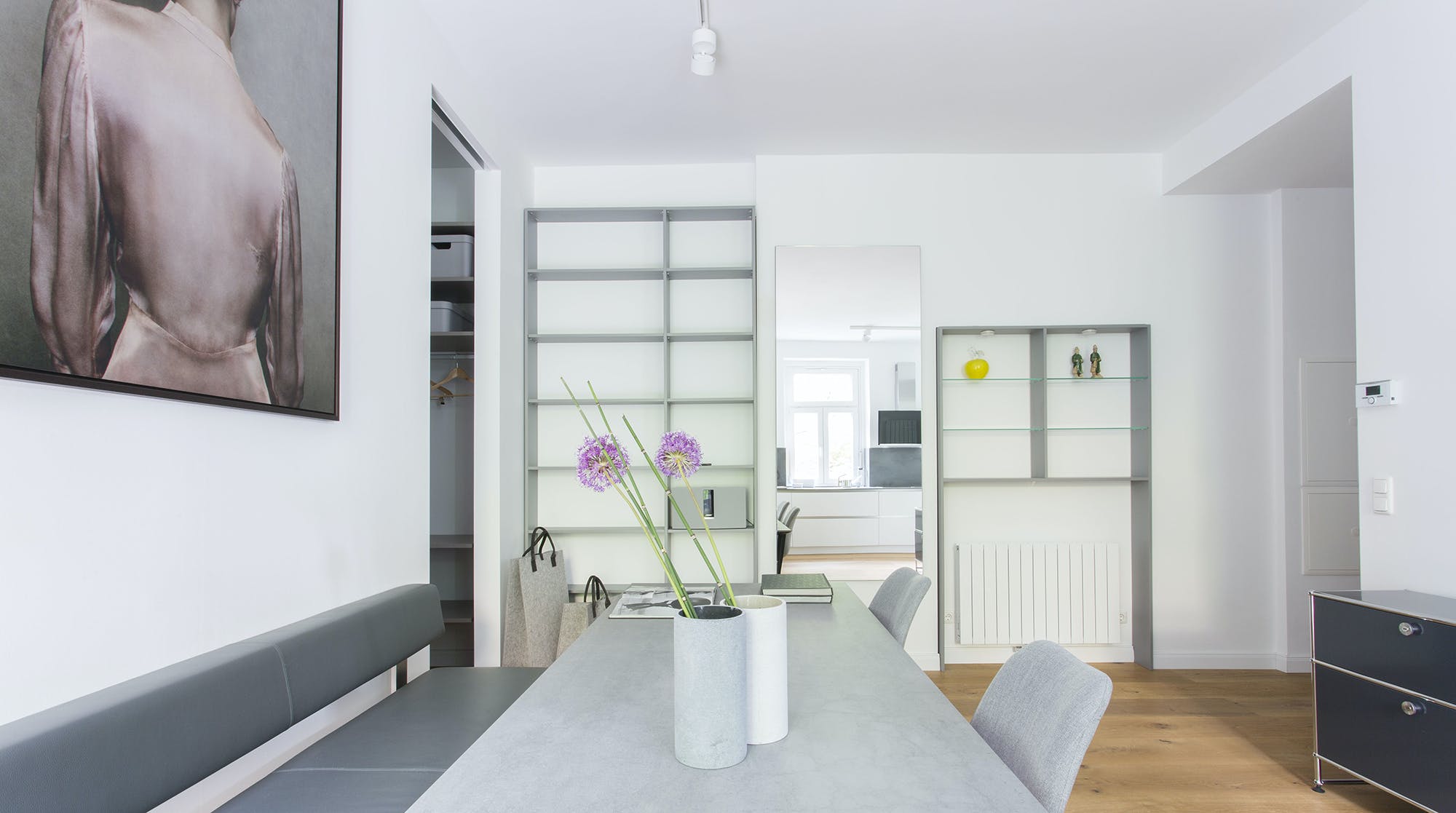 Florentina is minimalist, all crisp, clean lines with a neutral palette and gleaming wooden floors. The apartment has everything you need for a slowed-down stay in the West of Berlin, for long days exploring the Tiergarten and shopping in the KaDeWe.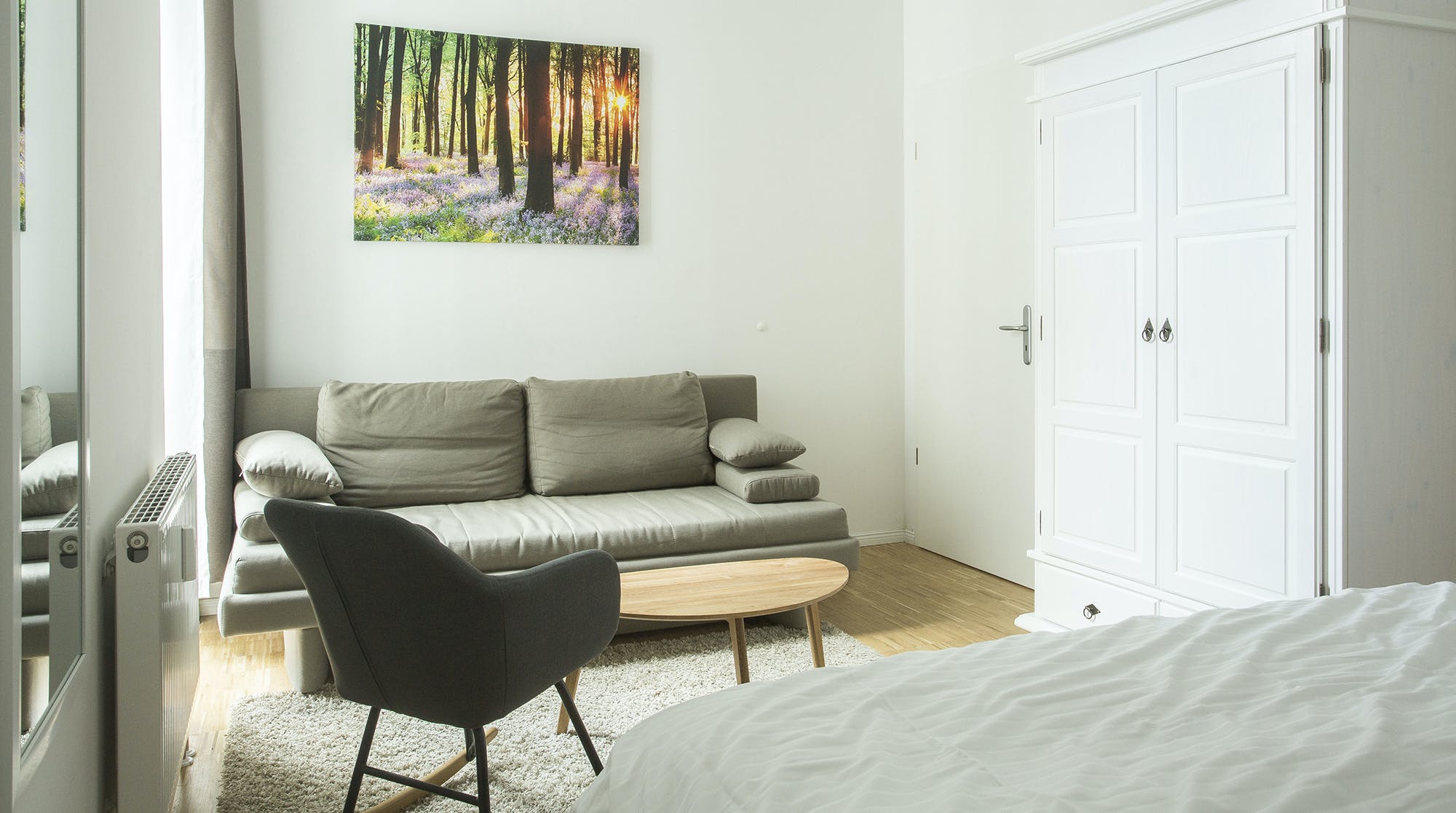 Just a swift ride from the Charlottenburg Palace, find The Elvira — an apartment within a striking art nouveau building, featuring a bright balcony for morning coffee. High ceilings and pretty amenities make this a top choice in the quieter Charlottenburg, away from the wild Kreuzberg and Neukölln vibes.
Schöneberg
Once West Berlin, Schöneberg was where David Bowie and Iggy Pop put down Berlin roots, and now offers an eclectic array of dive bars, LGBTQ clubs, glorious cafés, and a diverse mix of culinary delights (along with one of the very best Saturday markets in the entire city).
Schöneberg is understated, sans the raucous hipsters and expats of Neukölln and Kreuzberg, and allows a bit more breathing room for long days of exploration. Oh, and Schöneberg has some of the best street art, as well, showcasing itself as an unmissable art district.
Stay Here If You Like:
Gay bars, street food markets, art, killer espresso
A TYPICAL DAY IN SCHÖNEBERG:
Start your day with the best espresso around at DoubleEye — with coffee beans from all over the world, and a super-stellar, ultra-creamy Portuguese Pastel de Nata. The rustic Café Bilderbuch is also a top pick, offering a stellar brunch (try the Hansel and Gretel breakfast!).
The Winterfeldtplatz Saturday market is the largest and liveliest weekly market in Berlin —featuring cheeses, flowers, fruits, vegetables, household goods, and countless other stalls. (Note: if you're only in town during the week, a smaller version of the market opens on Wednesday mornings.)
Schöneberg is home to one of the best bibimbaps at IXTHYS — which is the Greek word for "fish," and is a perfect lunchtime fix. Schöneberg is also home to incredible green spaces, including the Rudolph-Wilde-Park — perfect for mid-day strolls.
The Winterfeldt Schokoladen (decorated beautifully, like an old pharmacy) sells locally-made chocolates, whilst Café M has an incredible selection of cakes (and was also a Bowie hangout) for that mid-afternoon sugar-craving. Of course, if you want to linger at Café M, it also turns into a stellar punk dive-bar later in the evening.
For dinner, opt for the lively Greek place, Taverna Kos, or typical German done in a traditional, exquisite style at Goldener Stern. Nightlife erupts in Schöneberg: try the kitschy Kumpelnest 3000 for disco music and an eclectic mix of clientele, or Green Door Bar on Winterfeldtstr. (with excellent gin cocktails and a speakeasy vibe).
UNPACK YOUR BAGS HERE: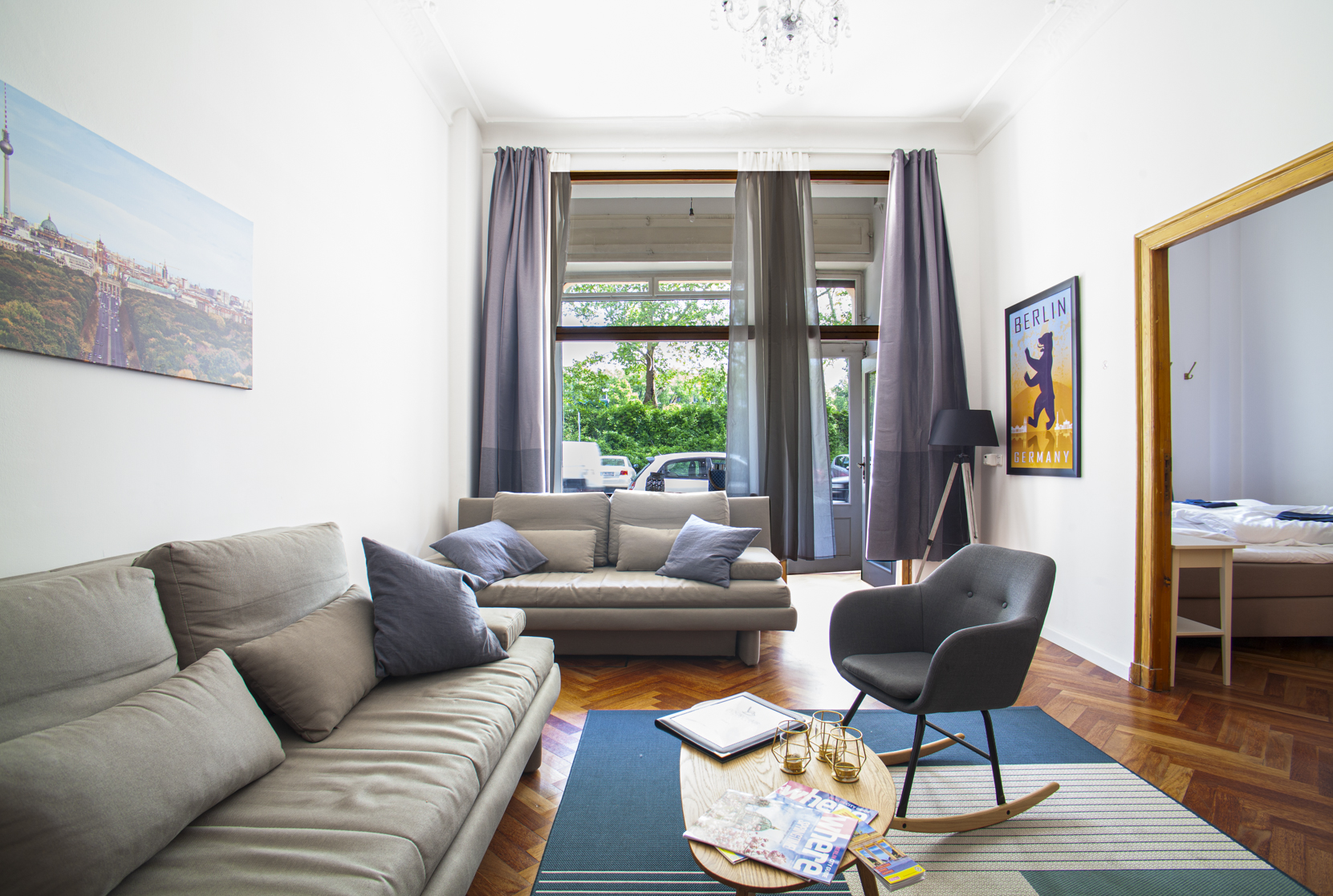 This apartment was an old shop and features a unique shopfront façade, gleaming parquet floorboards, and a mint-green kitchen. It's just a quick walk to Viktoria Park, on the edge of Kreuzberg, with easy access to the rest of the city.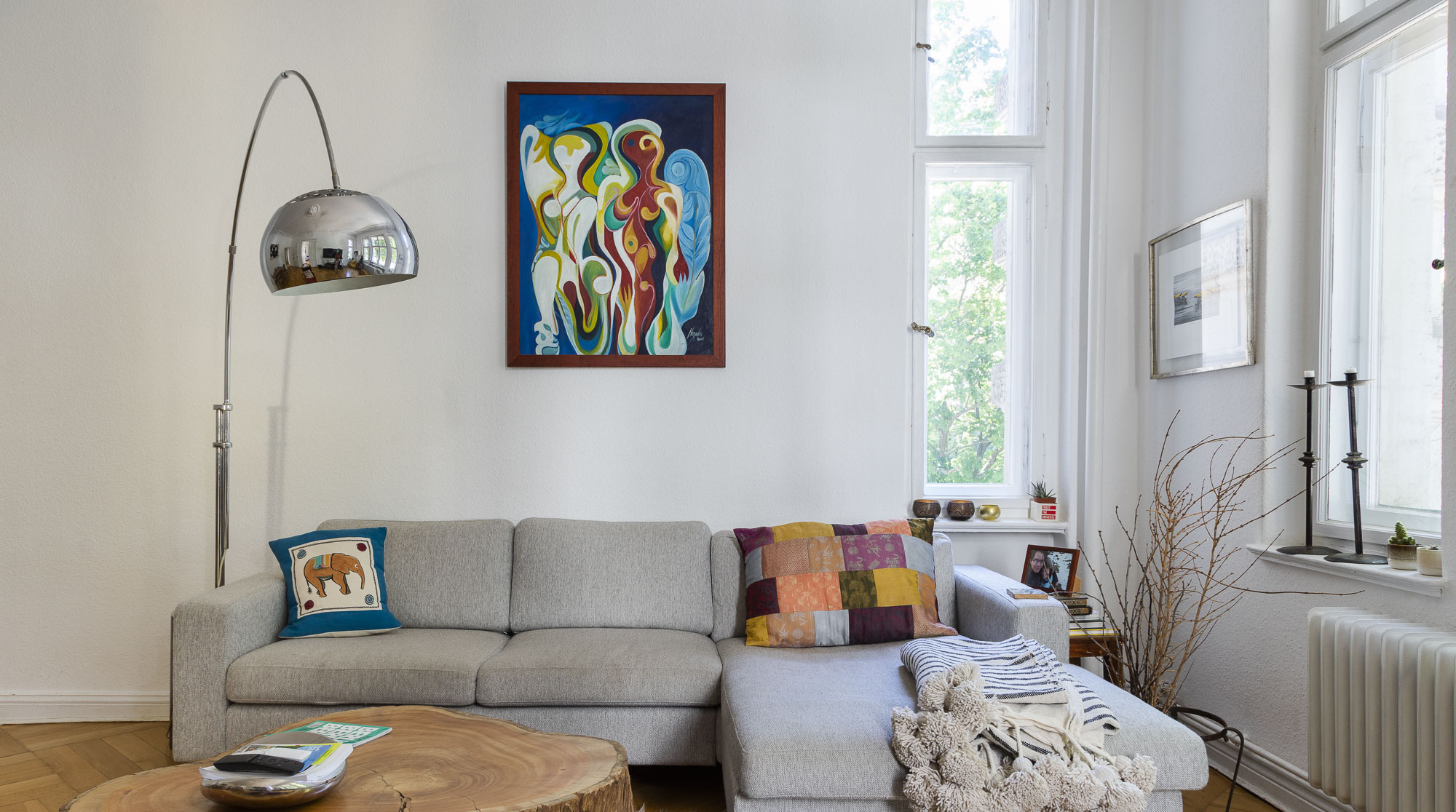 Located in an old "Altbau" building, The Encyclopedia simmers with personality and unforgettable flair — with high ceilings and big, bright windows. A vintage piano and a massive book collection give this place a homey feel, whilst the Buddha statue and the Arco lamp add a touch of the bizarre. As always, Berlin is a study in contrasts.
Neukölln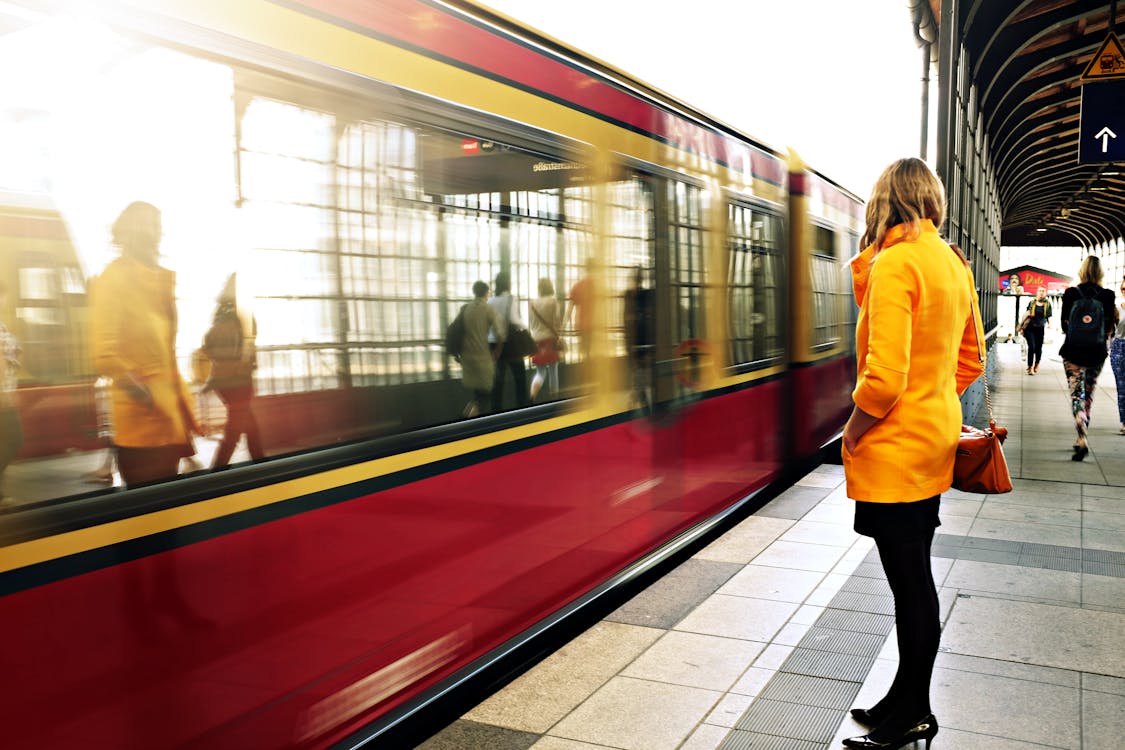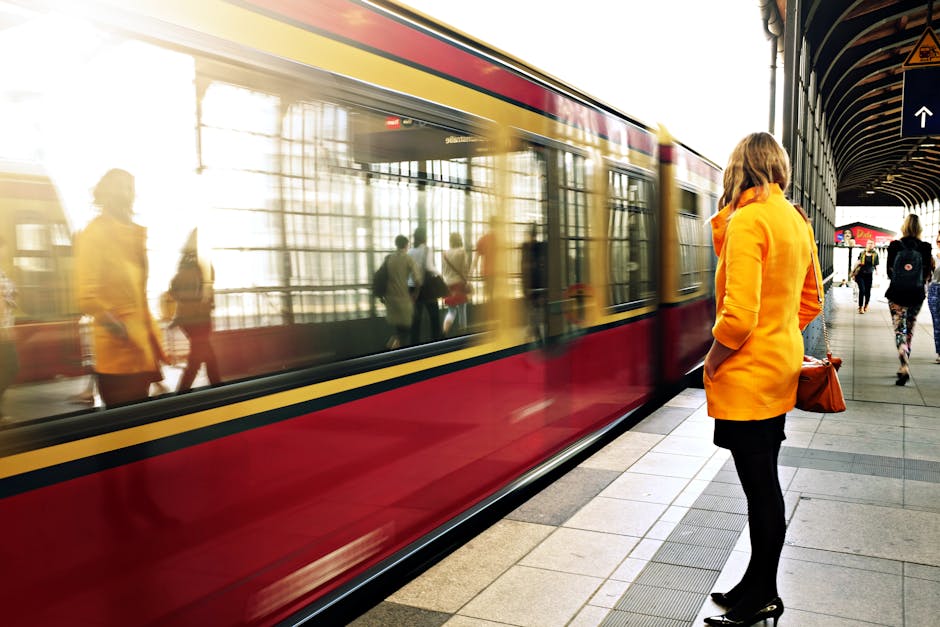 Neukölln is the raggedy, wilder cousin of Kreuzberg — similar in vibe, with an added layer of grit. It's got countless bougie vegan cafés and art galleries stitched beside classic Turkish bakeries and eateries, all alongside the enormous green space and old Nazi airport at Tempelhofer Feld — which the people of Berlin refuse to allow to be used for new buildings.
Neukölln is dark and shadowed and interesting and at-times eerie, a place filled with ever-changing corners and a weird mix of expats, all making art and staying up night after night after night.
Stay Here If You Like:
Live music, enormous green spaces, hipster cafés, literature events, and Turkish food.
A TYPICAL DAY IN NEUKÖLLN:
Start the day in Neukölln's stunning Schillerkiez, mere steps away from the vast Tempelhofer Feld airport, for one of the best breakfasts in town. Selig is a sun-drenched restaurant, a part of the Herrfurthplatz church. The food has a definite trendy edge to it, but it's done well and without effort — with the very best Huevos Rancheros in the city. A wide selection of organic cakes and stunning cocktails COULD very well keep you into the afternoon. Other Neukölln breakfast delights await at Pannierstr.'s Roamers — think French Toast with Caramelized Pears — and Geist im Gals — with fluffy yummy pancakes and featuring six daily morning cocktails (with a super innovative maple syrup-infused whiskey). In Berlin, the time to drink is — always.
When the time comes to limp away from your boozy brunch, ease over to Körnerpark — which receives less attention than the Tempelhofer Feld green space, yet offers a more refined park experience. It's oddly Parisian — a glittering fountain, lush grass, pillars lining a mighty staircase that leads into the belly of the park.
Neukölln is full of surprises. And the Puppentheater-Museum Berlin is one of the more delightful ones — featuring an overview of the artistic movement of, well, puppet theatre. This museum shows off puppet making through the years throughout Europe, Africa, and Asia — and further offers performances. It's perfect for young and old.
Tuesdays and Fridays along the Neukölln Maybachüfer, find the eclectic and buzzing Turkish market. Countless stalls feature street food, fruits, vegetables, fabrics, and strange knick-knacks. You can spend hours here, sampling various food before dripping off to the many bars in the area.
Speaking of bars — Neukölln has a wealth of 'em. Jungle Bar is a walk into another world of lush green, fish swimming in tanks, and a pretty stellar selection of cocktails. For rooftop vibes, Klunkerkranich is located atop a nondescript shopping mall — yet offers one of the best views of the city and occasional jazz nights. For clubbing, check out Sameheads, an off-beat hipster wonderland with quirky interior decoration and incredible dance music. Griessmuehle is a must for bumping techno and offers an enormous outdoor area overlooking the canal.
UNPACK YOUR BAGS HERE:
Charm abounds at A Doll's House, located just a few blocks from the beautiful Landwehrkanal, directly in the heart of the best bars and restaurants in Neukölln. The place is awash with vintage and handcrafted furniture, is cosy and bright, and offers an extensive book collection — in case you have any time to sit down with a book in the midst of all the Neukölln exploration, just steps from your graffiti-covered door (don't let that scare you off — it's just Neukölln at its best: filled with contrasts).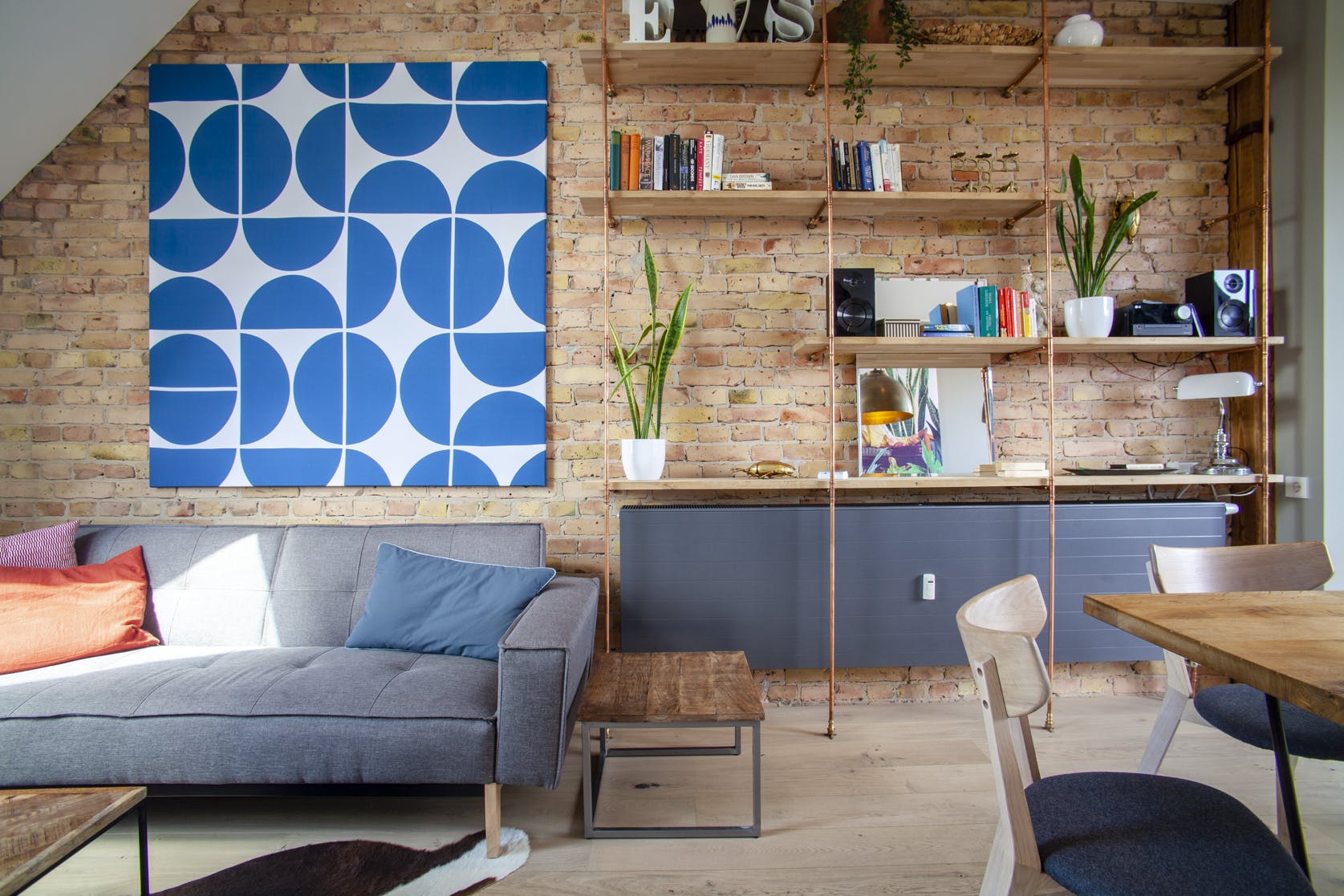 Located in the quirky in-between of Kreuzberg and Neukölln, find Blonde Venus — the top-floor apartment of an old building from the early 1900s. Light beams in from ceiling windows, illuminating the fun and funky decorations and the exposed brick wall. Plus, there's a walk-out rooftop terrace, with views of the city. What else could you possibly want?
BEST FOR…
Whatever your tribe, we have a home away from home for you.
BEST AREA TO STAY IN BERLIN FOR FAMILIES:
Prenzlauer Berg.
Bougie Prenzlauer Berg was once wild and frenetic with clubs and parties — but gentrification has created a safe, family-friend vibe, with several green spaces and not-overly-hip cafés. Opt for vegan African and Italian fusion at AtayaCaffee — which features an absolutely killer brunch and an adorable little corner for kids to play with a little kitchen set and other toys.
For ice cream, check out the Eispatisserie Hokey Pokey or the OAK & ICE. Nearby, find Tommy's Tobewelt — a massive indoor playground for rainy days, when the kids need a break from all the sight-seeing.
BEST AREA TO STAY IN BERLIN FOR ROMANTIC GETAWAYS:
Kreuzberg.
The Landwehrkanal snakes through Kreuzberg — providing a perfect backdrop for long, romantic evening strolls as you dip from one art gallery to the next. In east Kreuzberg, find an eclectic array of bars that drip along the canals — like Freischwimmer or the stunning beer garden, Birgit & Bier.
For a romantic dinner, find Modern European food at Spindler, located near Kotti and the canal, or opt for Trentasei, a stunning Italian restaurant with glowing decor and exposed brick.
BEST AREA TO STAY IN BERLIN FOR ART LOVERS:
Neukölln.
Neukölln is awash with trendy cafés and shadowed side-streets, crowded with tiny art galleries with lesser-known Berlin-based artists. Duck into the Galerie Im Körnerpark, alongside the gorgeous Körnerpark, or dive through the Schillerkiez to discover displays at Luisa Catucci Gallery or the record store, Staalplaat Berlin. Richardkiez has a wide selection, as well, with stellar exhibitions at zebra pony galerie & atelier and bauchhund salonlabor.
BEST AREA TO STAY IN BERLIN FOR YOUNG TRAVELLERS
Friedrichshain.
Young travellers rejoice in Friedrichshain, with its wide selection of eclectic clubs — from Matrix to Suicide Circus, and its cheap eats and haunts (Marafina has an A-plus kebab and Zero Stress pizza has excellent pizza by the slice). Friedrichshain's iconic East Side Gallery offers the last glimpse of what remains of the Berlin Wall: with a long stretch of the old concrete, which was painted over by several artists after its fall in 1989.
BEST AREA TO STAY IN BERLIN FOR SIGHTSEEING:
Mitte.
Historical monuments and real "European" vibes (think: cobblestones, old-world architecture) await in Mitte, where the Brandenburg Gate, the Berliner Dom, Gendarmenmarkt (where Berlin began), the Holocaust Memorial, and the beautiful Tiergarten are all within easy distance of one another.
BEST AREA TO STAY IN BERLIN FOR NIGHTLIFE:
Kreuzberg.
Kreuzberg dive bars like Bar 11, Wowsville, and Cafe Kotti offer cheap booze to start your night off right, whilst iconic clubs like Tresor and Chalet pump deep into the night and morning. Whatever you crave — cocktails, techno, gritty live music — you can burn your way to the following day in Kreuzberg, and watch the sun come up over the Spree next to the Oberbaumbrücke. It's just the Berlin way.
BEST AREA TO STAY IN BERLIN FOR WALKING:
Prenzlauer Berg.
The once-grungy, now-bougie Prenzlauer Berg is one of the only areas of the city that's upheld its old architecture from the 19th century, allowing for some of the prettiest walking streets — especially near Kollwitzplatz and along Kastanienallee.
Dip in and out of ice creameries, boutiques, and trendy vegan eateries, and find yourself at the Rykestrasse, near the square by the Water Tower. Plus, no matter where you are, the Kulturbrauerei — an event space in an old brewery with a cinema, clubs, a museum, and several restaurants — is never too far of a walk away.
BEST AREA IN BERLIN FOR WORK TRIPS:
Charlottenburg.
Charlottenburg is quiet, quite posh, with a stellar selection of restaurants, a family vibe, without the grit, grime, and party-element of areas further east. Plus, it's located near the old Charlottenburg Palace and the Tiergarten — so you can get some sightseeing in easily between work meetings. Charlottenburg also has easy access to the rest of the city, allowing you to whisk off whenever the allure of cheap kebabs and multiple pints becomes too strong.
BEST AREA TO STAY IN BERLIN FOR FOODIES:
Schöneberg.
Although Schöneberg is understated in many other respects, it's wild with eclectic food options — with everything from some of the best burritos at Berlin Burrito Company, to pizza at Evian Pizza Pasta, to the city-famous burgers at Zsa Zsa. Plus, the Winterfeldtplatz market is a must for food-lovers, allowing you to taste-test Korean, Turkish, bougie chocolates and pastries, and so much more.
Plus, Schöneberg is just a stone's throw from the weekend Thai Market at Prussia Park, where Bangkok comes alive with stall after stall of delightful dumplings, meat on sticks, tremendously sweet Thai goodies, and cocktails galore.