Where To Stay In London For a Healthy Breakfast: A Curated Guide
The best areas to stay in London if you like a healthy breakfast and brunch
~
Move over LA, because London knows something about healthy, delicious breakfasts. From superfood smoothies to gourmet granola, this city is teeming with nutritious ways to start your day. For all you health-conscious kale lovers out there, we've compiled a list of the best areas in the city for getting your fruit-filled fix.
Located in the heart of Shoreditch; Andina serves healthy food and drinks inspired by the Peruvian Andes. A light and bright space with bare wooden tables and brightly coloured wall hangings, Andina is the perfect place to spend a sunny morning. The superfood smoothies are as colourful as the walls, and come in an array of vivid hues; while, while the sweet potato pancakes are a real highlight on the food menu.
Stuck for where to grab breakfast in London? We've got you covered. Make like the Fresh Prince and head to Bel-Air, a bright California themed cafe serving up healthy gourmet breakfasts. With a sunny interior and a menu to match, this really is feel good fast food. The salted date caramel porridge is well worth an order; while the Topanga Canyon breakfast bun is a winner if you're in the mood for something savoury. Bursting with goodness, Bel-Air is the place to be for a little piece of Californian sunshine!
Chelsea - For a Juicy Healthy Breakfast
Just a few minutes walk from the King's Road, this healthy hangout is perfect for weekends spent regenerating and switching off (in more ways than one). Step away from the Macbook because in this cafe the good life also apparently means no WiFi. Stand-out food options include the chestnut and almond waffles, along with the Skinny Royale breakfast – a winning combination of poached eggs, smoked salmon and saffron yogurt.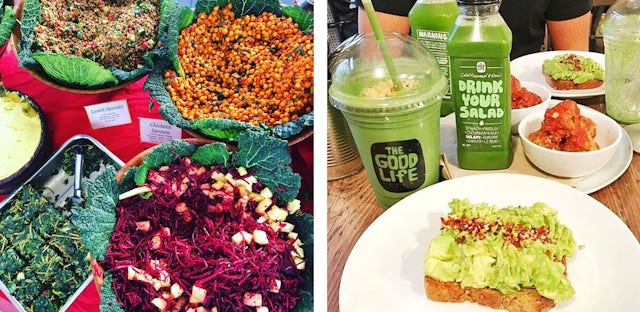 With Juice Baby it's all about the liquids. One of the best is the G.L.O juice, a grapefruit, orange and lemon blend, which makes your skin do exactly what the name suggests. The smoothie selection is strong: Purple Haze, with its mix of berries, banana, coconut and cashew butter, is as vivid in flavour as it is in colour. Breakfast options keep it simple but tasty: the Chia Berry Parfait is the stand-out. Inside the shop, the interior is comfy and fun, with lots of cushions and a giant chalkboard wall covered in feel-good messages to help start your day with a smile.
Sydney Street Farmers Market
For those looking for something a little different at breakfast time, why not head down to the Farmers Market on Sydney Street? Don't expect the traditional market fare of farmers selling their produce. This is Chelsea, darling. This quiet enclave off the Kings Road is made up of an array of individual stalls offering up al fresco dining the only way SW3 knows how. In summer, lunchtime diners fill the courtyard at the heart of the market, enjoying some culinary treats in the shade of oversized umbrellas.
Honey & Co.
Set up by culinary power-couple Sarit Packer and Itamar Srulovich, the daintily decorated Honey & Co serves up Middle Eastern deliciousness at all times of the day. For breakfast though, their spicy shakshuka – a classic Middle Eastern breakfast dish of eggs braised in tomatoes – is a must try. For those in search of something sweet, the yoghurt, fruit and Ashura cereal pot is packed with healthy, dreamy goodness. For coffee lovers, it's definitely worth trying a pot of their Turkish coffee – though be warned, it's deliciously strong and not for the uninitiated. Intrigued? Be sure to check out Honey & Co.'s majorly popular Instagram account to see what all the fuss is about.
With its clean, bright white aesthetic, stepping into Maple & Fitz feels like the detox is underway before you've even eaten anything. The avocado and chilli toast is zinging with freshness and flavour, while the granola parfait is simply divine. Aside from their selection of tasty culinary treats, Maple & Fitz also has a kick-ass selection of home-pressed juices that are bursting with flavour. Among the best is the metabolising Yonce Lemonade, which is as light and fizzy as Queen B herself, and the energising Little Miss Sunshine, which is made with grapefruit, ginger and cayenne.
Set up in 2008 by a group of Australian chefs who wanted to show all they loved and missed about the thriving café culture of their home country, Lantana is laid-back, modern and oh-so Aussie. With simple clean décor that lets the menu do the talking, coffee snobs will not be disappointed by Lantana's super-smooth flat whites. The highlight of the food menu is without doubt the corn fritters with smashed avocado and lemon crème fraiche. The perfect setting for relaxing and reading the paper in the sun, at Lantana you'll feel like a regular Melburnian.
Farmstand
Drawing inspiration from the roadside stalls of the American Midwest, all of the food at Farmstand is wheat, gluten, dairy and refined-sugar free. Well-priced with an inventive "build your own" concept, the Breakfast Box allows every customer to tailor their morning meal to their own tastes. Selling a wide selection of pressed juices, and a variety of teas, all of which are made locally, Farmstand stays true to its eco-friendly ethos.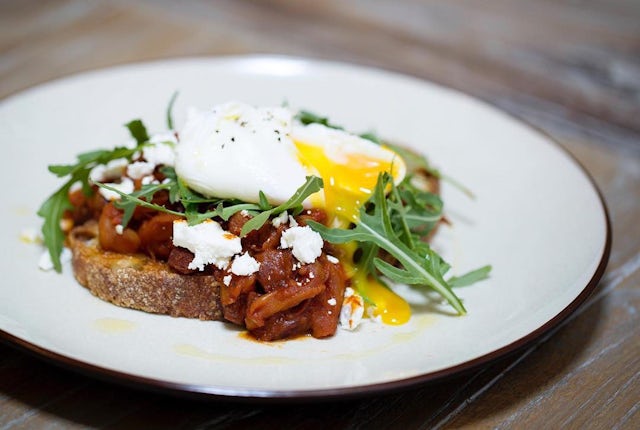 The Black Penny
Open for breakfast from 8am-8pm, The Black Penny wants you to be able to enjoy breakfast regardless of the hour. It's 9am somewhere, right? With an inventive menu featuring dishes like the wild mushroom and crispy polenta hash, the Black Penny is committed to offering health-conscious food with a difference. What's more, coffee lovers definitely won't be disappointed with beans sourced from South London roasters, Alchemy, and several blends on offer at the same time. Inspired by the 17th century Penny Universities, where a penny could get you a cup coffee and access to intellectual discussions, the café has communal seating in the back, perfect for chewing the fat, and a basement space which hosts poetry readings, seminars and debates.