Find expert tips, here on Plum Guide. From where to stay, what to eat, and what to see in some of the world's finest cities. Find expert-approved homes too: Plum Guide is a collection of the very best vacation rentals in the world, approved by our expert Home Critics after a rigorous 150 point test.
A few years ago, many travellers to Italy passed over Milan in favour of the more picturesque cities of Rome, Florence and Venice. However, since hosting the World's Fair in 2015, Italy's fashion capital has been experiencing a modern Renaissance, thanks to its excellent dining scene, avant-garde architecture and, of course, shopping opportunities.
Are you into elegant aristocratic buildings or eco-friendly glass skyscrapers? Chic or cool bar for aperitivo? Hipster or haute-couture boutiques? If you're deciding on where to stay in Milan, find your perfect place in the city with our neighbourhood guide below.
WHERE TO STAY
Duomo
All roads in Milan lead to the Duomo, so you couldn't be more central than by staying in the vicinity of the city's cathedral. There are two main subway lines, scores of trams and most sites are accessible on foot.
Although it's extremely convenient, staying in the heart of the city also means you may need to push through tour groups on your way home. These do start to diminish as you get off the main streets and discover the beauty of the historic centre.
STAY HERE IF YOU LIKE:
Hustle and bustle, people watching, shopping, and staying right in the heart of a city.
A TYPICAL DAY IN DUOMO:
Get your day in the Duomo area started off on the right foot with a cappuccino and a cornetto (croissant) at historic Caffè Zucca. Located at the corner of the elegant Galleria Vittorio Emanuele II and the Piazza Duomo, the classic café dates back to 1867 and is a Milan institution.
Indulge in some people watching on the city's main square, but before it gets too busy, and make a prerequisite visit inside Milan's colossal cathedral.
One of the largest churches in the world, this cathedral is one of the best examples of the Gothic style in Italy. Starting in the late 1300s, it took centuries to build this over-the-top church, decked out in pearly Candoglia marble and over 4,000 statues. The statues are actually best viewed from the Duomo's rooftop, so make sure you book a ticket in advance. You'll get to see these sculptural masterpieces up close and personal. as well as a 360 degree view of the city.
Keep your cultural momentum going by either visiting one of the excellent temporary exhibits at the Palazzo Reale, the former seat of the local government, or by visiting the Museo del Novecento, an impressive collection of 20th-century art housed in the austere Fascist era Palazzo dell Arengario.
Worked up an appetite? You don't have to go far to sample some of the best pizzas in Milan. Cross the square and down the small via Agnello and you'll find Sorbillo, an outpost of the renowned Napoletean pizzeria. For a more classic (and much pricier) taste of Milan, book a table at Ristorante Savini, found above the Savini Café in the Galleria Vittorio Emanuele II, which serves exquisite Italian cuisine.
You'll want to meander back through this historic covered passageway at some point in the afternoon, a must on any trip to Milan. Named after the first king in the united Italy of 1861, the refined four-story arcade is home to some of Milan's most prestigious shops. Underneath its iron and glass dome is the bull from Turin coat of arms. Tradition has it that if you spin around three times on the bull's … private parts... then you'll return to Milan. Or,, at the very least, have some fun doing it.
Carry on down the arcade and you'll reach the Piazza della Scala, which houses one of the world's most famous Opera houses. La Scala was opened in 1778 and has played a vital role in the careers of Italy's greatest operatic artists such as Giuseppe Verdi and Giacomo Puccini. If you don't book tickets to one of its performances, you can also visit the interior during the day. The pretty square also hosts a statue in honour of Leonardo da Vinci, who lived in Milan for many years.
Working your way back through Piazza del Duomo, head towards the Piazza dei Mercanti. Here, you can catch a rare glimpse of what's left of medieval Milan (which is, not all that much). Work your way down the pedestrian street via Dante towards the most impressive remains of the Middle Ages, the Castello Sforzesco. Even if you don't go inside, you can get a real sense of the former ducal palace by wandering through its courtyards.
Back in the Piazza del Duomo, Corso Vittorio Emanuele II is another of our favourite pedestrian streets. Today, it's mostly filled with international chain shops, but you can also get some mid to high range shopping done in the attractive Rinascente department store.
Time for a little pre-dinner drink! Enjoy one with spectacular views of the Piazza del Duomo at Terrazza Aperol. This will bring you very close to the restaurant of one of Italy's most renowned chefs, the Michelin-starred Ristorante Cracco. Yes, the inventive tasting menu of Carlo Cracco will set you back around €200, but we can pretty much guarantee that it'll be an unforgettable gastronomic experience.
For a more reasonable (but equally delicious) meal, try Al Cantinone. Set within a 17th-century building, you can sample some typical local dishes likerisotto alla Milanese, ossobuco and veal cotoletta here.
UNPACK YOUR BAGS HERE:
The Duomo seems to have followed you home at this stylish apartment just a few blocks from Milan's famous cathedral. The backdrop of the church contrasts nicely with the chic modern wallpaper in shades of green. Staying here. you don't have to share a terrace in the Piazza del Duomo with other tourist. Just pick up the right ingredients and enjoy a Spritz in the privacy of your very own terrace.
Quadrilatero (Fashion District)
If your goal is to shop till you drop while in Milan, then there is no better place to be than the Quadrilatero, considered by many to be the most important fashion district in the world.
STAY HERE IF YOU LIKE:
Stilettos, big sunglasses, chic cafés, and charming streets.
A TYPICAL DAY IN Quadrilatero:
Armani, Prada, Valentino, Versace, Dolce & Gabbana… many of Italy's top fashion houses are based in Milan. Their flagship stores, along with dozens of other top designer brands, are within the block of streets made up of Via Montenapoleone, Via della Spiga, Corso Venezia and Via Manzoni.
Now, you'll want to start your shopping spree on Via Montenapoleone, the area's main street. It's lined with rows upon rows of the top fashion boutiques. Let yourself be tempted down some of the charming cobble stoned side streets, also jam packed with glitzy shops. These will take you to Via della Spiga, Via Montenapoleone's quieter pedestrian counterpart, another place to live out your fashionista dreams to their fullest.
Worked up an appetite yet? There are a number of chic restaurants in the area where you can set down your shopping bags for a stylish lunch break. Located within a verdant courtyard of Corso Venezia, the Martini Bar D&G serves dainty sandwiches, creative salads, diet-friendly main courses. You might even want to come back later on for its posh happy hour.
For an equally beautiful setting with a more historic touch, have lunch at Il Salumaio di Montenapoleone. Opened in 1957, the restaurant welcomes the area's fashionable clientele in either its large courtyard or its refined interior. Get started with a plate of their house speciality of salami, before moving on to some homemade pasta with truffle cream sauce, gnocchi with prawns and porcini mushrooms or grilled swordfish with orange and fennel salad.
If you can tear yourself away from the shops, the area is also home to several museums. Stick with the fashion theme at the Palazzo Morando, an opulent historic city mansion that hosts the Costume Moda Immagine fashion history museum. The Bagatti Valsecchi also displays a wonderful collection of Renaissance-era decorative arts. Fashion lovers with a leaning towards art won't want to miss the Poldi Pezzoli Museum, dating back to 1881. It has a remarkable collection of old master paintings by the likes of Botticelli, Andrea Mantengna and Giovanni Bellini.
For dinner in the neighbourhood, you can choose between traditional or modern chic. Quadrilatero is home to Milan's oldest restaurant, L'Antico Ristorante Boeucc Milanese. Founded in 1696, the restaurant has maintained Milan's finest food traditions within the vaulted dining rooms of the basement of the neoclassical Palazzo Belgioioso. Keep things traditional by sampling their Milanese veal chop, risotto alla Milanese or the crespelle al prosciutto (a scrumptious baked crêpe filled with ham).
Looking to rub shoulders with Milan's fashion elite? Then, you need to head to the Armani/Ristorante. Situated on the 7th floor of the luxurious Armani Hotel Milano, this super sleek restaurant, with black and white onyx floors, has a breathtaking view of the city and the Duomo. Hopefully, this will distract you enough not to notice the prices of their refined dishes. After dinner, finish your evening at the hotel's Armani/Bamboo Bar.
UNPACK YOUR BAGS HERE:
This chic flat is an ideal base for a stay in the heart of Milan's fashion district. The living and dining area has plenty of light, a few nods to fashion and art and private bar. The bedrooms have deliciously crisp white walls and linen, and then there's the deluxe bathrooms.
Oh, and did we mention one of these has a Jacuzzi bath? That should make your second day of intense shopping a tad easier.
Brera & Moscova
Brera is often considered to be the best area to stay in Milan, thanks to its central location and possibly picture-perfect postcard charm. It's been something of a victim of its own success with the touristification of the restaurants around its namesake museum. However, you can still spot glimmers of the neighbourhood's old soul, and some of the city's best design boutiques, towards the north in the now popular Moscova area.
STAY HERE IF YOU LIKE:
Art, design shops, cobbled streets, and high-end dining.
A TYPICAL DAY IN BRERA & MOSCOVA:
Get prepped and pepped up for your day in Brera with a fresh out of the oven pastry and coffee at Princi, a lively Italian bakery chain. Or, check out the lovely café Bianco Latte, which has a variety of breakfast items (as well as light lunches).
A short stroll up through the area's cobbled streets will take you to the Pinacoteca di Brera. Milan's leading art museum is also home to is Academy of Fine Art, both of which have given the area its artsy vibe. Pursue your discovery of Milan's art and history at the Museo del Risorgimento, a museum covering the history of Italian unification through paintings, sculpture and historic artefacts. Draw out your artistic morning by exploring the area's many commercial galleries, like the Galleria D'Arte Moderna Il Castello or Tornabuoni Arte.
If your stomach rumbles on the early side, you just might be able to snag one of the eight tables at the Latteria San Marco. Chef Arturo Maggi's tiny restaurant might not look like much, but locals know that his daily changing vegetable-focused menu is worth squeezing in for.
If you'd like a change from risotto alla Milanese, make your way to the Osteria di Brera, specialising in seafood. Within its cosy confines surrounded by wine bottles and exposed stone walls, choose between a variety of ways of preparing octopus, lobsters and oysters. Are you more a Sicilian or a Parisian? No matter how you choose to have it, the slippery seafood will slide delectably down your throat.
This area is packed with cool boutiques. Spend your afternoon seeing where (and how) the residence of Brera decorate their apartments and fill their closets.You'll find a carefully curated collection of men's and women's clothes and accessories at Clan Upstairs and at Minuit Milano, top quality shoes at Les Amis and vintage clothes (as well as the most dapper shop owner in Milan) at Bottega Rossi di Francesco Urzi.
For Art Nouveau, Art Deco and mid 20th-century design items, stop in at the Galleria Robertaebasta or for a perfectly hip souvenir from Milan, browse the unique items of Raw, a veritable cabinet of curiosities.
Plan to be in Milan on the third Sunday of the month? Be sure to visit via Fiori Chiari for its monthly antique market. When you're all shopped out, retreat to the Giardino Botanico di Brera, a peaceful botanical garden founded in 1775.
For a dinner worthy of this uber posh neighbourhood, slide into Seta. Meaning silk in Italian, the Michelin-starred restaurant of the Mandarin Oriental Hotel seduces both the eyes and the palate with its sleek design and sophisticated dishes. Chef Antonio Guida reinvents traditional Italian cuisine in his striped bass with Chioggia radicchio, banana and turmeric or tortellini stuffed with orange scented artichokes, cuttlefish, goat cheese and mint sauce. Yes, it's just as good as it sounds.
More excellent contemporary Italian cuisine can be sampled in the area at Daniel Ristorante, where chef Daniel Canzian marvels diners with his lemon risotto with lobster and liquorice sauce. We loved his mackerel in quinoa crust with zucchini and nettles.
Cap your night off with a fabulous cocktail at Cinc. Here, experience mixologists work their magic on a range of modern and classic cocktails within a somehow fancy yet laid back setting.
UNPACK YOUR BAGS HERE:
This playful flat is strategically located in the heart of Brera and steps away from the Pinacoteca art museum. Being under the rafters has its pros and cons: it's not the best choice for giants, however, it has exposed wooden beams and cosy reading nooks.
Magenta & Sempione
If you're looking for where to stay in Milan that brings together convenience, elegance and greenery, the area around the vast and central Parco Sempione is the perfect fit. Hugging its west side are the discretely upscale streets of Magenta whereas the north side is more hip and modern.
STAY HERE IF YOU LIKE:
Green spaces, elegant buildings, history, and quiet streets.
A TYPICAL DAY IN MAGENTA & SEMPIONE:
Start your day in posh Magenta style at the Pasticceria Marchesi, one of the oldest and most traditional pastry shops in Milano. The location at Via Santa Maria alla Porta and Corso Magenta has a gorgeous interior. Here, you can nibble on a dainty brioche and strong coffee at the bar before embarking on your neighbourhood explorations.
Where else to move on to than the Magenta area's most famous site: Leonardo da Vinci's Last Supper. Decorating a wall in the Santa Maria delle Grazie convent, it's a must for any visit to Milan. Be sure to book your tickets in advance and also visit the inside of the beautiful church and its cloisters.
You can learn more about this artistic genius' time in Milan across the road at La Vigna di Leonardo. The visit includes a tour of a stunning historic mansion and then what's left of a vineyard gifted by Duke of Milan to da Vinci during his stay in the city. If you're still looking to delve further into the history of Milan, visit the Museo Archeologico, featuring exhibits on ancient Milan, once called Mediolanum.
The rest of your morning can be spent (window) shopping along the regal streets Corso Magenta and Corso Vercelli. Stop in at the Galleria Rossana Orlandi, an innovative art and design space home to a showroom, avant-garde boutique and restaurant. Foodies. you'll want to make a pilgrimage to Pasticceria Biffi, a divine pastry shop opened in 1847.
Satisfy your midday hunger at the Boccondivino, specialising in top quality Italian cheese and cold cuts since 1976. Or pick up one of the best panini sandwiches of Milan at De Santis to take with you to the Parco Sempione.
Once the forest and hunting grounds of the Sforza family, Milan's large park was created during the Napoleonic era. The Emperor left his mark in the form of the Arco della Pace found at the north end of Sempione. The 38.6 hectare park has romantic tree lined trails, ponds and stretches of grass perfect for picnicking. You can get a bird's eye view of Sempione, from the 108-metre Torre Branca, a panoramic viewing tower built in 1933.
In addition to these sites, a number of important cultural venues border the park. The Castello Sforzesco, the sprawling Medieval-Renaissance fortress built over the centuries by the Duke of Milan. You can wander through its courtyards for free, but it also contains a notable museum with historical artefacts and artwork, including works by da Vinci and Michelangelo.
Modern times more your thing? Pop by the La Triennale di Milano, which displays Italian design objects from 1927 to today.
If you're anything like us, you're probably ready for aperitivo by now. You can enjoy this very typical Milan tradition at the various outdoor cafés on the other side of the park at the beginning of Corso Sempione or back in the Magneta area at 48 (yes, found at #48 Corso Magenta). This chilled out bar also has live music on Wednesday and Friday nights.
Having a romantic weekend in Milan? Book in at La Brisa to savour sophisticated Italian dishes in its enchanting vine covered courtyard.
UNPACK YOUR BAGS HERE:
Enter a serene universe of shades of blue at this posh flat, just a few blocks from the Castello Sforzesco. Don't worry, it isn't blue overload. Instead, white walls are the backdrop to stylish blue furniture, elegant glass vases and modern art⁠. It's an utterly calming haven to retreat to after your busy day sightseeing in Milan.
Navigli
For those looking for a festive ambience, Navigli is the best area to stay in Milan⁠. Light sleepers, you may want to choose another area of the city to call home! The village-like streets surrounding the canals of Milan come alive at night with overflowing cafés, bars and restaurants.
STAY HERE IF YOU LIKE:
Colourful buildings, bohemian vibe, vibrant nightlife scene, antiques and vintage clothes.
A TYPICAL DAY IN NAVIGLI:
Navigli is made up of a group of canals that were dug through the area and used for shipping as far back as the Middle Ages. The canals and bordering streets, lined with small yellow and pink toned houses, have shed their working class roots to become a nightlife hub of the city. It does have its daytime charms as well, including great shopping, nice strolling and quiet corners to discover.
You can't get a better breakfast in Navigli than at That's Bakery, an Anglo-American café with an overflowing menu of homemade brioches, french toast, omelettes, and breakfast sandwiches. Pleasantly sated, spend your morning browsing the neighbourhood's fantastic shops.
If you happen to be in town on the first Sunday of the month, you'll be treated to busy antique market that takes over the Naviglio Grande. Here, you can find anything from Art Deco glassware to mid century armchairs. Don't despair if you're visiting at another time - you can find some great permanent boutiques selling vintage and small designer clothes on Via Vigevano.
For a contemporary Asian-inspired look, track down Garden K, a boutique stocking women's clothing and accessories from Korea or for nostalgic vintage, skim through the racks at Pourquoi Moi. Designer lovers will adore Six Gallery, a collection of furniture and decorative objects curated by David Lopez Quincoces and Fanny Bauer presented in a former 16th-century monastery, Nonostante Marras, a vast industrial style concept store by trendy designer Antonio Marras and Salvatore+Marie, a hip design boutique run by an Irish-Sardinian couple.
If you're staying in an apartment or if the weather is beckoning a picnic, stop in at the Ticinese Municipal Market This covered market is where you can get the freshest fruit, vegetables, Italan cheeses, bread and meat. The market is conveniently located at the beginning of Darsena, the defunct harbour of the canals which has been converted into a lovely promenade. It's the perfect place to enjoy your goodies. In the summer, check out the pop-ups, open-air bars and other events held here.
After your bite and amble, you won't be far from one of the neighbourhood's historic sites: the Basilica of San Lorenzo Maggiore. One of the oldest churches in Milan, it was first built in Roman times and rebuilt a few times since. Before you go inside, you'll notice a stretch of Roman columns which face the church's facade. If you need a break, relax in the cute little park behind the church. You can also follow Corso di Porta Ticinese which takes you to the Duomo and historic centre of Milan.
Back at the canal by late afternoon, the area's bars will be starting to spark up with aperitivo hour. Enjoy your aperitivo at Ugo, with an attractive decor and clients to match, or Rebelot, with craft cocktails paired with plates of formaggio and prosciutto. You can also get some serious cocktails in a laid back setting at Rita, or gin is in the limelight at chic Gin012 with its inventive all-gin cocktails and creative contemporary cuisine.
If you're all cocktailed out, make your way to Vinoir, Milan's first natural and biodynamic wine bar which also serves some delicious modern Italian cuisine.
UNPACK YOUR BAGS HERE:
Yes, you too can have one of those super cute Navigli houses to yourself by staying at this unique rental. Perfect for a small group of friends on a fun weekend in Milan, the house boasts an open plan living area with cathedral ceilings and a cosy office mezzanine. Its heavenly bathtubs will also be appreciated at the end of your long days (and nights) in Navigli.
Porta Nuova & Isola
If you want a taste of new Milan, there's no better place to stay than these neighbouring districts where soaring skyscrapers and business suits flirt with concept stores and vegan restaurants.
STAY HERE IF YOU LIKE:
Chic local living, blade-runner style contemporary architecture, inventive restaurants.
A TYPICAL DAY IN Porta Nuova & Isola:
Twenty years ago no one would have ever considered staying in, let alone visiting, these once decaying areas of Milan. Now, a vast urban overhaul has put these modern districts on the map. While they don't necessarily offer many "traditional" tourists sites, they do offer an overdrive of contemporary cool.
Your day can start with a coffee and cornetto on the terrace of the many cafés that line Corso Como. Check out California Bakery for pancakes, bacon, eggs and other American breakfast items. As with most places in Milan, you won't have to go far to shop your heart out. Visit one of the city's best concept stores on this street: 10 Corso Como. It also has a garden restaurant popular with the fashion crowd.
More upscale and international chain shops are scattered nearby and around Piazza Gae Aulenti. Encircled by sky-high glass towers, this round square is the centre of "new" Milan and the city's financial district. Relax for a bit next to its contemporary fountains before going in search of the area's most famous building: Bosco Verticale. Designed by Stefano Boeri and inaugurated in 2014, the two towering "vertical forest" residences, at 80 and 112 metres high and covered in 900 trees and over 2000 plants, quickly became a model for sustainability and were awarded as the Best Tall Building Worldwide in 2015. Take a break within more greenery nearby in the Parco Biblioteca degli Alberi, a modern botanical garden.
On the other side of these innovative buildings is Isola. As its name indicates, the former working class area was like an island cut off from the centre of Milan, sitting behind the Porta Garibaldi train tracks. Since the metro reached the area, it's become the 'in place' to live with a number of great restaurants and bars cropping up.
Isola is now considered one of the coolest places to live in Milan - for everyone from creatives to young city slicker business types. The creative types have decked it out with great street art, like the murals on Via Carmagnola and Angelo della Pergola.
All all the new buzz in the area has led to a rapid upswing in contemporary restaurants and bars. With a cosy yet industrial look, Sulle Nuvole, meaning "on the clouds," has a number of inventive dishes on the menu. Got a hankering for pizza? Go to Berberé, a modern pizzeria that daringly uses sourdough instead of traditional Napoletano style dough--you might find yourself an immediate convert! To please all tastes there's Capra e Cavoli, an enchanting venue with a menu roughly split between refined vegan, vegetarian and fish dishes.
Can't decide if you want a bar or a restaurant? Head to the area's outpost of The Botanical Club of Milano, a hip bar serving creative cocktails and small plates or opt for aperitivo or late night drinks on the garden terrace of Frida.
UNPACK YOUR BAGS HERE:
Enjoy your own bosco verticale at this modern flat in the Porta Nuova area, with a vast open plan living area encased in glass and overlooking a large plant laden veranda. You'll be incredibly content in this peaceful little oasis in the heart of the most up and coming district of Milan.
Porta Romana
We know - not everyone wants to play "tourist". If that's the case with you, or if you'd like to hobnob with real Milanese people, this very local neighbourhood in the southeast of Milan is for you. In addition to its excellent restaurants, bustling bars, elegant historic buildings and laid back vibe, you can get to the Duomo area on foot, reach other districts by its convenient metro or tram connections. Also, it's home to one of the coolest spas in the world. More on that below.
STAY HERE IF YOU LIKE:
Living local, central locations, creative contemporary restaurants, where fashion meets art.
A TYPICAL DAY IN PORTA ROMANA:
Ponder your day's planes over a coffee and pastry at the Pasticceria Gattullo, an exceptional bakery that's been in business since 1961. You can then choose your adventure for the morning: a foodie or arty one.
If it's your stomach that's made the decision, head to the Mercato di Porta Romana. Considered to be the biggest farmer's market in Lombardia, its vendors are predominantly from the region in keeping with the market's kilometre-zero philosophy.
The art minder traveller should travel a little further south to the Fondazione Prada, one of Milan's premier contemporary art venues. Co-chaired by fashion designer Miuccia Prada, the foundation has been organising art exhibits since 1995. The exhibits are complemented by its sleek building designed by renowned architect Rem Koolhaas, and a whimsical café created by filmmaker Wes Anderson.
All cultured up? Wander through the neighbourhood's elegant tree-lined streets, popping into some of its bohemian boutiques including some hybrids shop/eateries like PotaFiori along the way. Here, you can pick up some flowers for your holiday flat while sampling one of their daily lunch options.
The area is also full of great vegan and vegetarian restaurants like Vegamore, NaBi, Natura Biologica and Cascina Cuggina, an original farm-to-fork restaurant located in old farm buildings. Reserve your dessert intake for gelato at Alberto Marchetti, who makes his flavourful ice cream from seasonal, locally sourced ingredients.
Your afternoon could have you hopping on the tram to either Navigli or the Duomo. If you're craving some pampering, all you need to do make your way to the QC Termemilano. Located in a former streetcar depot behind the old Spanish walls of the city, this luxurious (but reasonably priced) spa is a real treat. Your entrance grants you access to both interior and exterior baths, relaxation rooms and even a pine-clad vintage tram which has been converted into a sauna.
Stick around for aperitivo, taking place from 7-9 pm, and also included in the price of admission. We loved the magical night ambience of the spa, with the ancient walls all lit up.
If you decide not to get your aperitivo at the spa, there are plenty of places in the area to mingle with the locals and have some nibbles on the house. Head to Mom Café to join the crowd spilling out onto the street. They serve up some of the best Bloody Marys in town. Wine lovers might prefer to try the aperitivo at La Cieca and beer fans should venture to the gastropub Lambiczoon, offering a number of beers made in Northern Italy.
For a more structured meal, there's Pasta Madre, featuring modern decor using recycled materials or Dongiò, specialising in Southern Italian home cooking (cue homemade pasta and spicy sausage!). If you're not ready to hit the sack, you can dance till dawn at Plastic, one of Milan's most legendary nightclubs.
UNPACK YOUR BAGS HERE: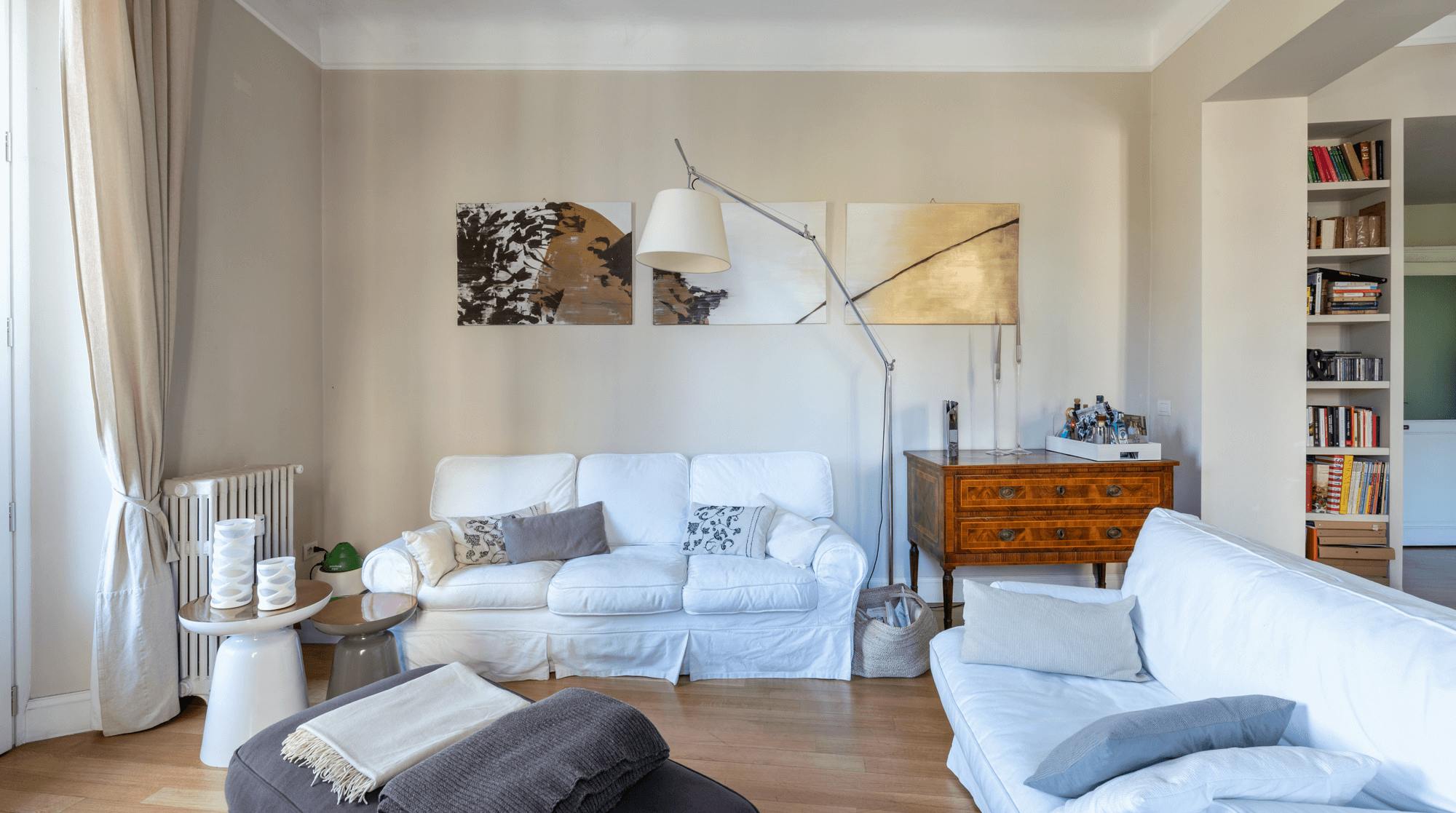 A real home away from home, this perfect flat for two doesn't have the feel of a typical vacation rental. In peaceful tones of beige and creams, the flat has a comfy open plan living room, cosy bedroom and bathroom with tub.