The 11 Best Shopping Experiences In Milan
Lose yourself in the world capital of fashion and design
~
Ask any Italian (and most other people) where the global centre of fashion is and they'll answer Milan. Throw in the largest furniture fair in the world and you've got yourself something of a design powerhouse. It makes sense, then, that people flock to the city to buy up a bit of that glamour. Here's an introduction to some of the best shopping experiences you'll ever have.
Versace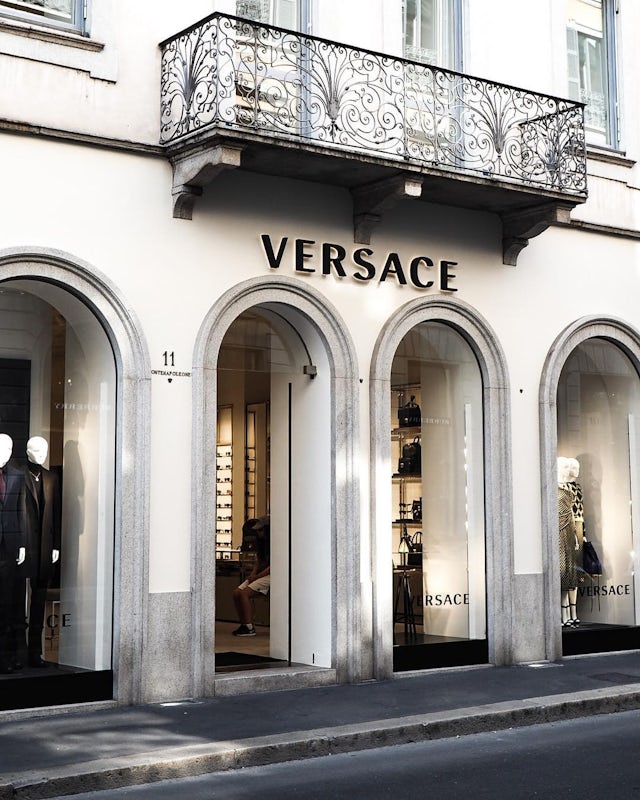 Source: @Splittertine
We couldn't start anywhere else. Gianni Versace opened his first shop on Via della Spiga, in the heart of the Quadrilatero in 1978, and while it's no longer in the same location (now you'll find it on the neighbouring Via Montenapoleone), it remains at the very heart of Milanese fashion. This isn't a place for understated elegance – Versace has long been famous for its bold prints and even bolder cuts.
Armani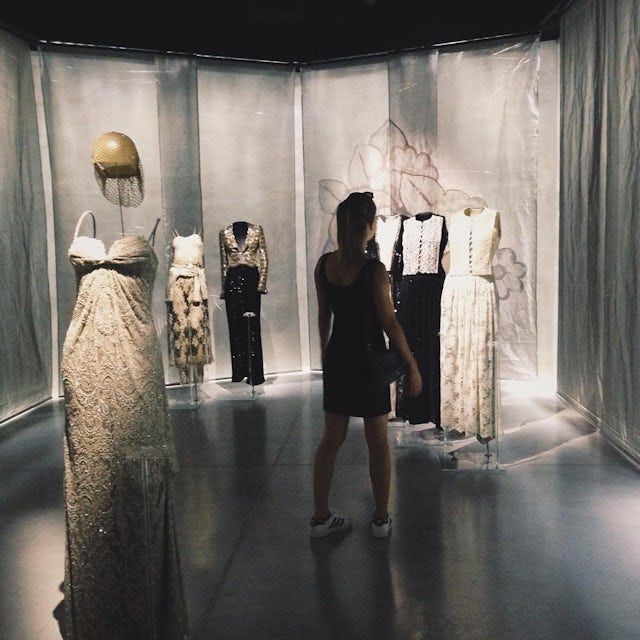 Source: @emma.pasini
If Versace is about opulence and extravagance, Armani's collections are on the other end of the spectrum – think clean lines and understated elegance. The same can't be said for the Emporio Armani flagship store on Via Manzoni, which has products from most of the house's lines, and even its own restaurant (a Nobu, no less). If that sounds a bit much, the boutique on Via Montenapoleone is 2000 square metres dedicated to Giorgio's flagship line, set inside a Renaissance palazzo.
Via Alessandro Manzoni, 31
Porselli
Source: @longocalzature
There's a tendency to focus on the grand fashion houses of Milan, but the city still has many artisans that specialise in just one or two products. Porselli has been supplying the ballet dancers at next-door La Scala for over a century, showing some serious pedigree in the process. If dancing Swan Lake feels a bit beyond you, you can also get some flats, which are perhaps more suited to everyday use.
Galleria Vittorio Emanuele II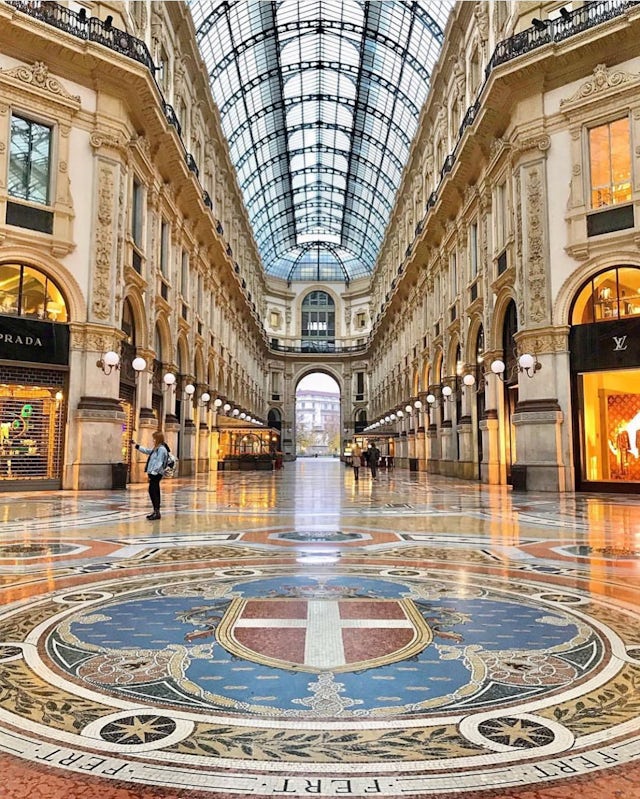 Source: @beautiful_italy__
An entire ecosystem in itself, Galleria Vittorio Emanuele II is one of the oldest shopping centres in the world. The nineteenth-century architecture is fittingly grand for a building named after Italy's first king – a four-storey arcade, with a vaulted, glass-and-iron roof, its centrepiece a seventeen-metre-high dome. It has everything you could think of inside, from coffeehouses to haute couture (although the city did prevent McDonald's from renewing its lease in 2012).
10 Corso Como
Source: @10corsocomo
Milan's shopping can seem intimidating, with façades as grand as the prices, so it was something of a relief when 10 Corso Como opened its doors as an antidote. Initially an art gallery and bookshop, the centre has expanded over the past twenty years to include restaurants, cafes and boutiques, and even a three-room hotel. The formula has been so successful that you can find outposts in New York and Seoul, but the original is still the best.
Prada
Source: @abishekneil
While Armani and Versace argued in the 80s and 90s, the Prada family could sit back, untouched by the petty squabbling. They have shops dotted all over Milan, a testament to the intertwined histories of the brand and the city. While there are two in Galleria Vittorio Emanuele, there's something magical about the boutiques in the Quadrilateral della Moda. If you can think of a better place to browse handbags, we'd like to know about it.
Palermo Uno
Source: @palermouno_
Straddling the divide between boutique and gallery, Palermo Uno is very new to the scene, only opening in early 2019. Specialising in homeware, everything on display is also for sale, so as soon as something is bought, the curator Sophie Wannenes, is forced to rethink the space. It's a shop in constant flux, and a welcome addition to the streets of Brera.
Delphine Vintage
Source: @delphinevintage
Part shop, part research archive, Delphine Vintage has had a presence in achingly cool Isola since the early years of the millennium. Most of the week, it helps contemporary brands understand vintage trends, so that styles of the past can be reworked, but on Fridays and Saturdays, the shop opens. The choice is always limited, but each piece is unique, and can either be bought or hired.
Antonia
Source: @antoniamilano
Even though is focusses on showcasing other brands, rather than producing its own collections, it hasn't taken long for Antonia to enter the city's collective consciousness. The concept store is immaculately laid out over 600 square metres, with the space itself almost as enticing as the clothes and accessories on offer.
Caraceni
Source: @sartorio_a.caraceni
There is no shortage of men's tailors to choose from in the city, and indeed, no shortage of shopfronts bearing the name Caraceni. While they are all somehow descended from Domenico Caraceni's original outfit, people in the know widely consider A. Caraceni (named in honour of Augusto, Domenico's brother) to be the preeminent name in Milanese tailoring. These suits don't come cheap, but the craftsmanship on display is unparalleled.
Navigli Antique Market
Source: @massibarc
While it's a change of pace from some of the grander shops in the middle of Milan, the Antique Market that pops up on the banks of the canals once a month is absolutely deserving of a place alongside the rest. You'll find over 400 stalls, selling everything from clothes and jewellery to books, furniture and porcelain. Comfortable shoes are a necessity though – the market stretches for over two kilometres.
Ripa di Porta Ticinese, on the last Sunday of every month