Indulge Your Sweet Tooth at the Best Bakeries in Paris
Get your choux and macaron fix at the best patisseries in Paris
~
While some might call Paris the City of Light, we here at Plum Guide think it should equally bear the title of City of Pastries. With patisseries galore, there's no shortage of places in Paris to find a sweet treat. Sample them all by following our guide to the best bakeries in Paris. 
One small matter to clear up: the best bakeries in Paris can be put into two categories: boulangeries, which are essentially bread shops, and patisseries. Here we're talking about the latter: the patisserie is full of rather more sugary and colourful baked goods. Bear in mind, though, that some do a little of both.
The classic croissant and the very French eclair are arguably the most well known French pastry options, but there are many other delicious things to choose from. If you've never been, don't worry, here's a handy guide to help you discover the best bakeries in Paris.
The best French pastries to try at a patisserie
Head out from your amazing Plum home and order one of these sweet treats from your local bakery for a breakfast of dreams.
Croissant
The golden, flakey constant of the patisserie. The croissant is made by folding and refolding dough and enough butter to make Julia Child happy. If done correctly you should have perfectly buttery and flakey pastry that will crackle as you bite into it. Usually eaten at breakfast, or as a morning snack alongside a cup of coffee or tea, it's a classic for a reason.
Eclair
More of a dessert pastry, this choux pastry is thin and long and filled with a creme patisserie. The classic eclair is the filled with vanilla cream and topped with chocolate icing.
Madeleines
This famous tea cake has a distinctive shell shape and is usually paired with a coffee or tea. Not quite the breakfast treat or a full dessert, these are small but delicious snack cakes. 
Opera Cake
This gateau is made by stacking very thin layers of cake that are soaked in coffee syrup, with a top layer of ganache and coffee buttercream. Typically it's made as a large rectangle or square that is then cut into smaller slices. 
Kougin Amann
Tough to pronounce ("queen ahmahhn") but delicious to eat, these round pastries are made with the same kind of dough used for croissants, then covered in sugar and baked.
Macarons
These are some of the prettiest things you'll ever eat. Made in many different colours and flavours, macarons are small almond meringue- based treats complemented with flavoured ganache or pastry cream sandwiched inbetween. 
Mille-Feuille
Literally meaning a thousand layers, this treat is also known as The Napoleon. (We're sure there's a joke about its many layers and short stature there, but we're not going to make it.) Made from many thin layers of pastry (possibly a thousand),  like the Opera, it's topped with icing and paired with a rich cream. 
Profiterole
A round choux pastry ball filled with a sweet filling, usually whipped cream, but it can be custard, buttercream, these puffs are decorated with a topping of chocolate or caramel. 
Religieuse
The name, which means "nun" is supposed to represent the papal mitre. A rounder type of eclair, it's a dessert that's prepared by stacking two choux pastry puffs, each filled with some sort pastry cream. Each are then covered in ganache, with a layer of piped buttercream frosting.
The best bakeries in Paris 
Patisserie Stohrer
Let's start with a little history and the self-proclaimed oldest patisserie in the city: Patisserie Stohrer. Not only does it have the history points going for it. Opened in 1730 by Nicolas Stohrer, pastry chef to King Louis XV of France, the shop keeps an appearance fit for royalty with a lovely front door with a ceiling painted by Paul Baudry. The kids will love this place. Speaking of which, if you're planning a trip to Paris with the little ones then make sure to read out guide to the best Airbnbs in Paris for families after this.
Blé Sucré
Opened by pastry Chef Fabrice Le Bourdat, this little shop is full of high-quality sweets at some of the best prices you'll find in the city. Perfect for a quick breakfast bite, their pain au chocolat is a local favourite and voted one of the best in the city. 
Des Gâteaux et du Pain
Undoubtedly one of the best bakeries in Paris, Des Gâteaux et du Pain is a definite must. Claire Damon has not only worked with the best pastry chefs but has become one of them in her own right. Her shops are split into two, one side focusing on golden loaves of bread, the other  an array of dazzling cakes. The presentation in these shops
Hugo & Victor
A playful name and a must go for all book lovers, Hugo & Victor also presents you with a delicious assortment of goodies. From chocolates to macarons and general pastries the shop's presentation and packaging, if you're into that stuff, is beautiful. Styled with dark walls and glass cases for the desserts it manages to feel cosy and luxurious as if you've walked into an old library… full of chocolate.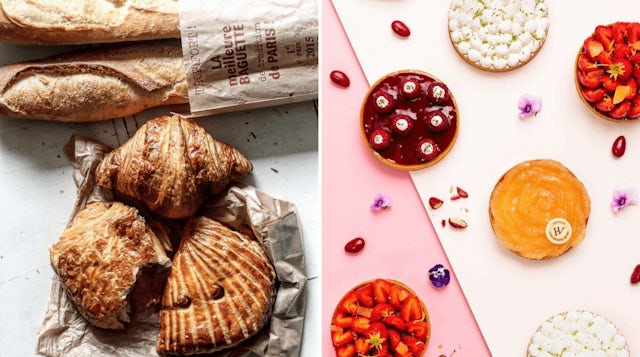 Le Grenier a Pain
Opened by Michel Galloyer with the idea of reinventing the "bakery chain" this shop welcomes you with warm red tile floors and wooden beams, making you feel you've walked into a welcoming kitchen. With plenty of locations throughout Paris, perhaps make a snack stop at Le Grenier when working your way through the best things to do in Paris's 15th Arrondissement. Or, you could pick some up for a sweet treat whilst you get ready for dinner back at your stylish Plum home.
Du Pain et des Idées
With it's lovingly rustic looking decor, painted ceilings, there's a sense of history in this building. The owner, Christophe Vasseur, repurposed an antique Parisian boutique for his storefront, meaning that a visit here is not only an experience of one of the best bakeries in Paris – it is also a journey back in time. This bakery, much like Le Grenier a Pain, focuses on bread - from the classic loaves and mini paves (small, doughy breads full of savoury fillings).
Sacha Finkelsztajn - La Boutique Jaune
There's no way we couldn't include this particular patisserie on our list of the best bakeries in Paris. Started in 1946, this yellow front shop specialises in pastries and Yiddish gastronomy and is well worth a visit during your trip to Paris. If you fancy staying in an equally bright and colourful place during your trip, then our home Technicolour is the perfect place for you.
Pierre Hermé Paris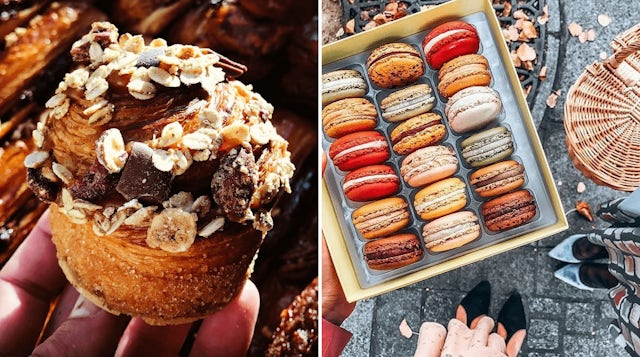 Art you can eat, quite simply. With locations all around the city, you'll have plenty of chances to visit but it's always good to hit up the original spot. While the decor in all the shops follow the same dark interior, a smart aesthetic choice, as every cake and sweet is displayed in illuminated case, creating a decadent feel as you shop. Dubbed "the Picasso of pastry", chef Pierre Hermé has a big name to live up to – there's a reason this is hailed among the best bakeries in Paris. Be sure to take some of their macarons back to your Plum home-from-home for an afternoon snack.
Related Articles