A Guide to the Weather in Paris by Month
Discover whether to pack your sunglasses or umbrella for your trip to Paris
~
Asking when the best time is to visit Paris is like asking when the best is time to eat chocolate. The answer is any time. Paris enjoys four distinct seasons, experiencing fairly mild winters and warm summers – making it an excellent city break choice at any time of year. Dreaming of sunning yourself on the banks of the Seine? Or perhaps you'd rather stroll the Jardin du Luxembourg in the snow? Make your Parisian dream a reality by following Plum Guide's expert advice on the weather in Paris by month.
Paris in the springtime
Many say that spring is the best time to visit Paris – not too hot, not too cold, nice long sunny days. What's the downside? The crowds are starting to swell and prices are starting to climb. That said, March falls into low season, so it could be worth taking a gamble on the weather. A timely spring will have you admiring cherry blossoms under blue skies. A late spring, with its feet still dragging through winter, will still be a bit grumpy, offering you only clouds and cold days. In March, average temperatures creep up to 53 degrees Fahrenheit and Parisians come out from winter hibernation for the annual book fair, one of the largest in the world. Visitors at this time of year will find some great deals and virtually no queues for museum and gallery admission. It's also a good time to visit the museums and galleries as the crowds haven't yet hit the city. Among the best things to do for free in Paris is to visit on the penultimate weekend of the month – many will offer free entry. Pro tip: on the same weekend you can go tp the cinema for a significant discount.
Everything is in full bloom in April and the parks and gardens are looking stunning. A thoroughly sensible time to visit Paris (although when is it not?), April brings good weather and fewer crowds than May through July. It's warm enough to start sitting outside from your family home-from-home's private garden, rather than inside cafes, giving plenty of opportunity for people watching – undoubtedly among the best things to do in Paris in springtime. May is full of mid-week bank holidays, which means it's a popular time for Parisians to take some time off work and kick back. The atmosphere in the city is jovial and festive and summer vibes are in the air. May also sees the Nuit des Musées on the night of the third Saturday in May, with museums open until late into the evening and some hosting concerts, readings and shows.
Summer in Paris
June through to September marks high season in Paris. Crowds are large, queues are long, airfares and hotel rates are at their highest, but June and September, in particular, are a lot of fun in Paris. In many ways, June is the best month to visit Paris. June's long, sunshine-filled days help you get the most out of your sightseeing (as well as sunning yourself on the terrace of your beautiful Plum home). Unfortunately, it's also a hugely popular month to visit Paris – that means big crowds and very long queues for all attractions. Make sure you book as many tickets in advance as you can to minimise queuing time. Hotel prices are also at their peak, but so is the city's social and cultural offering. The city-wide Fête de la Musique marks the official start of summer, filling every venue it can find with music, and the Paris Jazz Festival in the Parc Floral graces every weekend in June.
July is even busier than June. In recent years, air pollution in the capital has reached extremely high levels, with Paris' Mayor now going so far as to explore the possibility of free city-wide travel to encourage less vehicle pollution. The July heat and crowds, coupled with the pollution, can make this is a somewhat oppressive month to visit. July does, however, have its perks: the city's Bastille day celebrations on 4th July are a sight to behold with street parties, parades and fireworks on the Champs-Élysées and Champ de Mars. August is the month that practically all Parisians go on holiday, mostly to the coast or to countryside getaways. Whilst this makes for fewer crowds, it can also affect the atmosphere. There will still be a lot of people in Paris, but the majority of them will be tourists and many businesses will be closed for the month. The warm weather peaks in August as temperatures hit their yearly high and rainy days are less likely. Be aware that prices everywhere will reflect that this is peak travel season.
Autumn in Paris
Autumn is the time to visit if you're looking for cultural events – not least among them the Festival d'Automne (Autumn Festival), a celebration of contemporary art that runs from September to November. With the leaves changing colour, autumn is also among the most beautiful times to visit Paris – head to the top of the Arc de Triomphe for a lovely fall view. October marks the wine harvest and is an excellent time to sample a new vintage or two. While no guide to the weather in Paris by month is foolproof, September is an objectively good month to visit Paris. The weather is more often than not still pleasant but without the more oppressive heat of July and August. Holidaying Parisians have returned to their posts nicely relaxed after their summer breaks, which makes for a happily humming atmosphere in the city. And, of course, you can buy things again. September also features both Paris Design Week and Paris Fashion Week, so it's a good month for you aesthetes out there, but bear in mind that it can also be harder to find accommodation.
October's weather is still pleasant, but the crowds have significantly diminished, making it another highly recommended month to visit. October is also a good month for enjoying art in Paris, with several events taking place including the Nuit Blanche - an all-night public art event, FIAC (international contemporary art fair), and the Outsider Art Fair. November is like a box of chocolates – you just don't know what you're going to get. It can be a very wet month, but it can also enjoy some sunny days. Not the kind of uncertainty you'd hope to read in a definitive guide to the weather in Paris by month, but we have to be honest here. Among the best things to do in Paris in November is to explore the world of French wine, particularly as this is when the annual new batch of Beaujolais hits Paris. If you keep an eye out, you'll see Parisians celebrating its arrival in restaurants and bars. It would be rude not to join in!
Paris in winter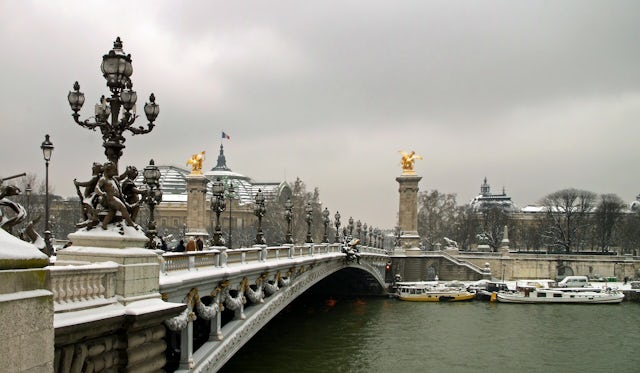 When it comes to weather in Paris by month, it's no surprise that during the winter months temperatures drop significantly, as do visitor numbers. Because it's low season, flights and hotel prices are at their lowest, so it's a good time to visit if you are counting your pennies. Winter is also ideal for shopping, eating and dipping croissants into chocolat chaud in cosy Parisian cafes (or your baguette into red wine!). It's also great for exploring cultural attractions without hours of queuing. The city of lights takes its nickname from this merry month when a beautifully well-lit Paris is ablaze with festivity. The streets come alive with more food markets than you can shake a stick at, and the shopping, in general, is fantastic. The weeks leading up to Christmas are also the high season in Paris.
Because Paris is quiet in January after the excitement of Christmas, airfares and hotel prices are at their lowest. Queues are a distant memory and, if you're a fashion lover, the second half of the month marks the beginning of the winter sales, as well as the men's fashion and haute couture fashion weeks. If you really want to see Paris but you're counting your pennies, this is the month for you. Prices are hiked back up in February, but unfortunately, the weather doesn't follow, making February the least popular month to visit the City of Lights. The trees are bare and you may experience some cloud cover, making trips up the Eiffel Tower a little redundant. That said, the sales are at their peak and tourist levels are low. It's a great time to absorb the city in its natural state, and celebrating Valentine's day in Paris is never a bad idea.
So, that's our guide to the weather in Paris by month. Now you're probably looking for a place to stay? Well, it's a good job we can help with that too. Our homes in Paris, from this stylish space in South Pigalle to our luxury home near the Champs-Élysés, have all been meticulously vetted by our home critics to ensure you're met with only the highest of standards.
Related Articles