The Best Things to do in Paris in the Springtime
Easter in Paris is a stunning mix of natural delights and tradition - why not explore with our handy guide?
~
Spring fever may be a universal concept, but Paris must be the place where it is most sagely understood: this city of romance and sensuality was made for people watching and appreciation of beauty in all its forms.
The mild weather, the blossoming trees, the parks full of flowers, and, perhaps most of all, the excitement and enjoyment in the air as everyone realizes winter has gone away for another year.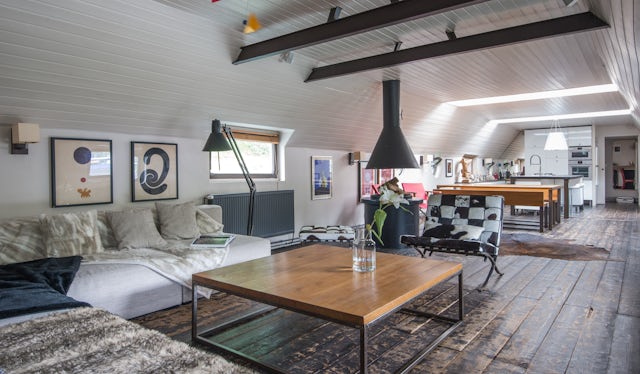 Why not savour some of Paris' spring weather with a stay on Pandora's Island, a stunning houseboat?
Easter is a lovely holiday to spend in Paris, because the city really enjoys making a festive environment for visitors at this time. Whether you're looking for gorgeous flowers to view, delectable chocolates to give, an historic cathedral or chapel for Easter services, or a fine restaurant for Easter breakfast, let us offer some helpful suggestions to make the most of the holiday. As always, traversing Paris using public transport does seem to be the easiest way to get around, so be sure to check out the Paris Metro for information.
Gardens of Earthly Delights: Paris in Spring Bloom
The public gardens of Paris are their most beautiful in spring, teeming with lilacs, tulips, daffodils, hyacinths, peonies, irises and other flowers. What you'll see in bloom may depend on precisely when you arrive, but between early April and mid-May is when the spring flowers are blooming (though not all of them at once: daffodils and hyacinths are early, peonies and iris are later).
There are also some dramatic opportunities to see wisteria vines in late April, at Giverny, in Belleview Park, or in Parc Bagatelle; these delicate flowers hang from sturdy vines that can grow as high as a hundred feet or more, and the perfume they exude is rich, spicy and unforgettable. The Tuileries are also considered a perfect place for spring flower gazing.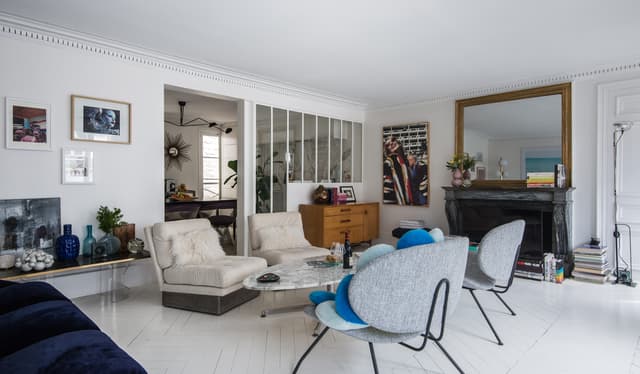 Stay close to the Tuileries at Mona Lisa's Neighbour
French lilacs are considered superior to other varieties, and if you're craving their soft colors and unmistakable scent, your best bet is the lilacs in Luxembourg Gardens/Jardin de Luxembourg. In a book published in 1883 called The Parks and Gardens of Paris, by the noted journalist and gardener William Robinson, it states: "About the first day of May the Lilacs are in full beauty if many of the public gardens of Paris, and form at that season the principal attraction." What William meant was, there will be plenty of tourists with the same idea, so time your visit wisely: the early morning or just before dusk might be a strategically better time with fewer crowds. These are also excellent times for taking photos, because the early morning and late afternoon shadows provide softer and more dramatic lighting.
Stay just next door to the Luxembourg Gardens at Luxembourg's Neighbour
The Jardin du Palais Royal features gorgeous spring plantings and many flowering trees. You can also enjoy the many historic sculptures and the fountains, and there are benches and chairs for relaxing with a beverage. If you'd rather skip the crowds and explore in a more free-range fashion, you'll find that simply walking in many neighborhoods in Paris will reveal many small gardens, just as charming as the larger ones.
Spring: A City Bursting with Color and Perfume
The scents of spring flowers exploding into bloom all over the city might remind you of the fact the Paris is also a world capital of perfume (an apt companion to its status as fashion capital of the world).
Even if you're not a perfume wearer, the experience of shopping for perfume in Paris seems like a must-have experience: like seeing a Broadway show in New York City.
The most recent trends in perfume are definitely botanically-inspired, and the blooming gardens throughout the city will whisper to you to try something floral.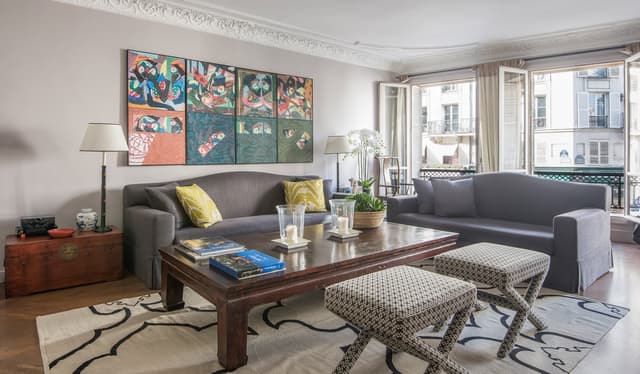 Stay in a sweet-smelling apartment close to the Musee du Parfum at Paris Est Une Fete
Easter Delights: Music, Breakfast and Chocolates
Easter is a major holiday in France; the actual national holiday is Easter Monday, so on Good Friday you'll find all shops and businesses are open. There are churches that offer services in English should you want to attend Sunday mass; Notre Dame (where you may also see lovely lilacs) offers Gregorian mass at 10 am and International Mass at 11:30. There are also concerts of classical music performed, from Vivaldi's "Four Seasons" to Gregorian chant, at places like Notre Dame, La Sainte Chapelle, and Saint Ephrem.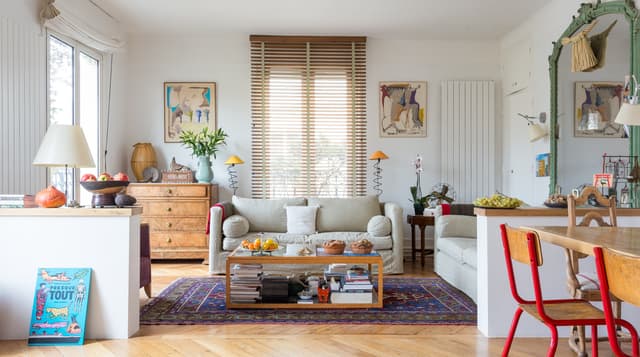 If you want to stay close to the beauty of Notre Dame, check out Rue D'Arcole
While Easter Brunch is a tried and true custom in many places, in France this meal is generally called "late breakfast," but it's every bit as decadent. Try the Hotel le Meurice for a sumptuous meal with fruit, French pastries and pancakes. Or for a more casual setting with savory dishes, you can't beat the Eggs Benedict at Eggs&Co (at Rue Bernard Palissy, near St. Germain-des-Pres, on the 4 line). Speaking of eggs: Easter egg hunts are a yearly tradition, and large public ones are held at the Eiffel Tower, and at Le Chateau Vaux-le-Vicomte, 30 miles south of Paris.
Chocolate is a year-round necessary indulgence in Paris, but at Easter this confection takes center stage. There's no Easter Bunny; instead, Parisians have the Easter Bell, which visits children and delivers chocolates on its way home from visiting the pope on the night before Easter (church bells are traditionally silent on the Thursday before Easter which is also connected to this folklore). In fact, most Easter chocolates in France are shaped like eggs or bells (and the occasional hen or cockerel); but you might also find some chocolate fish, made for April Fool's Day (un poisson d'avril). One of the most famous chocolate shops in Paris, À La Mère de Famille, is a charming old school sweet shop on Rue Cler. Ladurée and Pierre Hermé, very close to each other on Rue Bonaparte, are also worth visiting.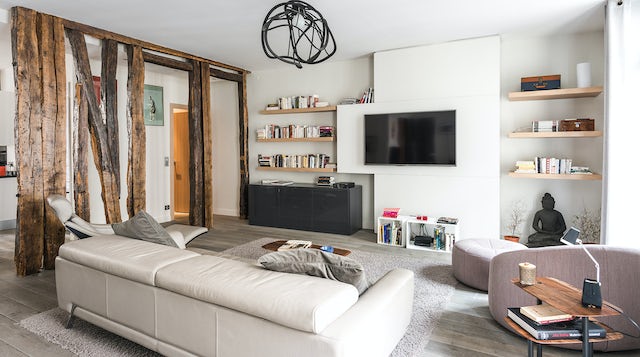 Try a chocoholics' heaven by staying in Bonaparte's Paris, within easy reach of these chocolatiers.