Find expert tips, here on Plum Guide. From where to stay, what to eat, and what to see in some of the world's finest cities. Find expert-approved homes too: Plum Guide is a collection of the very best vacation rentals in the world, approved by our expert Home Critics after a rigorous 150 point test.
Ah Copenhagen, the city that gave us the prolific Scandi design trend, hygge, and a lot of impossibly good looking, leggy, blonde people. Once an ill-fated port city that kept burning down in the 1700s, the Danish capital is now synonymous with effortless coolness, a world-class dining scene (hello Noma), and incredibly high scores year after year on the World Happiness Index.
Despite the often blustery weather and a truly confusing infatuation with 7/11s, Copenhagen is one of those places you can't help but fall in love with - the candy-hued houses lining the water, cosy cafés at every corner, and easily explorable by bike (fun fact: CPH is on its way to becoming the first completely carbon-neutral city by 2025). We were smitten at the first whiff of cinnamon buns which seems to permeate the air here.
In a city as characterful as this, uncovering the local charm is imperative - don't even think about staying at a chain hotel or *gasp* getting coffee at Starbucks. Luckily, you have us to hold your hand and walk you through where to stay and what to do in Copenhagen.
Where to stay in Copenhagen:
Meatpacking District
Nørrebro
Osterbro
Christianshavn
The Freetown Christiania
Frederiksberg
Indre By
Vesterbro
The city's arguably coolest neighbourhood is also its red light district, though gentrification in recent years means that nowadays you're more likely to find boutiques selling hand-made ceramics than you are to be approached to buy a hit of heroin. There are still relics of Vesterbro's sordid past though, giving this area a unique character.
Stay here if you like:
Hipsters, great restaurants, gentrification
A typical day in Vesterbro:
Wander from the train station, with its lingering grit, down now-fashionable Istedgade, perusing independent shops, vintage boutiques and antique dealers. Keep on past creative startups and yummy-mummies out having coffee until you find yourself in need of a pick-me-up.
Grab a latte, lunch, and a moment of hygge at Cafe Dyrehaven with its artsy crowd and repurposed vinyl booths. Mad & Kaffe is another great spot for smørrebrød and local brews of both coffee and beer. After lunch, stroll around family-friendly Skyebanehave park, bordered by a Neo-Gothic shooting range wall and mansion.
Come dinnertime, there is no shortage of options on and around Vesterbrogade. The organic rotisserie chicken at Chicks by Chicks is the perfect antidote to a chilly day. For something a little more gourmet, try PONY.
For the budget-conscious who still want to eat well (we don't blame you, Copenhagen can get real spendy, real fast) head to Jagger for house-made burgers and hot dogs in a cool yet casual atmosphere. After dinner, you'll have a few pints at Mikkeller, beloved for its proprietary microbrews. For cocktails, you can't miss award-winning Curfew.
Unpack your bags here: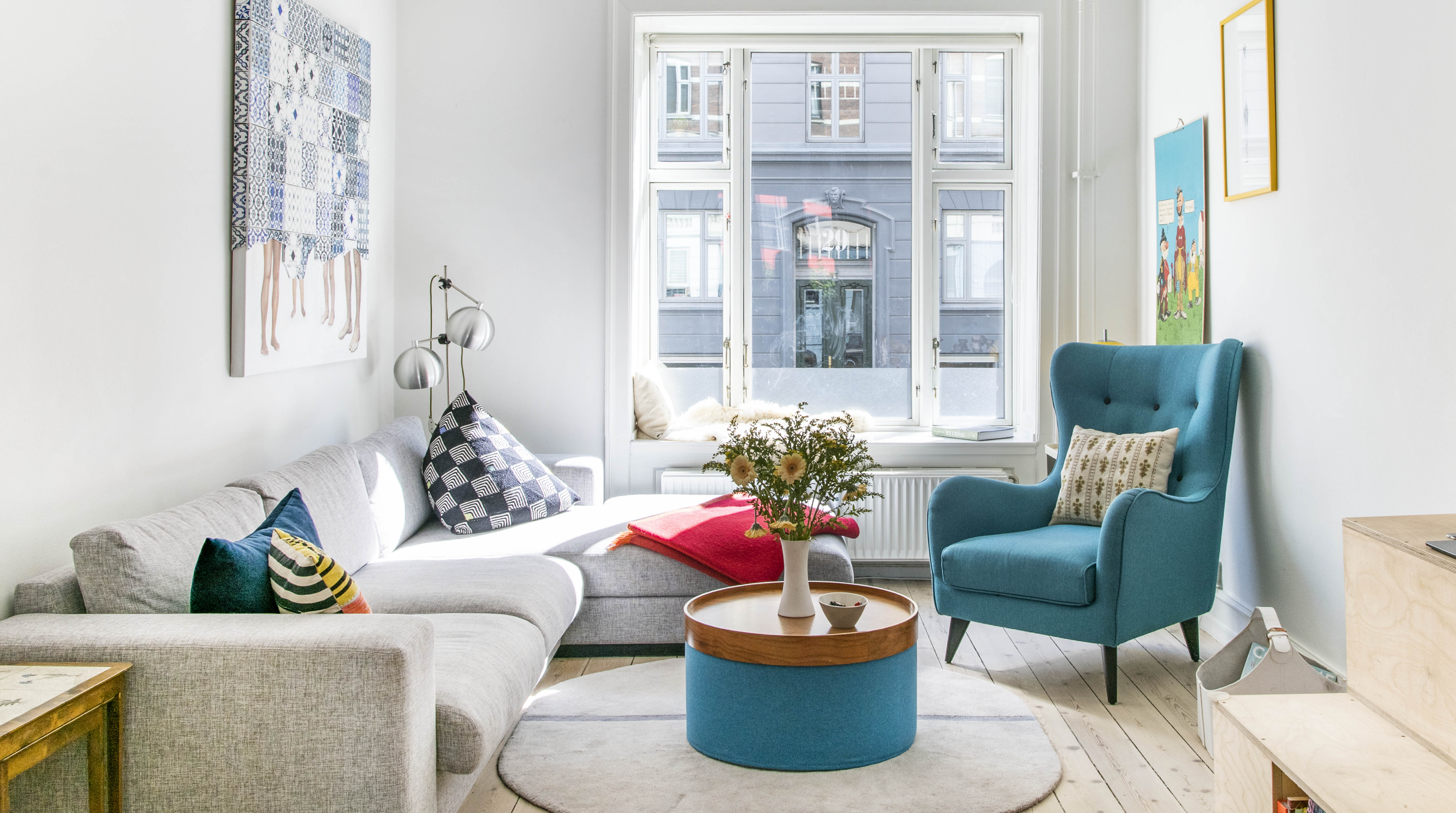 Brimming with natural light, quirky artwork, and pops of colour, The Ditlevson is homey and inviting. The cosy window seat is perfect for people watching, while those travelling with spawn in tow will breathe a sigh of relief at the well stocked selection of toys.
Meatpacking District aka Kødbyen
While technically part of Vesterbro, this uber hip enclave is deserving of its own spotlight. Quite literally the old slaughterhouse district, The Meatpacking District is now what its New York counterpart was in the late nineties - for anybody who missed that episode of Sex and the City, what we mean by that is that it's on the up amongst the artsy, trendsetting set.
Admire the heritage protected architecture of the neighbourhood, with repurposed factory buildings characterised by their classic terracotta flooring and white-tiled walls.
Stay here if you like:
Art galleries, repurposed factories, food, nightlife.
A typical day in Meatpacking District:
What you'll really want to do here is eat and drink - but isn't that the case everywhere you go? First though, you'll have to work up an appetite. To that effect, you'll spend the afternoon ogling art at the many galleries dotted around Flæsketorvet square. Some of our favourites are the politically-inclined installations at V1 gallery, contemporary pieces by international artists at Galleri Bo Bjerggaard, and the revolving photography exhibitions at Fotografisk Center.
Now that you've earned yourself some dinner, you'll find yourself feeling spoilt for choice. You won't go wrong at most any restaurant in this neighbourhood, but if you're after the best you'll want to check out Fiskebaren, a sustainably-minded seafood joint which has earned itself a Michelin Bib Gourmand for its fresh catches, great natural wine selection, and unfussy atmosphere.
Not a seafood lover? Mother doles out wood-fired pizzas and boasts a lovely terrace for sunny days, or for authentic Mexican fare make a beeline for Hija de Sanchez, voted as one of the best street food stalls in Europe and owned by a Noma alum. Later in the evening, check out what's going on at Jolene, a no-frills, LGBT friendly hotspot where you can glug cheap beer and dance until the wee hours.
Nørrebro
Norrebro is Copenhagen's nod to multiculturalism, refreshing in a city as homogeneously white, blonde, and middle class as this. Here, you'll find hipsters aplenty, and with them the requisite watering holes, independent shops, and international food options. If you consider yourself to be in any way young and hip, you'll likely want to stay here.
Stay here if you like:
Multiculturalism, independent shops, and cafes
A typical day in Nørrebro:
Starting your day at Grød is practically mandatory - this cosy breakfast nook puts your usual bowl of porridge to shame with its extensive list of toppings. Feeling thoroughly full and comforted, walk off your breakfast with a visit to Assistens Cemetery, resting place of Hans Christian Andersen and Søren Kierkegaard, amongst others.
Whether or not morose Danish literature is your thing, the cemetery is a beautifully leafy spot for a stroll. For a mid-afternoon re-fuelling, head to Dépanneur, a Montreal-inspired cafe and convenience store where you can sip a glass of house-made Lambrusco, enjoy a cold brew, and munch on organic snacks.
If you're visiting between April and October, direct yourself to the long, narrow lane that houses Loppemarked flea market, where you'll find a treasure trove of vintage furniture, jewellery, clothing, and bric-a-brac to pick through. If you're coming outside flea market season, there are still plenty of shopping opportunities nearby. Meander down Ravnsborggade to score unique pieces of upcycled and antique furniture - there's a seasonal flea market on this street too.
On the neighbourhood's main thoroughfare, Jægersborggade, stop in to Resecond to swap your old designer threads for something new (or new to you, rather - everything here is vintage), bring home some handmade wares from Vanishing Point, and browse the many other beautifully-curated boutiques and vintage shops along the street.
Once you've given your purse a good workout and you feel pleasantly loaded down with shopping bags, you'll need dinner. For seafood, local gem Oysters & Grill is amongst the best in the city, or try Kung Fu, a Japanese Izakaya and bar with trendy airs. Stomach sufficiently lined, you'll be ready for a night of drinking at one of the many bars lining Blågårdsgade street.
Unpack your bags here: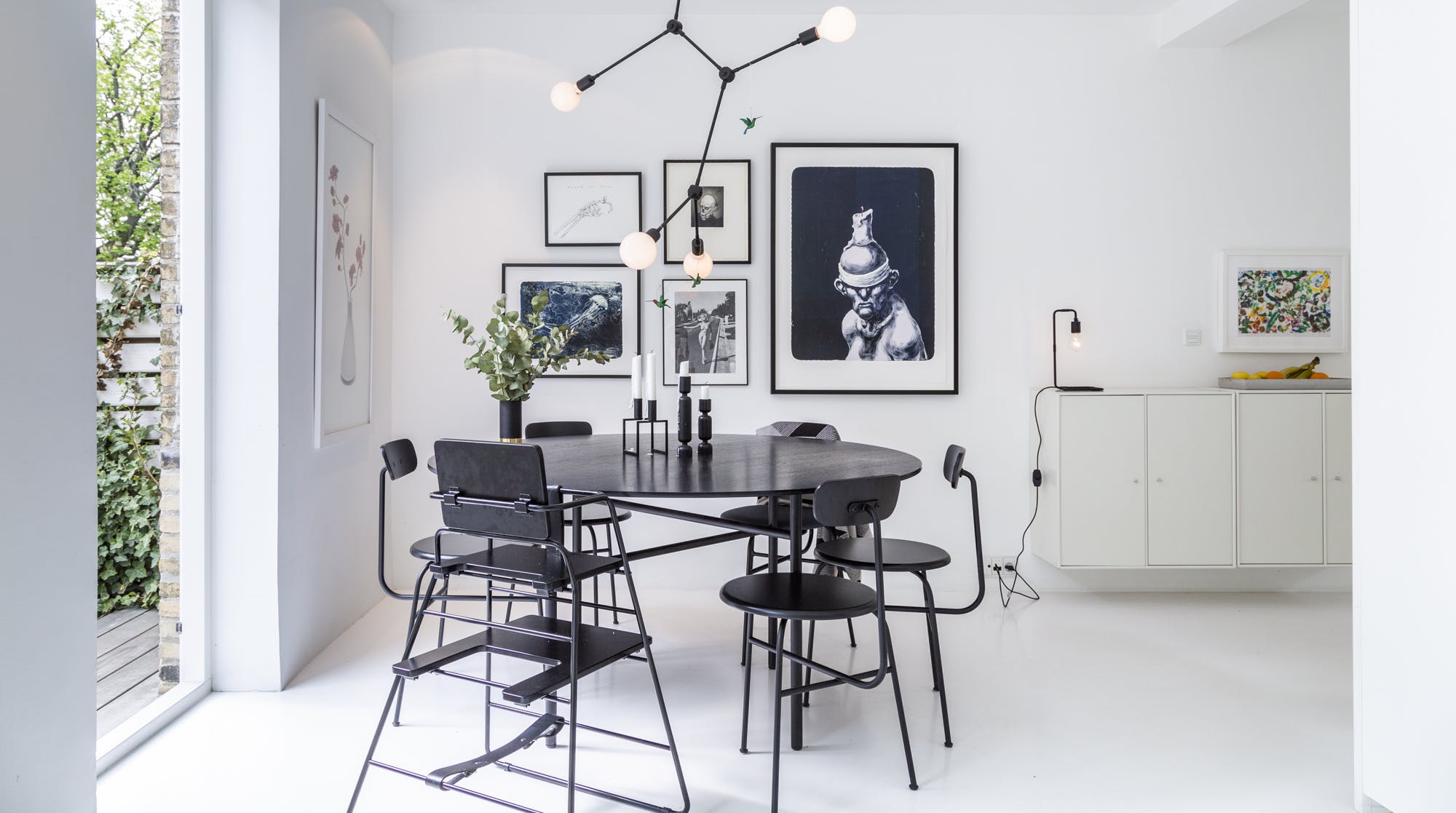 Right across the river from Nørrebro, The Apollo has been featured in a handful of architecture and design magazines, and it's no surprise. Behind the historic facade of this house built in 1876, you'll find the kind of modern, minimalist interiors that Scandinavians are known for.
From the skylight windows to the curated art on the walls, this is a stylish place to hang your hat. Walk across the bridge and you'll be rewarded with sparkling views en route to discovering the charms of Nørrebro.
Osterbro
While mainly an upmarket residential neighbourhood populated by young families, Osterbro can claim more than a few notable points of interest to its name. Tourists flock here en masse to check out the Little Mermaid statue, a homage to Hans Christian Anderssen's beloved fairytale.
Stay here if you like:
The Little Mermaid, green spaces, children and dogs, museums
A typical day in Osterbro:
While you could start with the Little Mermaid and get that checked off the bucket list, we think it's an especially pretty view around sunset, so you'll save that for later.
For now, you have parks to explore and museums to visit. Have a wander through Copenhagen's largest park, Fælledparken, where you can join young families and some good puppies out for a walk. Telia Parken, at the end of the park, is Denmark's National Stadium, and home to the city's football team. Unless you're here to catch a game, you'll want to walk in the other direction, towards the lakes.
En route, detour via Osterbrogade to shop for designer homewares at Rambow, before stopping by I Blame Lulu, an expertly curated consignment shop on Rosenvængets. If you're too hungry or the weather is too cold to entertain the idea of walking to the lakes for a picnic, take refuge at Cock and Cows next door for the best burgers in the city (also takeaway-able), or Dag H for expert-approved coffee and serious brunches.
Continue on to the lakeshore - whether you're picnicking and setting up shop here for the afternoon, or just passing through, it's well worth a pit stop. If you haven't been seduced by a lazy afternoon by the water, keep walking until you reach Østre Anlæg park.
Amongst the beautifully manicured gardens here, you'll find seven museums to explore: SMK National Gallery of Denmark; Rosenborg Castle with its 400 years of royal history; the Natural History and Geological Museums; the Hirschsprung Collection, featuring 19th and 20th century Danish art; the Workers' Museum, dedicated to the city's working class and industrial history; The Palm House and Botanical Gardens; and The David Collection, which houses an impressive private art collection. See them all with one ticket, or pick n' mix 'em as you see fit. If you want to do them all, be warned that it'll take all day.
Congratulations - you've now earned your Instagram-op with the Little Mermaid. You'll find her waiting at the end of Langelinie pier, beckoning in all the cruise ships that come to port here. For dinner, vegetarians and omnivores alike will revel in the veg-focussed, organic fare at VeVe. For more serious herbivores, Souls offers up plentiful vegan and gluten-free options. Otherwise, go upscale at Geranium, holder of three stars in the 2019 Michelin Nordic Cities Guide.
Unpack your bags here: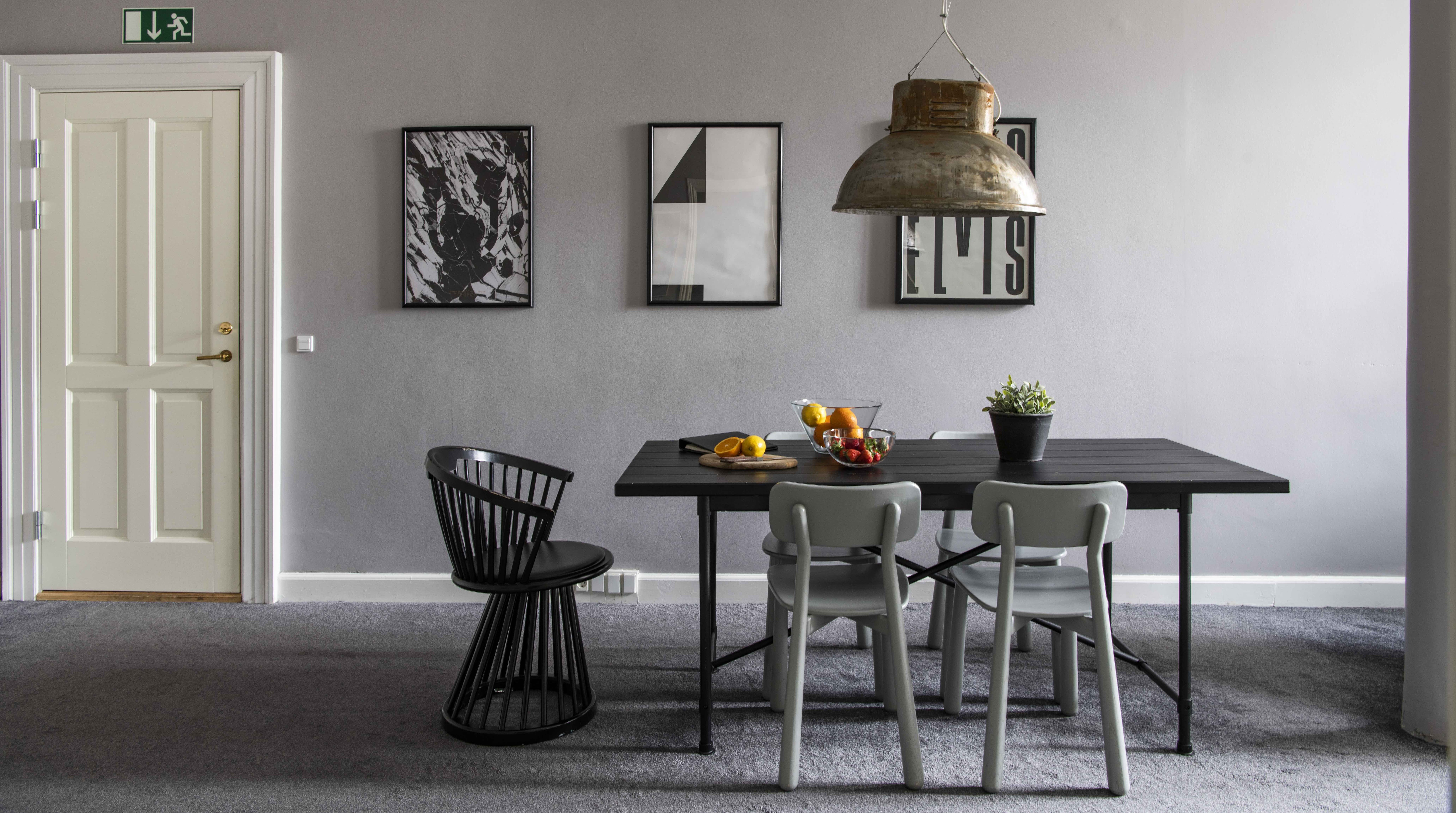 Named for Copenhagen's most storied resident, The Little Mermaid herself, this charming bolthole sitting on the border between Osterbro and Nyhavn is a 10 minute walk from its namesake or 15 minutes in the other direction to the action of the harbourfront.
Thoughtful design details, plenty of natural light, and its prime location make this two-bedroom a great choice. Be sure to save some time to check out the Design Museum, just a few steps from your door.
Christianshavn
Often compared to Amsterdam for its fairytale architecture, quaint cafes, and bridges crossing the canal, Christianshavn was originally founded as an independent merchant's town within greater Copenhagen. Today, this residential 'hood retains its nautical character and Dutch inspo and is home to one of the city's most iconic sights: the copper spire of the Church of Our Saviour.
Stay here if you like:
Churches, maritime vibes, Amsterdam, Michelin-rated eats
A typical day in Christianshavn:
Get up early and join the locals for breakfast at Parterre, a basement cafe with exceptionally good lighting. After breakfast, it's time for a little hike (aka walking up some stairs) up the helix of that beautiful Baroque church mentioned earlier.
Cardio workout done for the day, you may be red faced and sputtering when you reach the top (just us?) but you'll be rewarded with picturesque views of Copenhagen's terracotta rooftops and the sparkling water beyond. Hunker back down again and hit the streets, because there's a lot of ground to cover if you want to make your 8.30 pm reservation at Noma.
Back on sturdy ground, your first stop is Overgaden, a not-for-profit contemporary art space with a revolving roster of exhibitions by up-and-coming artists. From there, you'll take in your second church of the day. Christian's Church is a Rococo-style beauty with three stories of galleries from which to ogle the gleaming interiors. Feeling definitively more holy than you did when you woke up this morning, your next bit of impressive architecture comes to you by way of the Opera house. The building, all neo-futuristic lines and stark edges, is amongst the most modern opera houses in the world - design buffs would surely salivate at the idea of a guided tour.
If that resonates with you, you may also be interested in having a little sniff around the nearby KADK library for architecture and design. Now might be a good time for a little break - weave through the canal bridges before finding a spot at UNDICI, offering pretty views over the water and a great Italian-style aperitivo.
Now is your moment of truth: if you're a die-hard gourmand with money to burn and the foresight to book a season in advance, then you've had your Noma reservations sorted for months now. On the more cheap-and-cheerful side of things, opt for street food at Bridge Street Kitchen, where some of the city's best eateries have outposts under one market hall roof.
Unpack your bags here: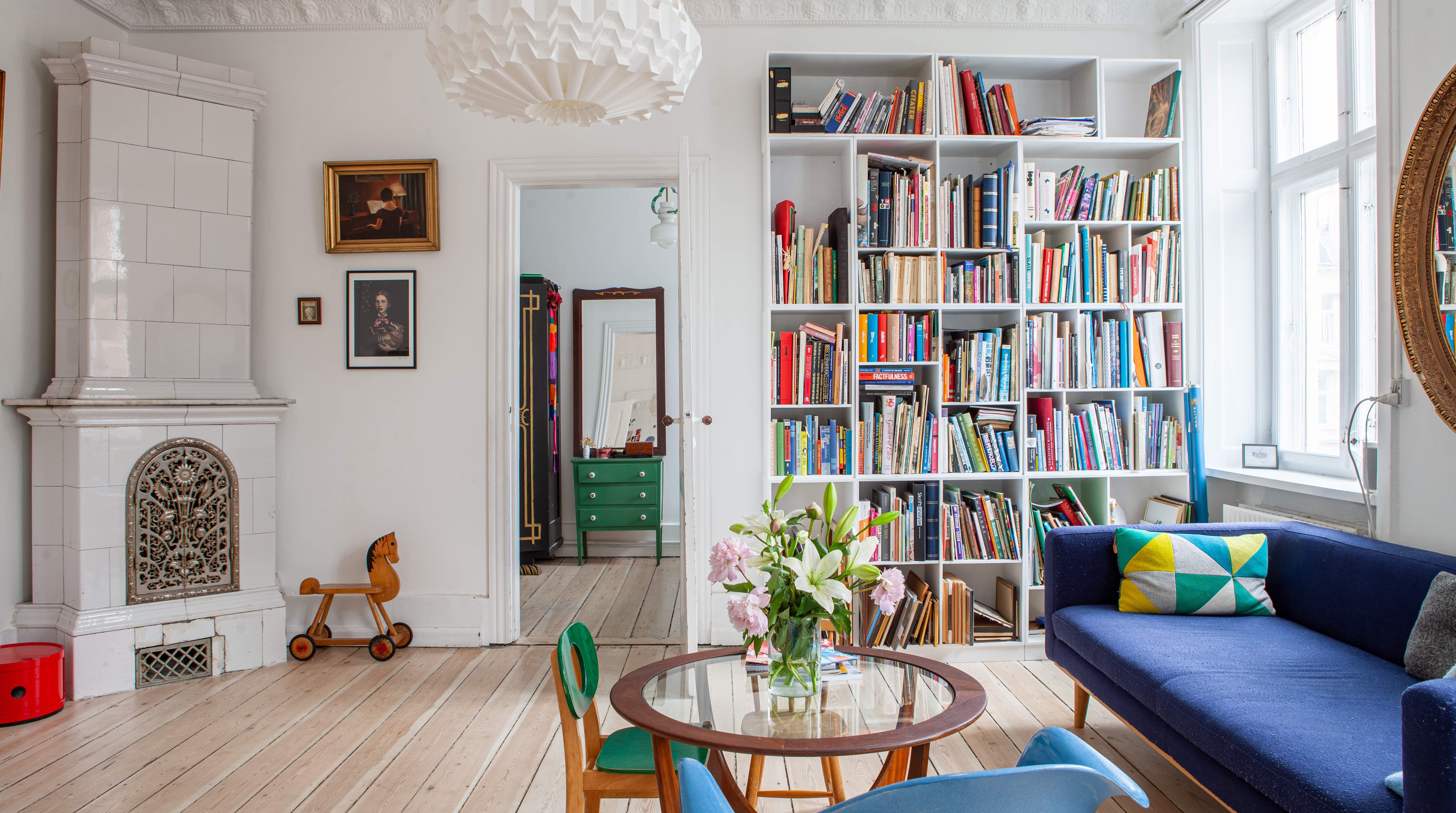 Just a 13 minute walk over the bridge to Christianshavn, we love this vibrant flat for its beautifully maintained period fixtures (the building dates back to 1850) and whimsical decor. Enjoy your morning coffee on the balcony, or curl up on the couch and admire details like the original tiled heating stove.
If you're lucky, you may even be treated to a free concert - one of Denmark's most famous opera singers lives in the next flat over, and she can often be heard singing.
The Freetown Christiania
Technically within the Christianshavn confines, Freetown Christiania is a self-governing enclave where the aroma of marijuana fills the air, yogis fill the park, and peaceful anarchy is the law of the land. The now touristy hub was originally a military barracks, claimed as squats by a bunch of hippies and homeless people in 1971. Since then, Christiania has been all about communal living, self-sustainability, and stoners.
Allowed to act as an independent city-state until 2004, cannabis used to be legal only in this neighbourhood - today, you can still find it rampant on Pusher Street, but many residents of Christiania say you shouldn't buy here because of clashes the now-illegal trade has caused with police.
Still, Freetown Christiania is a unique example of peaceful commune life within a city that you won't really find anywhere else - we dare to even think what would happen if residents of London, New York, or any other big capital city were allowed to exist in an essentially lawless state within the metropolitan area.
Stay here if you like:
Weed, anarchy, hippies, squats (the housing kind not the exercise kind)
A typical day in Freetown Christiania:
All you really need to do here is walk around and you'll organically happen upon local art galleries, shops, and craftspeople's workshops, all tucked behind ramshackle housing splashed with bright, trippy paint jobs.
If you're after cheap flea market-esque souvenirs or unpretentious local art, this is your place to shop for it - the aesthetic is emphatically uncurated and unpolished. Here, the pace is slow, the people friendly, and the prices affordable - despite being a well-trodden tourist circuit these days, there's still something holistic feeling in the air.
Stop for lunch at Morgenstedet, a vegetarian self-serve co-op eatery located in a quaint white-washed cottage. Cross the bridge for a different kind of greenery (the nature kind) and pretty views. In summer months, don't miss the free concerts every Sunday evening at Café Nemoland, where you can sit outside with a beer and a burger and listen to Danish musicians.
It's well worth staying in this part of town after dark for its alternative nightlife and live music, the best of which can be found at Loppen.
Unpack your bags here: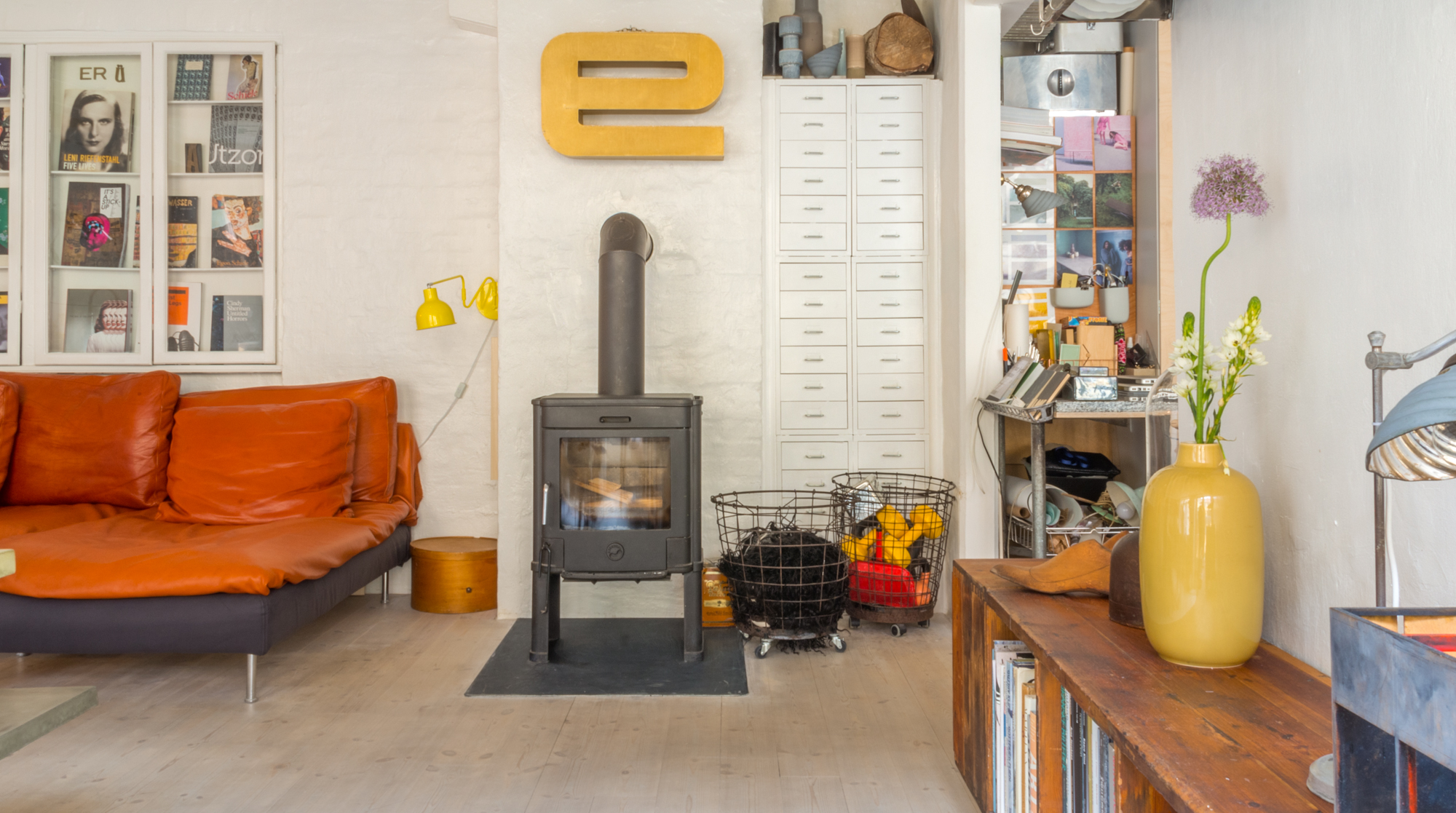 You can't stay in Freetown Christiania, but the upside of Copenhagen's relatively small scale is that nothing is ever too far away. If the eclectic vibes and local sensibilities of Christiania are what you're after, we think you'll like this Plum pick.
Bedecked with the owner's own art and a quirky mix of styles, The Storyteller sits in the tiny, trendy, yet slightly rough-and-tumble neighbourhood of Nørre Kvarter. The surrounding streets are peppered with charming houses, independent shops, and rowdy nightlife.
From here, Freetown Christiania is a 15 minute metro ride or scenic 30 minute walk away. If you want to be closer than that, we recommend finding some digs in Christianshavn proper.
Frederiksberg
Frederiksberg is the posh bit of Copenhagen (though, most of Copenhagen is arguably pretty posh - must be something to do with that high standard of living we mentioned earlier). As you meander about, take in the gleaming facades of Frederiksberg's buildings - the borough has a city by-law written in, protecting the stylistic and architectural integrity of its classicist homes.
Stay here if you like:
Manicured gardens, French food, and upscale boutiques
A typical day in Frederiksberg:
You could easily spend the day here visiting the area's touristy sights - start at the Copenhagen Zoo before heading on to Frederiksberg Palace and Gardens, a 17th Century Italian-style former royal residence which sits on a hill, surrounded by landscaped gardens. Skip the guided tour and instead spend the morning exploring The Cisterns, catacombe-esque maze of tunnels that used to be the city's water reservoir but now houses contemporary art exhibits and events.
Our favourite part of Frederiksberg though, is Værnedamsvej, a boutique- and cafe-lined street towards the Vesterbro end of things that's reminiscent of Paris' Saint-Germain-des-Pres. Start with lunch amongst retro bric-a-brac furniture at neighbourhood institution Granola, shop for French delicacies at the aptly-named Le Gourmand, and pop in and out of cheesemongers, speciality wine shops, and butchers', tasting as you go - now's the time to sample some of that famous Danish blue cheese.
Of course, the Paris comparison couldn't be complete without a few high-end shopping ops: explore beyond the gourmet mecca of Værnedamsvej to discover gems like Studio Rov, a Scandi design-lovers dream with ceramics from local makers and a crisp aesthetic; bespoke shopping experiences at nué; and Danish designer Sophie Schnoor's flagship store. However, if window shopping for nice things you can't have isn't your bag, we recommend redirecting your attention to the much more accessible retailers in Vesterbro and Norrebro (see above).
In the evening Frederiksberg is all about refined but laidback dining, and you'll find many a bistro to park yourself in for a leisurely meal. Les Trois Cochons leans towards classic bistronomy in both food and decor, with black-and-white tiled floors and banquette seating. Restaurant Melée is another great option for rustic, soul-soothing, French fare in a warm setting.
Unpack your bags here:
Clean Danish design with masculine accents (think wing-backed, coffee-coloured leather chairs, an eclectic bar cart made of an antique globe, and slightly confused aesthetically), the chilled vibe at Cowboy Poetry is a homely respite from all the poshness going on on the streets below.
The flat is housed in a classically Frederiksberg 1850s house, and the location is prime for exploring the neighbourhood; you're a literal stone's throw away from Værnedamsvej, and within easy walking distance to Tivoli Gardens and Indre By too.
Nyhavn
When you close your eyes and think of Copenhagen, this is probably what you're picturing: colourful, 18th century homes sitting pretty by the waterfront, reflecting onto the water, maybe a sailboat casually bobs by… it's an idyllic picture, and you'll find it here.
While those houses you're familiar with from friends' travel photos were once homes to the likes of Hans Christian Anderssen and many a lady of the night (respectively, we assume) they are now bustling bars and restaurants full of throngs of tourists year-round.
Stay here if you like:
Christmas markets, canal-side dining, tourists.
A typical day in Nyhavn:
During the Christmas season, the harbourfront turns into a veritable winter wonderland with the Nyhavn Christmas Market, with stalls selling gluhwein (that's mulled wine, to you), Danish handicrafts, seasonal snacks, piping hot pretzels and pastries and many a trinket to bring back as gifts. Jaunty live music plays and you'll likely spend a lot of time elbowing your way through the crowd of fellow market-goers, but the magic of Christmas somehow renders that a less irritating experience than it would be anywhere else. In the summer, the same strip is the most scenic spot to sip a pint or two to the backdrop of buskers playing jazzy tunes.
But Nyhavn is more than just its port. Looped in with the Royal Quarter to form one large neighbourhood, it's here that you can scope out the Queen's Palace and its three adjoining royal residences at Amalienborg Slot square. Continue on to Frederik's Church, an imposing marble affair inspired by St Peter's Basilica, and Det Kongelige Theatre, home of the Royal Danish Ballet and a lot of pomp and circumstance.
Once you're full up on historical sights, load up on lunch at local institution Ida Davidson, whose family has been in the smorrebrod business since 1888. Afterwards, stop by Meyers Bageri organic bakery for a truly life-changing kanelsnægel - aka a cinnamon roll laced with sugar and creamed butter.
At this point, you have a choice to make. You can lean in to the tourist thing and take a guided tour of the canals before hopping off at the harbourfront and settling into one of those aforementioned restaurant terraces. Locals and tourists alike flock to Michelin-recommended Hummer to splash out on fresh seafood or head to Gorm's for wood-fired pizza like they do it in Italia. Spend the evening people-watching and revelling in the postcard-perfect views.
Otherwise, veer away from the water and head to Rebel, a laid-back spot serving modern Danish sharing plates, before swilling down a few glasses of biodynamic wine at Den Vandrette (you could happily eat here too - the menu changes daily and focuses on organic produce).
Unpack your bags here: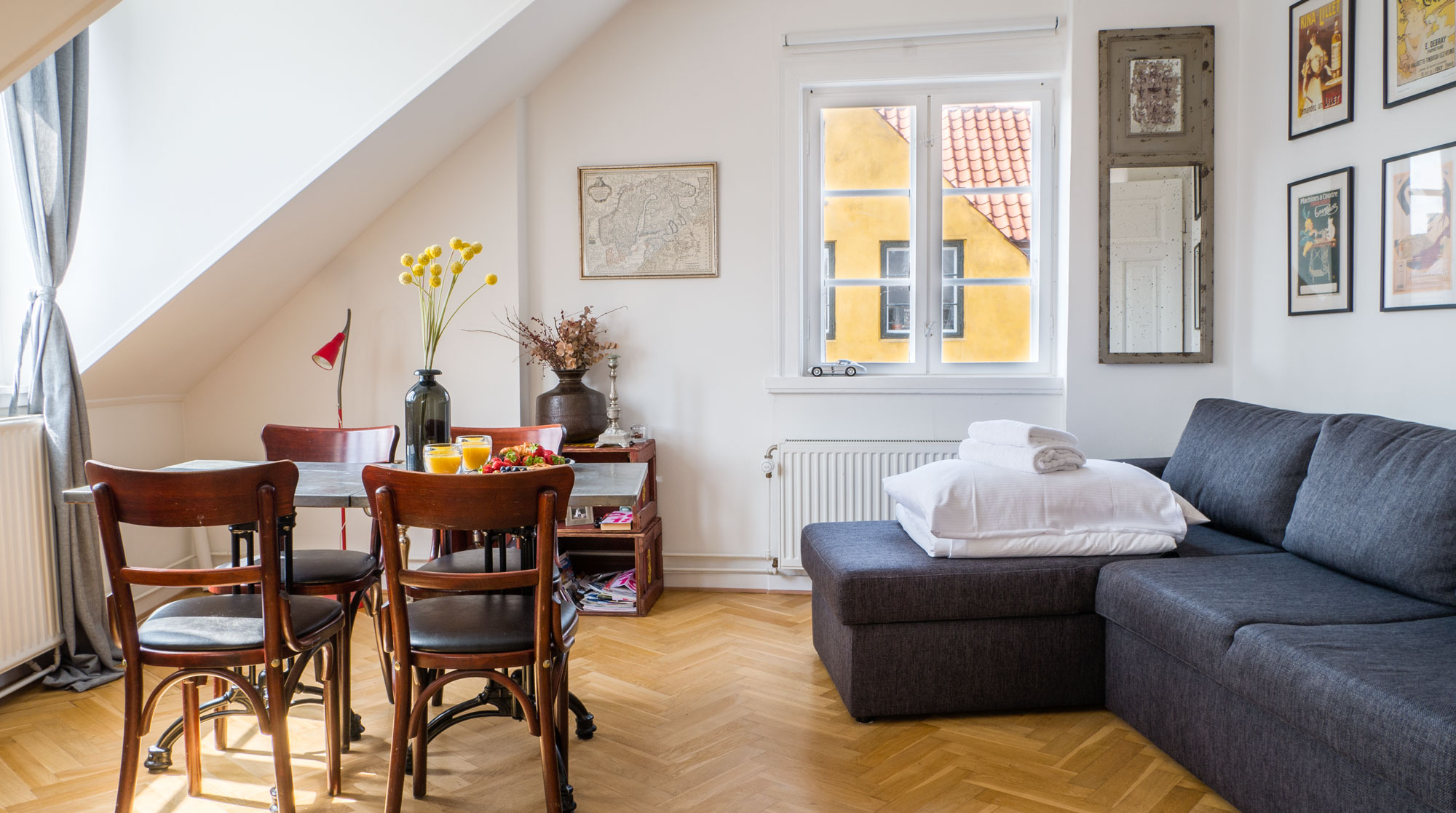 Plant yourself right down in the middle of that postcard you've been picturing - this Plum pad is essentially right on Nyhavn harbourfront.
The pros: it really doesn't get more picturesque than this, and your location puts you in walking distance to not only the classic sights of the area but also a constellation's worth of Michelin-starred restaurants. The cons: you might not get much sleep, as Nyhavn tends to be lively late into the night. Up to you to decide if you want to make that trade-off - investing in earplugs is also a worthy option to consider.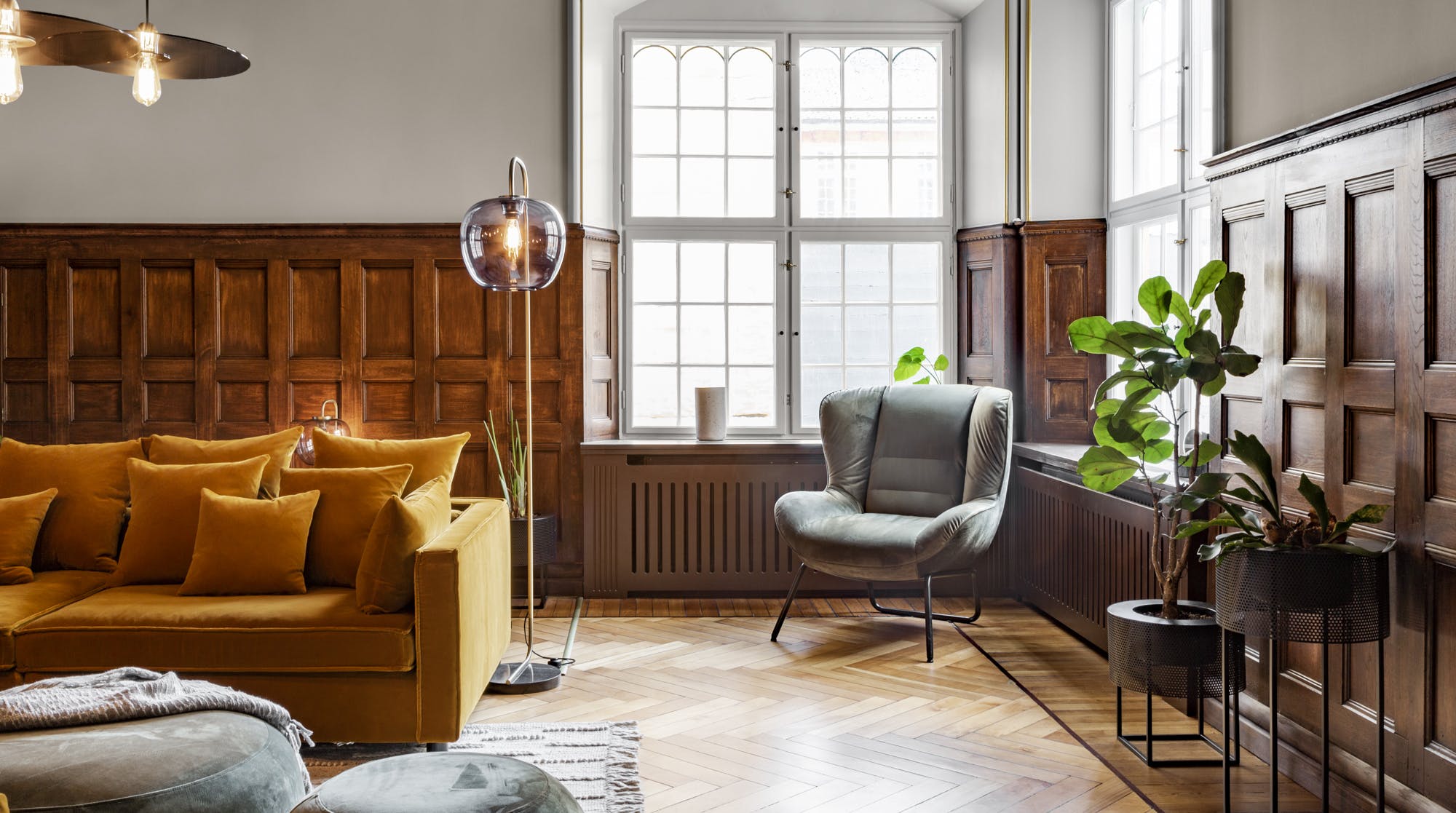 If you can't invite yourself over for a slumber party at the Queen's residence next door, a regal flat of your own within spitting distance is surely the next best thing.
More reasons to love this place: rich wood panelling, impeccable Scandi design amidst 1800s period features, and a marble fireplace so beautiful it makes us want to cry. You'd be forgiven for not wanting to leave your living room, though that would be doing a disservice to the super-central location of this dreamy home.
Indre By
Indre By is the city-centre - buzzing with restaurants, bars, international retailers, and souvenir shops a-go-go lining Stroget, its main street. It's also home to some of the most iconic Copenhagen must-dos: Rundetaarn observatory and Tivoli Gardens.
If you stay in Times Square when you go to New York or Covent Garden when in London, Indre By is where you'll want to be. Locals may turn up their noses, but for optimal sightseeing, easy access to just about everything, and beautifully historic buildings lining your way, you'll be the one having the last laugh.
Once you're done with the neighbourhood sights, you can easily explore all of Copenhagen by foot, bike, or metro.
Stay here if you like:
Jazz, high-street shopping, more tourists, being at the centre of it all.
A typical day in Indre By:
There is only one way to fuel yourself up for a busy day of sightseeing, and that's with coffee at Coffee Collective. These guys have outposts around the city, and are largely regarded as the best in the business. Now, walk over to Rundtaarn, a 17th Century former astronomer's observatory, where you can climb the spiral tower for panoramic views over the city.
Photos sufficiently captured, get yourself back down to street level and stroll over to Torvehallerne, the city's iconic indoor market where you'll find locals shopping for the freshest produce, finest charcuteries and fish, and artisanal products galore. Sidle up to one of the food counters for a snack or shop around and assemble your own picnic lunch to eat near the water. If you're like us, you could easily lose a few hours here, but we implore you to keep on going because there's still lots to see.
Next stop: Tivoli Gardens. If you're travelling with kids, this is probably where you'll spend a good chunk of the day. The whimsical amusement park and gardens were opened in 1843, making it the second-oldest amusement park in the world - no big deal. Whether you're wanting to ride the vintage rollercoaster, go up the ferris wheel, or just stroll around the gardens with a snack (there's a note-worthy food hall here too), Tivoli is a can't-miss experience. During Christmas, they also host what is arguably the most magical market in the city (which is a tall order, because they're all pretty great).
From there, you can either do the culture-vulture thing and visit the National Museum of Denmark, Copenhagen Museum, and the Ny Carlsberg Glyptotek, all congregated just next to Tivoli, or you could redirect your attention to Stroget street for an afternoon of shopping. Either way, pass by City Hall Square.
If you're heading the Stroget way, the impressive Magasin du Nord sits at the mouth of the street, and aside from being architecturally beautiful, is also the home of designer brands for men, women, and children, homewares by Danish designers (Royal Copenhagen, Gerog Jensen, etc) and of course, a food hall where you can stock up on treats to bring back home (or just walk around eating free samples like we do).
As with everywhere in this gastronomic utopia of a city, there is no shortage of dining options around. Go high at Pluto for Bib Gourmand-awarded family-style plates, sustainable Nordic fare at Marv & Ben, or Krog's, a white table-cloth institution that's been around since 1910 and serves excellent fish and seafood. Or, opt to not bankrupt yourself and tuck in to trendy Nordic grub at Höst or big bowls of ramen at Slup!.
After dinner, have a beautifully-crafted seasonal cocktail at Ruby before joining the masses at one of the clubs in the area. Nightlife around here is exactly what you'd expect from a busy, often-touristy city centre - Chateau Motel and Culture Box are well-trodden spots, but if you're after something a little cooler and more alternative, redirect yourself to the Meatpacking District, Vesterbro, or Norrebro.
If you're looking for a more chilled evening in the city centre, Jazzhus Montmartre is a legend that's been around since the '50s.
Unpack your bags here: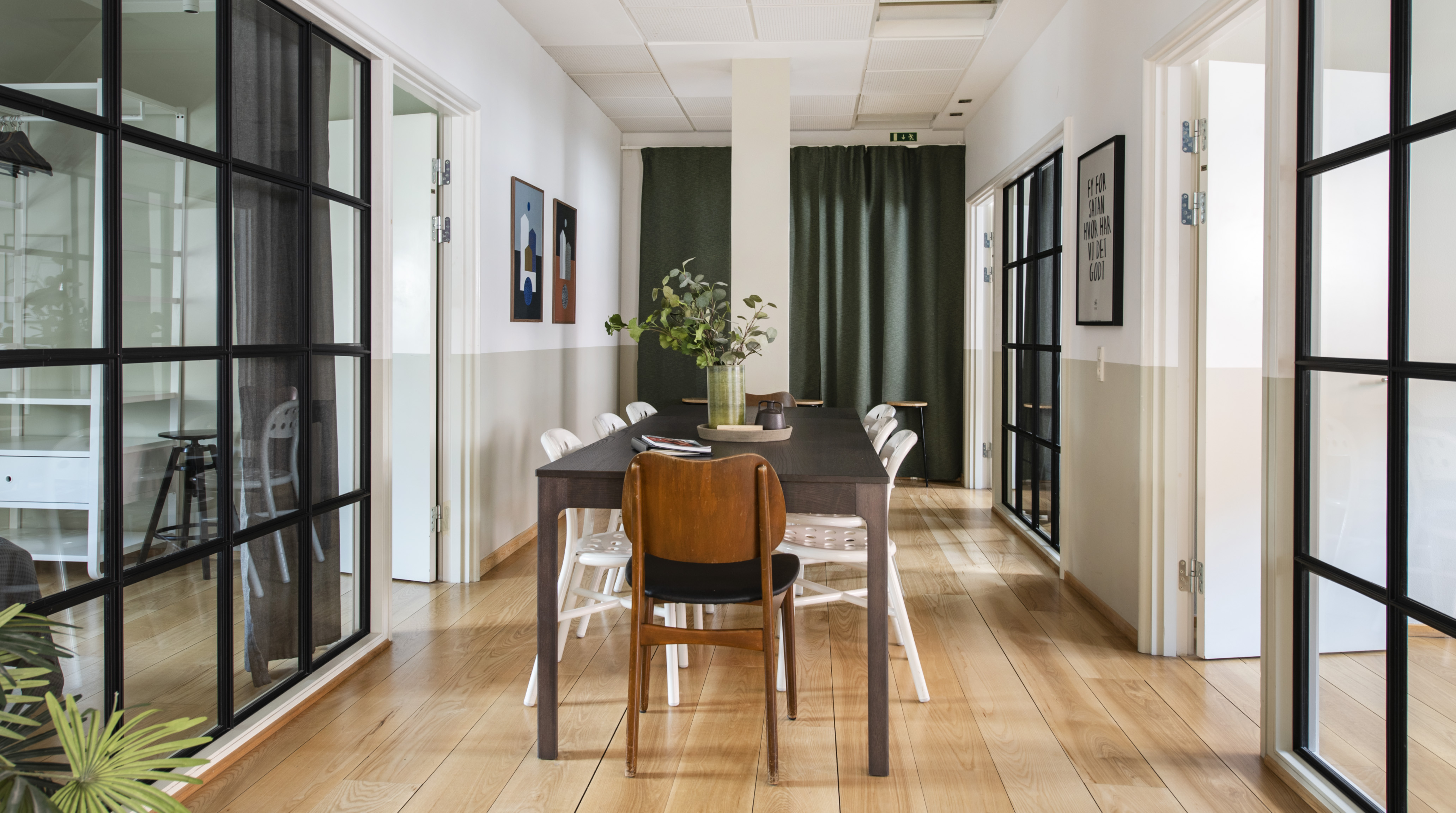 Kick back in crisp, modern digs right on the doorstep of Stroget, and waste no time before hitting the shops - your prime location also means that you can easily drop all your bags at your homebase before going out in the evening - it's all about the little victories in life, isn't it?
Industrial style windows, 4 bedrooms, and pops of rich colour make this a bright and spacious spot to stay in an unbeatable locale.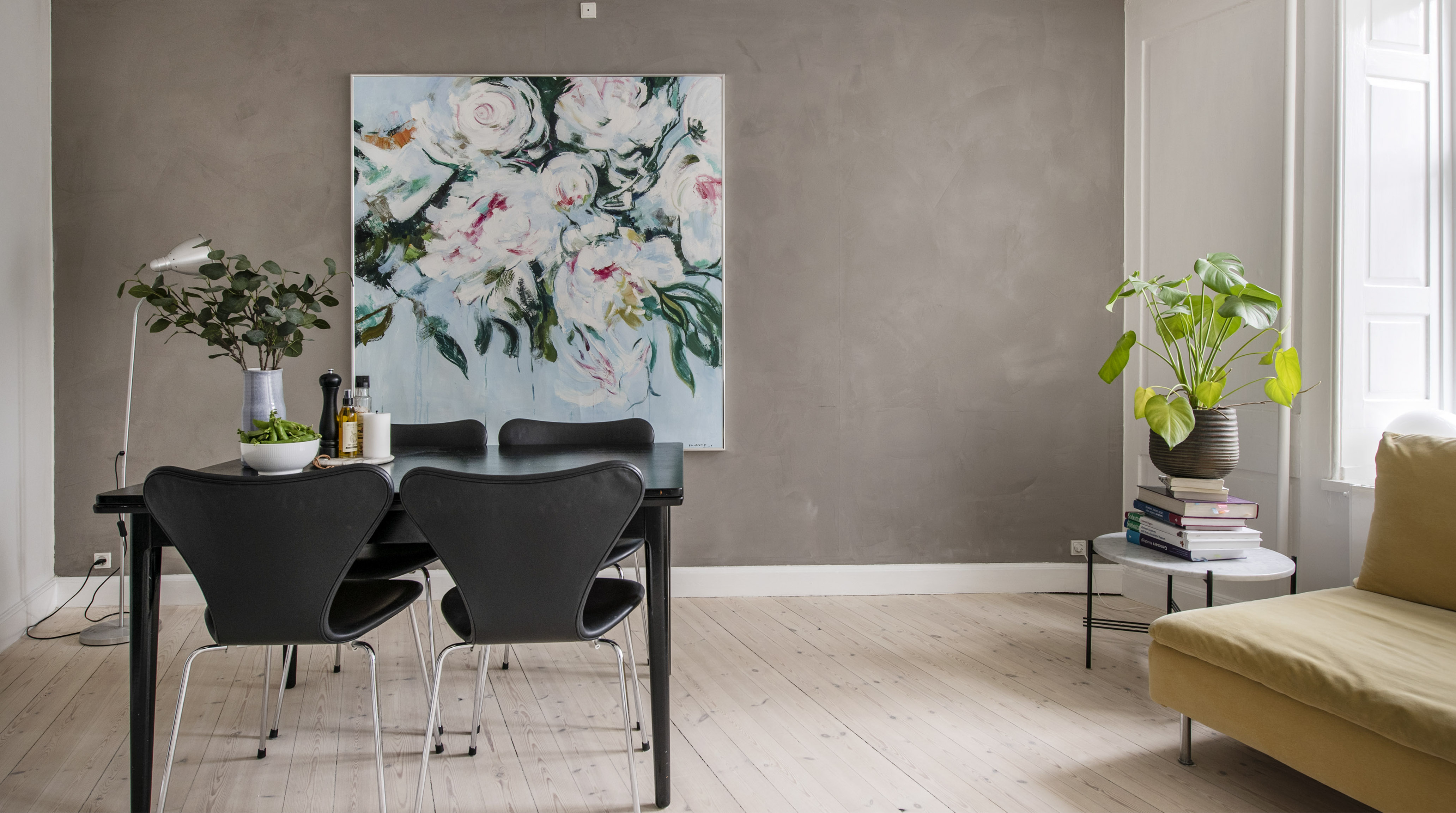 This stylish studio number is designed with a minimalistic, very classically Copenhagen aesthetic. The bedroom is small, making it a great option for a solo traveller or a couple who don't mind being quite cosy. Despite its size, the location is super central, the building is beautiful (it dates back to 1854) and it's got charm in spades.
Best Area to Stay in Copenhagen For....
Best Area to Stay in Copenhagen for Sightseeing
Indre By.
Everything is at your doorstep here - Rundtaarn, Tivoli Gardens, City Hall Square, National Museum of Denmark, Copenhagen Museum, and the Ny Carlsberg Glypotek are all packed in this neighbourhood.
Nyhavn, with its postcard-perfect harbour, the Queen's Palace at Amalienborg Slot, beautiful Frederik's Church, and Det Kongelige Theatre, is within easy walking distance (technically, Nyhavn is part of Indre By). The Little Mermaid and scenic waterfront, museums, and parks of Osterbro are also an easy walk away.
For sightseeing further afield, Central Station has connections to everywhere in the city, or make like the locals and hop on a bike.
Best Area to Stay in Copenhagen for Families
Osterbro.
With the Little Mermaid statue sitting on the pier, beautiful parks, and plenty of museums to see, Osterbro is a perfect spot for young families - the locals think so too. Start your day at the Zoological Museum, where you'll learn about Denmark's prehistoric animals and dinos, before having a wander through Fælledparken. Children can play on one of the playgrounds and adults can enjoy the leafy scenery.
Back towards the pier, the beach at Svanemøllen offers fun and games for little ones. If it's rainy, pottery painting at Creative Space is a fun activity for all ages, or try out Enigma Museum which has immersive displays and dress-up games centring on the theme of telecommunications.
Hop on the metro or stroll leisurely to Tivoli Gardens for amusement park rides and plenty of family-friendly entertainment to be had.
Best Area to Stay in Copenhagen for Foodies
Christianshavn.
Noma may have put this area of town (and let's be honest, this whole city) on the map, but René Redzepi's foraged fare is far from the only Michelin-rated option in this part of town. Go rogue and book in to one of the neighbourhood's other Michelin-starred joints: Kadeu has 2 stars to its name and serves refined Danish and Bornholm-centric dishes from an intimate setting. 108 is Noma's sister spot by the canal, with a similar ethos meaning the menu is heavy on foraging, fermenting, and modern gastronomy but at a more palatable price tag; and Era Ora serves elegant Northern Italian alongside an impeccable wine list.
If you're not in the market for fine dining but still want to stuff your face with something delicious look no further than Bridge Street Kitchen, where some of the city's best eateries have outposts under one market hall roof. Reffen (not technically in this neighbourhood but close enough) is another great indoor street food market, skate park, and art space where you can gorge yourself on tacos, burgers, crab cakes, and just about anything else you can think of.
Best Area to Stay in Copenhagen for Nightlife
Vesterbro / The Meatpacking District.
Whether you're more of a 'sit with a glass of wine somewhere with nice lighting and a cosy feel' type or an 'empty warehouse rave 'till dawn' type, the bars and clubs in and around Vesterbro and the Meatpacking District have you sorted.
For the former, Ancestrale is a cute natural wine bar, while Fermentoren is the one to go to for local beer. Mikkeller is another super popular spot for microbrews, while Curfew serves amazing cocktails.
For the more hardcore, KBIII is a giant club housed in an old meat freezer, which draws in global DJs and local burlesque performers alike, depending on the night. We also love Jolene, a divey LGBTQIA+-friendly club. Keep an eye on Fast Forward Productions, a punk-activist collective that host large scale raves at changing locales around town.
Best Area to Stay in Copenhagen for Young Travellers
Norrebro.
For relatively well-priced places to stay, shop, eat, and drink, a lively party scene, and multicultural vibe, Norrebro is your shout.
Ever-Instagrammable, Superkilen Park is an urban park designed by Superflex Art Group and is well worth a watch. Pick up some very affordable local art at CMYKKLD and satiate your sweet tooth at Karamelleriet for caramels and confectionary. For a great meal that costs less than £15 (150 Kroner) we love Paloma Vermut, which evidently deals in Vermouth along with Mediterranean bar food. Even cheaper still are the many falafel joints around here, most of which are open late into the night.
Grab a kebab and save the rest of your money for flea market purchases and vintage shopping at PRAG. Perhaps the hipsteriest haunt of all though, is Fætter & Fætter, a self-proclaimed toast bar specialising in well, toast.
For some good wildin', go to Kimia, a nouvelle-vague club which aims to create an inclusive, safe space for women and minorities to shake their groove thangs without fear of harassment. There are also innumerable great bars along Blågårdsgade street - try Escobar for dark, cosy corners, cheap drinks, and metal music, or Vinhanen, a wine bar with a revolving selection on tap and bottles you can take home.
Best Area to Stay in Copenhagen for for Art Lovers
Meatpacking District.
While you may be tempted by the museums of the city centre, if you're a ~true~ art connoisseur you'll probably be more into checking out more avant-garde stuff anyways. In the Meatpacking district, you'll find galleries and artists' workshops sidled up next to hip restaurants and bars.
Flæsketorvet street is where you'll want to spend most of your time: WAREHOUSE9 hosts gigs and exhibitions, Poulsen Gallery showcases work by contemporary American artists, V1 Gallery is the one for audiovisual installations, Bo Bjerggaard is a local favourite, and Gether Contemporary Art Gallery has some really interesting stuff by up-and-comers.
If you've got an extra day to kill, we can't recommend the Louisiana Museum highly enough - it's just under an hour's journey from Central station but well worth the excursion. Perched on the coast, it's a must-see - seriously, Patricia Schultz included it in her 1,000 Places to See Before You Die.
Best Area to Stay in Copenhagen for Walking
Osterbro.
Have we mentioned the parks? If you're wanting to stretch your legs amongst some greenery, this part of town can't be beat. Between Fælledparken, the lakeside, and the gardens at Østre Anlæg, you could easily while away a day or two strolling around this neighbourhood, popping in and out of museums, boutiques, and cafes as you go.
Another plus - Osterbro is pretty central, so while it has a more serene, residential feel than the centre of town, you can walk across the bridge and find yourself at Nyhavn in about a half hour. From there, all of Copenhagen's top sights are within a stone's throw.
Best Area to Stay in Copenhagen for Romance
Nyhavn.
Canal side strolls, candle lit restaurants, maybe even a sunset cruise - Nyhavn is practically plucked from the happily-ever-after section of a fairytale.
Christmastime is the most romantic of all thanks to the market that takes place by the waterfront every year. troll hand-in-hand with your boo amongst the stalls, sipping mulled wine and basking in the glow of a thousand fairy lights. For dinner, AOC is unbeatable - load up on aphrodisiacal oysters and seafood under the vaulted beams of a 17th Century mansion.
Best Area to Stay in Copenhagn for Business Travellers
Indre By.
You'll want to waste no time with commuting if you're here on a short business stay, which is why Indre By is your best bet. Between meetings, don't skip a beat - you're in easy walking distance to the city's top sights and some world-class grub.
For lunch, head to Palægade for creative-inclined smorrebrod in classy surrounds, and for dinner, try Geist for thoughtful plates by one of the city's best chefs. Both are sure to impress whether you're flying solo or taking out colleagues, and are even better if you can get them expensed.
In your time off, buzz through Tivoli Gardens, walk down to The Little Mermaid Statue or get some shopping done on Stroget street.