Find expert tips, here on Plum Guide. From where to stay, what to eat, and what to see in some of the world's finest cities. Find expert-approved homes too: Plum Guide is a collection of the very best vacation rentals in the world, approved by our expert Home Critics after a rigorous 150 point test.
Although Paris has the reputation of being populated with wine sipping, Gauloise puffing locals, it's actually a great destination for families. No, really. A compact, walkable city with plenty of parks, bakeries and crepe stands to keep the kids appeased – many of the city's sites are kid friendly and even free for those under 18.
Sure, it might not always be la vie en rose travelling with kids in the French capital, however, our guide on where to stay in Paris for families will help you find your perfect chez vous… and keep every family member occupied.
WHERE TO STAY
Île-de-la-Cité & Île Saint-Louis
Saint Germain
Palais Royal/Opera District
Grands Boulevards
Les Batignolles
Montmartre
Île-de-la-Cité / Île Saint-Louis
STAY HERE IF YOU LIKE:
Uber central locations, historic sites, gargoyles, ice cream.
A TYPICAL DAY IN Île-de-la-Cité / Île Saint-Louis:
Get your day started with a fun history lesson of Paris at La Conciergerie. A medieval palace complex that was abandoned by the Royals in the 14th century and converted into a prison. It was here where the Revolutionaries set up their infamous court and where most of its prisoners, including Marie Antoinette, were sent off to the guillotine. You can visit her reconstructed cell and check out the palace's mammoth Gothic dining hall.
Shift to a more jovial tone next door at the Sainte-Chapelle. The former royal chapel is encased in stunning stained glass that depicts biblical scenes like a medieval comic book. Both sites are free for kids with joint tickets available for adults.
Nearby you'll find the Marché aux Fleurs, Paris' flower market which also breaks out in song on Sundays when birds (and other furry critters) are also available to buy. You can also find the nice lunch spots here, the traditional bistro Au Bougnat and the vine-laden Au Vieux Paris. Try to resist ordering dessert to save room for some legendary Berthillon ice cream, available at various stands around l'ÎIe Saint-Louis.
Cone in hand, window shop along the island's main street, popping into the funky gadget store Pylones or the magical puppet shop Clair de Rêve. You could finish off your afternoon either walking along the banks of the Seine or take a leisurely ride aboard the Vedettes du Pont Neuf boat tours, located at the western tip of l'Île-de-la-Cité, or the hop-on-hop-off riverboat, Batobus, found across from Notre Dame on the Left Bank.
UNPACK YOUR BAGS HERE: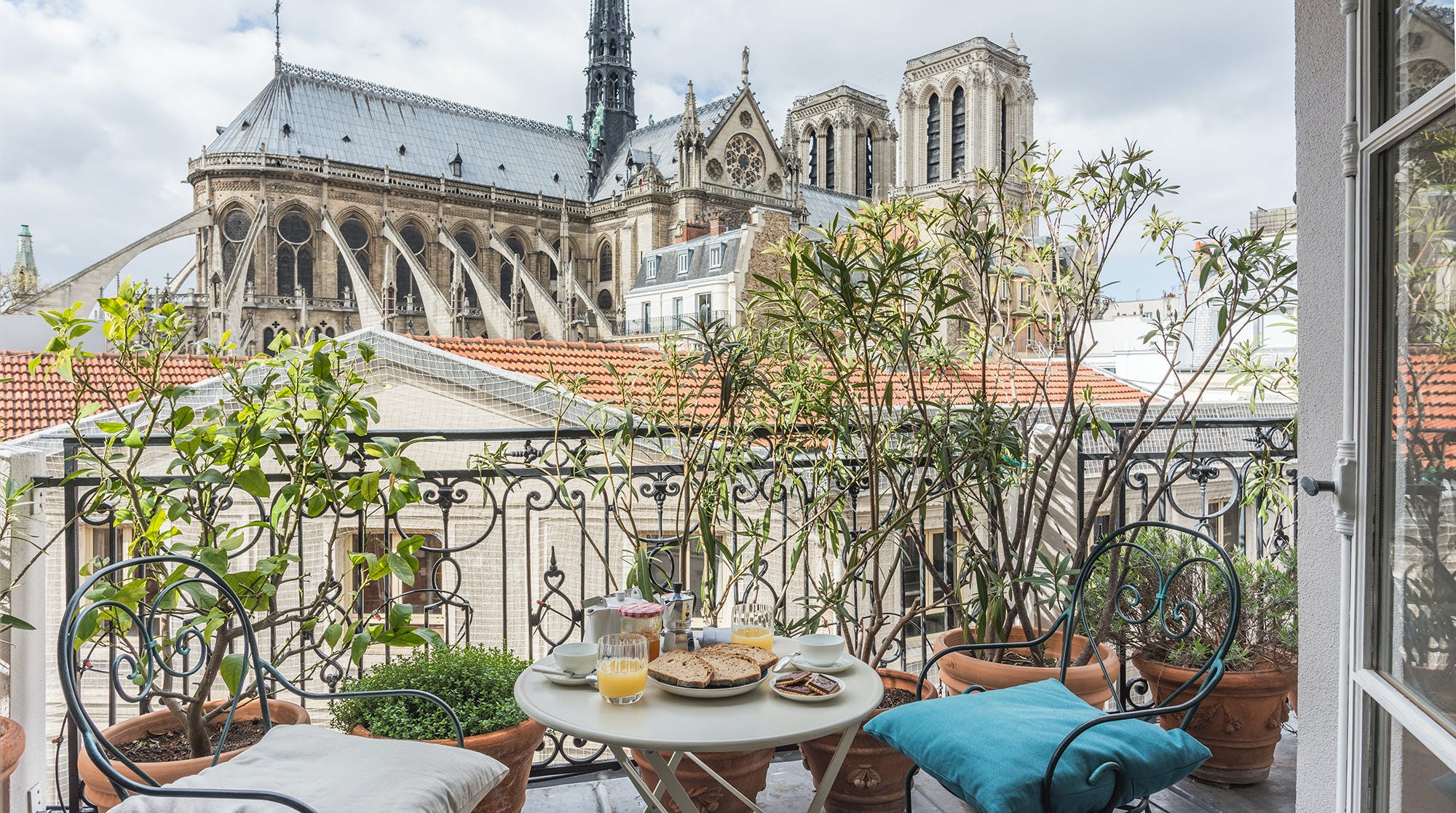 Latin Quarter
STAY HERE IF YOU LIKE:
Strolling along cobblestone streets, discovering literary haunts and dinosaurs.
A TYPICAL DAY IN the Latin Quarter:
The Latin Quarter has the advantage of being within walking distance of many of the city's top attractions as well as being home itself to a whole bunch of child-friendly places. What child doesn't love animals? You can see both prehistoric and modern animals in the various sections of the Jardin des Plantes.
Begin by viewing a Noah's Arc of stuffed creatures in the vast hall of the Natural History Museum. Afterwards, a short stroll through the park will take you to the Menagerie, one of the world's oldest zoos and home to over 1,200 live beasts and birds.
If you'd like to see an example of ancient Paris walk over to the nearby Arènes de Lutèce, the remains of Paris' Roman arena. It's now a park and an ideal place to set the kids free to run around. A multitude of child-friendly eateries are a hop, skip and a jump away along the lively rue Mouffetard. Once pleasantly sated, you could entertain the youngsters with a few rounds at Bowling Mouffetard (open weekday afternoons/evenings and all day at the weekend).
Carry on your children's' education of the Roman and Medieval times at the Cluny Museum, located on the site that was once Roman Baths and then a medieval mansion.
A wander through the narrow streets of this district will take you past several bookshops, including the Canadian Abbey Bookshop and iconic Shakespeare and Company, both have a fantastic collection of children's books.
UNPACK YOUR BAGS HERE: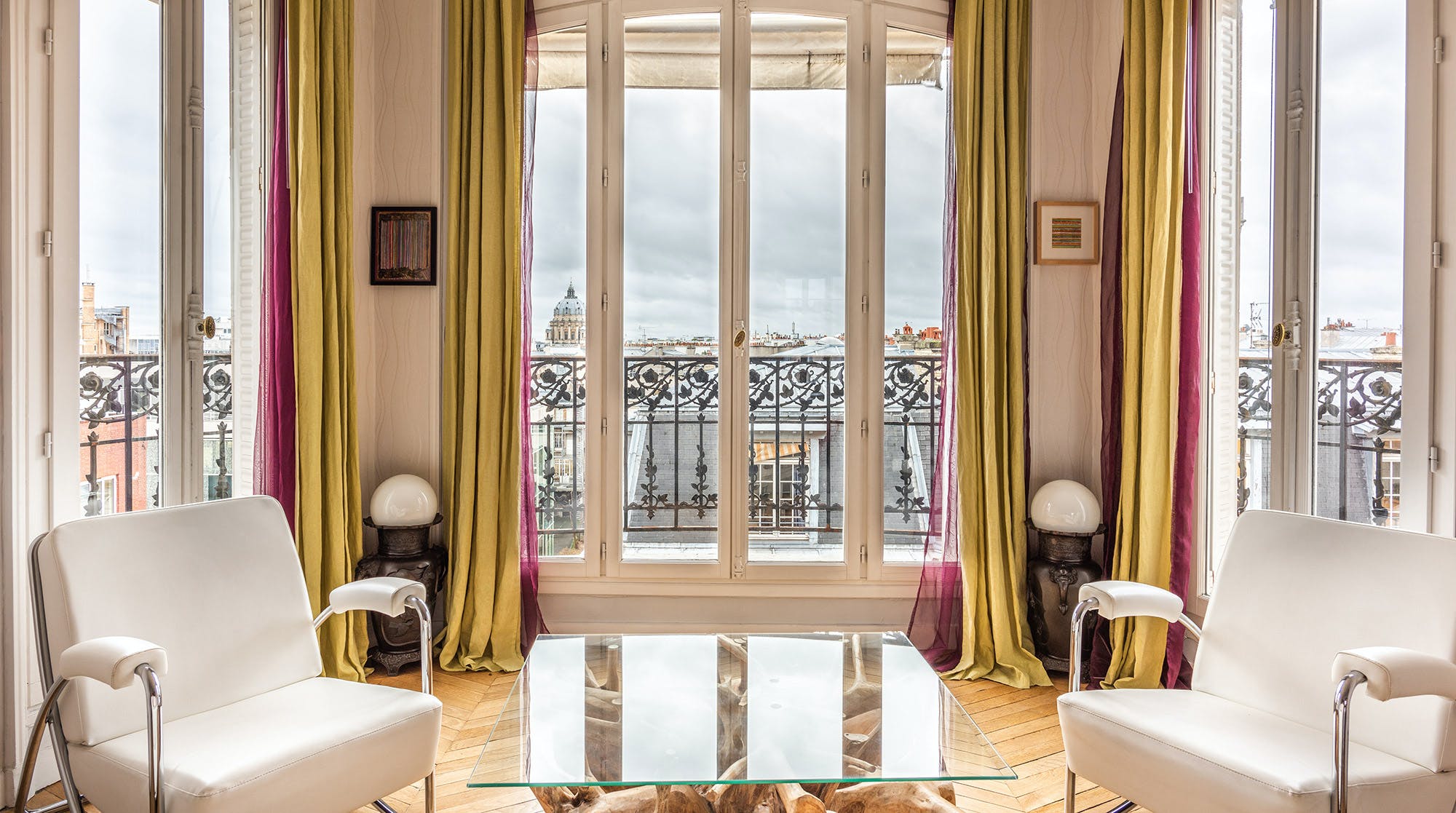 Your experience of the Latin Quarter is enriched from inside this beautiful flat with its exceptional vistas over the neighbourhood. Sleeping seven, it's the perfect apartment for larger families. You'll find yourself fighting over the Jacuzzi tub after a long day exploring the neighbourhood.
Saint Germain
STAY HERE IF YOU LIKE:
Typical Parisian charm, puppet shows, art, shopping and legendary cafés.
A TYPICAL DAY IN SAINT GERMAIN:
Saint Germain is an excellent base for families in Paris thanks to its super central location, picturesque Parisian streets and a wide array of shops and restaurants. For a chic morning, have breakfast at one of the district's legendary cafés, Les Deux Magots or Café de Flore. You'll then be ready to tackle one of the city's top museums, the Musée d'Orsay, where the walls are adorned in priceless 19th-century art.
After admiring the brushstrokes of Monet, Cezanne and van Gogh, lose yourself in the neighbourhood's enchanting streets, lined with fancy boutiques, art galleries and antique shops. You can find some cool Paris souvenirs at Gab & Jo, French toys at L'Oiseau de Paradis or chic kids' clothing at one of the area's two Bonpoint shops.
Your kids can let off some steam in one Paris' best parks, le Jardin de Luxembourg. It has a vast playground, a typical French marionette theatre, pony rides and toy boat rentals as well as a branch of Angelina, famous for its incredibly rich hot chocolate.
UNPACK YOUR BAGS HERE: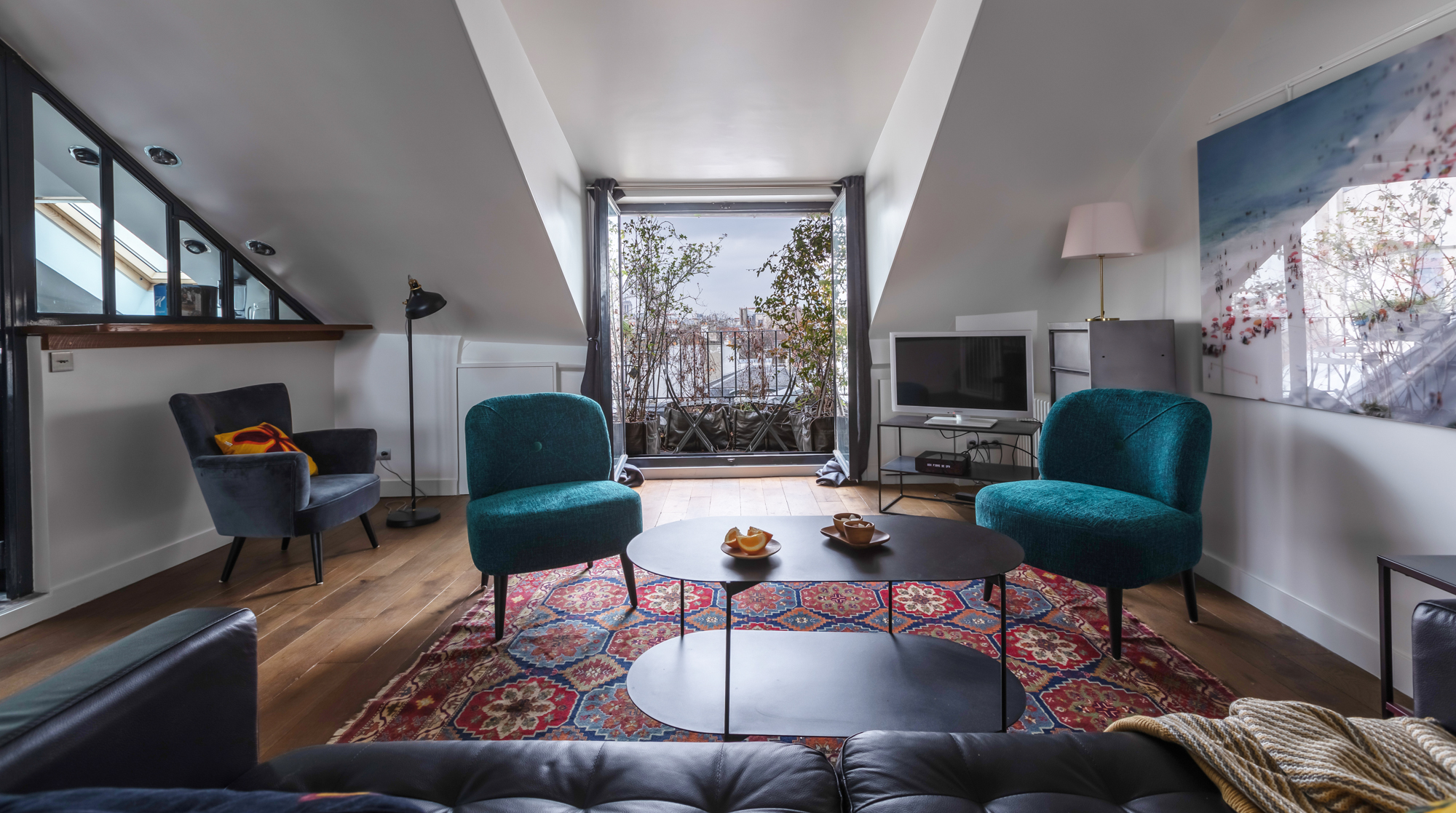 The perfect blend of modern design and Parisian charm, this multilevel apartment boasts an incredible location and gorgeous views all the way to Montmartre. Your kids will love the bunk-beds and you'll love the privacy of the loft double bedroom and luxurious soaking tub.
Marais
STAY HERE IF YOU LIKE:
Cool boutiques, quirky museums, pocket gardens and falafels.
A TYPICAL DAY IN THE MARAIS:
Another remarkably central neighbourhood, the Marais tickles the fancy of both youngsters and parents. You could spend your whole day wandering its shops, art galleries and verdant squares. You'll also be tempted into one of its impressive, if not somewhat oddball, museums.
If you fancy your child as the next Picasso, let them take inspiration from the master himself at the Picasso Museum. Other artistic greats from the 20th century can be viewed at the Centre Pompidou, Europe's largest modern art museum.
For something a little more unique, opt for the quirky Hunting and Nature Museum or add a little magic to your children's day at the Magic Museum, presenting an intriguing collection of vintage automates, magical devices and regular magic shows (2pm-7pm Wednesday and weekends).
Are the little tummies beginning to rumble? Track down Rue des Rosiers for a world-famous falafel sandwich at L'As du Fallafel. You can also find something for all palates at the food stands of the historic Marché des Enfants Rouge. By this time the kids will need a play break, which they could enjoy in the Square du Temple, the picturesque Place des Vosges or by the river at the Rives de Seine park.
UNPACK YOUR BAGS HERE:
If you're searching for where to stay in Paris for families of three or four, this central apartment could fit the bill. Found near the Centre Pompidou and the wide variety of food shops and restaurants of the North Marais, this apartment will add some special magic to your Paris stay with its large fireplace, wooden beams and exposed stone walls.
Louvre / Palais Royal
STAY HERE IF YOU LIKE:
Overloading on art, elegant squares, Japanese food and bustling streets.
A TYPICAL DAY IN Louvre / Palais Royal:
If you're staying in the shadow of the Louvre, there's no better place to start your day than exploring the world-famous museum. To save you from having to navigate the museum's never-ending rooms yourself, book an interactive tour such as the Louvre for Kids Tour by Context Travel or Treasure Hunt by That Lou.
Feeling museum'ed out? Take a break in the Tuileries Garden, found just beyond the palace. Despite being often-times crowded, your kids will have a blast playing hide and seek in the labyrinth, taking a spin on the vintage merry-go-round or monkeying around on the jungle gym.
On the northern side of the park is the original branch of Angela, where you can stop in for some hot chocolate, pastries or stylish lunch fare. You can find more relaxed dining options at the various restaurants around Place Saint Honoré. Alternatively, if you need a break from French food, Rue Saint Anne is a mecca for Japanese restaurants.
The area is also home to some of Paris' most refined squares, including Place de la Concorde, Place Vendome and Place des Victoires. Be sure to duck into the Palais Royal where you can take fun family selfies on the stripy Buren columns and chill out in this secret park. Another great kid friendly park is not far away in the Nelson Mandela Park at Les Halles.
UNPACK YOUR BAGS HERE: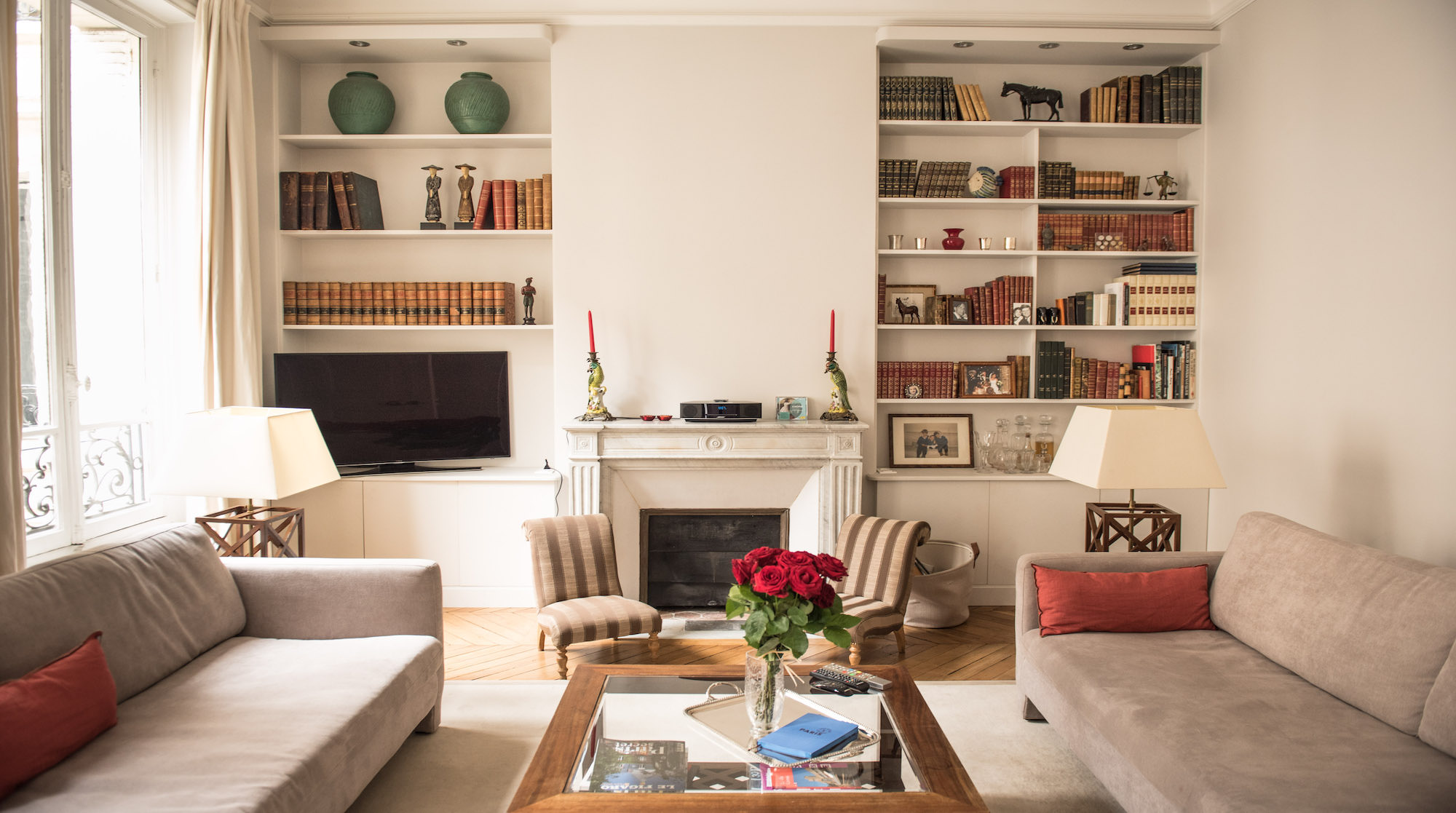 You can hardly get more central than this flat in between the Palais Royal and Les Halles. In addition to its killer location, it is bright and chic with fun bunk beds for the kids.
Les Batignolles
STAY HERE IF YOU LIKE:
Local experience, parks and a relaxed ambience.
A TYPICAL DAY IN LES BATIGNOLLES:
As a popular neighbourhood for Parisian families, this unpretentious village-like district in the northwest of the city is the ideal place to stay for a real local experience. It's true, there are no major tourist sites in this area, but that's what helps it retain its authenticity.
You can conveniently get around the city, thanks to its various metro links and Montmartre is within walking distance. That said, with three amazing parks, an abundance of cool shops and relaxed cafés, you might not even feel the need to leave the area.
The biggest dilemma you'll have staying in Les Batignolles is which park to visit. Keep things easy by spending time in them all. Breakfast at a café around the charming Place du Dr Félix Lobligeois will conveniently place you next to the Square des Batignolles. Be sure to save some of your breakfast baguette or croissants to feed the ducks—tracking them down in this pretty park's various ponds is part of the fun.
Carry on your outdoor excursion at the neighbouring Parc Martin Luther King, a contemporary greenspace named in honour of the American civil rights activist. Very different in style and bordered by contemporary architecture, it features mini ecosystems, wildflowers, a skatepark and a playground.
Before you get too hungry, head southwest through the neighbourhood's streets and pop into some of the neighbourhood's many cool shops. If the kids have been good, Scoop Me a Cookie for some of its over-the-top decadent cookies. You'll eventually reach rue de Lévis, the area's market street where you can hunt down picnic supplies for lunch in the Parc Monceau. One of the most elegant parks in Paris, it's also home to a large playground, a classic merry-go-round, quirky fake Roman ruins and pony rides (3pm-6pm Wednesday, weekends, holidays and school holidays).
At the end of your afternoon, as you make your way back to your flat, you'll find plenty of eating in and take away eateries along Rue des Dames, like the child-friendly Brutus, a modern and delicious creperie.
UNPACK YOUR BAGS HERE: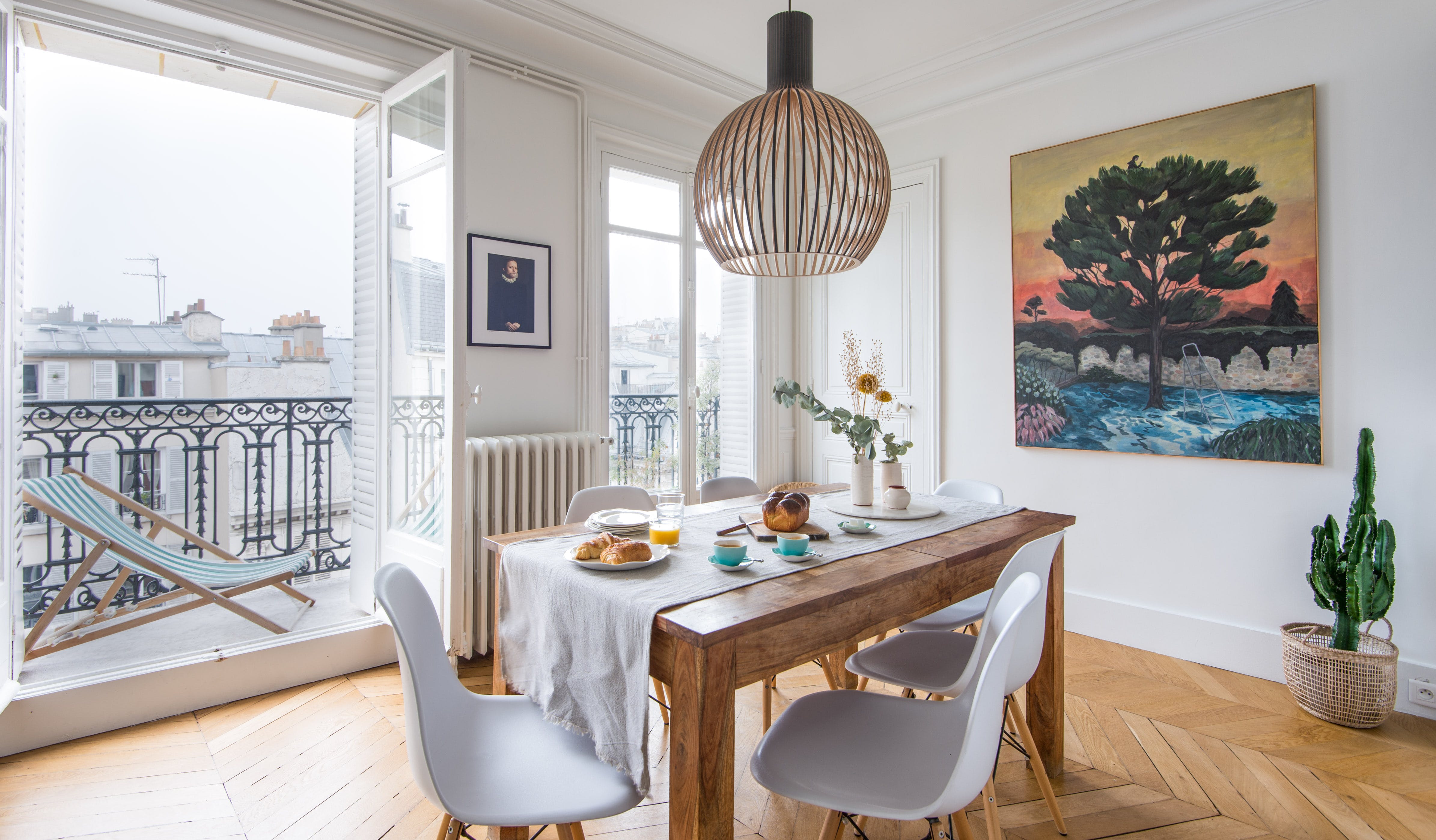 Pack your safari hat. As its name indicates, this whimsical apartment in Les Batignolles will bring a touch of wild to your family trip. The perfect place to stay in Paris for families, its two children's rooms feature tropical wallpaper and chalkboard walls.
Montmartre

STAY HERE IF YOU LIKE:
Picture-postcard Paris, artsy hangouts, jaw-dropping views, quiet streets and bakeries (did we mention views?).
A TYPICAL DAY IN MONTMARTRE:
Once a village outside the city-centre, Montmartre has managed to retain its small-town feel. It's true, you'll have to take the métro to get to most places from here, but your children will love its film-set charm and you'll love the area's café terraces and virtually traffic free roads.
Your day will get off to a tasty start in Montmartre, as the area is home to an unbeatable collection of award-winning bakeries. One of these is Le Grenier de Pain, winner of the best baguette in Paris contest not once, but twice.
Fresh baguette in hand, you can amble up the hill, passing the former art studios and favourite haunts of the likes of Picasso, van Gogh and Renoir. Arriving at Place du Tertre, you'll have the opportunity to have your kids immortalized by the modern-day artists doing portraits in the square.
Rounding the corner you'll come face to face with the massive Sacré-Coeur Basilica and the most awe-inspiring panorama of the city. You can get an even better view, if you have the energy, by climbing the steps up to the church's white dome. Afterwards, take in another perspective of the neighbourhood aboard the little train of Montmartre that departs from in front of the church.
When you're finished up at the top, the funicular cable car or 200+ steps will take you down to the vintage merry-go-round located at the bottom. The short walk away to take you to a second one, found in Place des Abbesses. This also leads you to the area's main street, lined with cafés, boutiques, other award-winning bakeries and other food shops to fill up your flat's fridge.
UNPACK YOUR BAGS HERE:
With gasp-worthy views that rival those from Sacré-Coeur, this is a bright and well-adapted family flat. The vast windows of the comfy living room overlook the rooftops of Paris, the Arc de Triomphe and the Eiffel Tower. You kids will have visions of the twinkling lights of the Eiffel Tower dancing in their heads, snug as a bug in the cosy bunk beds.