Find expert tips, here on Plum Guide. From where to stay, what to eat, and what to see in some of the world's finest cities. Find expert-approved homes too: Plum Guide is a collection of the very best vacation rentals in the world, approved by our expert Home Critics after a rigorous 150 point test.
While it's nicknamed the city that never sleeps, at some point on your trip to New York City, you will probably want to catch some — well — sleep. The question is, which Airbnb in New York City should you stay in? While the city's neighbourhoods are as diverse as its food offerings, they're all easy to connect between, meaning choosing a place to stay just comes down to preference.
Though visitors have typically stayed in Manhattan, Brooklyn is cool now and has a bunch of great options for people who want a more relaxed experience. On the other side, we've got anyone looking to stay by the craziness of Times Square covered as well.
Get ready to eat, walk, shop, and then drop. Here are the best Airbnbs in New York for your next big city adventure: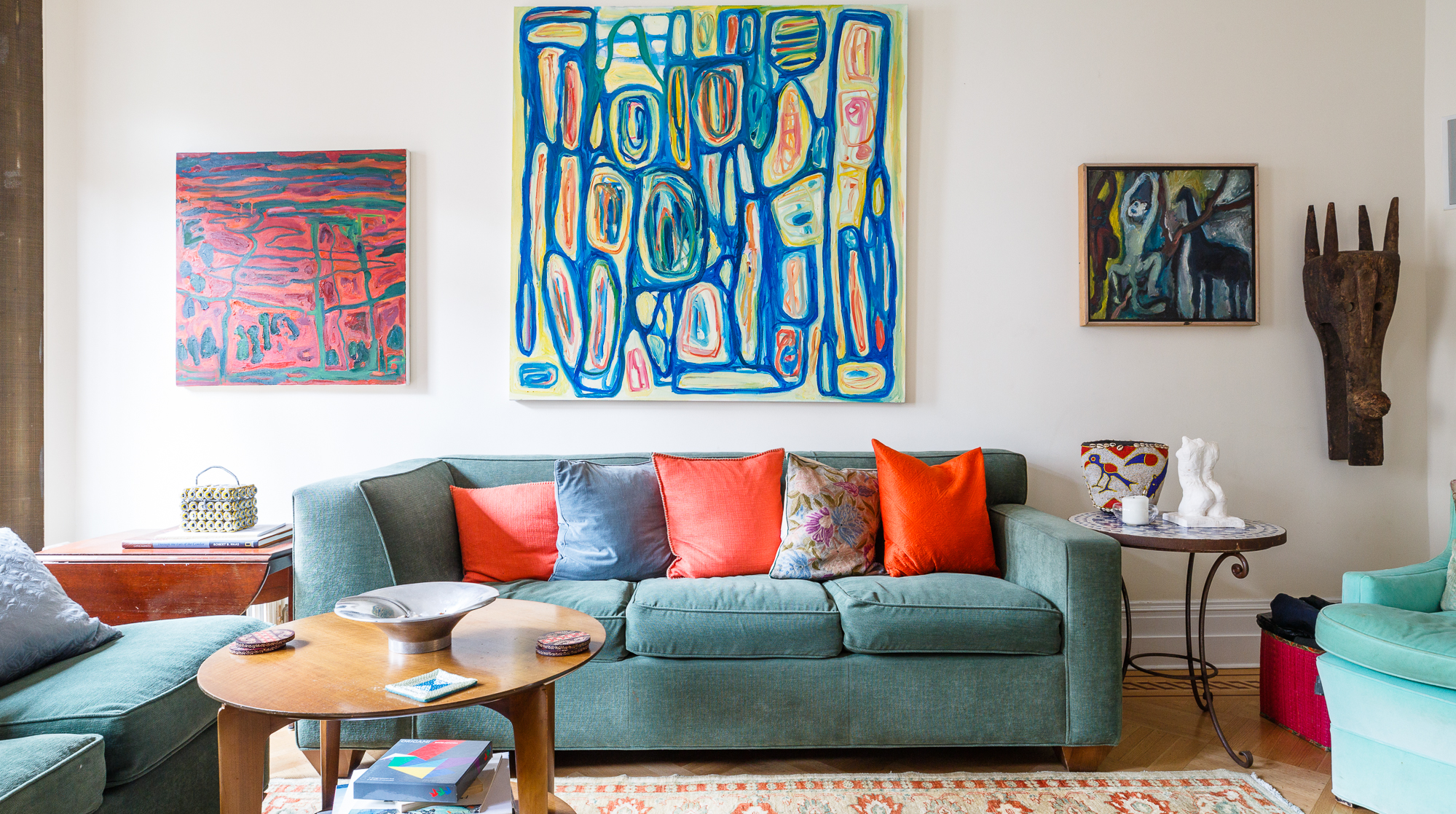 Where Is It?
How Many People Can Stay Here?
Sleeps 8, 3 bedrooms, 3 bathrooms
What The Critics Say:
'It might not be for the minimalists among you, but most guests will fall in love with the beautiful old wood finishes throughout the home, original period details, and an extensive collection of original oil paintings in almost every room. You won't be surprised to hear that the owners are artists themselves.'
Tell Me More…
Found right above 86th Street on the Upper West Side is this eclectic, warm, swirl of fun. Colourful tiles in varying shapes and sizes pop up around the flat, mismatching with the equally colourful pieces of art that hang everywhere. You'll either go home wanting to redecorate your house or to never see colour again.
Right down the street, you'll find the hub of Central Park, easy to walk through or take the crosstown bus at 86th to the east side, dropping off just a few blocks from The Metropolitan Museum of Art. On the Upper West Side, you're near the American Museum of Natural History, the New York Historical Society, and countless delicious restaurants. Walk to the 1 train at 86th and Broadway or the B and C trains at 86th and Central Park West for easy access or downtown Manhattan and Brooklyn.
Where Is It?
How Many People Can Stay Here?
Sleeps 10, 4 bedrooms, 3 bathrooms
What The Critics Say:
'...you get a duplex with a rooftop deck spanning the length of the entire building. You'll have to look past the somewhat old and worn-down appliances and focus instead on the eclectic decor to fully embrace this home's charm. And with Lower East Side on your doorstep you're at the intersection of authentic and trendy NYC.'
Tell Me More…
This is the place you want to rent if you're coming to New York with a group of friends.
For starters, the Lower East Side is filled with amazing bars like Hair of the Dog and Pianos. You can let your hair down and see the nightlife of New York and then crash a few blocks away. At the same time, to the south, it's mere steps from Chinatown, where almost every restaurant will blow your mind.
When you need a rest, hang out on this apartment's massive rooftop deck, blooming with plants and views. With this place also being right off the Delancey-Essex St subway stop, the entire city is your oyster.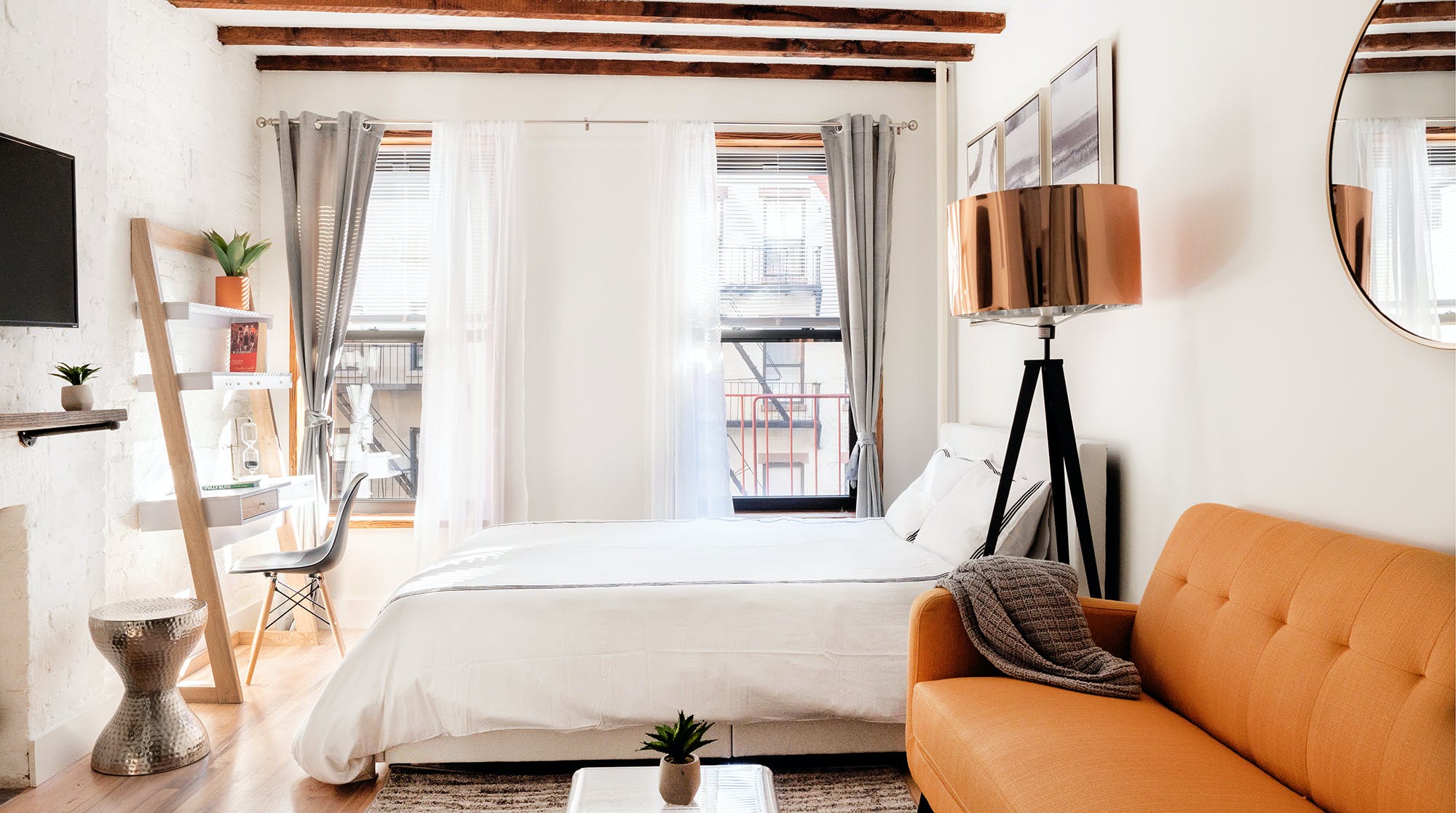 Where Is It?
How Many People Can Stay Here?
Sleeps 2, 1 bedroom, 1 bathroom
What The Critics Say:
'This one has impressively squeezed in a full kitchen plus all the amenities you'd need into a 300-square foot space. It's been newly renovated and greatcare's gone into ensuring a comfortable stay (we're looking specifically at the huge rain shower head, making for a divine wash).'
Tell Me More…
Yep, this is a perfect place for a couple's retreat to New York. Located near the infamous Gramercy Park which can only be accessed via key, this sunlight studio is a great space to cuddle up in after a day exploring. The apartment is within walking distance to the Flatiron building, Madison Square Park (open to everyone), the Empire State Building and Union Square. If you're looking for great food and a blooming flower market (get it?), head to the east sometime in the morning for a wonderful selection of products. The entire neighbourhood is relaxed and homely while providing convenience. Plus, there's a series of intimate restaurants and bars like The Rose Bar that is perfect for couples.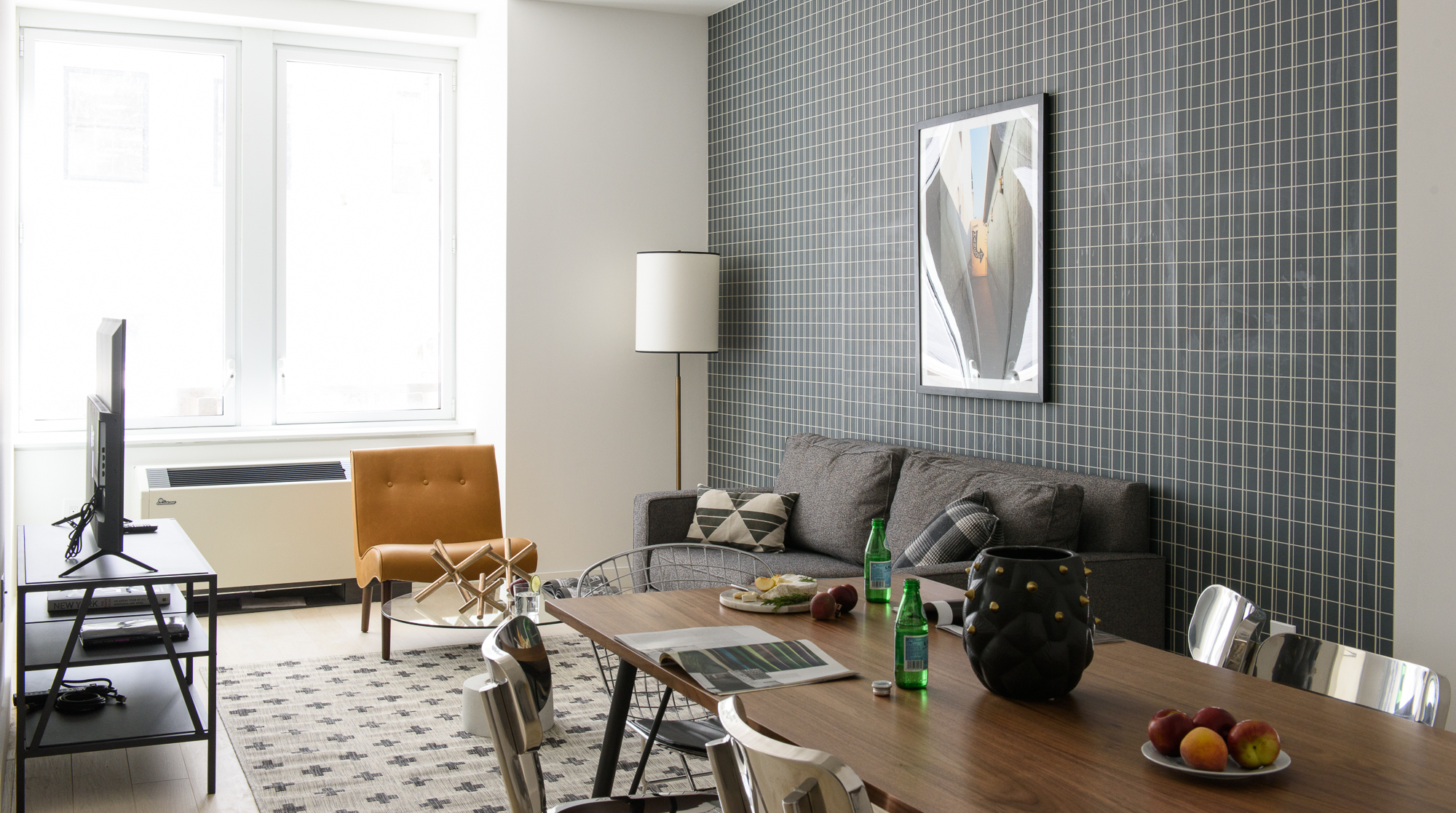 Where Is It?
How Many People Can Stay Here?
Sleeps 8, 3 bedrooms, 2 bathrooms
What The Critics Say:
'It's designed specifically for rentals so if you're after an experience of staying in someone's private home then you might want to look elsewhere. But one big upside is that you will have access to the building's shared lounge, roof terrace, gym, and concierge!'
Tell Me More…
Looking like a funky hotel room, this flat was designed to be seen. In the same vein as a hotel, renters can also use the building's shared fitness centre, lounge, and rooftop terrace. Located down in the Financial District (or FiDi for short), this place has easy access to almost every subway line and area.
You can get anywhere in a short time, with just one swipe of a yellow MetroCard. While FiDi itself is very business oriented, there are still plenty of walkable attractions such as One World Trade Center, Battery Park, the moving 9/11 Memorial, and the Brooklyn Bridge.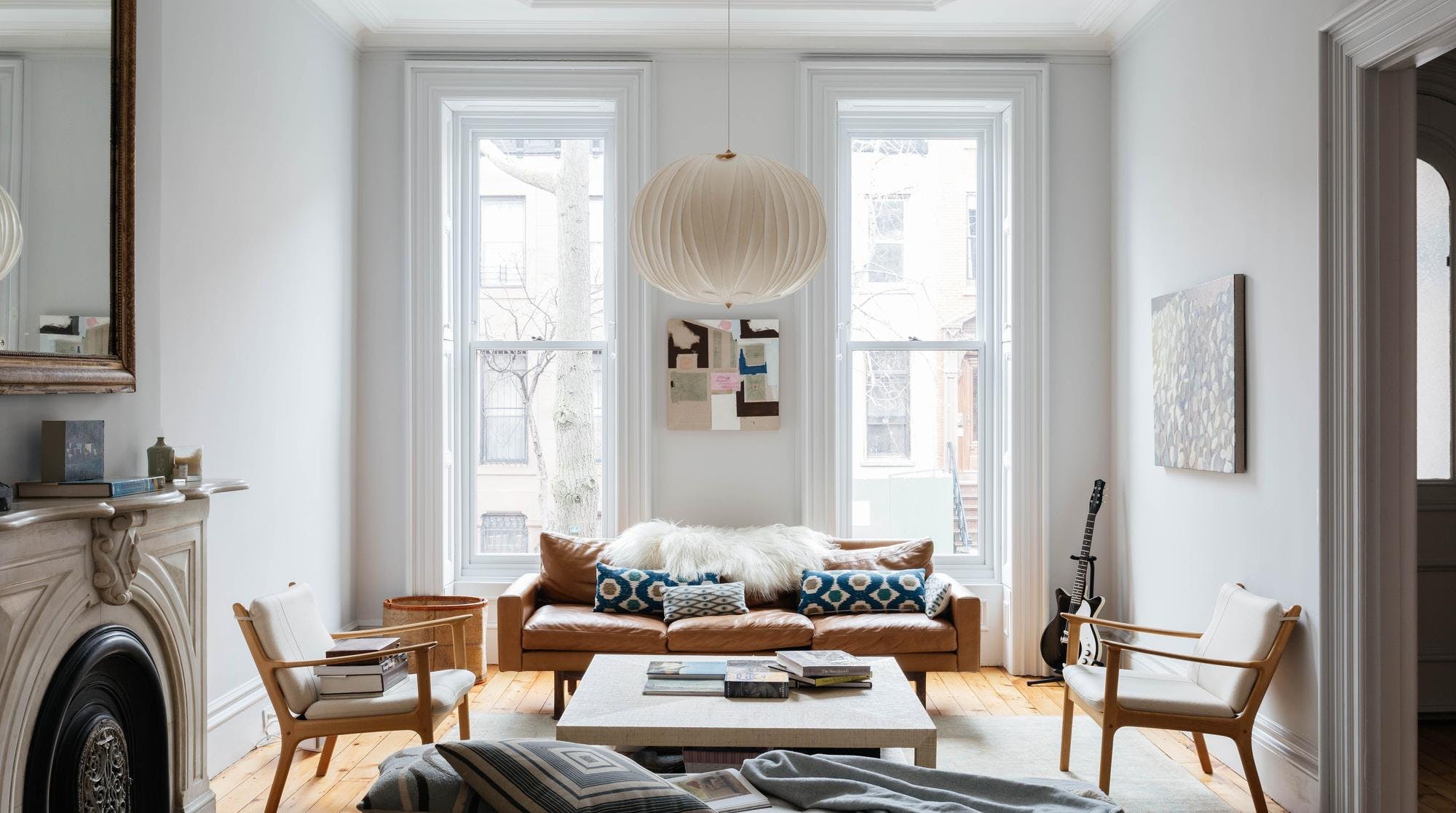 Where Is It?
How Many People Can Stay Here?
Sleeps 8, 6 bedrooms and 5 bathrooms
What The Critics Say:
'This is one of the most cheerful, homely properties that Plum has in its New York collection - it is a much-loved family home filled with natural light and good vibes. Brooklyn by the Sea has a terrace, two gardens, and is walking distance to Prospect Park so it's ideal for families with energetic children to keep happy.'
Tell Me More…
Nestled right off Flatbush Avenue, this massive space provides a great location for anyone looking to explore all that Brooklyn has to offer. With Prospect Park a short walk south and neighbourhoods like Fort Greene close by, there's no shortage of delicious meals, great walks, and entertainment in the area.
Park Slope itself is an amazing community filled area with lots of families and restaurants. The flat is an ideal space to stay with a family or friends thanks to its size and super cute garden. Also, check out the huge free standing bathtub — this place is worth booking just for that.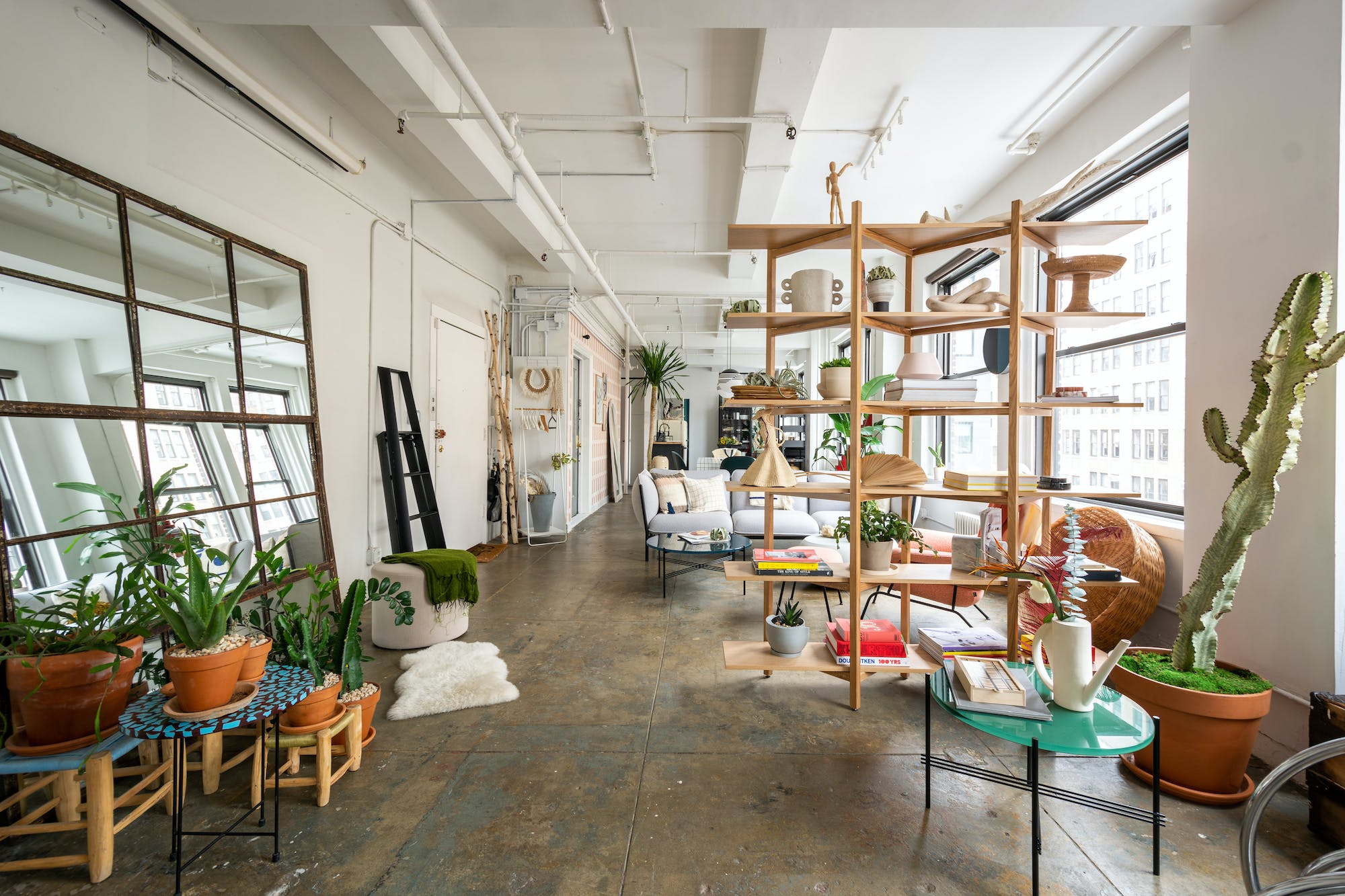 Where Is It?
How Many People Can Stay Here?
Sleeps 4, 2 bedrooms, 2 bathrooms
What The Critics Say:
'Cloud 9 is a stylish, plant-filled loft, positively flooded with natural light, that will appeal to design-sensitive types. Though the home undoubtedly has a rugged, industrial feel, it also boasts plenty of soft furnishings and throws to relax into...The neighbourhood – Midtown – is perhaps not New York's most charming part of town, but it is right in the middle of the action so works as a great base for exploring the rest of the city.'
Tell Me More…
As vibrant as New York City itself, this apartment is a beautiful oasis in midtown. Located at the south end of this neighbourhood, it's a perfect location for anyone looking to be near the action while not on top of it. A standout in this flat is the pink, geometric printed wall that lines the dining area. The entire space is filled with pops of pink and a variety of plants, giving you serious jungle vibes right in the middle of the concrete jungle itself, Manhattan.
From here, it's a quick walk to the Empire State Building, Times Square, and the Flatiron building. Also, Koreatown is right next door and is home to some of the best food in the city. Try Food Gallery 32, a food hall filled with yummy treats like taiyaki and bubble tea.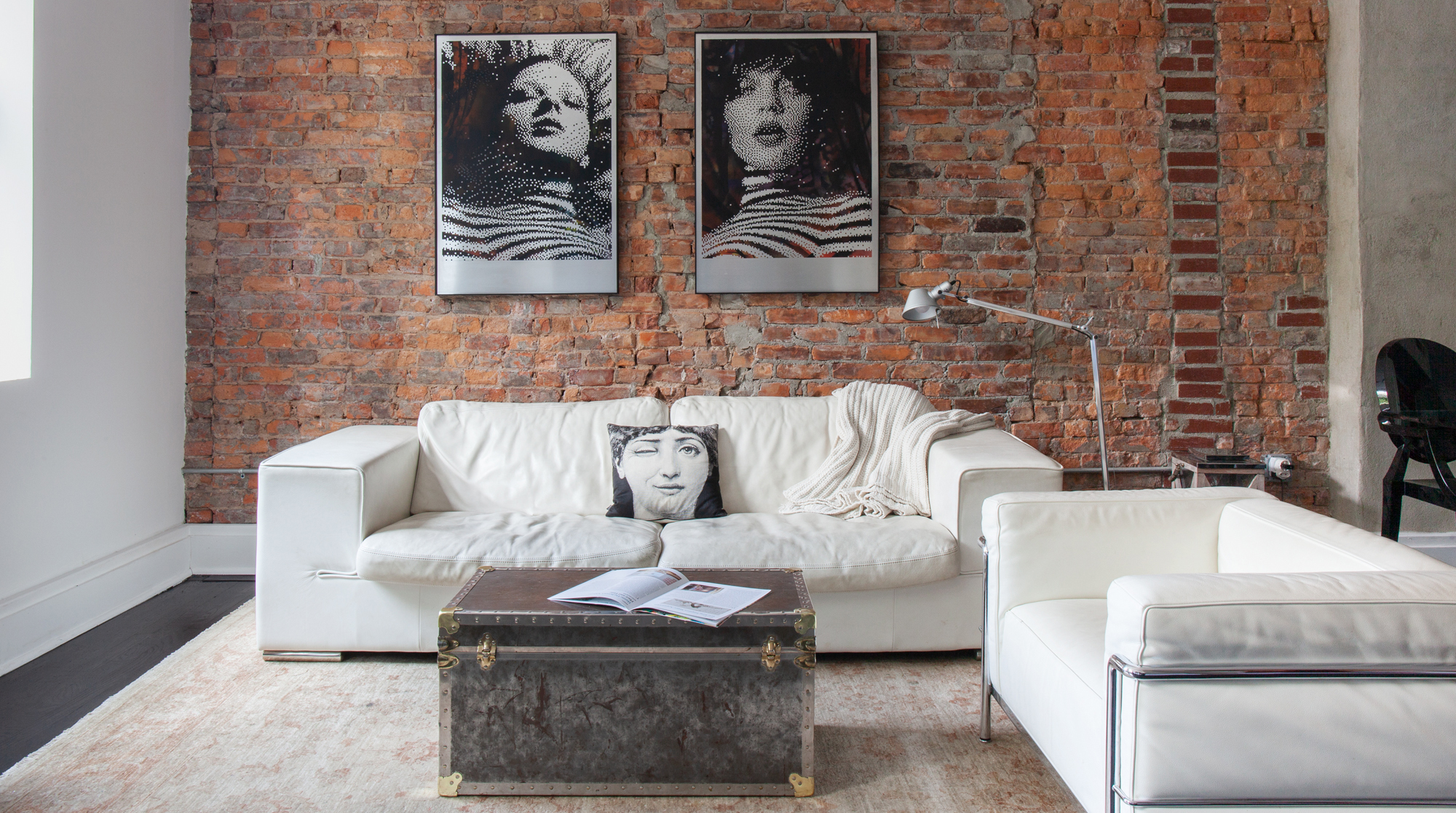 Where Is It?
How Many People Can Stay Here?
Sleeps 7, 3 bedrooms, 3 bathrooms
What The Critics Say:
'Nearby Fort Greene Park makes this neighbourhood a popular choice amongst families, though groups of friends will enjoy the vibrant nightlife in the area. Inside this home, exposed brick and carefully curated art give the space character. There's even a private rooftop terrace which is perfect for relaxing on during New York's warmer months.'
Tell Me More…
Just a few stops into Brooklyn you'll find this sweet flat. For starters, the exposed brick in the living room is every New York space's dream. On top of that, have you seen the bookshelf? The books actually appear to be defying gravity. The rooms are all accented with a pop of bright colours that adds an extra bit of fun to the space.
As for Fort Greene, this is a great neighbourhood if you are travelling with kids as it's incredibly friendly and it has the great Fort Greene Park. With the subway just a 4 minute walk away, you can make your way to Manhattan in no time at all. It's definitely worth stopping off in Dumbo on the way as the waterfront view is amazing. The Brooklyn Bridge entrance is there as well so it's easy to walk the East River while catching views of the Statue of Liberty.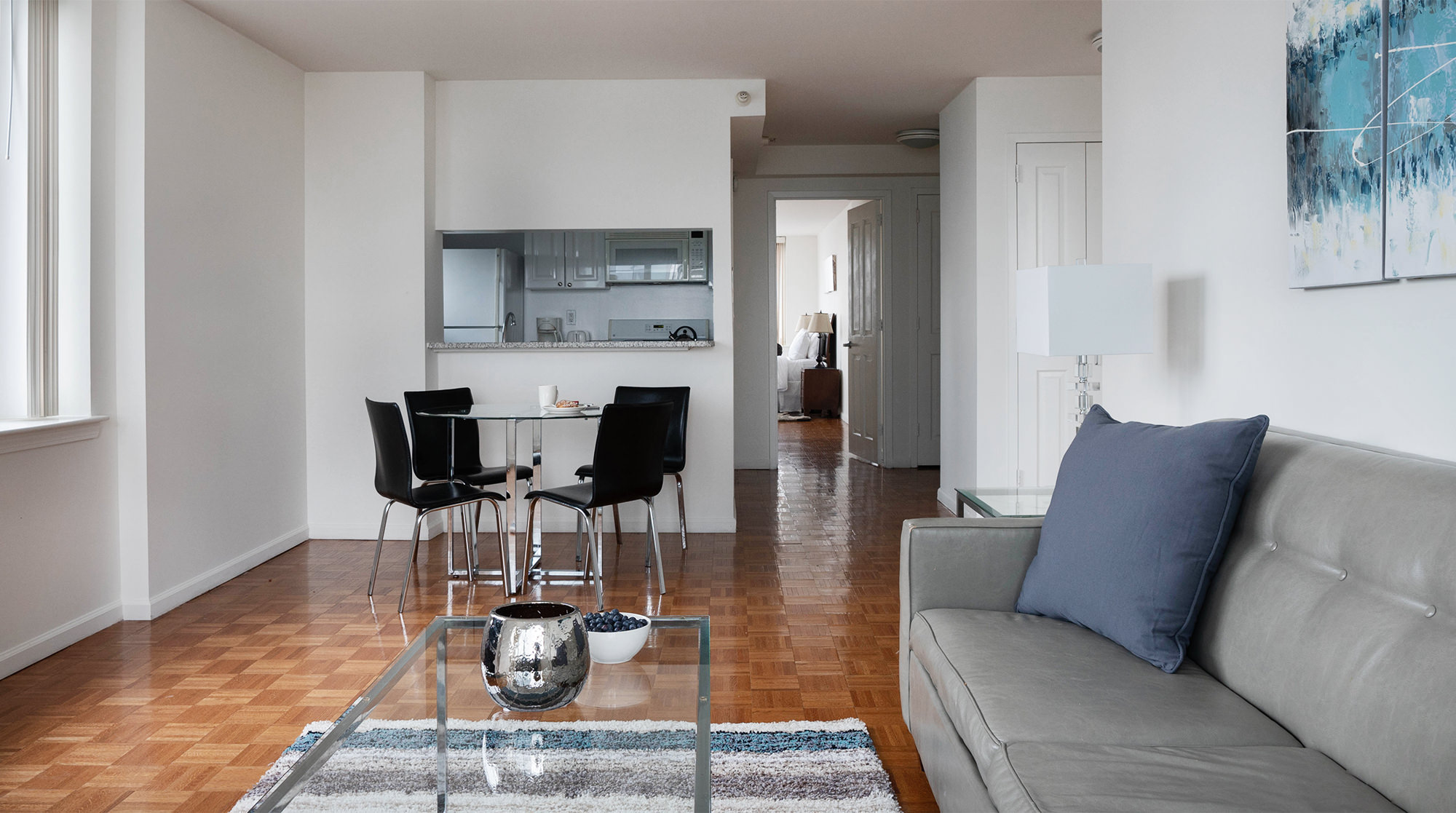 Where Is It?
How Many People Can Stay Here?
Sleeps 6, 2 bedrooms, 2 bathrooms
What The Critics Say:
'If an enviable location is at the top of your priority list, then this home will score pretty high in your books. Sat in the heart of Times Square and the Theatre district, first timers to the city will be right amidst the action…While not the most characterful space, it is functional and comfortable and what it lacks in quirkiness it makes up for in views.'
Tell Me More…
If you've come to New York to experience all the classic tourist sites, look no further than this Times Square apartment. Located right on the edge of the tourist centre, guests can be right under the bright lights that illuminate this area in a matter of steps.
Just a few more blocks and you can be at Rockefeller Center, home of New York's big Christmas tree or at the entrance to Central Park. With this central location, there is also easy access to a slew of subway lines if you want to head to a more relaxed area like Washington Square Park or Dumbo. While the apartment itself has a subtle design, the city views out the window are simply spectacular.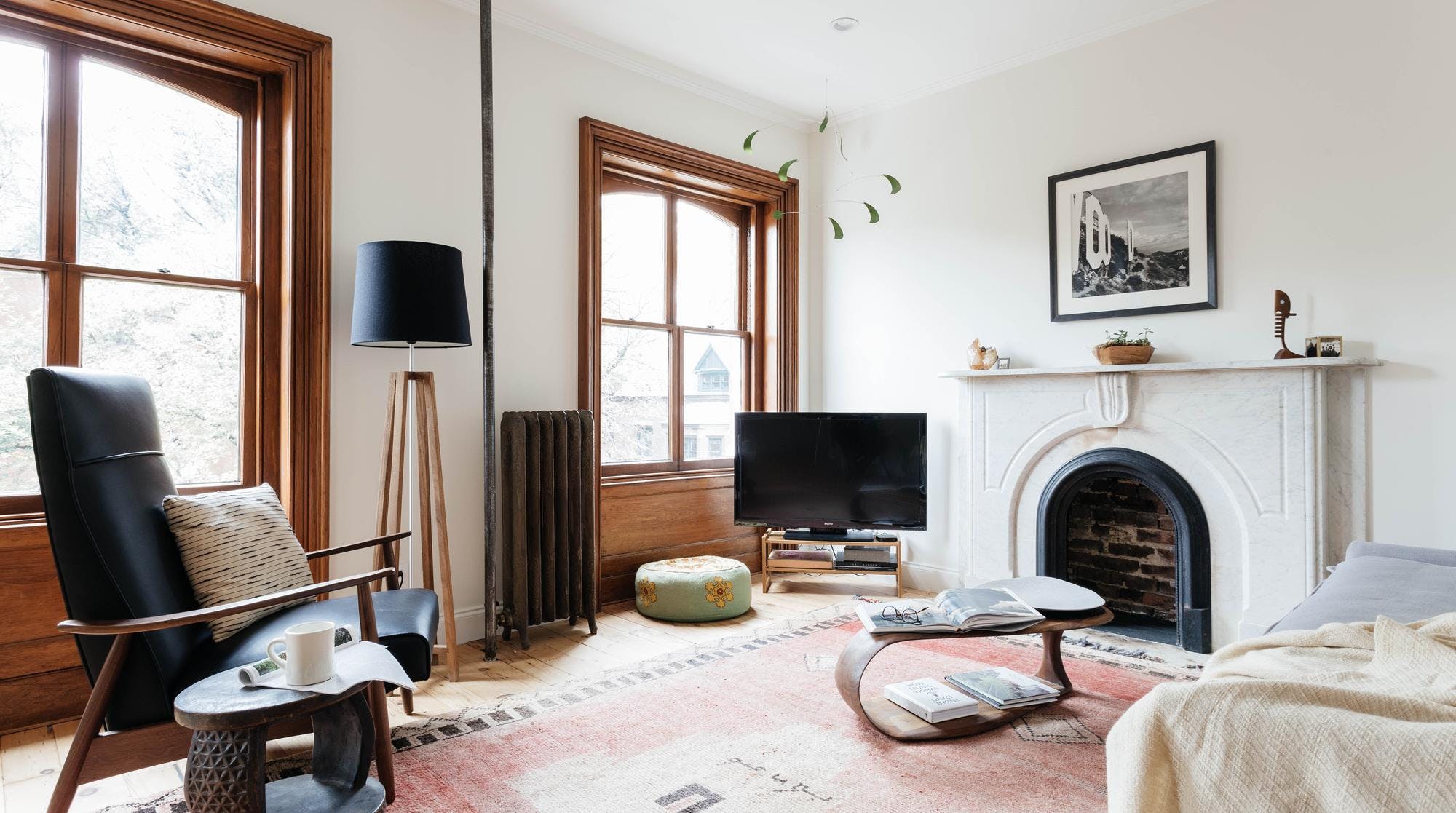 Where Is It?
How Many People Can Stay Here?
Sleeps 4, 2 bedrooms, 1 bathroom
What The Critics Say:
'New Chelsea's terrace provides the perfect space in which to unwind after a long day, and the exposed brick in the master bedroom is another charming touch to this easy-to-love home. Great art on the walls too!'
Tell Me More…
For all those out there who can't get enough of art, classic and contemporary, Chelsea is where you're going to want to situate yourself. Filled to the brim with art galleries, it's common to stumble upon free wine on Thursdays as they stay open to the public late. One of our other favourite attractions in this area is The High Line. Reopened as a flower-lined path in the early 2000s, you can enter it very close to this flat and walk north 20 blocks to New York City's newest neighbourhood, Hudson Yards.
The flat is a great space with a cute little outdoor terrace attached. Its marble fireplace is beautiful and matches perfectly with the all white walls, decorated with classic, neutral prints. Plus, there's that exposed brick in the master bedroom that's oh-so-New York.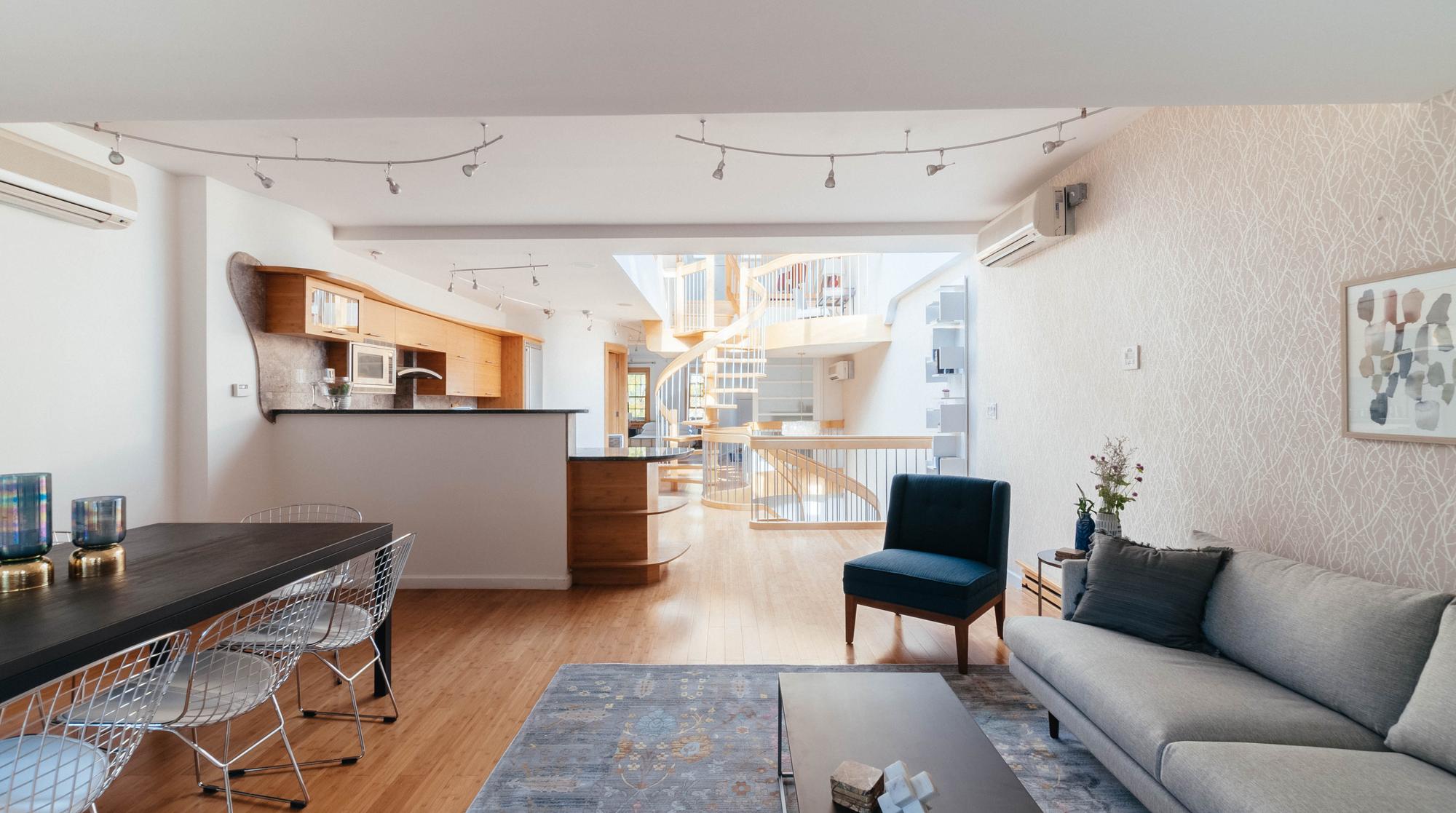 Where Is It?
How Many People Can Stay Here?
Sleeps 7, 4 bedrooms, 3 bathrooms
What The Critics Say:
'With a prime Greenwich Village location and huge roof terrace, this home is an easy answer for families or group of friends coming to the city. So long as you're not after bold colours or design, you'll certainly appreciate the sort of Scandinavian vibe here with blond wooden floors and minimalist decor.'
Tell Me More…
Calling all Friends lovers! This loft is found in Greenwich Village, just a few blocks up from the iconic Grove Street where Monica, Chandler, Rachel, and Joey are supposed to live in the show. It's also close to Washington Square Park, the West Village, and Union Square. A must see is the Stonewall Inn, the birthplace of the LGBTQ rights movement, just a couple blocks down and across from the Christopher Street 1 subway station.
Stroll aimlessly through the neighbourhood to discover the hole in the wall restaurants and cosy bars. In the loft, the open space and big windows provide great natural lighting. The focal point is the wickedly cool spiral staircase that leads up to the rooftop. The rooftop has a barbecue, dining table and — get this — a hot tub!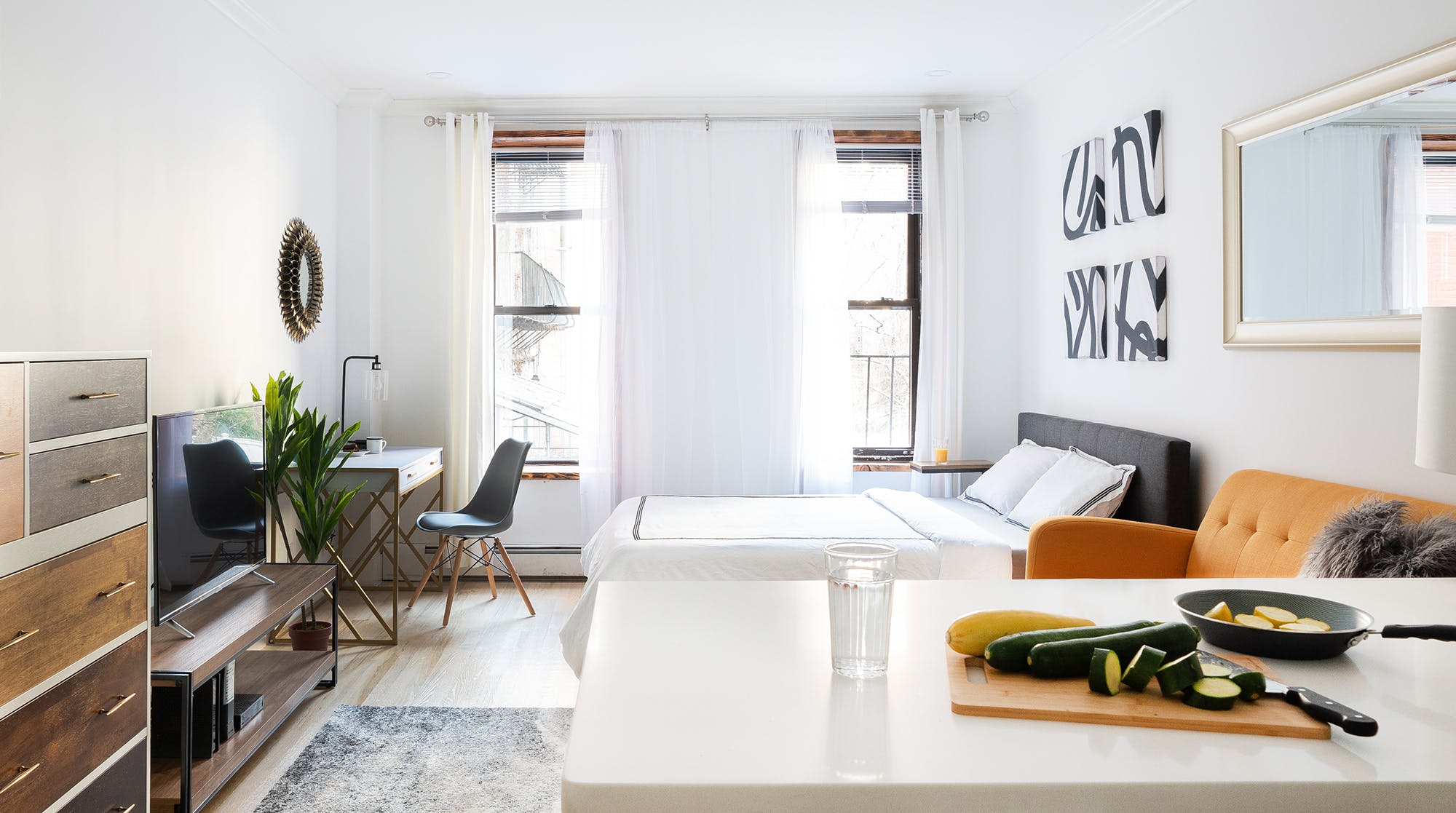 Where Is It?
How Many People Can Stay Here?
Sleeps 2, 1 Bedroom, 1 Bathroom
What The Critics Say:
'Its decor is simple yet sophisticated and there's a sense of charm that many other corporate style apartments don't have. And despite its size, it's quite well appointed with a rainfall shower and separate desk space.'
Tell Me More…
This studio is the perfect space for anyone looking to stay on the Upper East Side in style without breaking the bank. With an endless amount of unreal townhouses and apartment building lobbies to gawk at, this is the neighbourhood of complete sophistication and class — plus so much money. Right down the street is a lesser known place to tourists, Carl Schurz Park, a beautiful, riverside oasis that is also home to Gracie Mansion, where the Mayor lives.
Head west through the area to reach Central Park, as well as Museum Mile, where you'll find The Metropolitan Museum of Art, the Guggenheim, and the Neue Galerie, among others. Head downtown at the 86th Street Q subway stop, a few blocks away, which stops at sites like Times Square, Union Square, and Canal Street. When you're done exploring for the day, come back and plop down on the tangerine couch or wash off under the rainfall shower head.